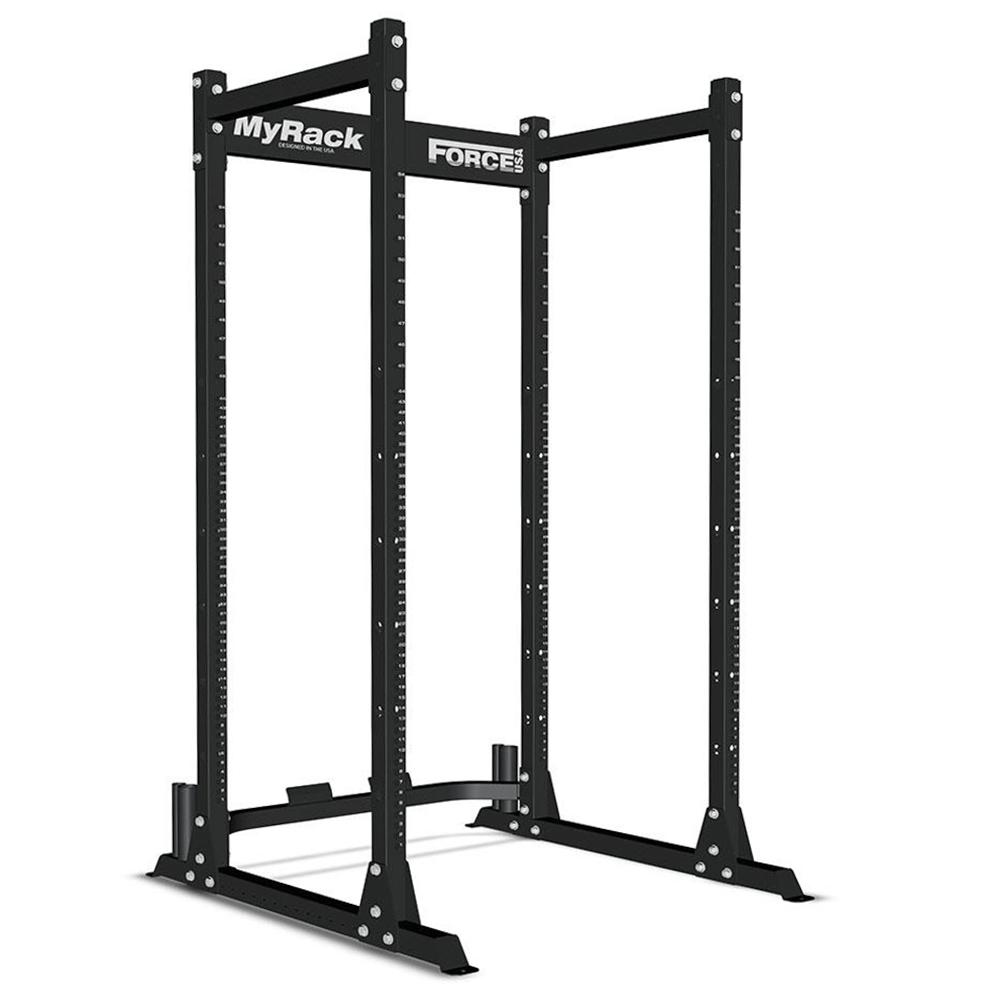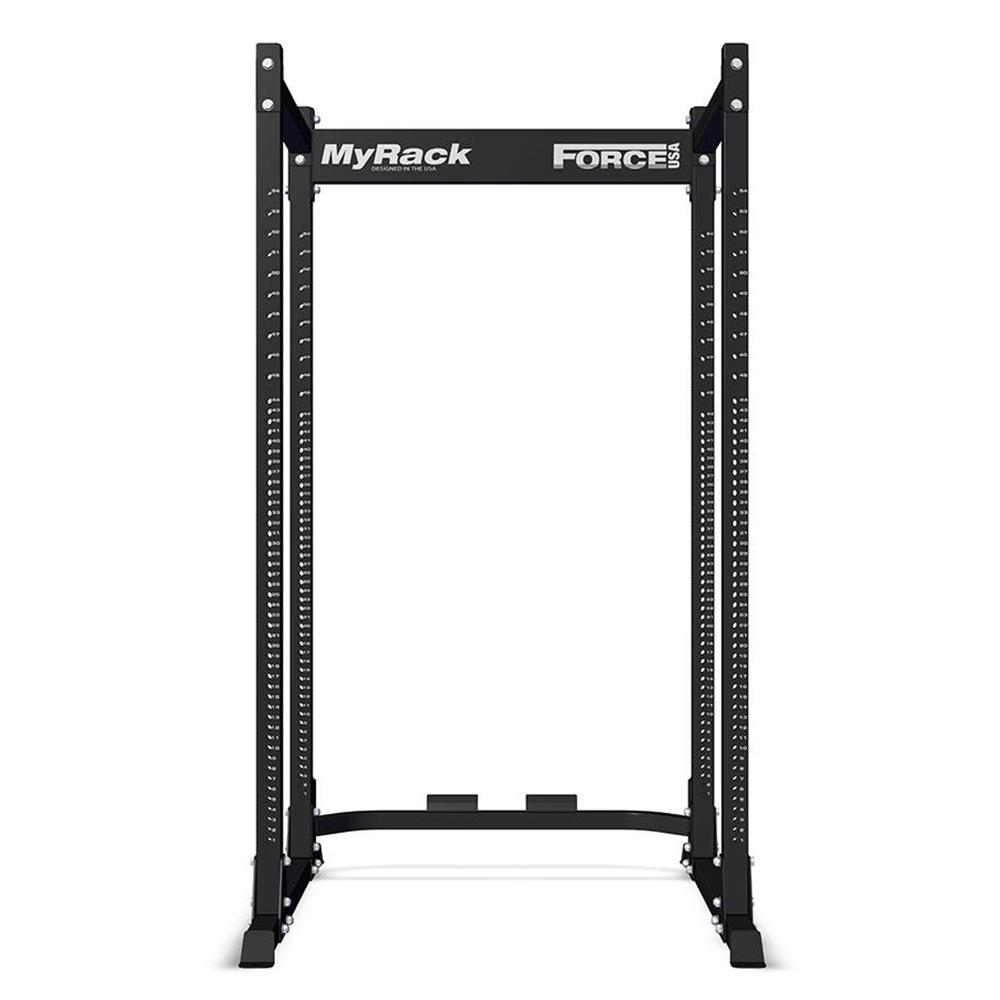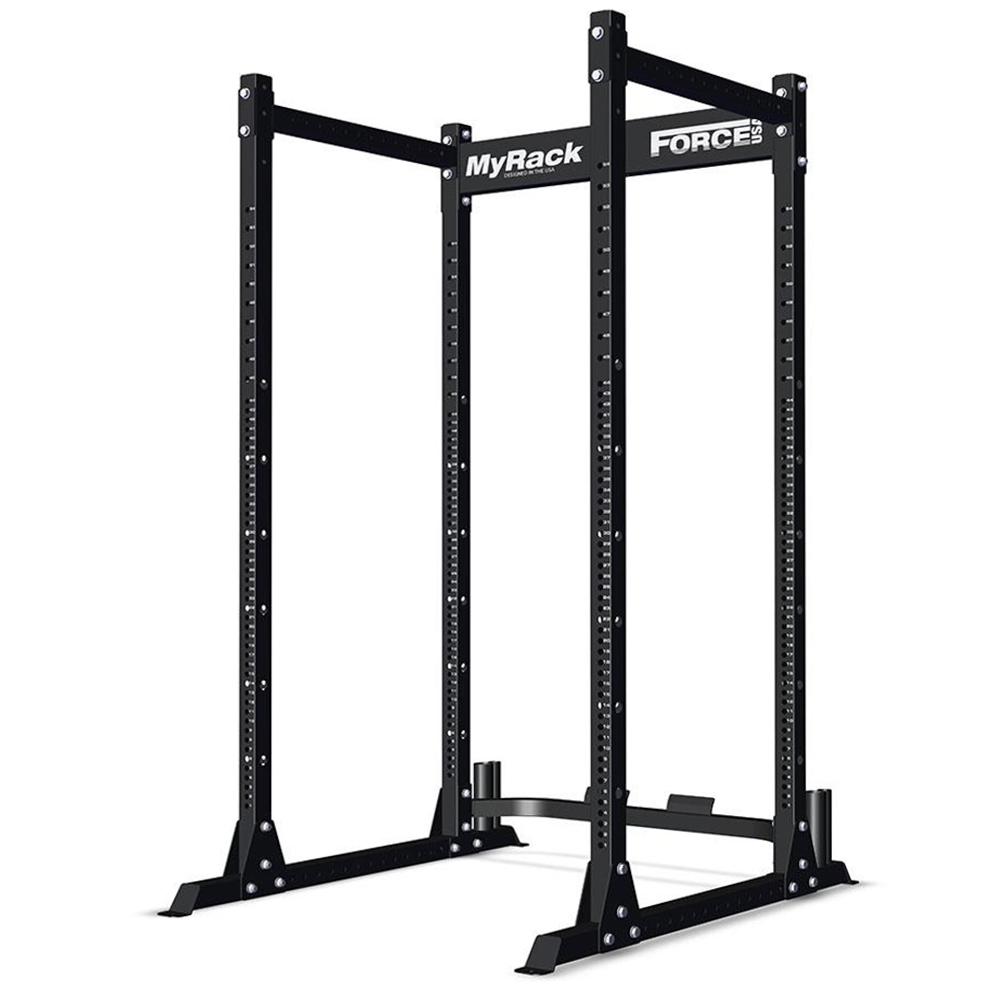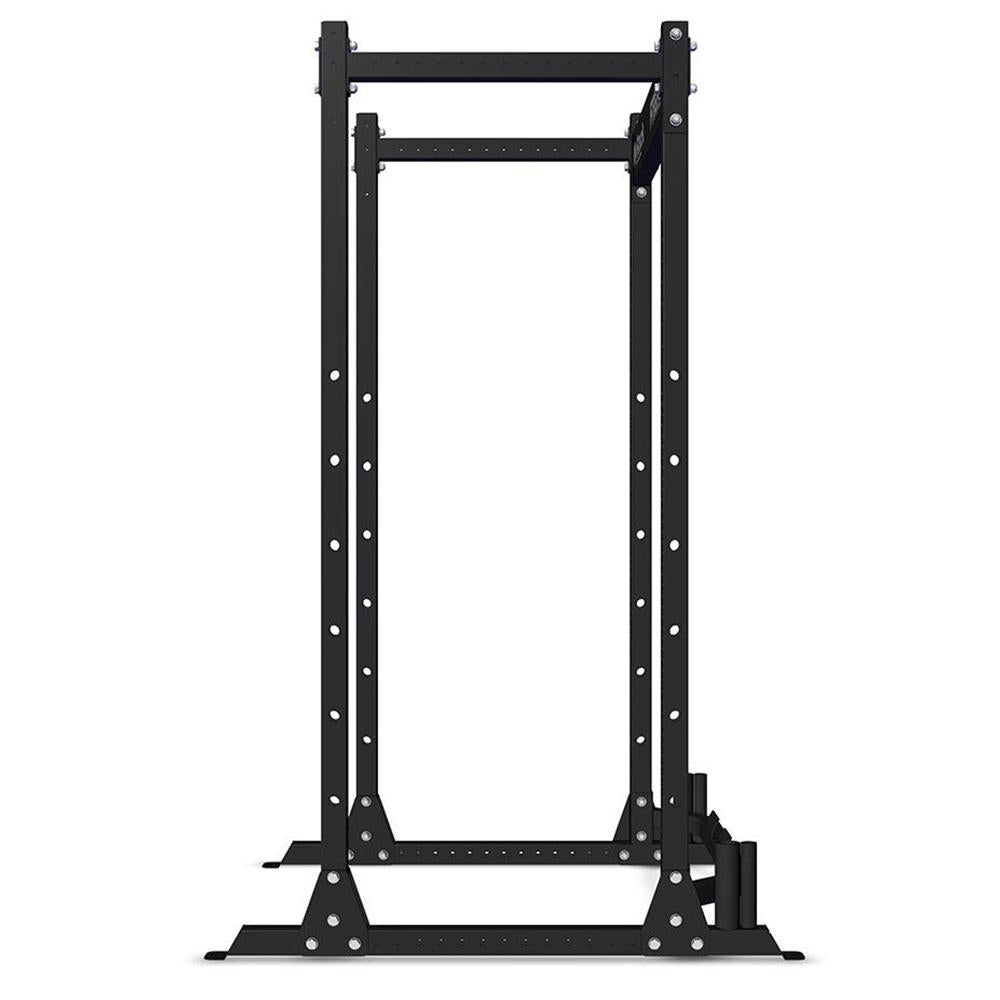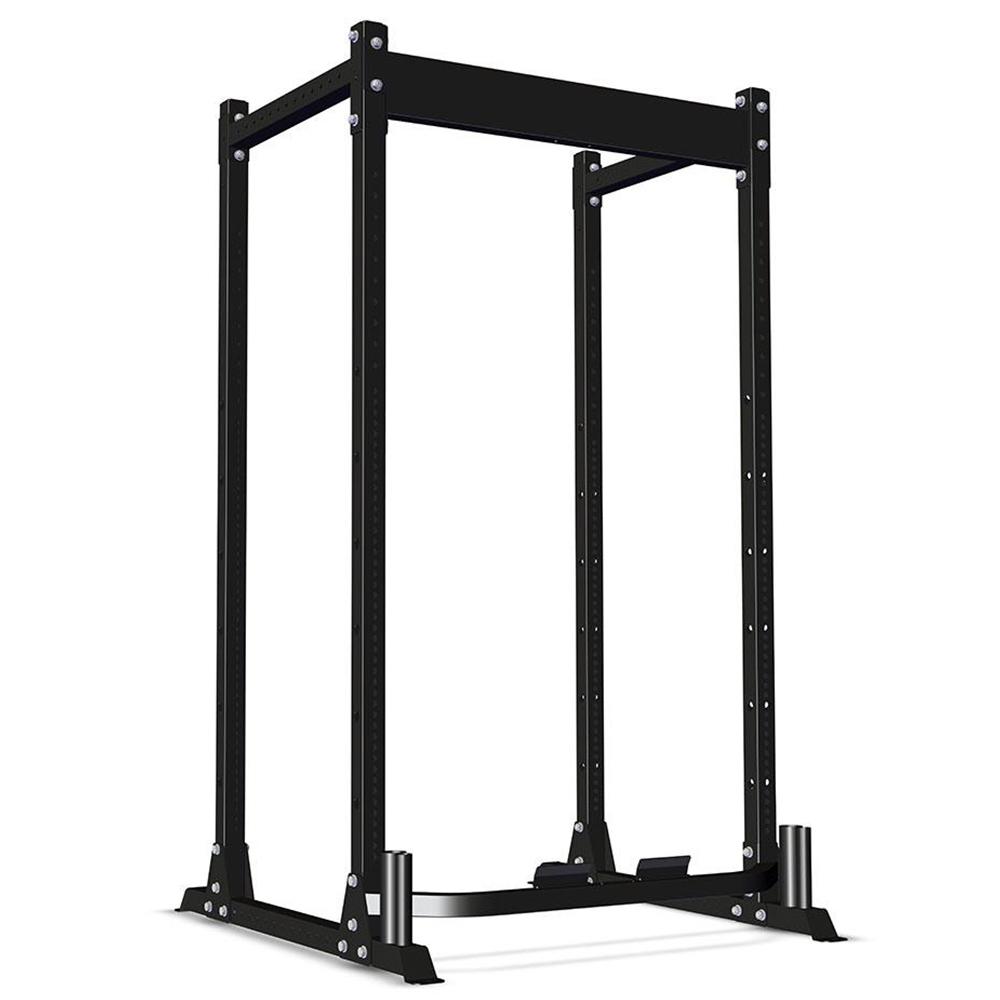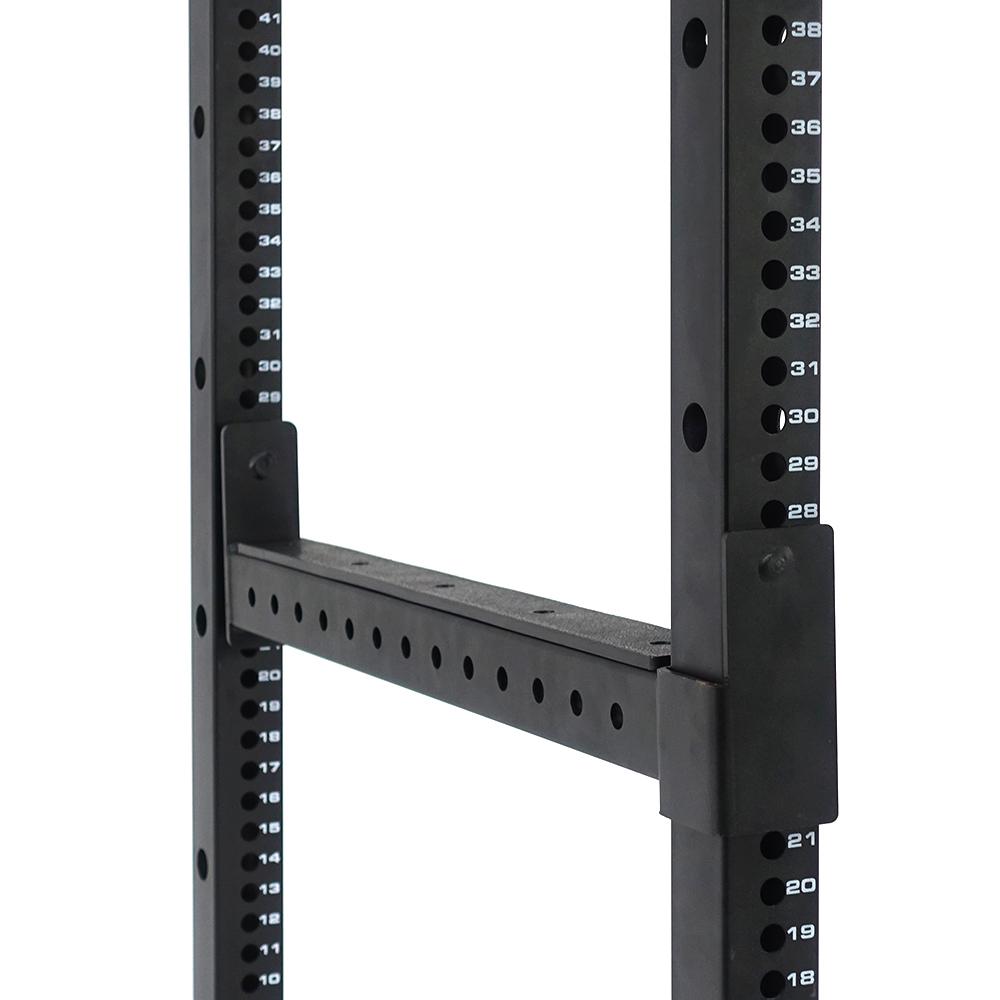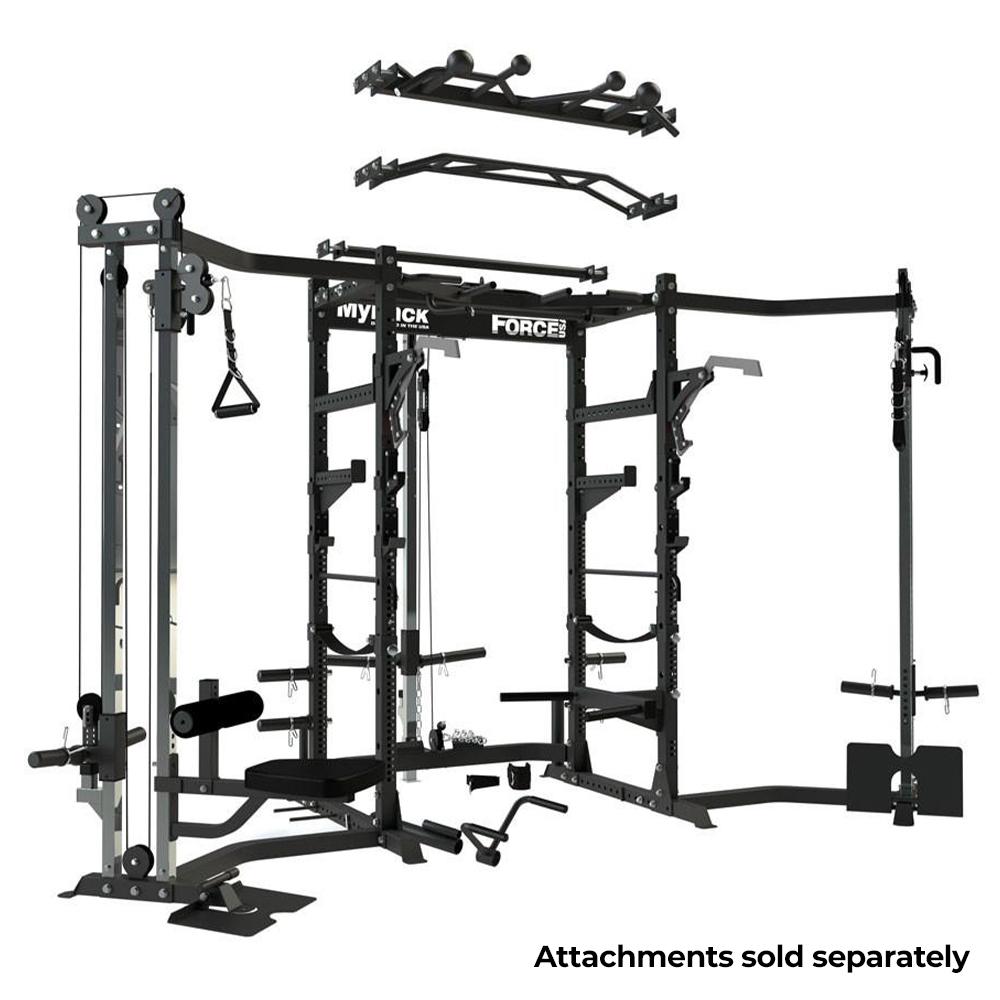 MyRack Base Unit
The Force USA® MyRack is the first truly custom power rack of its kind. Starting with the base unit, you can build your custom rack from the ground up to suit the way you train. With over 18 different attachments to choose from and 100 different rack variations, you can create a truly personalised rack to fit your exact workout needs. You have nothing to lose and everything to gain! Each MyRack includes the Force USA lifetime structural warranty.
STEP 1: PICK THE ESSENTIALS
We recommend starting with at least one Chin-up bar, J-hook, and Safety option.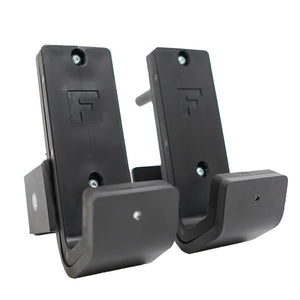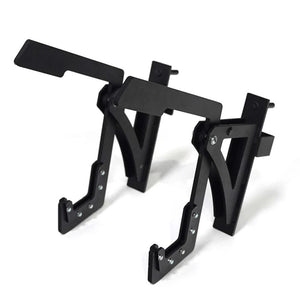 Made with 10mm high gauge steel combined with a massive 800kg weight rating, your Force USA®️ J-Hook Pros are an essential training accessory to help you lift with greater confidence on every set. Featuring textured nylon inserts and powder coating, these commercial quality Pro J-Hooks will prevent damage to your barbells as you rack and re-rack them. Designed for serious weightlifters looking to enhance their workouts, these J-Hooks are compatible with the Force USA® MyRack and Force USA® MyRack SpaceSaver.
The Force USA® MyRack Mono-Lift attachment is the first of its kind in Australia and gives you the key functionality of a full monolift rack at a fraction of the size and cost. The Mono-Lift helps you achieve your heaviest power lifts by removing the need for the lifter to walk away from the rack with weight on their shoulders. As the lifter un-racks the loaded bar, the Mono-Lift's hooks automatically fall out of the way.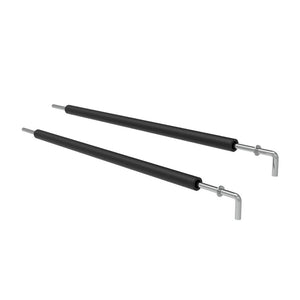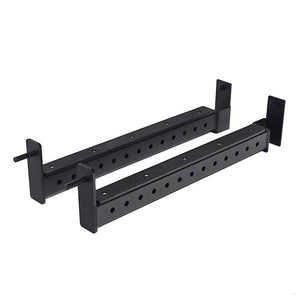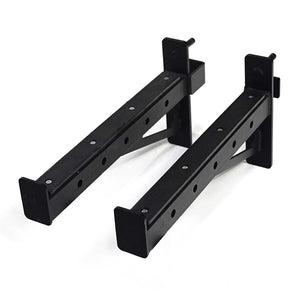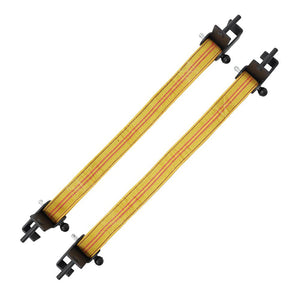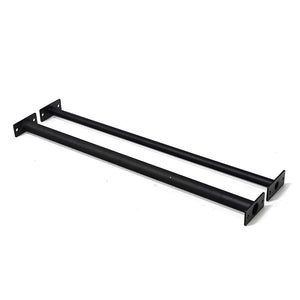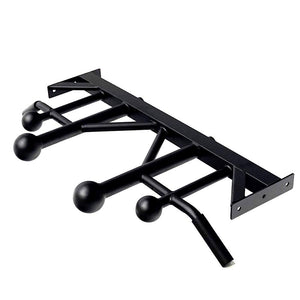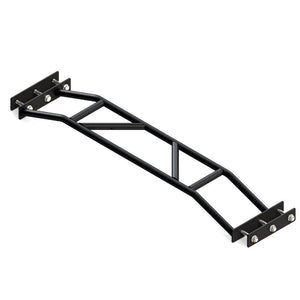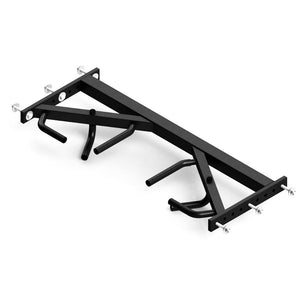 STEP 2: PERSONALISE YOUR RACK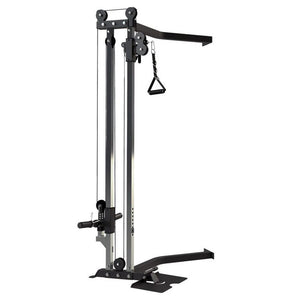 The Force USA MyRack fully adjustable Cable Cross Over attachment is a must for those wanting to add another dimension to their power rack. Unlike other similar Cable Crossover attachments, the MyRack offers floating pulleys, giving the user 28 different adjustment points to hit a variety of exercises!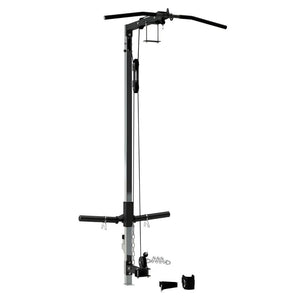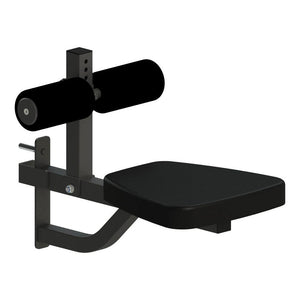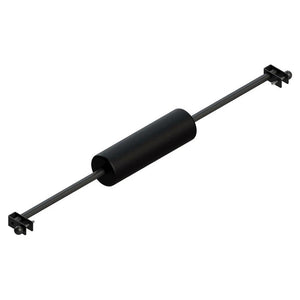 The Force USA MyRack Lat Pulldown/Row attachment is a perfect addition to your MyRack, taking up very little space at the back of the unit and allowing for a multitude of exercises.
The Force USA® MyRack Lat Pulldown Seat for the Cable Crossover attachment is another genius option for your MyRack set-up. You can add this seat to convert your MyRack Cable Crossover into a Lat Pulldown unit and build that V-shaped back you've always wanted!
The Force USA MyRack Knee Holder is a must have attachment if you have added the Lat Pulldown option to your MyRack. The Knee Holder can be attached to either the MyRack Pine & Pipe saftey or can be used in conjunction with the MyRack Band Pegs.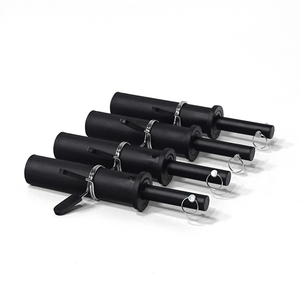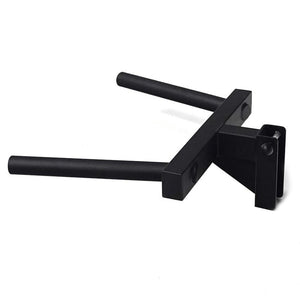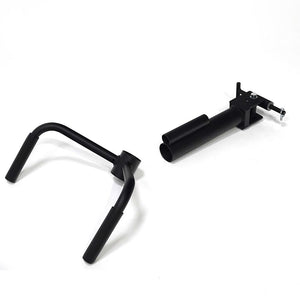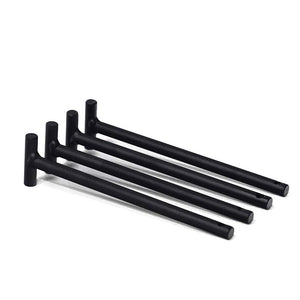 STEP 3: GET THE EXTRAS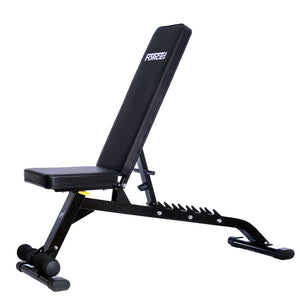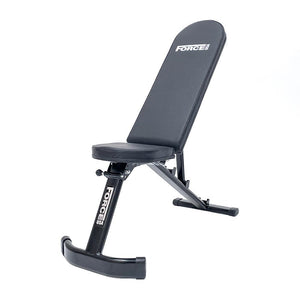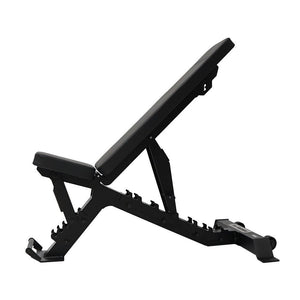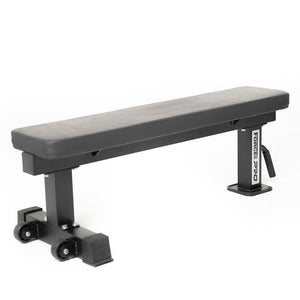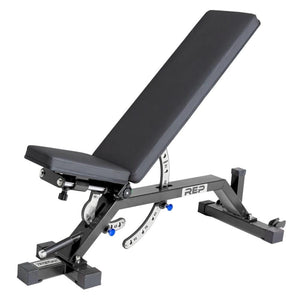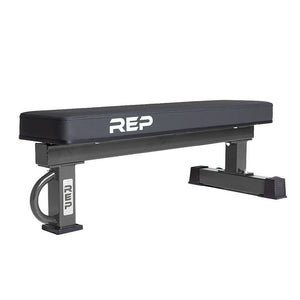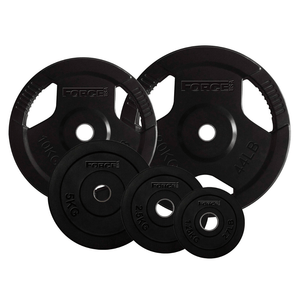 Created for everyday gym use the Force USA® Rubber Coated Standard Weight Plates are built to stand the test of time. The heavy-duty specially moulded rubber casing covers the weight plate eliminating the risk of flaking, chipping and rusting. While the ergonomic, tri-grip handles make changing your weight plates effortless, safer and more efficient.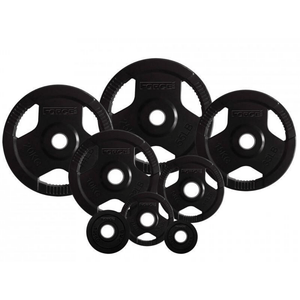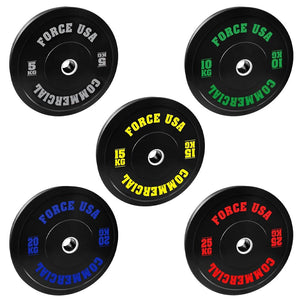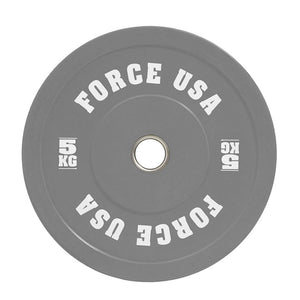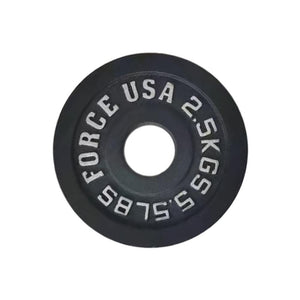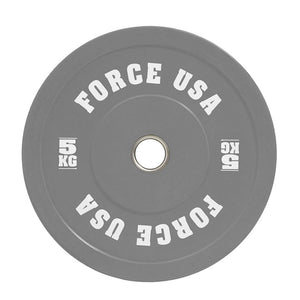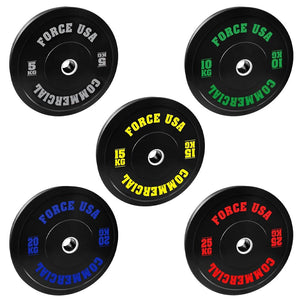 The Force USA® Pro Grade Coloured Bumper Plates are a high-performance, economical friendly solution for your strength training needs. Built to endure daily use and abuse from Commercial Gyms, Weightlifting Centres, PT studios and home or garage gyms alike. The Force USA® Olympic rubber bumper plates are built to match IWF size specifications of 450mm in diameter and are available in 10kg, 15kg, 20kg and 25kg, so you can mix and match your plates to suit your needs. Please note: the price listed is for each individual plate.
The Force USA® Ultimate Training Bumper Plates are high-quality, heavy-duty and durable, all without the hefty price tag. Built to endure daily use and abuse from Commercial Gyms, Weightlifting Centres, PT studios and home or garage gyms alike. The Force USA® Ultimate Training Bumper Plates are built to match IWF size specifications of 450mm in diameter and are available in 5kg, 10kg, 15kg, 20kg and 25kg, so you can mix and match your plates to suit your needs. Please note: the price listed is for each individual plate.
---
Key Features
QUALITY CONSTRUCTION

The Force USA® MyRack is manufactured using state-of-the-art, fully automated laser cutting and robotic welding technology. This manufacturing process means that you can have complete confidence when performing heavy, repetitive lifts. The flat foot design and rear stabilizer bar dramatically increase stability. It also increases the rack's durability by reducing rattling, which over time causes wear on the hardware. Force USA tests each production run to ensure they meet our rigorous safety standards and weight ratings to deliver the safest and highest quality power rack to your home or training facility.

VERSATILE TRAINING

Don't settle for an off-the-shelf power rack. The Force USA® MyRack is customised to the way you train now with room to expand later. Whether you train for weightlifting, powerlifting, WODs, Olympic lifting, callisthenics, gymnastics, or want to build muscle or burn fat—the Force USA® MyRack can help get you to the next level.

900KG WEIGHT RATING

Static weight tested to hold up to 900kg and engineered using a combination of 12 gauge (2.3mm) steel, 2.4" (60mm) uprights and 10 gauge (3mm) support brackets, the MyRack rivals other power racks without compromising on weight capacity. The MyRack features Westside hole spacing with 54 laser-cut holes, which include different numbered adjustment points to perfectly position any size user for bench press, squats, and more. The numbered holes make each and every workout easier because you don't have to guess which height you need to adjust the J-hooks or safeties. You simply have to write down or remember, which numbers you use for certain exercises.

COMPLETELY CUSTOMISABLE

The Force USA® MyRack is a versatile power rack system that can either be used freestanding or when bolted into the floor to perform squats, bench presses, deadlifts, and more. Choose from a range of chin-up bars, pull-up bars, dip handles, landmine rows, lat-pulldowns, J-hooks, safeties, cable crossovers, and even a monolift attachment to precisely match how you train. Complete your MyRack with a Force USA bench designed to fit perfectly with your unique power rack.
Specifications
Usage: Light Commercial
Westside Hole Spacing
54 Adjustment Points Front and Back
Built-in Olympic Bar Storage Sleeves
Laser Cut Steel Construction
Robotic Welds
Rear Stabiliser
12 GA Steel Uprights
Freestanding and Bolt-In Options
Lifetime Structural Warranty
Tubing (Upright) Size: 60 mm * 60 mm
Dimensions: 140cm (L) x 120cm (W) x 220cm (H)

Hole Diameter: 15 mm
Check out some of our happy MyRack customers
Specifications
Usage: Light Commercial
Footprint (cm):

1400mm (L) x 1200mm (W) x 2150mm (H)

60mm*60mm Upright

15mm hole diameter
SIMILAR AVAILABLE PRODUCTS
Solid and Versatile Squat Rack
I've been using this squat rack for about a month now, and I'm thoroughly impressed with its quality and durability. The construction is sturdy, and it feels like a reliable piece of equipment that will last for the long haul.
One of the standout features for me is its versatility. The rack comes with multiple attachment capabilities, making it a great investment for a variety of workouts. Whether you're into squats, bench presses, or even incorporating accessories like dip bars or pull-up attachments, this rack has you covered.
Assembly was straightforward, and the instructions were easy to follow. I appreciated the attention to detail in the design, with all parts fitting together seamlessly. It's clear that the manufacturers put thought into creating a user-friendly experience.
The build quality is exceptional, and I've noticed no signs of wear or instability during my workouts. The powder-coated finish not only adds to its aesthetic appeal but also seems to contribute to its overall durability.
While I've only had it for a month, I feel confident in recommending this squat rack to anyone in need of a reliable and versatile piece of home gym equipment. It's an investment that I believe will continue to meet my fitness needs for years to come
Hi Aaron,
Wow, what an amazing review! We're absolutely thrilled to hear you're loving the squat rack and that it's exceeding your expectations in terms of quality, durability, and versatility. Your detailed feedback made our day!
Happy training!
GAF Team
Very good base unit
Very good. Can be a bit more solid, but looks very sleek!
Love the attachments, but one star taken off because the lat pull down attachment came incomplete, am still waiting for spare parts.
Hi Alex,
Thank you for your feedback! We're pleased to hear you are happy with your purchase however, we're sorry for the inconvenience caused by the missing parts for your lat pulldown attachment.
If you still haven't received your spare parts, please reach us at info@gymandfitness.com.au and we'll be happy to look into it for you.
Happy training!
GAF Team
Great base unit
Great quality, great value, perfect unit to build your home gym around
Hi Anthony,
Thank you for your positive feedback! We are pleased to hear you are happy with the MyRack Base Unit. Please feel free to get in touch if you ever need assistance, we're happy to assist.
Happy training!
GAF Team
Outstanding Customer Service - Great Product
I purchased the Force USA MyRack. It's fairly easy to assemble and it looks very solid. I love it. The reasons I decided to buy it come down to a combination of affordability, built (much sturdier that other racks in the same price range) and versatility (modular expansion via attachments).
But I want to emphasize the great customer experience I had thanks to Danica's outstanding service. She was on top of things along the entire process, with great and prompt communication at every turn. She really made sure everything was delivered promptly and even went far and beyond when helping replace a faulty hook. Honestly, having that level of customer service gives you much more confidence in the brand and makes you want to come back for more. Thanks again Danica!
Hi Santiago,
Wow, we're thrilled to hear about your fantastic experience with the Force USA MyRack and Danica's outstanding service! Your feedback truly means a lot to us. We appreciate your support!
Happy training!
GAF Team
ForceUSA MyRack
Great piece of versatile equipment that handles everything I throw at it. Fantastic to build over time adding more and more attachments for the ultimate home gym
Hi Joshua,
Thank you for your awesome review! We're so happy to hear you are satisfied with your home gym and if you ever have any questions or concerns, please feel free to reach out, we're happy to help :)
Happy training!
GAF Team