Reaction Ball
Reaction balls are essential to every individual who is very inclined to sports, it plays a great role in their physical and mental development. Grab a piece now and experience the difference! Listed here are the products of the best brands out there in the market.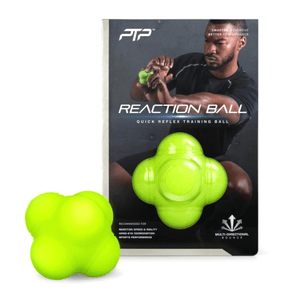 The tool or perfect equipment for every athlete and personal trainer alike, it helps develop balance, hand-eye coordination, timing and reflex. It helps heighten the concentration levels to a different level of an individual in order for them to exert effort at the right timing and placement. This is possible by training to react to the ball in a timely manner while efficiently moving in doing so.
It can be very beneficial to football players, basketball players, cricket players, badminton players and the likes. It enhances their agility, footwork, hand & eye coordination, weight balance, accuracy, focus and endurance. During practice sessions, the players throw the six-sided reaction ball on to the wall, then try hitting the ball back and forth. The goal is to maintain the ball in motion for as long as possible while developing new skills and techniques that would be very helpful in their own respective sports.
A game of the react ball keeps players motivated, therefore, it not only develops physical aspects of an athlete but also their mental fortitude. This results in boosted perception, focus, dedication, confidence and morale. This is very vital to every athlete who wishes to level up their performance in a holistic manner. These benefits should not only be limited to renowned athletes, everybody who wishes to be physically and mentally fit can grab this amazing piece of equipment to enjoy its full potential. It is also very entertaining to use, can be also used to relieve stress while keeping you at your toes and at a heightened adrenaline state to expel stress hormones.