Power Tower Gym
The Power Tower Gym saves you the most money out of all the equipment out there. It works out a large number of muscle groups due to the multiple exercises performable with it. We have collated options of the different service levels for you to be able to find what's fitting to your budget.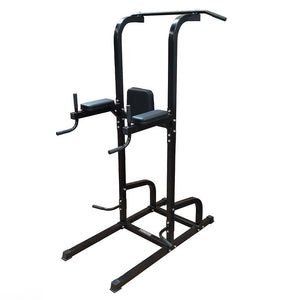 The Power Tower Gym lets you perform functional exercises that are the most efficient and effective training regimen out there. With this powerful piece of equipment, you would be able to perform 4 major kinds of workouts, namely, Chin-ups, Press-ups, Dips and Vertical Knee Raises. Saving the time of transferring from one equipment to another, this is truly efficient when performing supersets.
This equipment also lets you workout with the comfort of your own home. It only takes up a little patch of space which is very ideal for home gym setups. It doesn't even require you to hook up or drill it up and incorporate into a wall.
Here are the major exercises you can perform with this equipment:
Chin Ups (BACK & BICEPS)
The Chin-up station helps you build up a strong and toned biceps and back muscle groups. Wide grip or overhand chin ups with the wide grip handles hit your back muscles. Shoulder width pullups hit your biceps really good with the ergonomically angled close grip handles.
Press Ups (CHEST & TRICEPS)
The press up stations are always designed to be put directly under chin ups station, enabling you to perform supersets with ease, this is a good way to mix up your workouts, making it a little more enjoyable and giving you better benefits than regular single workouts. The press ups gives a little more challenge on your push-ups because you could go a little deeper than regular ground push-ups because of its elevation. The grips also promote grip strength development with push-ups.
Vertical Knee Raises (CORE) & Dip Station (CHEST & TRICEPS)
These two are also placed in the same area also to enable supersets.