Commercial Pin Loaded Thigh Machine
The Commercial Pin-loaded Thigh Machine is used to let exercisers of all degrees of ability to work out the muscles in their inner and outer thighs. This universality is made possible by the pin-loaded weight features. These are machines are made from high-grade steel to ensure the safety of its users and provide aesthetics that would be on par with the commercial gym environment.
If you are after a tailored package to suit your needs, please send an email to commercial@gymandfitness.com.au or view our Commercial Gym Fit Outs page.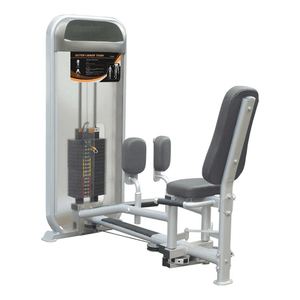 The Pin-loaded thigh machine is a piece of gym equipment that was invented to lessen the injuries that used to come with the more conventional methods of thigh exercises. It was made to ensure that the thighs were getting efficient exercise movement while keeping them away from injury through sprains by reducing the work on the ligaments of the inner knee. The thigh is a part of the body that not many athletes are mindful of working out most often, a reason why this machine is very important in commercial gyms; its purpose is to balance out your entire body's wellness as a method to work on that particular area, in specificity, isolating it from the rest of the body from your workouts.
The inner and outer part of the thighs is the most difficult muscle group to work out properly. The thigh machine is a workout apparatus that does not need free weights, which may not be an issue to new faces around the gym, but for skilled athletes and gym-goers, they may be sceptical, as they more often than not prefer to use machines that use weights, in order to shorten the workout sessions. This is why the commercial pin-loaded thigh machine is indispensable, as it enables users to modify the weight load that the machine accommodates, and can be shifted according to the athlete's fitness needs. This is important, as working out the thigh muscles has been known to allow athletes to experience more ease in performing other rigorous strength workout regimen, such as wide and narrow standing squats.