Commercial Decline Bench Press Machine
The Bench Press is one of the most common gym equipment and usually the most famous of the bench press variety are flat and incline press. Everyone almost ignores the decline bench press but that machine is an import machine factor in building strong chest muscles.
If you are after a tailored package to suit your needs, please send an email to commercial@gymandfitness.com.au or view our Commercial Gym Fit Outs page.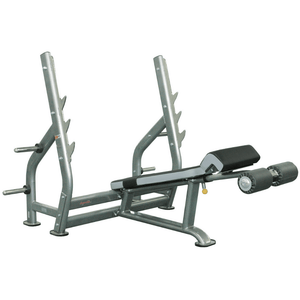 The first benefit of a Commercial Decline Bench Press Machine is that focuses the low portion of your chest greatly compared with the flat and incline press machine. This is very important if you want to have around, wide, and defined chest. Adding this to your daily exercise will help you secure balance that you may have noticed that you lack in your lower-pecs and will help strengthen your chest greatly.
Because of the decline position and the bar positioning, your chest does more isolated work than your shoulder. It also lessens the strain in your lower back that is caused by doing a flat bench press.
Commercial Decline Bench Press Machine, when mixed with other press exercise and dips will help your development, gain loading abilities and complete chest muscle growth.
The bottom line is, adding this equipment in your facility will help everyone do a complete chest exercise. As not only that it will complete your whole chest exercise, an added extra is it will reduce overall stress on your shoulders, elbows, and wrist as each press exercise targets chest and arm muscles a differently with each exercise. We offer a wide range of Commercial Decline Bench Press Machines and we have our helpful customer experts that will help you pick the right machine for you.