Commercial Pin Loaded Back and Core Machine
Commercial Pin-loaded back and core machines are meant to provide an efficient strength training experience for the back and core muscle groups, also allow the user to scale their training's intensity level up or down. These machines are superior in build quality, ensuring safety, durability and longevity for the benefit of commercial gym customers and owners.
If you are after a tailored package to suit your needs, please send an email to commercial@gymandfitness.com.au or view our Commercial Gym Fit Outs page.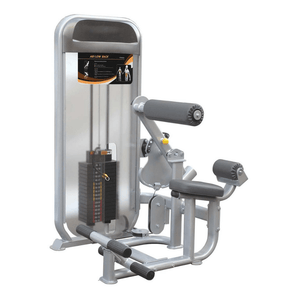 There is a large number of choices of strength training equipment that is meant to develop, strengthen, and tone all the specific muscle groups of the body in different workouts, as well as to differing levels of difficulty and intensity. They can be as compact as the dumbbells and medicine balls you will see all across almost every commercial gym, and as big and heavy as most press machines that use barbells for high-quality strength training sessions.
Some of these equipment, however, has the disadvantage of only being useful for a certain group of athletes. For instance, the said mentioned barbells and medicine balls, especially those of lower weight levels, are only useful for beginner athletes, while the intricate strength machine presses like the bench presses are meant for those who have learned the proper form in using them to avoid further injury. This leads to an undesirable situation in which both skilled and new athletes hesitate to use some workout tools, making their uses limited.
However, there is no issue for pin loaded machines, as these are both easy to perform workouts with, thus very much useful for new athletes, and can be modify to level up the intensity of their workouts, which means it can serve to both athletes who have been working out for a brief while and desires to start leveling up their workout intensity, as well as experienced users who want to test out a high-intensity level on an easy to perform movement of the pin-loaded machines, before dishing it out with the harder to use equipment or free weights.