Fast Delivery Australia Wide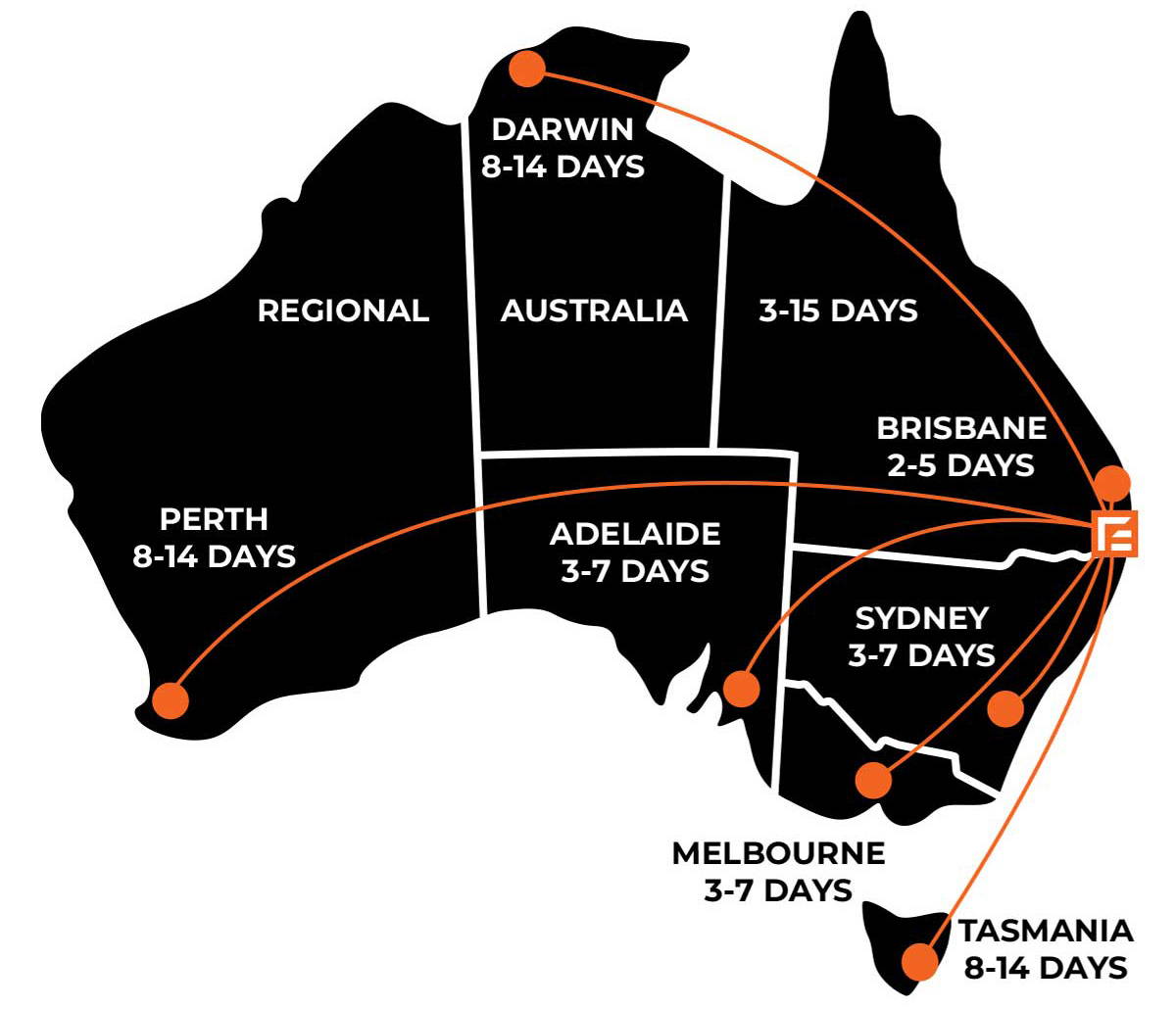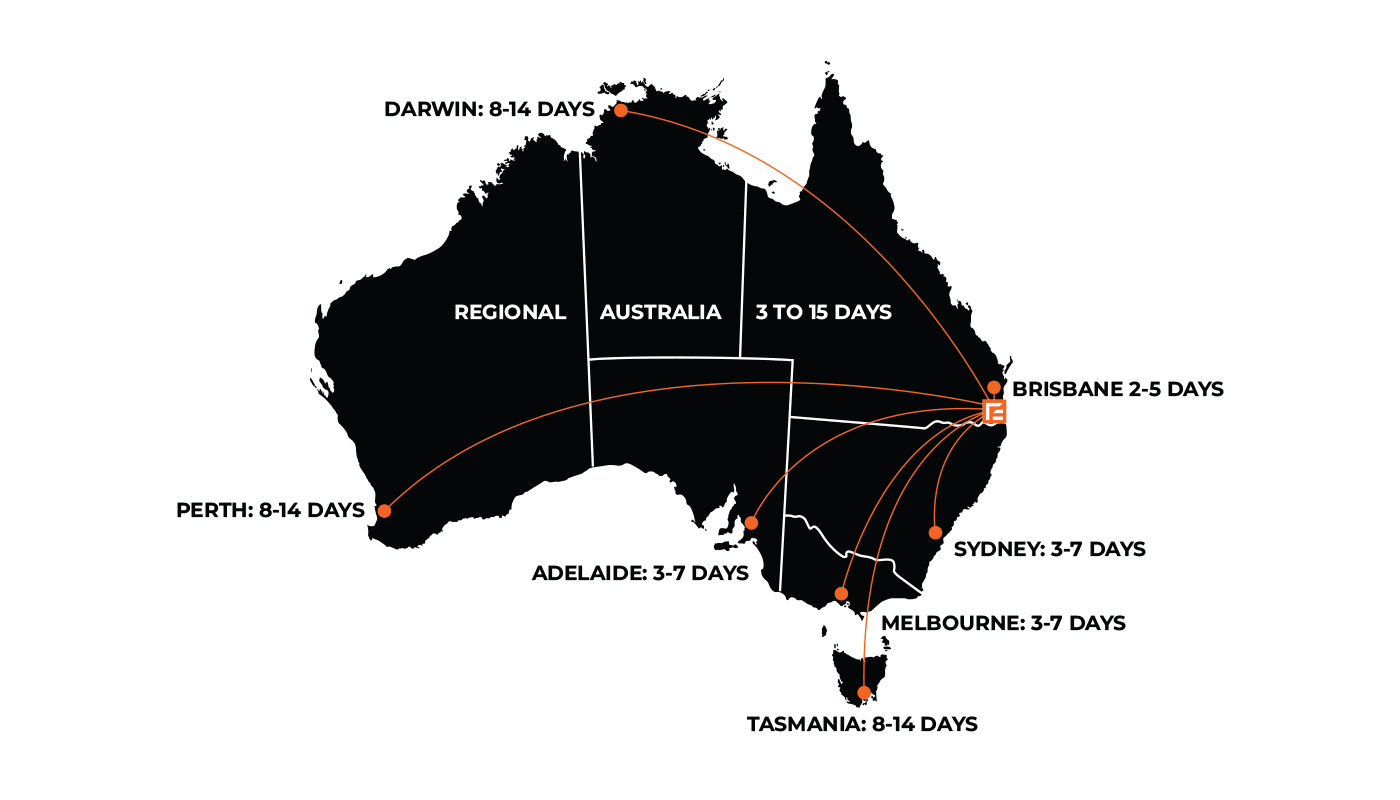 WHEN WILL MY ORDER BE DELIVERED?
Delivery times can vary based on a few factors. Your location and the nature of your order mean it could take anywhere from 3 to 15 business days from dispatch. You can check out our handy map above for more details.
Expect your delivery to arrive between the hours of 9am and 5pm, from Monday to Friday, excluding Public Holidays. While our couriers can't provide an exact delivery time, they'll certainly give you a heads-up with an estimated time window via SMS or email as your delivery date draws closer.
Important to note: If your order includes any bulky or oversized items over 20kg, they will be delivered as 'curbside delivery' due to freight OH&S guidelines. Want to know more? Scroll down to the relevant section below.
Will I receive delivery updates?

Yes, indeed! We'll shoot off a dispatch notification to you as soon as your order is courier-bound. You can then look forward to further updates, typically via SMS or email, straight from the courier handling your delivery.
What is Curbside delivery?

In line with freight company safety guidelines, standard deliveries for bulky and oversized items over 20kg are delivered curbside. This service is confined to the ground floor and excludes deliveries involving stairs, narrow passages, steep paths, or tricky access areas. What qualifies as an easy-to-access area is left to the courier driver's discretion, and any assistance beyond curbside delivery is not guaranteed.
The courier will bring your items as close to your premises as a truck and pallet jack can practically reach. The goods will be unloaded onto the pavement outside your property. Responsibility for moving the goods inside rests with the buyer.
It is your responsibility to advise us:
You do not give authority to leave (ATL) and someone will be present to sign for the delivery.

There's a preferred safe location for delivery if no one is home.

You require an alternate delivery service for items over 20kg.

The delivery address is a business property. We'll need the business hours and business name in this case.
Will all my items be delivered together?
In most cases, multiple items ordered will be delivered together. However, if items significantly differ in size and weight, they may be delivered by separate couriers, potentially arriving on different days. But rest assured, they're all en route!
How much does shipping cost?
Delivery charges depend on your location and the weight of the order. These costs will be calculated at checkout once you've added your products to the cart and entered your delivery details. All items incur delivery charges unless stated otherwise.
Does shipping get cheaper with more purchases?
It sure does! The more kit you order at once, the lower the cost per kilogram. Now that's a win!
Which shipping company do you use?
We use a wide range of shipping carriers to bring you the cheapest and best possible service. Our shipping volume means we have some of the best freight rates possible in Australia, which we pass to you!
Our couriers include:
What if I miss my delivery?
A signature may not always be needed for delivery. However, if you come across a card noting your package has been returned to the local depot, you can contact them to plan a collection or set up a re-delivery. Our friendly customer service team is always ready to lend a hand if you need any help with this.
Please note, the process might differ slightly depending on the freight company:
Direct Freight: If delivery was unsuccessful, DFE will email us explaining why. We'll then get in touch with you (if required) to confirm any information DFE needs to facilitate re-delivery. Unlike some companies, DFE does not usually leave a card indicating that delivery was attempted.

Main Freight: If delivery couldn't be completed, Main Freight will attempt to schedule a re-delivery with you and will email us to approve any related re-delivery charges. In this case, we may be in touch with you to process any re-delivery charges prior to the second delivery.
Our goal is to make the delivery process as seamless as possible for you. Don't hesitate to get in touch if you have any questions or concerns.
The 14-day returns* policy, how does that work?
If you decide to return eligible items under our 14-day returns on select brands policy, you will need to cover the return freight and delivery costs, as this is considered a separate servivce. We'll deduct these costs from your refund amount (the product purchase price) and handle the payment to the courier. Our friendly team will chat these costs through with you before processing your refund.
Visit our Why Choose Us page for more information.
Can you deliver to a PO Box?
Due to the bulk and weight of most of our items, we're unable to deliver to Australian Post Office Boxes, unfortunately.
Can I use my own freight company?
Certainly! If you've got a preferred freight company, you can arrange for them to pick up your order from our warehouse in Molendinar, Queensland. Just remember to give us at least two business days' notice to get your order ready for pickup.
Your items might come with extra protective packaging or be delivered on a pallet for easier transportation. Please note, you're responsible for waste removal at the delivery location.
That's it! Now, all you need to do is place your order, and get ready to meet your new fitness gear!