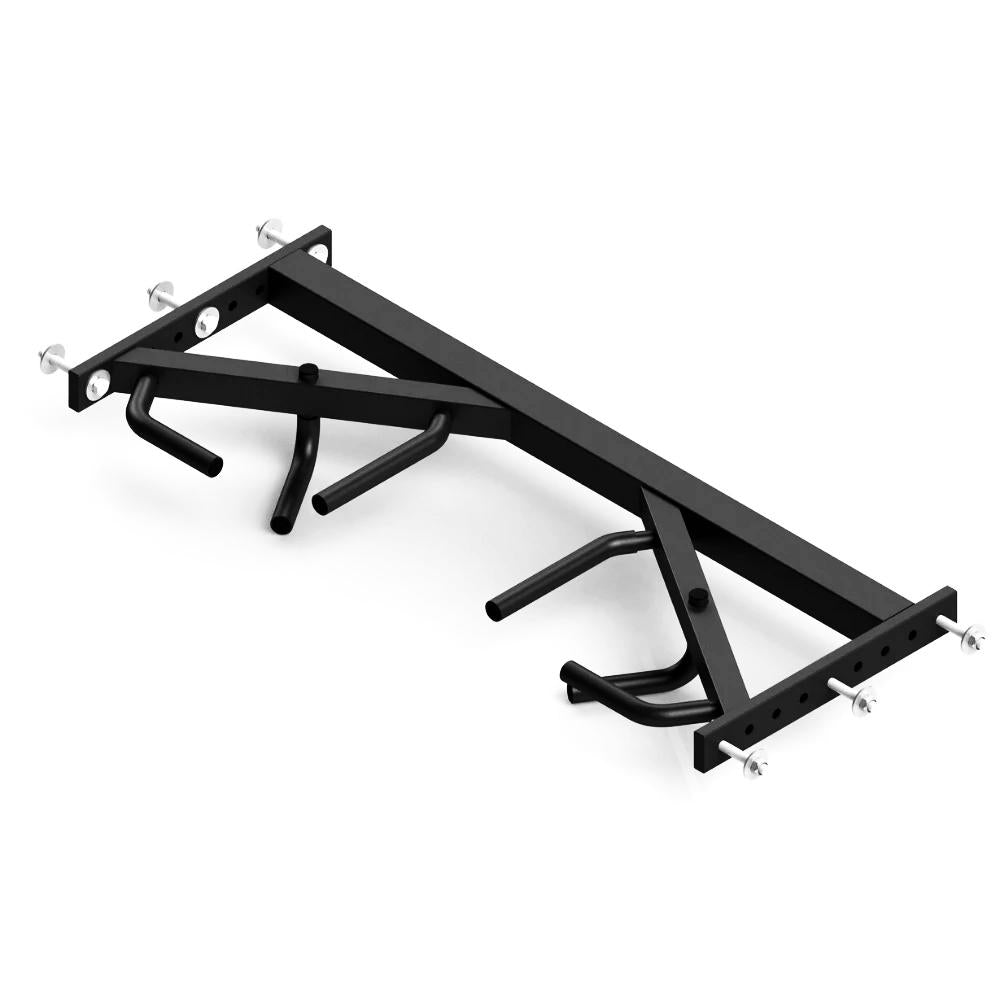 MyRack Chin Up Option 4
The Chin Up Option 4 Hammer-Grip Attachment is the ideal pull up attachment for semi-pronated or hammer grip / neutral grip pull-ups. The sturdy and ergonomically designed Force USA® MyRack Chin Up Option 4 is an excellent chin up solution for all fitness levels and those looking to develop forearm, bicep and back strength without putting too much stress on your wrist and shoulder joints.
---
Key Features
HAMMER GRIP CHIN UP EXERCISES

Complete a range of chin-up variations, including:

Hammer Grip Pull-ups
Pull-ups
Wide Grip Chin-ups
Neutral/Parallel Grip Chin-ups
Reverse Grip Pull-ups

The Multi-Grip Chin-up Bar is bolted flush to the support brackets, so there is no movement and with a solid fixture it can take up to 400kg in weight.

Attachment is for the Force USA® MyRack ONLY
Specifications
Usage: Light Commercial
Weight Rating: 400kg / 880lbs
Dimensions: 1084mm (W) x 380mm (D) x 95mm (W)
Handle Diameter: 25.25mm
Hole Diameter: 15 mm
Tubing (Upright) Size: 60 mm * 60 mm
SIMILAR AVAILABLE PRODUCTS
Hi Randy,
Thank you for your awesome review! It's sturdiness is also what makes the MyRack Chin up option 4 reliable. Thank you for choosing GAF and we hope to see you again soon.
Happy training!
GAF Team
Great addition to any home gym
Comfortable ergonomic design for minimal physical stress during use while helping achieve maximum results for both pull ups and chin ups. Great purchase.
Hi Karsten,
Thank you for the feedback. So glad to hear you are enjoying the rack and your new pull up option!
Kind regards,
GAF Team
Fantastic!
Great product, does awesome and looks good too
Solid unit with ergonomic design
Rubber grips inevitably slip a bit but otherwise this is excellent.
Good Attachment Option
Does everything it needs too!
I bought this for my force usa setup, which is slightly different with the hole positions so I had to modify mine.
You can make it work with anything if you know your way around either a file or drill.