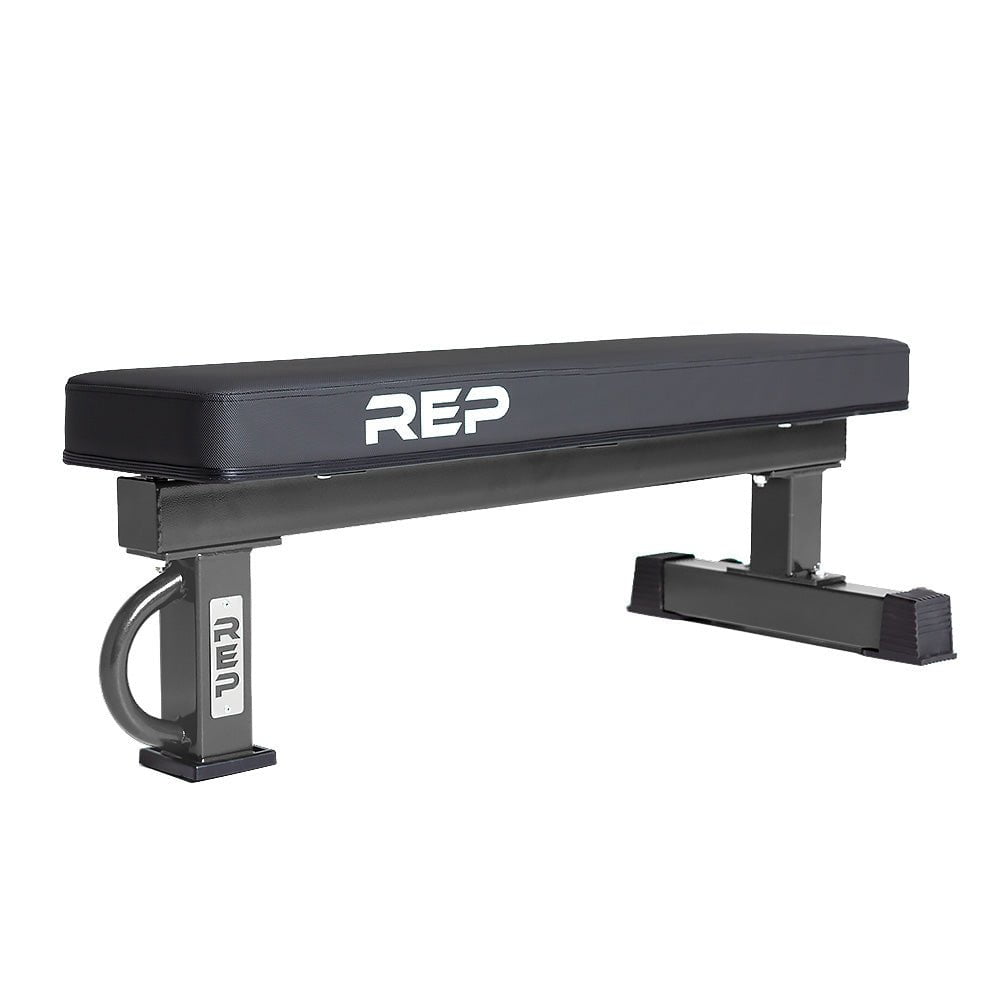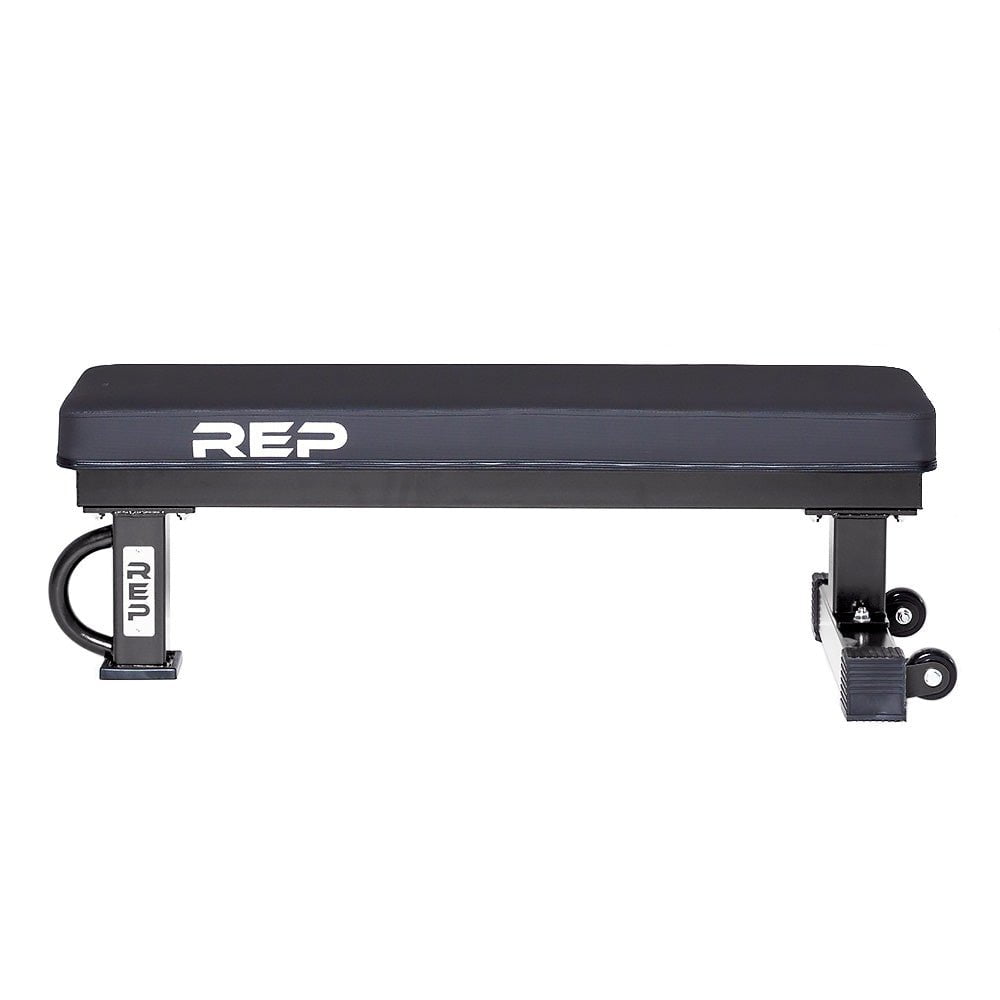 FB-5000 Competition Flat Bench
The FB-5000 Competition Flat Bench from REP Fitness will make a great addition to your home or studio gym. With a stable tripod foot design, the bench's legs won't get in the way of your feet allowing for optimal leg drive. Made with an 11-gauge steel and Lifetime Frame Warranty, this is a rugged, budget-friendly bench for any training environment.

---
KEY FEATURES
COMPETITION GRADE TOUGHNESS AND PERFORMANCE

This compact, lightweight flat bench will meet all of your strength training needs. The FB-5000 Competition Flat Bench includes:

Huge 1,000lbs (453.6kg) weight capacity
Bench is 16.9" (42.92cm) high to prepare lifters for a meet
Grippy, non-slip vinyl will keep you in position
Grooved rubber feet will keep the bench in place
Steel handle and built-in wheels for simple portability

INNOVATIVE TRIPOD DESIGN

REP Fitness knows exactly what professional powerlifters and every day gym users want from a flat bench. The FB-5000 includes a clever tripod design that will give you plenty of room to workout with, ensuring you can optimise your leg drive for those heavy sets.
SPECIFICATIONS
Usage: Full Commercial
Bench Weight: 28.12kgs / 62lbs
Bench Height: 42.92cm / 16.9"
Bench Width: 53.34cm / 21"
Bench Length: 128.27cm / 50.5"
Pad Width: 30.48cm / 12"
Wide Pad Width: 34.92cm / 13.75"
Pad Length: 121.92cm / 48"
Tolerance: 3%
Weight Capacity: 453kgs / 1,000lbs
Material: 11-Gauge Steel
Warranty:

Frame: Lifetime
Parts: 1 year
Upholstery: 30 days
SIMILAR AVAILABLE PRODUCTS
Rep Fitness FB-5000 Competition Flat Bench
Sturdy low set bench, very comfortable to bench with, thick padding.
Hi John,
Thank you for your review here, we appreciate it! Your satisfaction is our priority and we're happy the FB-5000 met your expectation. We hope you enjoy your workouts with your new bench :)
Happy training!
GAF Team
REP FB5000 bench
Great bench. Pad and height are terrific. Assembly was easy. Frame has great handle and wheels makes moving a breeze. Very solid build. Love this bench.
Hi Craig,
Thank you for taking the time to share your positive feedback on the FB5000 bench! We are thrilled to hear that your experience with the bench is amazing. We appreciate your support and hope that you continue to enjoy using the bench.
Happy exercising!
GAF Team
Best Flat Bench Ever IMO
I have been bodybuilding for the past 17 years and have used benches in civilian and military gyms and this is by far the best bench I have ever used. It feels sturdy and solid, which is no surprise with 11 ga steel and bolts (no nails or screws) only. The pad is just sticky enough to keep you in place and the width is great, even with my wide shoulders. I am still tempted to try the wide pad, but I am perfectly fine with the width I have (12 in vs 14 in). Lastly, I recently started PowerBuilding and after much research this is the only bench that offers height that is up to IPF competition standards and can hold up to 1,000 lbs.
Great beach
This bench is strong and
sturdy. The 4" flat cushion feels great. Overall great bench and glad we purchased it.
Great Bench
I am 100% satisfied with my purchase of this bench in matte black with the wide 14" pad. I shopped around quite a bit and even had to return a couple of benches from other companies due to very poor construction. This bench is heavy (which is good), sturdy, and extremely versatile. The thick pad is of very high quality, and the frame will absolutely stand the test of time. Welds are good, powder coat is good. After much trial and error with other benches, I can definitively say this one is the best for the money. You could spend around twice as much on Rogue's version of this bench, but it wouldn't be any better. There isn't much more to say. I'm a picky guy when it comes to quality and price, and this one does it for me.