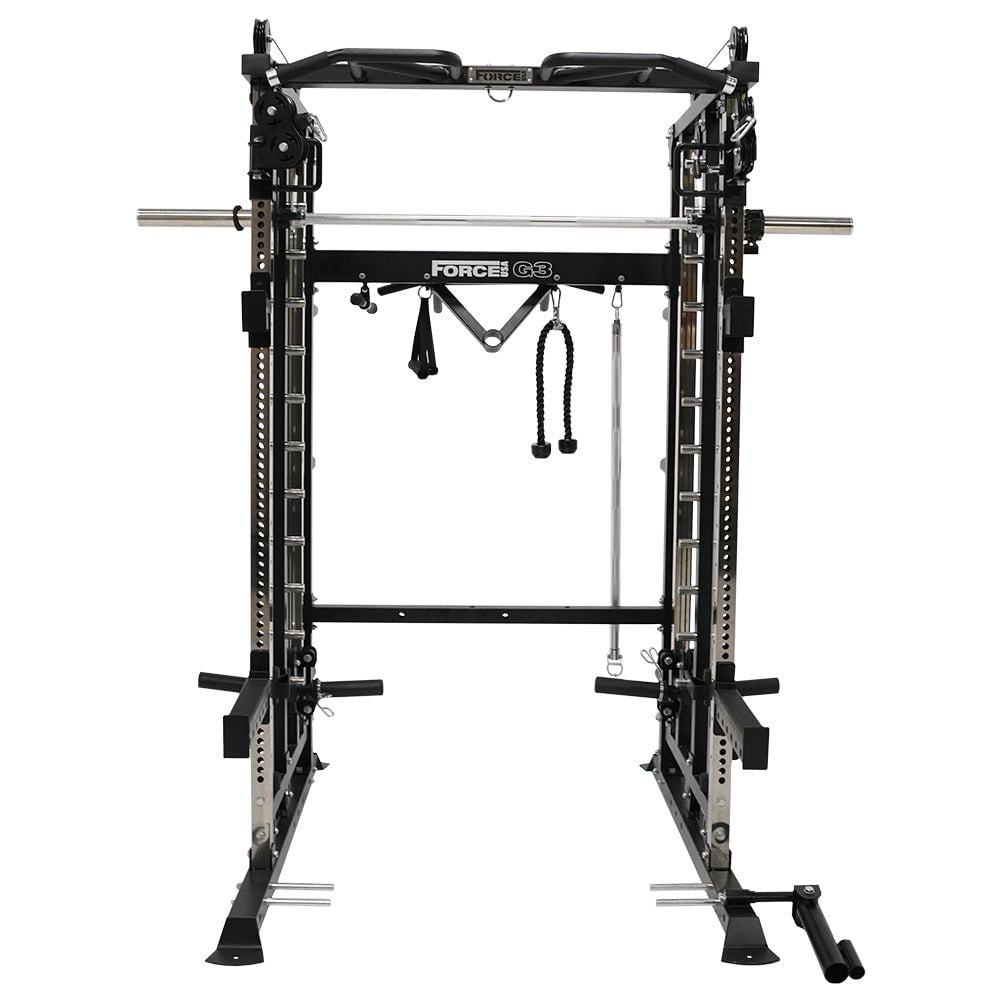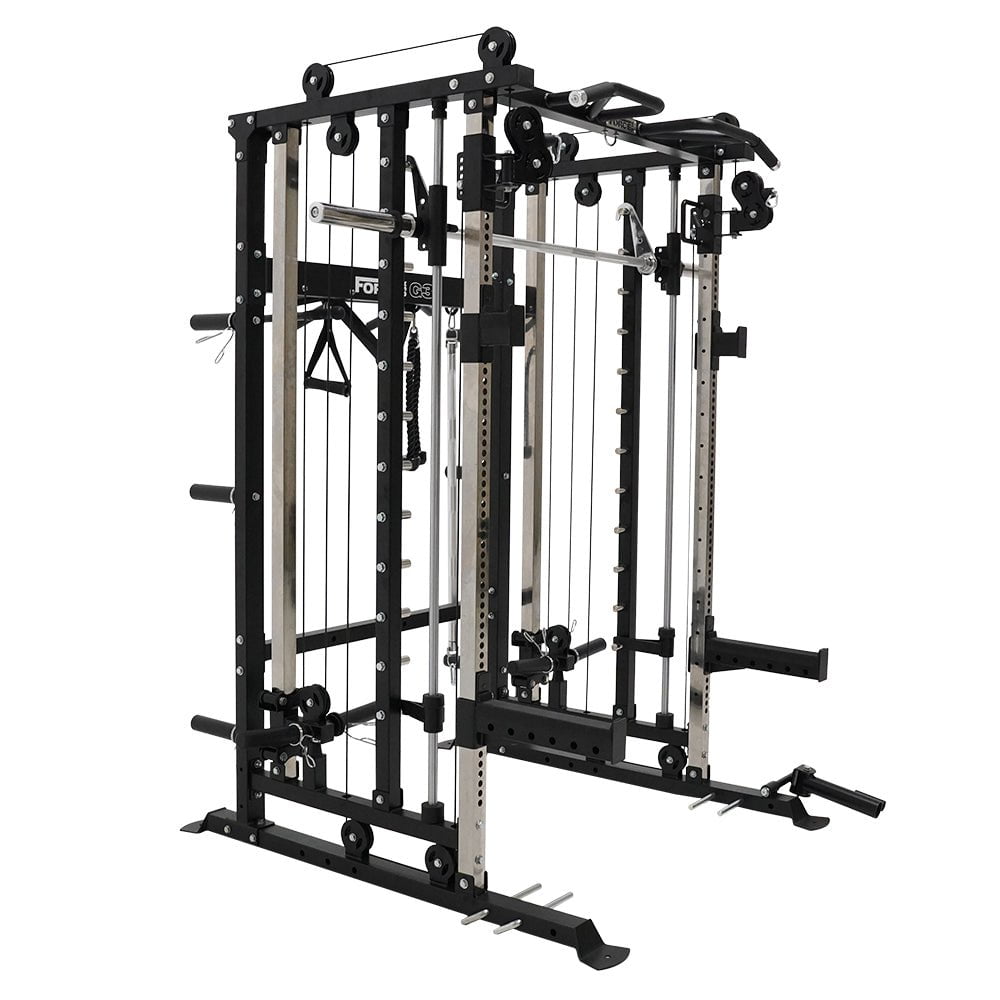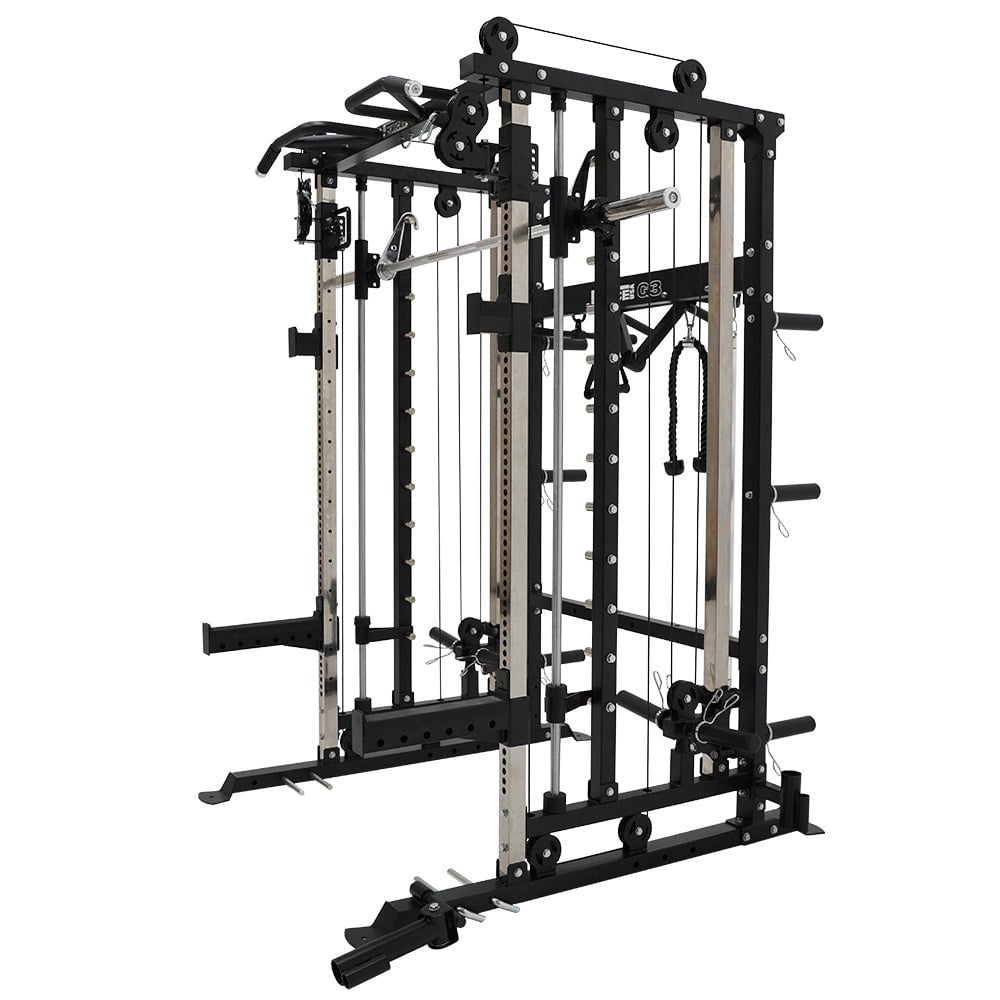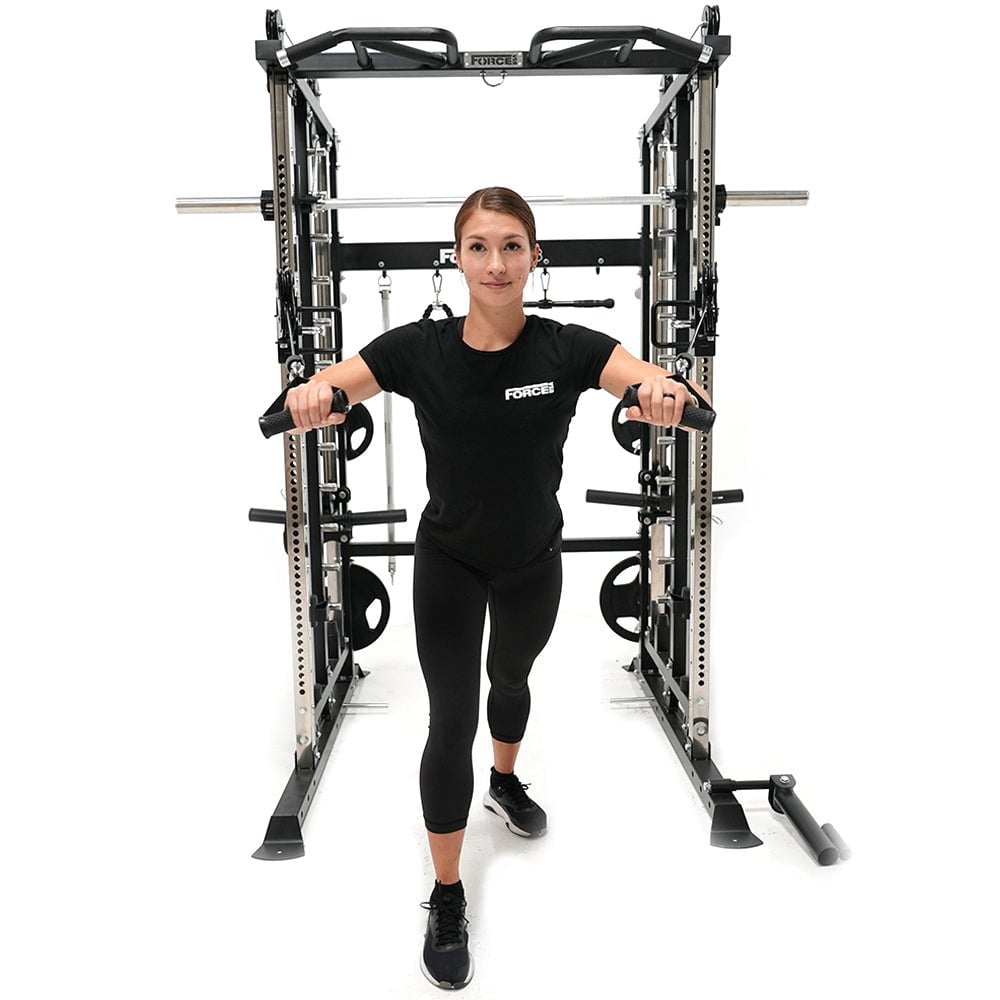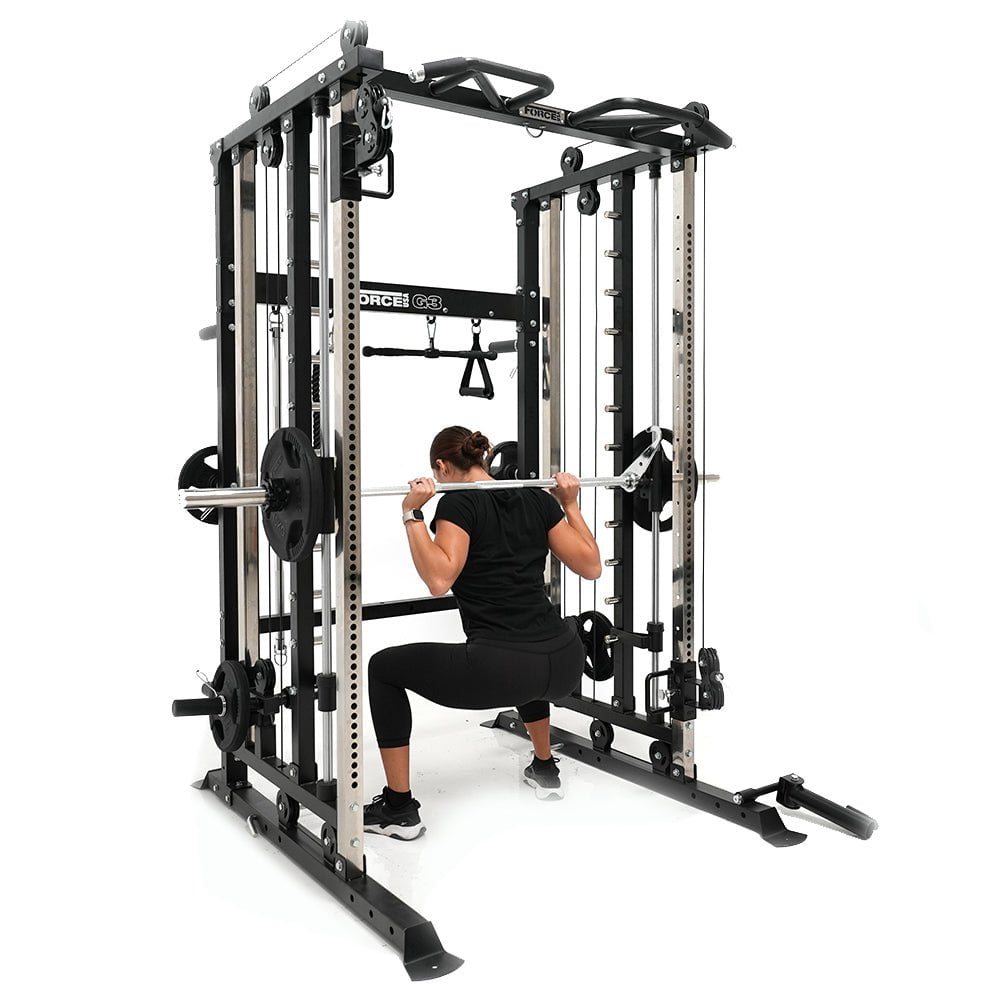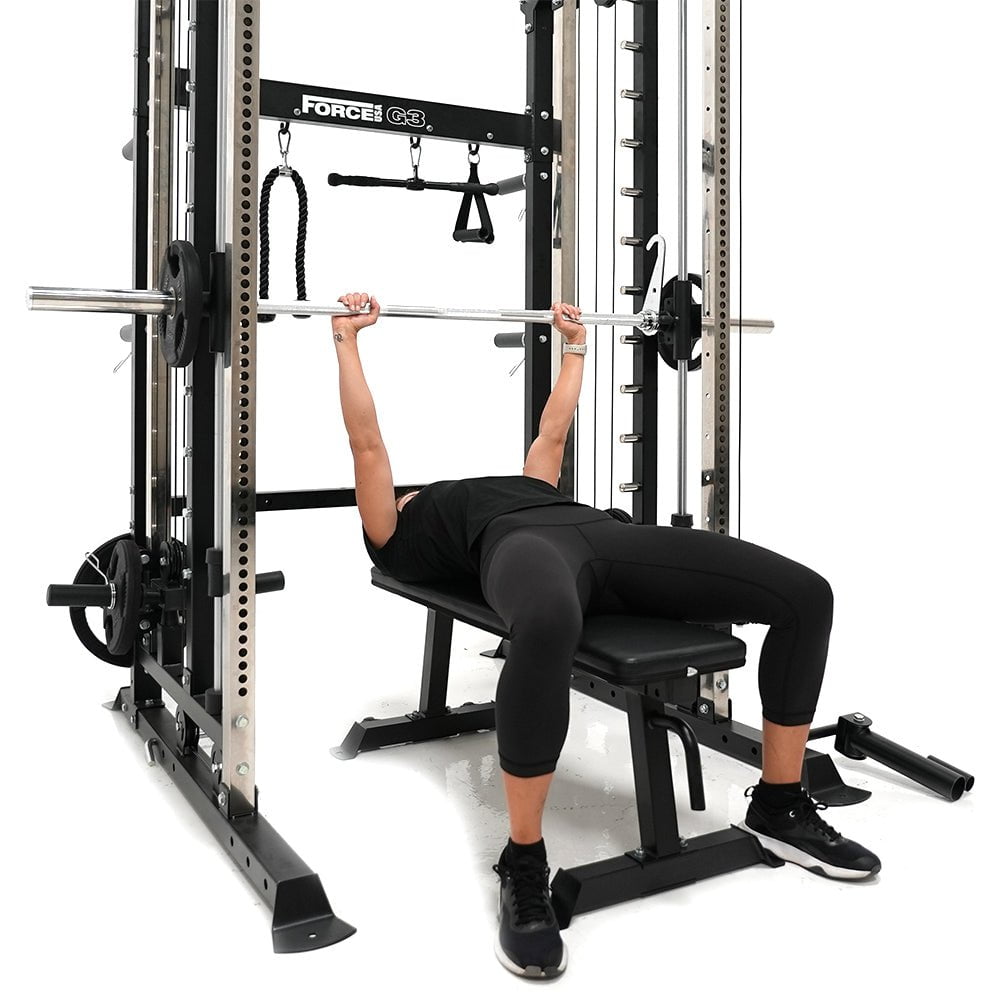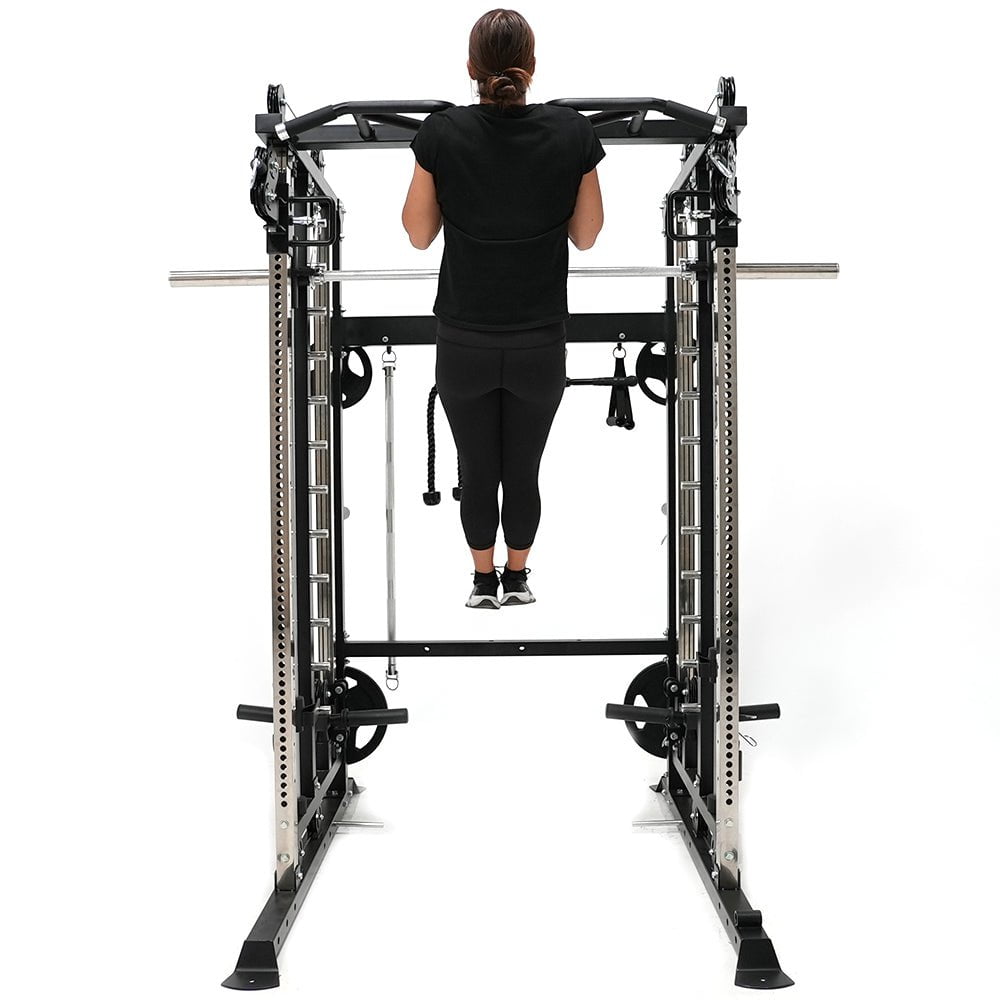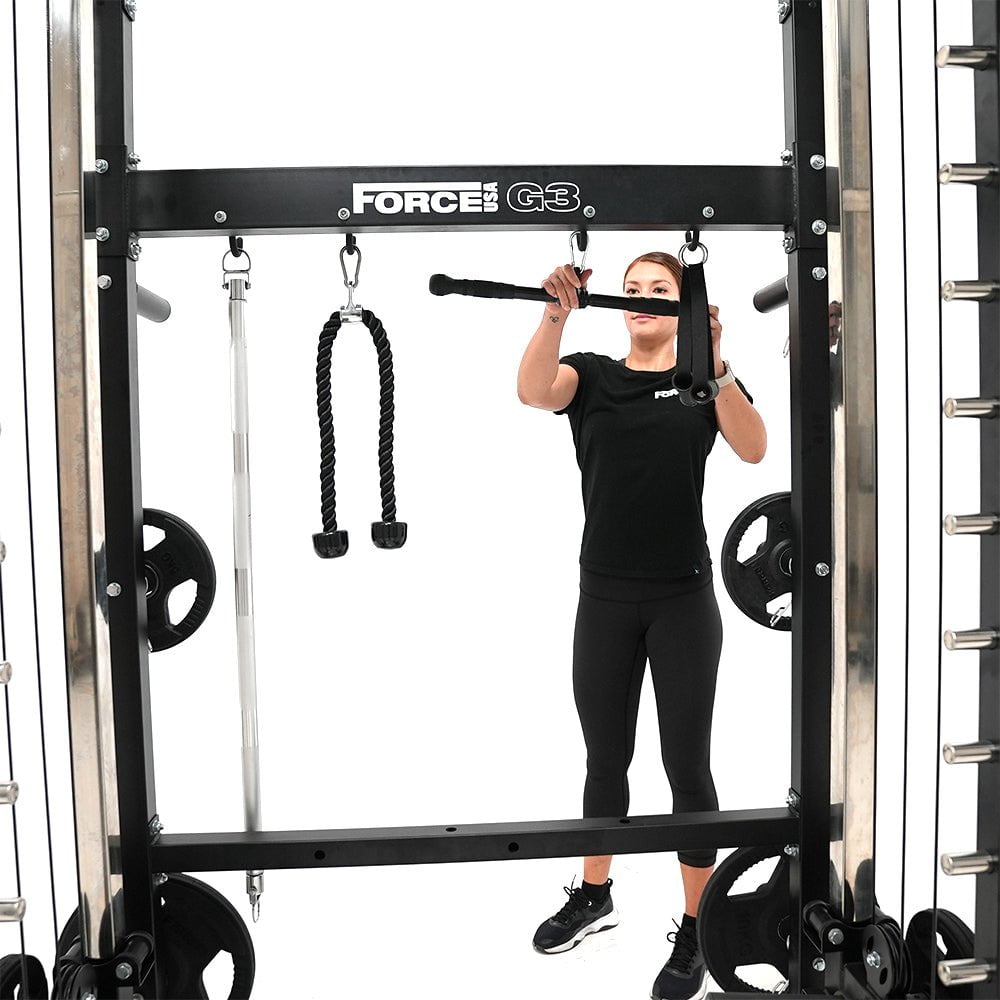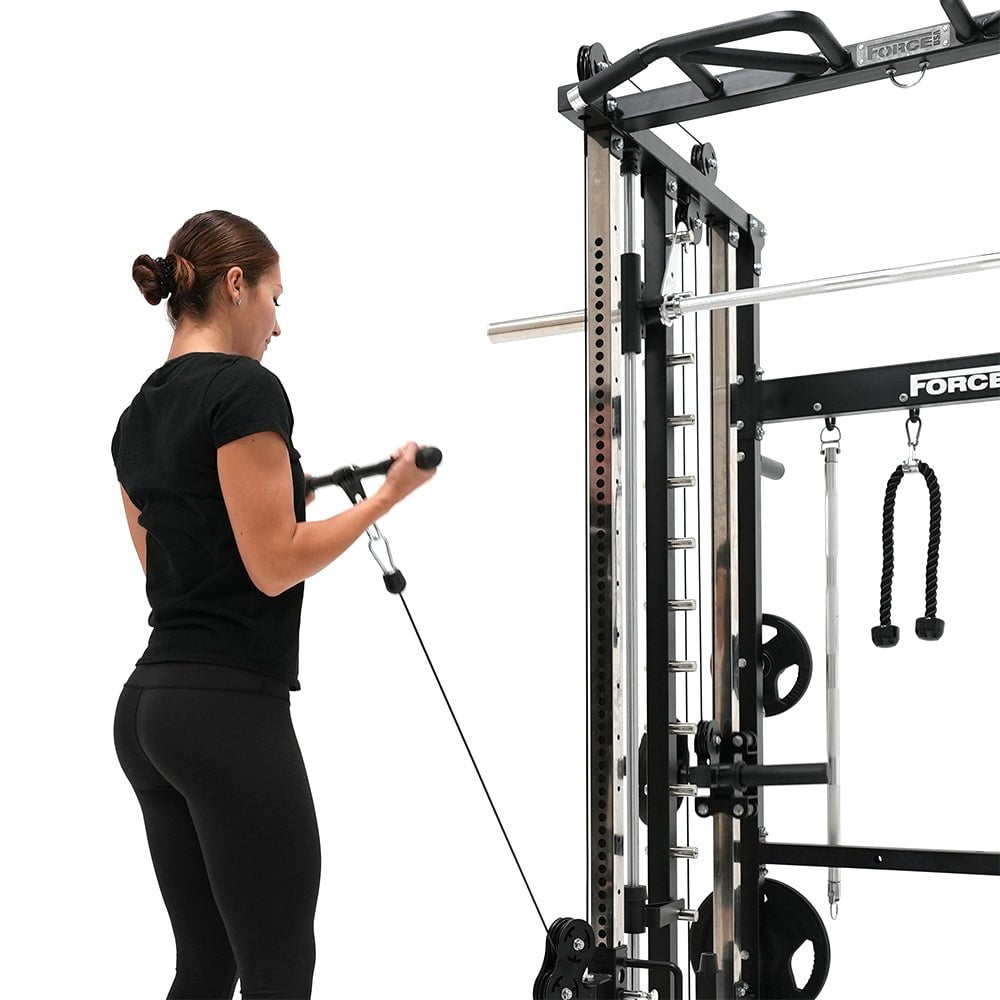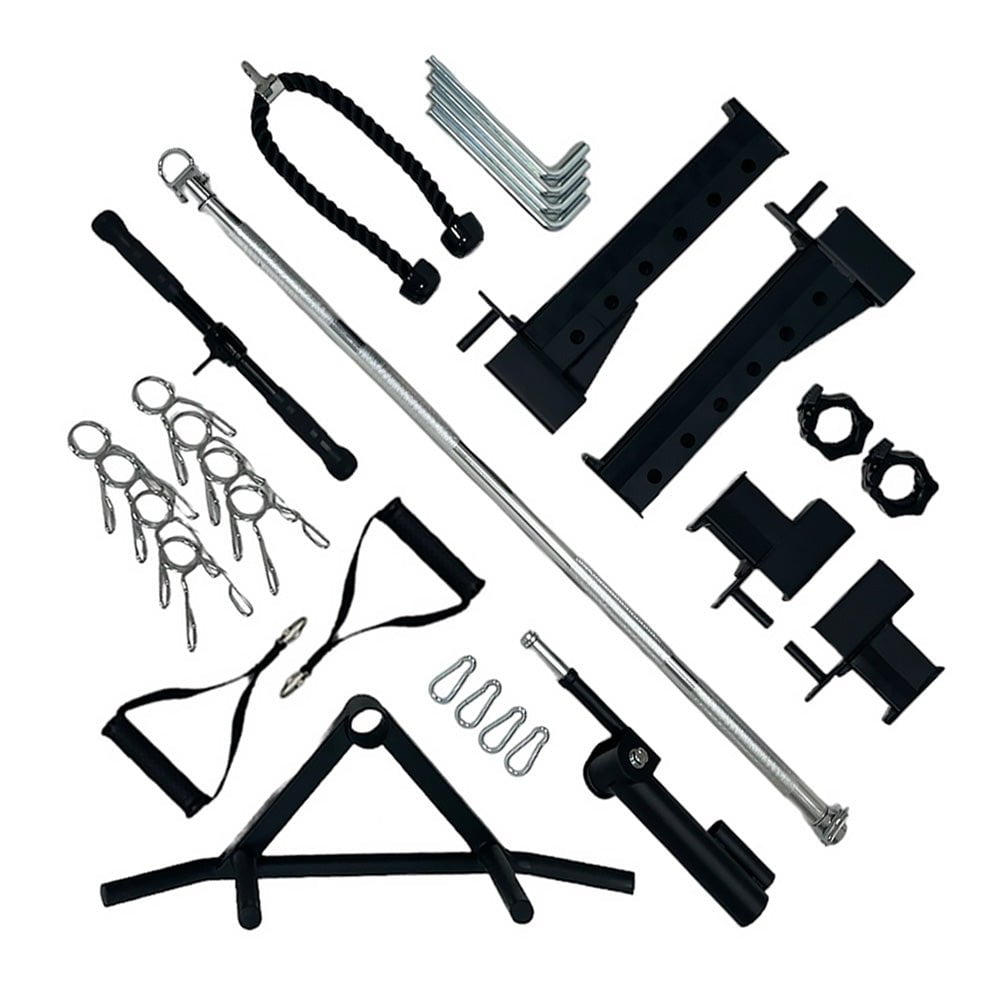 G3® All-In-One Trainer
Introducing the all-new Force USA® G3® All-In-One Trainer, your ultimate strength and fitness solution! With a host of upgraded features and attachments, this compact powerhouse will transform your home workouts like never before. Get ready to experience the incredible versatility of the Smith Machine, Functional Trainer, Power Rack, Core Trainer, Multi-Grip Chin-Up Station, plus optional Upgrade Kits, all in one sleek home gym unit.
COMPLETE YOUR SET-UP
Complete and customise your All-In-One Trainer set-up with a bench, bar, weights, flooring or more.
---
KEY FEATURES
A COMPLETE 5-IN-1 HOME GYM

The Force USA® G3® All-In-One Trainer has all of your strength and fitness needs covered. Delivering incredible versatility and performance, you can complete a massive number of exercises across the five unique workout stations in one small footprint.

Stop wasting time waiting for equipment at your local gym and step up to the G3® to create the perfect session flow!


VARIETY OF CABLE EXERCISES

The enhanced G3® provides you with the flexibility and independence to create your Functional Trainer workouts, equipped with a range of features.


2:1 Cable ratio for enhanced versatility
4-Roller design for seamless movement
Impressive weight capacity of 320kg (706lbs)
21 adjustable positions for the north/south cable slider
Cables with a generous 2.5m (8.2ft) extension

Discover the multitude of functional exercises available, such as Low to High / High to Low Cable Chest Fly, Cable Chest/Shoulder Press, Cable Upright/Low Row, and room to add Walking Cable Lunges, Cable Sled Pulls, and Cable Squat Walks.


YOUR LEGENDARY SMITH MACHINE

Angled for natural body movement, the Smith Machine on the G3® is incredibly smooth, strong (350kg/770lbs weight rating) and perfect for compound movements so you can push yourself to the limit on shoulder and chest presses, calf raises and glute building movements.

ENHANCED MULTI-GRIP CHIN UP STATION

The updated 32mm multi-grip knurled chin up bar offers 5 distinct grip positions to target various muscle groups effectively. With options for wide-grip, close grip, underhand, and overhand grips, you can engage a wide array of upper body muscles and maximise your workout potential.


HUGE RANGE OF INCLUDED ATTACHMENTS

Force USA has made sure to add a wide variety of training aids so every session is different. Tough commercial quality cable attachments include a Long Straight Bar, Short Straight Bar, Nylon Handles, Tricep Rope, A Bar Row Handle, Landmine Core Trainer and more!


ENSURED SAFETY IN EVERY WORKOUT SESSION

Reach new levels of performance with complete peace of mind. Our upgraded Force USA® G3® All-In-One Trainer prioritises your safety at every step, ensuring a risk-free training experience like no other. Equipped with a comprehensive range of safety features, this exceptional trainer guarantees your confidence, no matter the intensity or weight of your exercises.With the inclusion of Front Safeties, J-Hooks, Spring Loaded Depth Adjustment, Lock-Out Pegs, and Smart Safe Locks, we leave no stone unturned in providing you with unrivaled protection


EASILY STORE YOUR WEIGHTS AND ATTACHMENTS

To keep your workout space safe and organised, the Force USA® G3® All-In-One Trainer comes with 6 x Weight Plate Storage holders, 4 x Storage Hook Attachments plus room for a Standard/Olympic sized barbell.

SIMPLE, FAST ASSEMBLY

With an average assembly time of just 2-3 hours, you'll be ready to train in no time. Force USA provides user-friendly instructions, eliminating the need for a costly professional technician.
For added stability, the unit features floor bolting holes, allowing you to securely anchor it to the ground. Enjoy the convenience of a straightforward assembly process and the peace of mind that comes with a stable training setup.


UNLEASH YOUR INNER ATHLETE WITH THE FORCE USA TRAINING APP

Unlock the secret to a seamless workout experience with the new Force USA Training app! Say goodbye to the overwhelm of planning your training sessions and hello to a streamlined approach that allows you to flow through your workouts. Force USA's expert strength coaches have recorded and organised hundreds of tutorial videos, giving you access to the knowledge and guidance needed to create an effective strength training program. Or simply browse through the videos and cherry-pick your favourite exercises to create your own workout routine. It's never been this easy to train at home.

EXPAND YOUR OPTIONS WITH AN UPGRADE KIT

Enhance the number of exercises you can do by adding the G3 Upgrade Kit or the compatible G20 Upgrade Kit.

The G3 Upgrade Kit features a Lat Seat and Lat Bar for Lat Pulldowns, along with a Low Row Foot Plate and Close Grip Triangle. For an even more comprehensive upgrade, the G20 Upgrade Kit offers Jammer Arms for Presses, Rows, and Squats with your Power Rack, alongside a Leg Extension/Curl Attachment and Dip Bars.

WHAT'S INCLUDED?
Multi-Grip Chin-Up Bar
Suspension Trainer Anchor
J-Hooks (Pair)
Front Safeties (Pair)
Core Trainer with Rotating Holder
A Bar Row
Single Nylon Handles (Pair)
Tricep Rope
Long Straight Bar
Small Straight Bar
4 x Band Pegs
8 x Spring Collars (50mm)
6 x Weight Plate Holders
Extension Chain
8 x Spring Collars (50mm)
4 x Carabiners
Barbell Storage
4 x Attachment Storage Hooks
OPTIONAL G3 EXTRAS
SPECIFICATIONS
Usage: Light Commercial
Compatible With: Force USA Training App
Weight Sleeves: You can remove the outer layer on the weight horns and plate sleeves to fit standard sized weight plates
Materials and Finish:

Heavy gauge structured steel tubing
Tough PVC and rubber in heavy-use areas to increase durability
Long-lasting clear coating with anti-rust protection
Eco-friendly premium commercial-grade powder coating

Cable Ratio: 2:1
Weight: Plate-loaded
Product Weight: 184kg / 496lbs
Dimensions: 192 (width of smith-bar) (W) x 154 (D) x 220 (H) cm
Interior Working Space: 102 (W) x 125 (D) x 200 (H) cm
Weight Rating: 450kg
Chin Up Bar Weight Rating: 350kg
Cable Rating: 2000lbs/907kg
Cable Slider: 21 North/South Positions
Stability Holes: In base to bolt the unit to the floor
Assembly: 2-3 Hours
Warranty:

Frame: Lifetime
Parts: 2 Years
Excellent G3! Terrible manual.
I spent months researching multi-trainers and finally decided on the Force G3 and I have no regrets! Build quality is solid, the price is very reasonable, and it has all the functions you need for a full-body strength workout.
Now onto the one and only really terrible thing about this. The manual. It's almost unreadable. Many times I had to stare at the diagram for a good 10-20 minutes before I could make sense of the assembly.
I wrongly assembled the standing frame by not ensuring that I got the correct left and right standing tubes taking for granted that both standing tubes were the same. I realised this mistake nearing to completion when I had to screw in the weight horns and found the holes facing inwards instead of outwards, and had to strip everything apart which was painful. This could have been prevented if the manual had been clearer.
My suggestions to improve the manual:
1) Include specific warning notes about what to look out for, especially at the most crucial stages where there is a possibility of a mistake, such as: 'Before assembling the standing tube, ensure that you have the correct tube marked with the letter L/letter R on the correct side.'
2) The drawings are not clear. They are too cramped up. It is hard to spot minute differences such as the sizes of the bolt holes.
3) Label each part with the assigned number and paste it onto the bubble wrap, so that it is easier to find the parts in the box.
4) A video of the assembly process would be great!
I believe that the improvements to the manual can shave off many hours spent on the assembly.
FORCE USA G3 v2
Purchased the Force USA G3 (v2) and it hasn't disappointed.
Partner put it together without much hassle in approx 2-3hrs.
It's built solid, the cables run smooth and although compact, has so much to offer.
Can't wait until the upgrades I purchased (on pre-order) arrive to really test it out.
Great communication from Gym & Fitness from start to finish (and the shipping company Main Freight was also really good to deal with).
Hi Jess,
Thank you so much for your positive and detailed feedback! We're really glad you are happy with your purchase and our service. We appreciate your business and support.
Happy training!
GAF Team
Great Gym
I'm really impressed with this all in one, it has everything you need for a great workout in a very small footprint. It was overwhelming when I first opened the crate but it only took about 4 hours to build and wasn't too complicated. The frame feels like its robust and good quality and the attachments provided are also great.
The free app is a great touch and makes it easy to start program and learn the equipment.
Overall, I am very happy with this purchase and I'm excited to leave my gym membership to workout at home! cheers
Hi Piers,
Thank you so much for your detailed review. We're glad to support your own home gym set up, we appreciate your support and we hope to see you again.
Happy training!
GAF Team
Force USA G3 - Perfect for home gym!
An excellent piece of equipment. Installed into my garage easily and both the kids and myself use it every week. Has all the functions we need, plus some!
Hi Michael,
Thank you for your wonderful review! We hope you continue to enjoy your workout time with the G3 and the kids and last you a long time :)
Happy training!
GAF Team
New G3
Extremely happy with the new G3. Fits well in my small space, is very sturdy under any load, the smith machine is smooth. I am also glad I waited for the new G3. It is a good upgrade and evolution from the previous gen 1 model.
Hi Michael,
Thank you for leaving a positive feedback. We're pleased to hear your waiting was worth it! If you have any questions or concerns, please feel free to get in touch, we're happy to help.
Happy training!
GAF Team