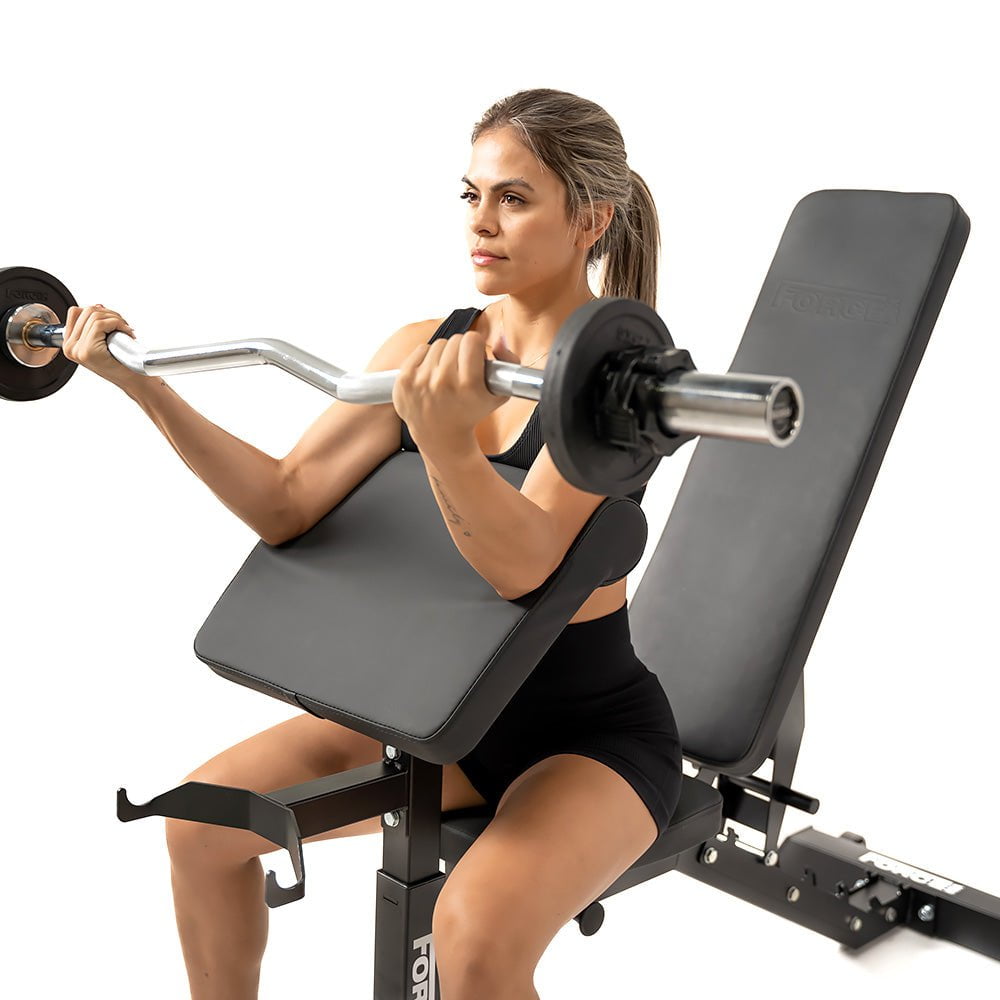 FID Bench with Arm and Leg Developer
Complete your MyRack with the updated FID Bench from Force USA, featuring a stronger, more durable design while being lighter than the previous model. This is the perfect piece of equipment to boost performance with the Leg Developer and up your arm game with the Preacher Curl. Hit those strength and fitness goals sooner by adding this versatile bench to your set-up!
---
KEY FEATURES
WHAT'S TO LOVE ABOUT THIS UPDATED BENCH?

Force USA has made sure its second generation FID Bench is tougher and better performing than the original. This versatile bench now has:


Lighter weight for better portability including larger rear transport wheels, allowing you to quickly swap the bench in and out during every session.
Updated weight plate holder to include both Olympic and Standard Weight Plates and new and improved chrome sleeve.
Lowered bench height from 55cms to 45cm for more convenient use of Leg and Arm Developer.
Better manufactured frame support, with a wider preacher curl bar holder and multiple adjustment points for prone leg curl.

QUICK AND EASY ADJUSTMENTS

Keep those sets ticking over with laser-cut shark-tooth adjustments so you can easily move between flat, incline and decline. Find the perfect position for your workout and stay locked in!


COMFORT ON EVERY REP

The durable, high-density, sweat-resistant foam Arm Developer provides wide, soft support for your chest so you can do your bicep curls and flys with 100% confidence.


SUPERIOR RETURN ON INVESTMENT

The strength, welding, and construction of this FID bench has been improved, delivering an outstanding ROI for your home gym!
SPECIFICATIONS
Usage: Domestic
Materials: Heavy-duty steel
Important Specs:

6 Backrest Adjustments
3 Seat Adjustments
-25 to 75 degrees
Leg Developer Attachment Included
Arm Developer/Preacher Curl Attachment Included
Weight plate holder accommodates Olympic and Standard weight plates
Large rear transport wheels

Product Weight: 41kg / 90.3lbs
Max User Weight:

320kg / 705lbs
Leg Developer: 100kg / 220lbs

Dimensions: 170cm (L) x 77cm (W) x 45cm (H)
Warranty:

Frame: Lifetime
Parts: 2 years
Upholstery: 90 days
SIMILAR AVAILABLE PRODUCTS
Great bench but terrible build instructions
Once I had finally put this thing together, it has been great. It feels solid, doesn't rock around at all, and very easy to adjust. The arm and leg attachments have also worked well - especially since I am 6'6" (~2m) tall I was worried I'd be too big to fit the leg attachment but it was fine.
The big problem is the usual Force USA disease of just awful build instructions and missing/incorrect nuts/bolts, so be prepared for a bit of swearing.
Awesome bench.
This bench is great. Does everything it should and the attachments are really easy to swap in and out. Even better than the bench was the customer service. A small part was damaged. I contacted support and requested a new part. They emailed a picture of the part to confirm, then called me to confirm I'd be alright with the shipping method. I had a replacement part in a few days. Everything I have purchased thus far has been high quality but with this level of customer service I will continue to buy from and recommend gym and fitness moving forward.
Hi Clinton,
Thank you for sharing a detailed feedback of your experience with us! Your satisfaction is our top priority, and we genuinely appreciate your support and recommendation.
We look forward to continuing to provide you with high-quality products and exceptional service in the future. Thank you for choosing GAF :)
Happy training!
GAF Team
The Benchmark...
Great bench with all the attachments,well made design especially if you're a taller person
Hi Owen,
Thank you for your positive feedback. We're glad to hear you are happy with your purchase! Please don't hesitate to get in touch with us if you ever need assistance.
Happy training!
GAF Team
FID Bench with Arm and Leg Developer
Hi Jake,
Thank you for your positive feedback. We're delighted to hear you are happy with your purchase and if there's anything we can be of assistance with, please feel free to get in touch with us.
Happy training!
GAF Team
Force USA FID Bench with Arm and Leg Developer
Great bench for your home gym with a good price tag, really sturdy and well built! Attachment are great and overall it's just really nice to use.
Hi Nathan,
Thank you for sharing your thoughts on our FID bench with the attachments! We're glad you are are happy with your purchase and if you have any concerns, please feel free to contact us, we're here to assist!
Happy training!
GAF Team