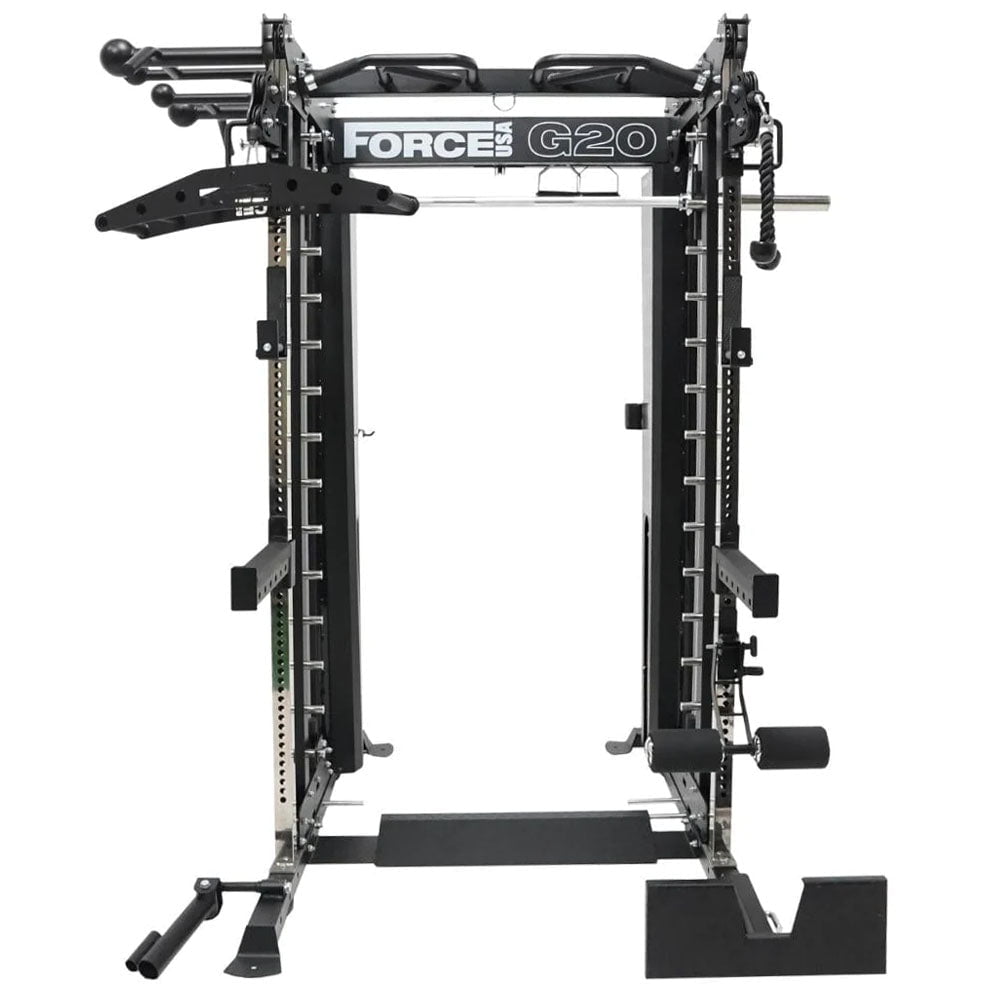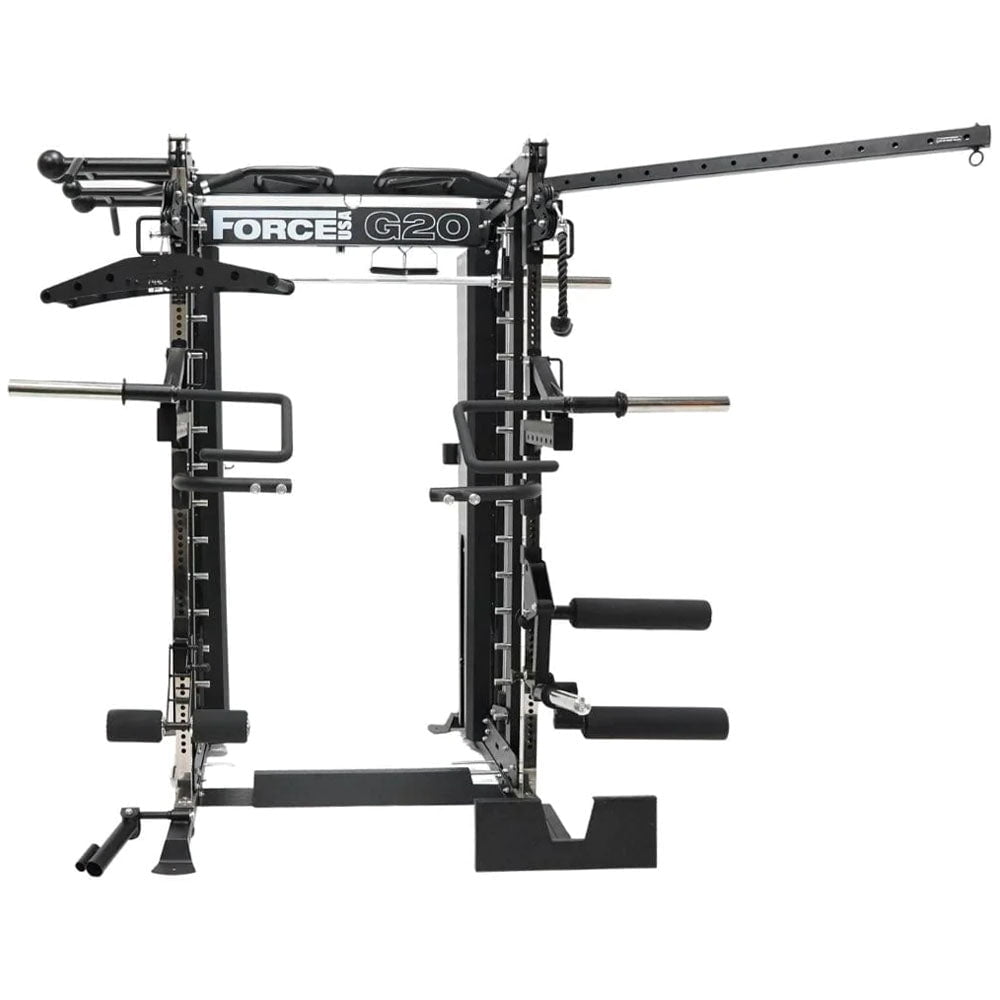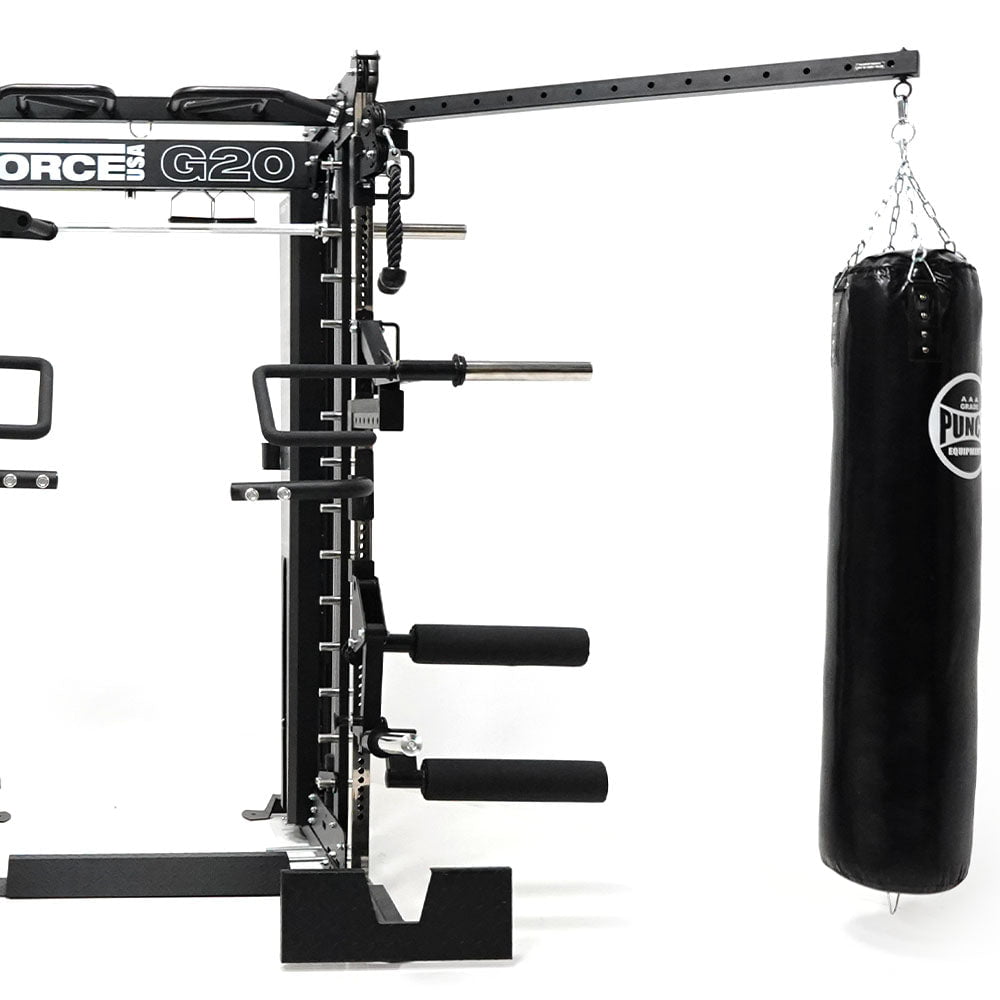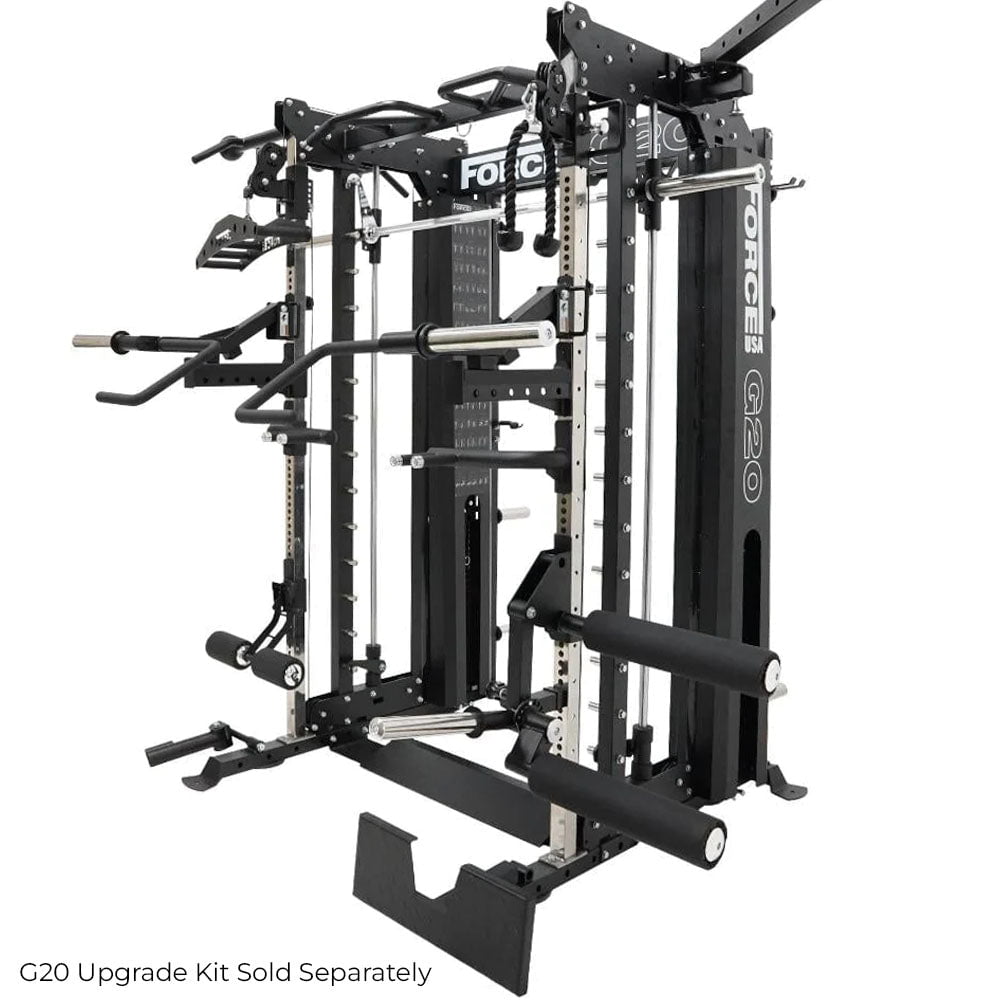 G20 Pro™ All-In-One Trainer
The next evolution in Force USA's G-series, the G20 Pro™ All-In-One Trainer is the most complete, compact trainer ever built. Combining a commercial-grade Functional Trainer, Smith Machine (450kg), Power Rack, Chin Up Station and Leg Press, with 30 attachments and updated features including a Swing Arm and 2:1 Cable Ratio, this machine is impossible to beat. Designed and engineered in our professional training labs, this beast is made with unbelievably tough, heavy-duty, high tensile steel. Your strength training is about to enter a whole new world!

This unit is compatible with the new Force USA Training App!
COMPLETE YOUR SET-UP
Complete and customise your All-In-One Trainer set-up with a bench, bar, weights, flooring or more.

---
KEY FEATURES
UNLEASH YOUR INNER ATHLETE WITH THE FORCE USA TRAINING APP

Unlock the secret to a seamless workout experience with the new Force USA Training app! Say goodbye to the overwhelm of planning your training sessions and hello to a streamlined approach that allows you to flow through your workouts. Force USA's expert strength coaches have recorded and organised hundreds of tutorial videos, giving you access to the knowledge and guidance needed to create an effective strength training program. Or simply browse through the videos and cherry-pick your favourite exercises to create your own workout routine. It's never been this easy to train at home.

 

ULTIMATE ALL-IN-ONE STRENGTH MACHINE

No matter what type of training or exercise you have in mind, this powerhouse has got you covered. Effortlessly target every muscle group and seamlessly transition between upper and lower body workouts to customise your program.


Strength and Split Training
Bodybuilding and Powerlifting
High-Intensity Interval Training
Plyometric and Explosive Training

BETTER PERSONALISATION FOR IMPROVED SESSION FLOW

The G20 Pro™ is packed with new features that help you customise every workout to your unique needs and improve session flow. This includes:

Additional holes at the rear every 100mm, allowing you to utilise the 10 weight plate holders at your preferred height for faster and easier loading and unloading.
Westside hole spacing is now fitted the entire length of the upright compared to the previous G20™, allowing more granular weight adjustments.
An adjustable, heavy-duty Low Row Foot Plate, giving you a greater range of motion and secure positioning for your Seated Rows.

2:1 CABLE RATIO DOES IT ALL

The Dual Weight Stacks (130kg/289lbs) now have a 2:1 cable ratio, delivering more explosive exercises, more varied weight increments (2.5kg) and a longer cable reach. The high tensile aircraft grade cables also come with a massive 2000lb (907kg) weight rating. You can perform an endless variety of full-body exercises at the front of your unit, including:


Chest Press
Tricep Extensions
Bicep Curls
Leg Kickbacks
Cable Flys
Lat Pulldowns

EXPANDED TRAINING OPTIONS WITH ADDED SWING ARM

Take your training to new heights with the G20 Pro™ and its versatile 5-foot Swing Arm. With six lock-in positions ranging from 0 to 90 degrees, this feature opens up a world of possibilities for your workouts.


Attach a 3-5ft Punching Bag (up to 60kg/133lbs) to engage in boxing and add an exciting element to your training program. Experience the benefits of building heat, toning your upper body, and pushing your limits.
For a comprehensive upper body workout, incorporate the Endless Rope Trainer Strengthen your core, biceps, upper back, and lats while improving endurance and agility.

The Swing Arm can be easily mounted on either side of your trainer, allowing for flexibility in your setup.


30 INCLUDED ATTACHMENTS

Loaded with 30 of the most diverse attachments Force USA have ever released with an All-In-One Trainer. Each one helps keep your workouts varied while maximising your workout space. Includes training bars, handles, chains, spring collars, leg plate, core trainer rotating holder, J-Hooks, band pegs, and much more.


EFFICIENT WALKTHROUGH DESIGN FOR SEAMLESS WORKOUTS

The Force USA G20 Pro™ innovative walkthrough design allows for seamless movement within the machine, enabling you to navigate through your workouts with ease. Whether you're adjusting weights, transitioning between exercises, or repositioning yourself for optimal performance, this feature streamlines the process for maximum efficiency.

ENGINEERED FOR SUPERIOR PERFORMANCE

You'll quickly realise why Force USA continues to push the bar with strength equipment. The Force USA® G20 Pro™ All-In-One Trainer includes:

Commercially sealed Bearing Pulleys for a natural smooth movement on your cable exercises.
50 adjustment points on the front uprights for your J-Hooks, Spotter Arms and Jammer Arms.
Roller J-Hooks to protect your barbell and correctly position your bar before lifting.
Laser etching numbers make it simple to place attachments on the same height every time.

SMALL FOOTPRINT, ENDLESS VARIETY

Designed for garages, basements, spare rooms and studio set-ups, the space-saving G20 Pro™ All-In-One Trainer packs an incredible amount of training options into a small footprint.

The dimensions are 190cm (W) x 169cm (L) x 230 (H) cm, with an additional 152.4cm width for the Swing Arm Attachment that can be placed on either side of the unit.

DESIGNED TO OUTLAST EVERY OTHER HOME GYM

The G20 Pro™ All-In-One Trainer was precision built and manufactured using the highest quality materials. With a Lifetime Frame Warranty and 2-year warranty on parts and attachments, the trainer includes:


Thick heavy gauge steel tubing throughout
Tough PVC and rubber in heavy use areas to increase durability
Long-lasting clear coating with anti-rust protection
Eco-friendly premium commercial grade powder coating

CONVENIENT STORAGE SOLUTIONS

Keep everything within reach and your workout space tidy with room for 2 Barbell and 10 Weight Plate Holders (Standard and Olympic) at the back of the unit.

The G20 Pro™ also has a built-in Storage Rack for all of your attachments, with room for Barbells, Handles, Chains and Ropes.

CONVENIENT INSTALLATION AND ASSEMBLY

To get you up and training as soon as possible, let Gym and Fitness help you book a technician to come to your home or studio and assemble the G20 Pro™ for you!

Rather do it yourself? Force USA also provides detailed and easy-to-follow instructions to help you assemble your new G20 Pro™ All-In-One Trainer. Most customers are able to assemble the full machine over the course of two days with the help of one person.

ADD THE G20™ UPGRADE KIT OR LAT ROW

Expand your strength training with G20™ All-In-One Trainer Upgrade Kit or Lat Row Station.

2 x Jammer Arms that can be attached to the upright for Bench Press, Shoulder Press and explosive work.
Leg Extension / Leg Curl Attachment is made with durable high-density sweat-resistant foam to help you isolate the Quads, Glutes and Hamstrings..
Convenient Dip Bars for the front of the unit will help to build strength in your Chest, Shoulders and Triceps.
Lat Row and Lat Pulldown Station comes with an additional 130kg (289lbs) weight stack and Multi-Grip Dip Handles.
WHAT'S INCLUDED?

Multi-Grip Chin-Up Bar & Globe Chin-Up Bar
Swing Arm (Boxing & Rope Training)
Suspension Trainer Anchor
Roller J-Hooks (Pair)
Monolift Hooks (Pair)
Front Safeties (Pair)
Core Trainer with Rotating Holder
Long Straight Bar
Lat Pulldown Bar
Small Straight Bar
Tricep V Bar
A Bar Row
Multi-Grip Lat Pulldown Bar
Close Grip Handle
Metal Handles (Pair)
Adjustable Nylon Cable Handles (Pair)
Single Nylon Handles (Pair)
Tricep Rope
Ankle Strap
Adjustable Leg Press Footplate
Low Row Foot Plate
Lat Pulldown Knee Anchor
Calf Block Attachment
4x Band Pegs
2 x Olympic Lock Collars
10 x Spring Collars (50mm)
10 x Weight Plate Holders
4 x Extension Chains
7 x Carabiners
2 x Barbell Storage
Attachment Storage
Exercise Chart
SPECIFICATIONS
Usage: Light Commercial
Materials:

Heavy gauge steel throughout
PVC and rubber in heavy use areas
Clear coating with anti-rust protection
Commercial grade powder coating

Cable Ratio: 2:1
Weight Stack: 2 x 130kg
Product Weight: 620 kgs / 1368 lbs
Dimensions: 190 (W) x 169 (D) x 230 (H) cm (Add 152.4cm with the Swing Arm attachment)
Interior Working Space: 101 (W) x 152 (D) x 213 (H) cm
Weight Rating: 450kg / 992lbs
Chin Up Bar Weight Rating: 450kg / 992lbs
Cable Rating: 2000lbs/907kg
Warranty:

Frame: Lifetime
Parts: 2 Years
SIMILAR AVAILABLE PRODUCTS
Perfect home gym
Have owned this setup for just over a year and cannot fault it. The quality is A1 and is indistinguishable from the equipment you would find at a commercial gym. This setup does a great job of allowing the user to target every muscle without taking up the space of multiple machines.
Hi Adam,
Thanks a lot for your wonderful feedback! We are glad you've been loving the G20, we hope this helps you reach your fitness goals and lasts you for many more years to come.
Happy training!
GAF Team
Quality equipment
I did lots of research before making the purchase on the G20Pro, it has more than enough attachment to keep the variety going in each workout. Currently trying out the free ForceUSA app, which has been good for a training program.
The quality of this equipment is exceptional, even the packaging was impressive.
I highly recommend this trainer to anyone who wants a serious home gym setup, you won't be disappoint.
Just to note, Gym and Fitness customer service has been outstanding through the whole process, quick to respond! I highly recommend using gym and fitness and will be my go to gym equipment store from now on! To everyone at Gym and Fitness, keep up the great work
Hi Eric,
Thank you so much for your excellent review! We're delighted to hear you are happy with your G20 and we appreciate the kind words for our customer service. We will continue to provide you with a positive experience!
Happy training!
GAF Team
Very solid unit with good attachments
I've had mine for a few weeks now. It is very solid, cables are smooth.
The set up is much easier than the reviews imply. 4 hours or so if you do it by yourself. The jammer arms in the upgrade kit are great but those and the leg curl attachment take up a lot of space when not in use. Instead of mounting the plate storage on the back I made wall stand trees from them to Sit beside the machine to save space.
Hi Greg,
Thank you for your detailed feedback and if there's anything we can be of assistance with, please let us know and we'll do our best to help!
Happy training!
GAF Team