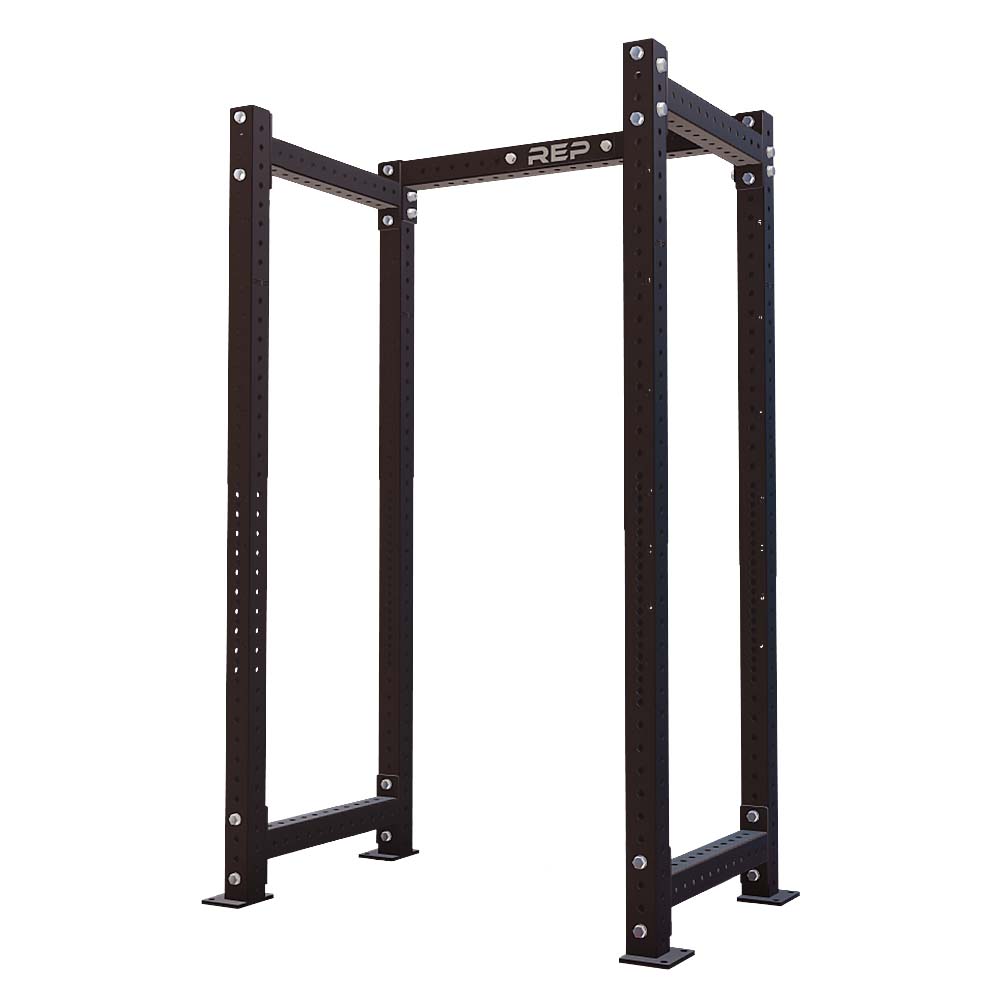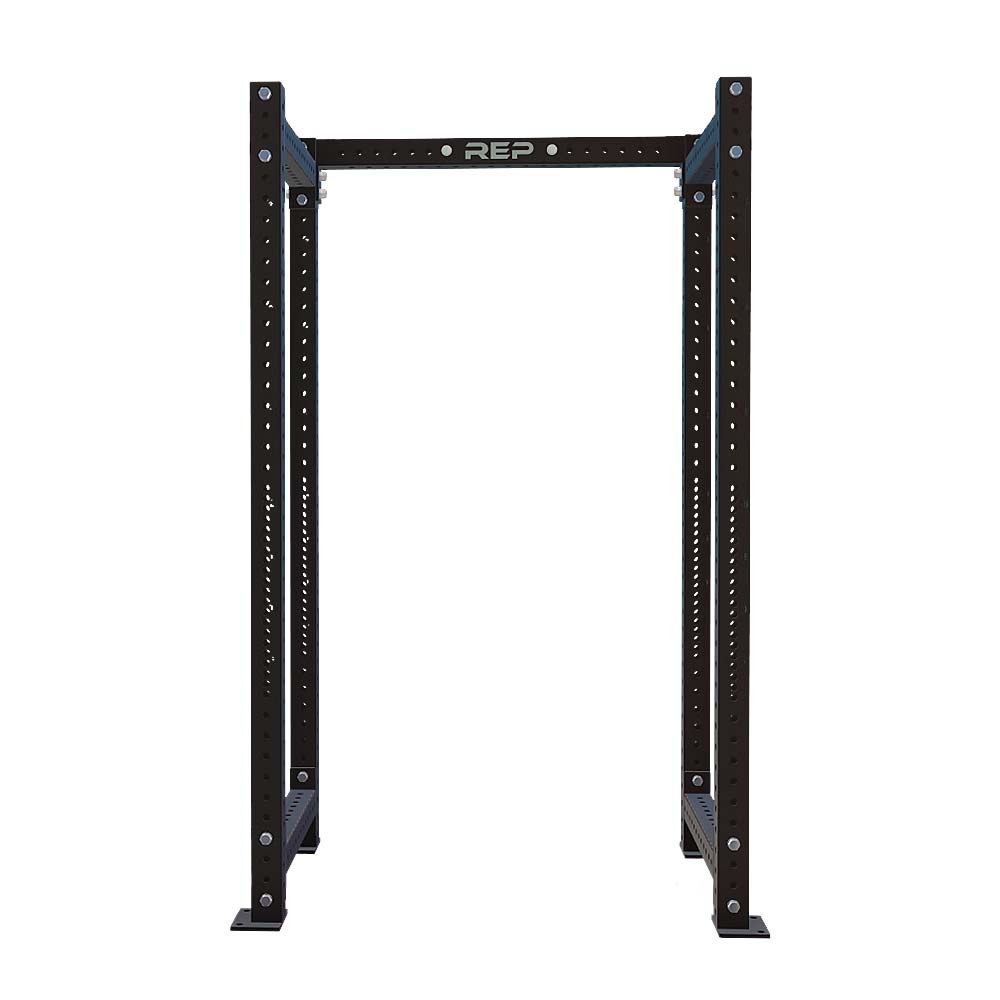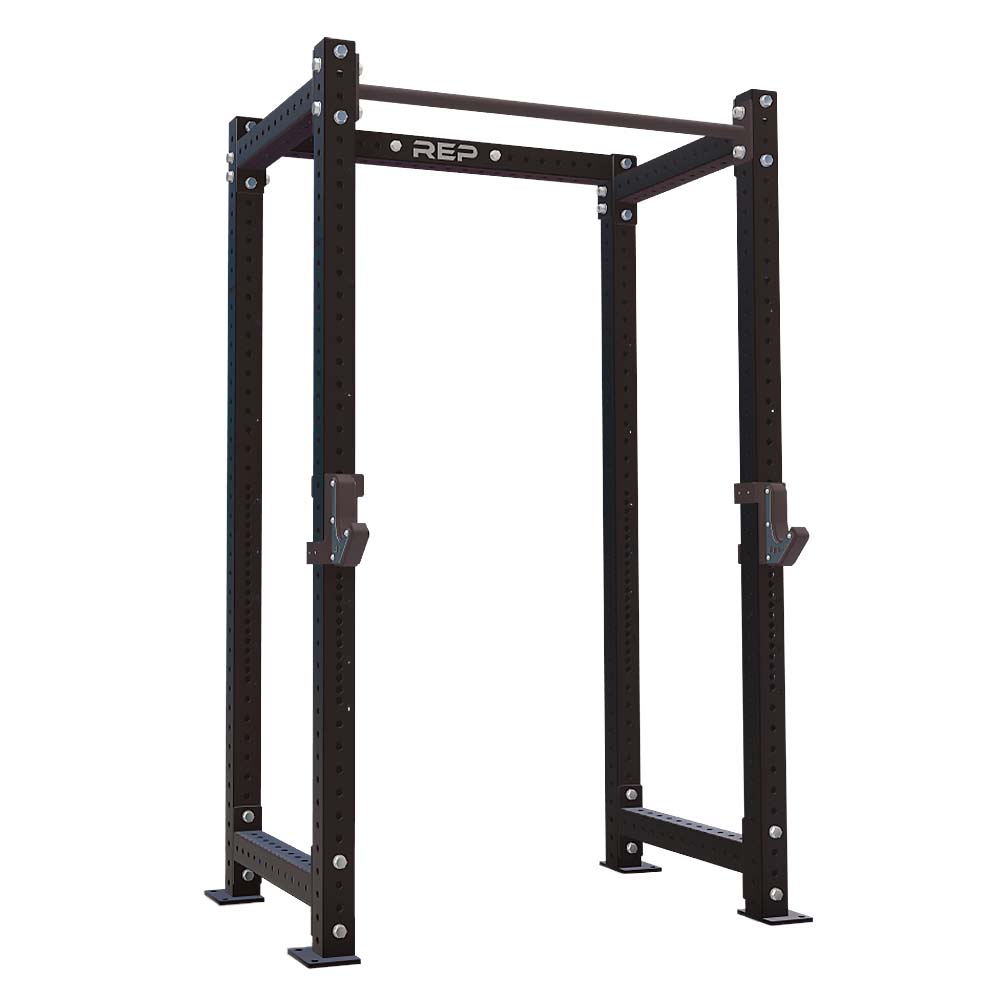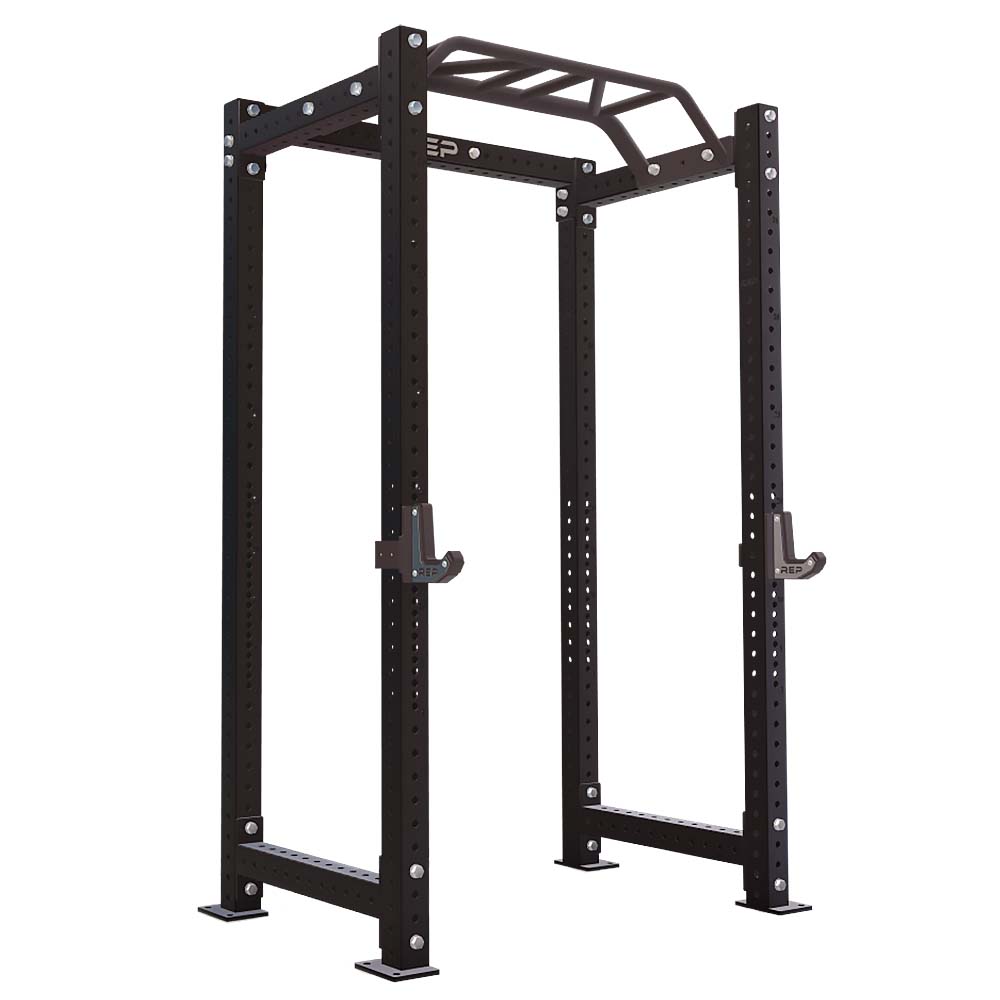 PR-4000 Power Rack
The PR-4000 is a heavy-duty, highly customisable power rack that's tough enough for whatever you throw at it and versatile enough to grow with you. Featuring tough 11" gauge steel and a robust attachment ecosystem, you can finally take the next step in your strength training. Start building your REP Fitness Power Rack set-up for your home, garage, fitness facility or commercial gym today!

Looking to upgrade with an Ares? Check out our Ares for PR-4000 80" or Ares for PR-4000 93".   

Note: By default, the PR-4000 will only come with 4 x 24" Crossmembers and the Logo Backplate. To personalise your rack, choose from below.
STEP 1: CHOOSE THE ESSENTIALS
Choose at least one of each of the below to get started! You will need to add 2 sets of the uprights for a 4 post rack and 3 for a 6 post rack.
Rack Height (Requires 2-3 Sets)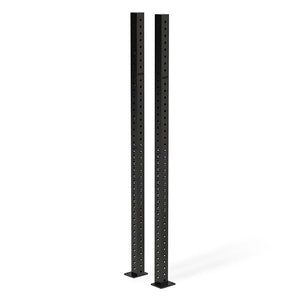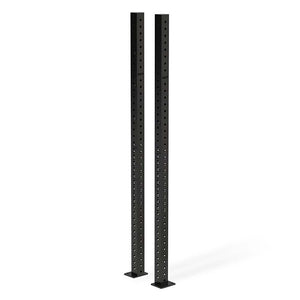 Build your PR-4000 with two 80" (203cm) Black Uprights. These are sturdy and heavy-duty, made from 3x3" 11-gauge steel. Compatible with various attachments to add more training options, they feature laser-cut numbering every fifth hole making it easy to arrange attachments.
Build your PR-4000 with two 80" (203cm) Black Uprights. These are sturdy and heavy-duty, made from 3x3" 11-gauge steel. Compatible with various attachments to add more training options, they feature laser-cut numbering every fifth hole making it easy to arrange attachments.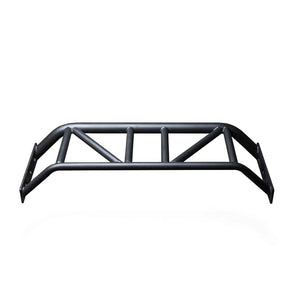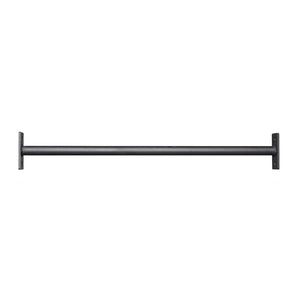 Tough, versatile and ready for anything, add this Multi-Grip Pull-Up Bar to your PR-4000 to expand your training. Features a standard 1.25" (3.2cm) thick standard pull-up bar in the front, 1.25" (3.2cm) thick angled and neutral grips and a 2" (5.08cm) thick bar in the back.
Add the versatile, heavy-duty 2" Pull-Up Bar to your power rack to expand your training. This thick, straight bar provides an additional grip challenge - a great step up from the traditional 1.25" Straight Pull-Up Bar. The perfect way to add even more exercises to every workout!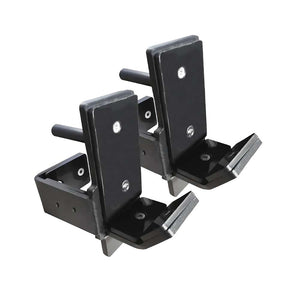 Fully protect your barbell's knurling with these versatile, heavy-duty Round Sandwich J-cups. Features a secure "doesn't move" resting point and a dual-lock wraparound design. Includes plastic lining for total protection of your barbell and uprights, and hardware on the side.
STEP 2: PERSONALISE YOUR RACK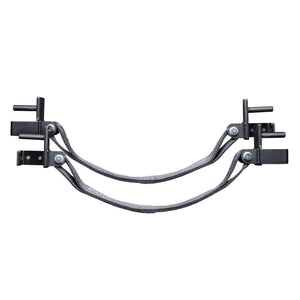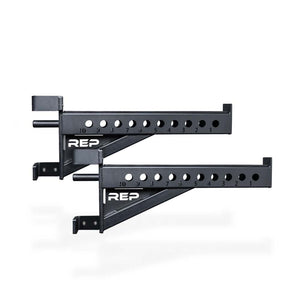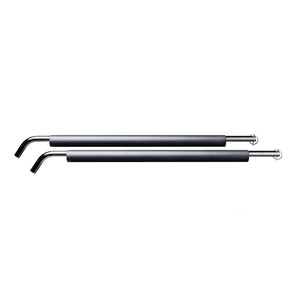 Upgrade from standard Pin-Pipe and Flip-Down Safeties with these two 24" Strap Safeties. The reinforced nylon straps are gentler on your barbell, super tough and virtually silent. Easy-to-install and use, these straps add an extra layer of safety when training alone.
Safely lift heavy with these tough steel Spotter Arms. Lined with polyurethane to protect your uprights and bar, you can quickly attach these 27.6" (70.10cm) arms to your Power Rack. With a rackable capacity of 453kgs, thick tubing and lightweight design, they're a must have!
This pair of 24" Pin-Pipe Safeties make sure you're safe during every workout. Made from tough 11-gauge steel with a 2" (5.08cm) diameter and chrome finish, they're easy to use - simply slide them into the rack's uprights like a J-cup and flip securely into place or secure with a pin.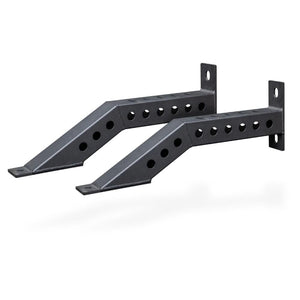 Work safely outside your Power Rack without bolting it down by adding the Front Foot Extension. Made from tough 11-gauge steel, add stability to the rack for benching and squatting without changing the J-cup or safety height. Compatible with Landmine, Band Pegs and Utility Horn.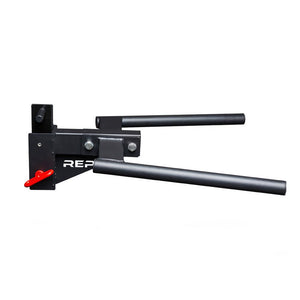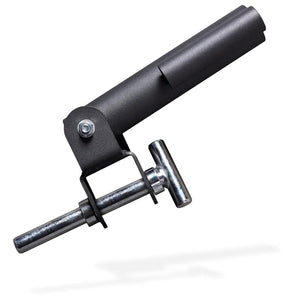 Enhance your Power Rack with an easy-to-use, stable Dip Attachment (400lbs/181kg capacity). With a simple bolt-together design, it attaches easily like a J-cup to your rack holes and is anchored by a strong pin. The inside edge is lined with plastic for extra rack protection.

The versatile Landmine Attachment is an essential training tool! Easily connect it to the outside of your uprights with band pegs and the side mount keeps it out of the way. Allows you to use your barbell for Landmine Presses/Rows, Russian Twists and many more dynamic exercises!


Back in stock 30/11/2023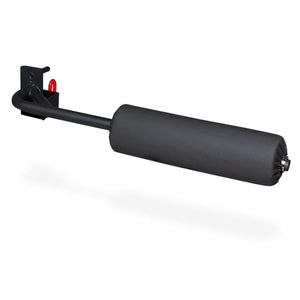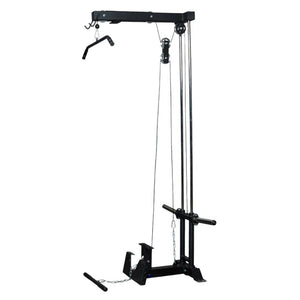 Enhance your Power Pack with the highly versatile, padded Leg Roller attachment. Easy to connect, lock and remove, this will add even more lower body training options to your PR-4000. The leg roller is made from 8- and 11-gauge tubing and steel, with a weight capacity of 272kg.
Build out your Power Rack with this versatile, plate-loaded attachment. With a 1:1 ratio and stable design, it comes with a Lat Bar, Straight Bar and Foot Plate. The high quality cables are made from galvanised wire with a raw steel core, and the pulleys are aluminium.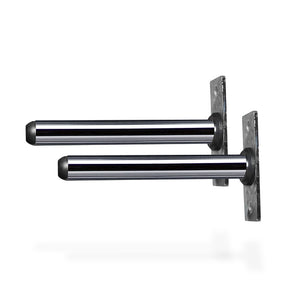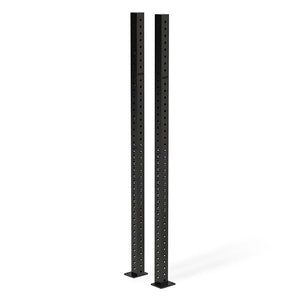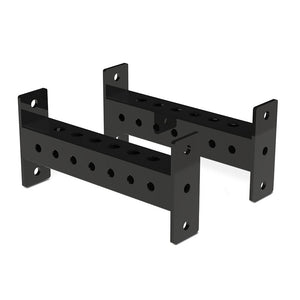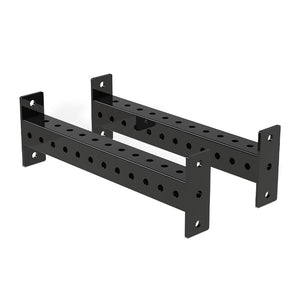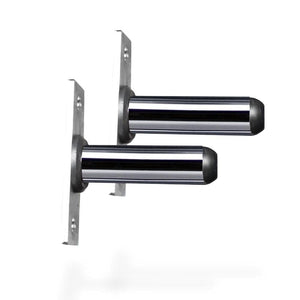 ---
KEY FEATURES
MOST DURABLE AND CONFIGURABLE POWER RACK

Are you looking to take the next step in your powerlifting and strength training? Ready to expand your home or garage set-up and add a power rack that grows with you?

With oversized 3X3" (7.62cm) 11" gauge steel and a monster 1,000lb (453.6kg) Rackable Capacity, you can push yourself to the limit and have 100% confidence during every workout.

YOUR PR-4000 BASE UNIT INCLUDES

4 x 80" (203.2cm) or 93" (236cm) Black Uprights*
4 x 24" (61cm) Black Crossmembers
1 x Logo Plate Crossmember
Your choice of Multi-Grip or Standard Pull Up Bar*

Your choice of Flat or Round J-Cups (J-Hooks)*

*Additional costs apply.


PERSONALISE YOUR STRENGTH TRAINING

The PR-4000 Base Unit is only just the beginning! Expand and customise your strength training with a heap of additional attachments and safety features.

Pull-Up Bar (2 Options)
Dip Attachment
Front Foot Extensions
Lat/Low Row Attachment
Landmine Attachment
Leg Roller Attachment
Safety Straps and Safeties
Weight Horns (2 Options)
Rear Base Stabiliser
J-Cups (2 Options)

PRECISION DESIGN AND ENGINEERING

Precision manufacturing - including laser cutting, robotic welding, and robotic painting all under one roof - ensures a superior product. Plus a high-quality, powder-coat finish for added durability.

WORKOUTS MADE EASY

Your uprights have 1" (2.54cm) hole spacing throughout the bench zone and 2" (5.08cm) elsewhere for a precise liftoff height, with 5/8" (1.59cm) diameter holes. Includes laser-cut numbers every five holes to make it easy to line up attachments.

STYLISH AND FUNCTIONAL LOGO PLATE

The REP Logo Plate Crossmember is made from 11-gauge steel and is both functional and adds a high-end aesthetic to your rack. The crossmember also improves the stability of your power rack and can be used with a number of attachments, including the Lat and Low Row Attachment.

WHY CHOOSE A REP FITNESS POWER RACK?

REP has built a reputation as one of the best makers of commercial quality gym equipment for home users across the globe. With the PR-4000 Power Rack, you've got a foundation for years of training with the ability to add more and more attachments as you progress.

Gym and Fitness is your exclusive Australian REP distributor, you won't find it anywhere else!
Having trouble building your REP Rack? Our expert team is here to help.
SPECIFICATIONS
Usage: Full Commercial
Extras:
Materials: 3x3" 11-gauge Steel
Important Specs:

Hole Size: 5/8"
Hole Spacing: 1" Within Bench Zone, 2" Elsewhere
Base: Post-Style
Finish: Powder Coated
Width: 50.8"
Upright Height Options: 80"
Crossmember Depth Options: 24"
Attachment Series: 4000

Dimensions: 129 (W) x 68.6 (D) x 203.2 (H) cm
Warranty:

Frame: Lifetime
Parts: 1 year
SIMILAR AVAILABLE PRODUCTS
Great Rack
I love my pr 4000. Fast shipping. Easy assembly. I've finally started lifting at age 54.
PR4000 is a BEAST
Built my own matte black PR4000 with lat/row attachment and iso arms on a smaller footprint with the help of Alex the Rep expert. I can't leave this thing alone. All I want to do is hang out in the garage and use it. :) this is my first rack and given the quality of this rack, I expect my 3-year old's grandkids will be using it 60 years from now.
Pr-4000
I'm a Canadian customer that is super happy with my new power rack!!! The clear coat color is just way too cool!! Thanks rep!!
T Blatt
PR400 power rack. Just put it together, very solid great looking rack. Still installing the lat and row, anxious to try it out. Great addition to my home gym!!
Total satisfaction with Rep Fitness
I've upgraded my garage gym to Rep Fitness products over the past two years. Stainless steel deep knurl bar, PR 4000 rack with lat/low row, urethane equalizer plates and AB5000.
Definitely the most bang for your buck with these products.