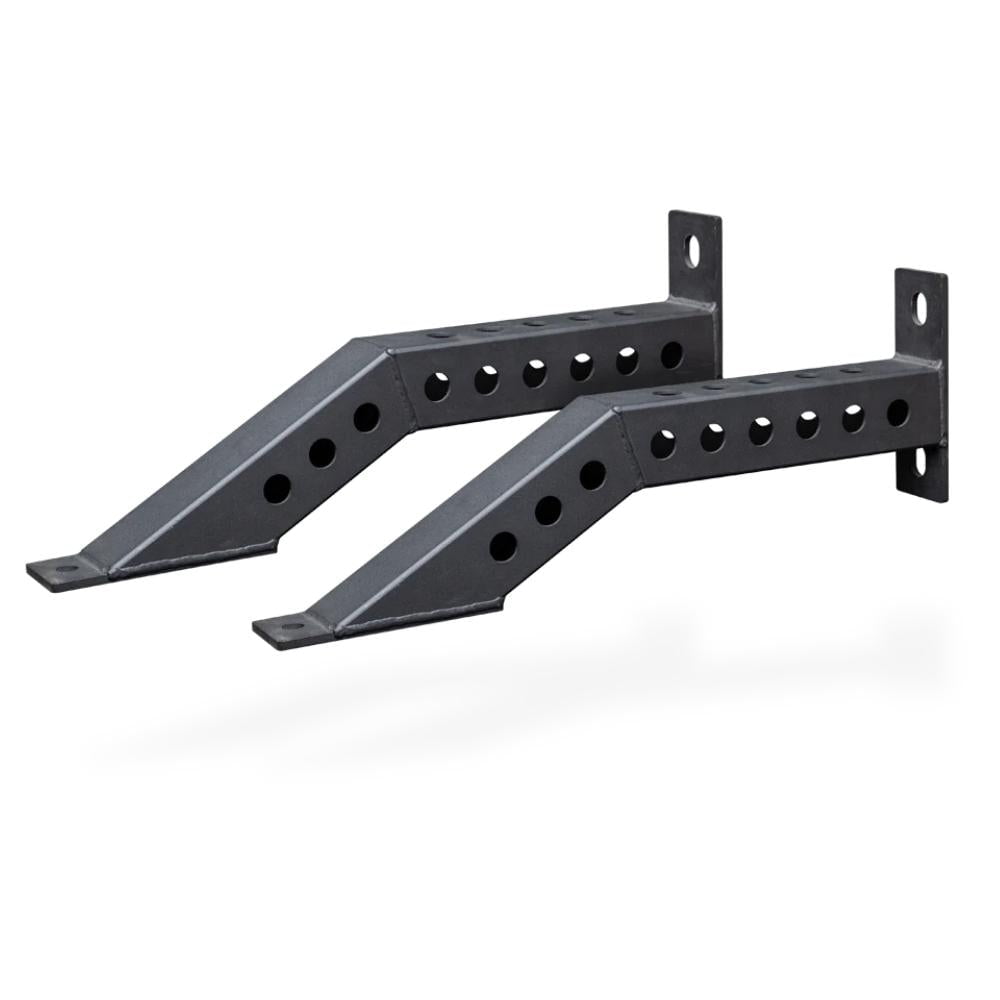 Front Foot Extension PR-4000
Work safely outside your Power Rack without bolting it down by adding the Front Foot Extension. Made from tough 11-gauge steel, add stability to the rack for benching and squatting without changing the J-cup or safety height. Compatible with Landmine, Band Pegs and Utility Horn.

---
KEY FEATURES
IMPROVE STABILITY ON YOUR PR-4000

The Front Foot Extension adds 26.1" (66.29cm) to the base of your upright to give your Power Rack even more stability.

With a clever bolt-on design for quick and easy installation, they feature 2" (5.08cm) apart holes on the sides and top/bottom and three additional 5/8" holes (1.58cm) on the angled element.

If you're using Spotter Arms on the front of your rack, then these Front Foot Extensions are required.

They're compatible with other attachments, such as the Landmine Attachment, Band Pegs and Utility Horn. They're finished in black matte and sold in pairs.
SPECIFICATIONS
Usage: Full Commercial
Weight: 5.35kg / 11.8lbs (Individual)
Length: 66.29cm / 26.1"
Width: 7.62cm / 3"
Height: 16.25cm / 6.4" Ground To Top Of Tube
Material: 3x3" 11-Gauge Steel
Finish: Matte Black
Hole Size: 1.58cm / 5/8"
Hole Spacing: 5.08cm / 2"
Warranty:

Frame: Lifetime
Parts: 1 year
SIMILAR AVAILABLE PRODUCTS
Front Foot Extensions are BAMF'rs!
Let's be honest. They basically have 1 job. To support the front of the rack. But man! They make the rack look aggressive. Very cool. We have the front sitter arms so naturally I wanted these on the rack. Absolutely love having them. Adds weight to the over all rack and looks insanely cool. Very happy with the purchase.
Front Foot Extensions PR 5000 Compatible with Titan Rack
Purchased a pair of these Front Extensions, a pair of Spotter Arms, 2 pair of weight horns, standard and lowered J Cups, and some Old School Plates for my Titan Series power rack. All attachments fit the Titan Rack perfectly, 100% Compatible. I Highly recommend REP's products.
Not much to say.
They went on easily and stabilized my rack. It's nice being able to workout with my wife with me inside and her outside.
Works great to stabilizing and
Works great to stabilizing and ensure you could do any press exercises outside of the rack. Looks awesome too!