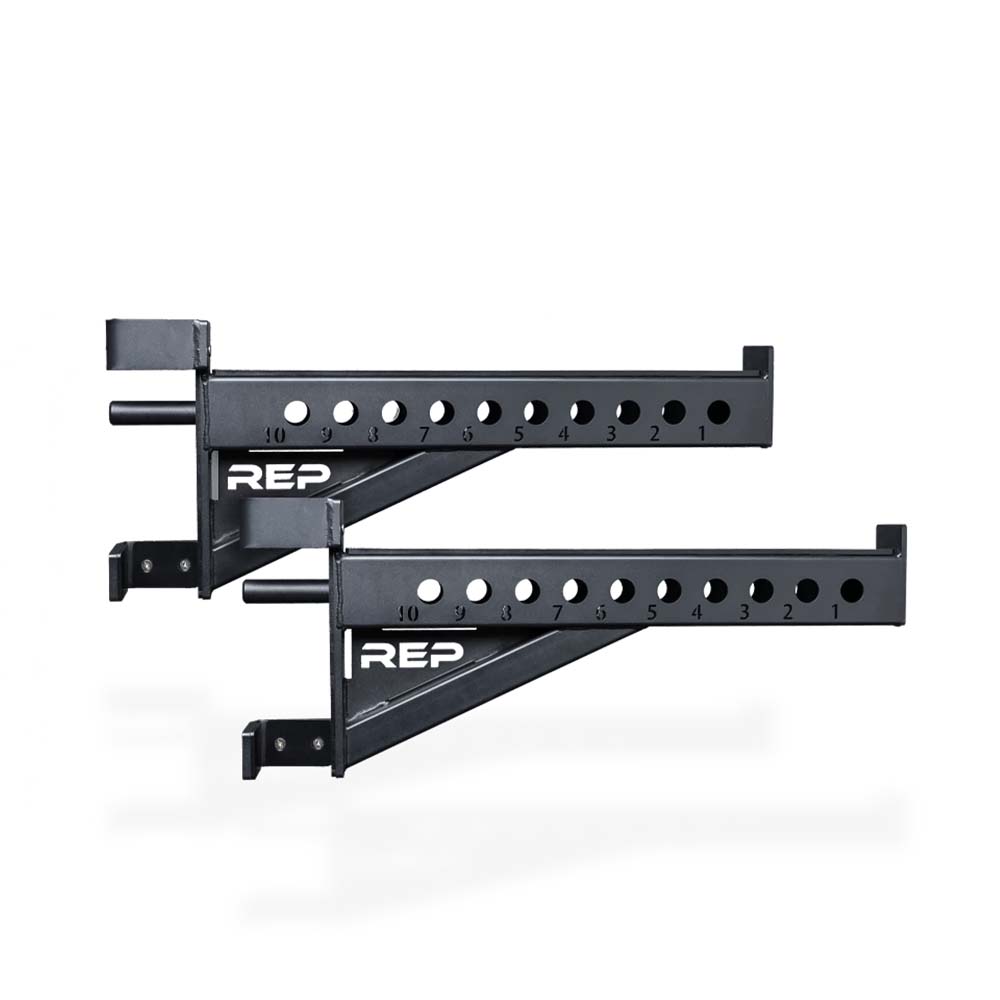 Spotter Arms PR-4000
Safely lift heavy with these tough steel Spotter Arms. Lined with polyurethane to protect your uprights and bar, you can quickly attach these 27.6" (70.10cm) arms to your Power Rack. With a rackable capacity of 453kgs, thick tubing and lightweight design, they're a must have!
---
Key Features
TOUGHNESS MEETS PERFORMANCE

Safely lift to your max when you're training on your own with this pair of heavy-duty steel Spotter Arms for your PR-4000.

Make quick and easy adjustments simply by eyeing the laser-engraved uprights on your rack.
Main tube is 3mm thick, plus a support tube that's 2mm thick, and an added 5mm gusset that further improves strength.
The arms are lined with moulded polyurethane plastic that protects the upright, as well as wear and tear on your bar.
They feature a clever stabilising steel lip to keep the barbell from rolling off the edge.
SPECIFICATIONS
Usage: Full Commercial
Finish: Matte Black Powder Coat
Product Weight: 8.98kgs / 19.8lbs
Rackable Capacity: 453kgs / 1,000lbs
Length: 70.10cm / 27.6"
Landing Zone: 59.43cm / 23.4"
Height: 28.70cm / 11.3"
Hole Size: 2.54cm / 1"
Material: Steel
Warranty:

Frame: Lifetime
Parts: 1 year
SIMILAR AVAILABLE PRODUCTS
Absolutely :100: love it
We purchased these spotter arms to work outside of the rack. I love setting up squats on the inside and a bench press in the outside. The versatility of having these arms is awesome. I have found myself using them for other things as well. Sometimes I'll lean on them when I do crouching curls. Just an excellent add on. Love it.
Durable
These are very stout spotter arms. No issues or complaints. Great product. Would recommend
Very Nice!
Fits my 2021 Titan X-3 squat rack perfectly!!
PR-4000
Best on the market, made my home gym look professional on a budget. Can't go wrong with this company. Great for add on's fast delivery Great quality.
Solid but Not Perfect
Added these to give my rack a little more flexibility on exercises. Overall, they are a good addition; however, they aren't as good as the rack itself. For example, the finish had noticeable imperfections from the beginning. Also, the arms have some wiggle to them that makes it seem less secure than it should. They will function fine and get the job done at a good price, but those two items prevent a 5 star review from me.