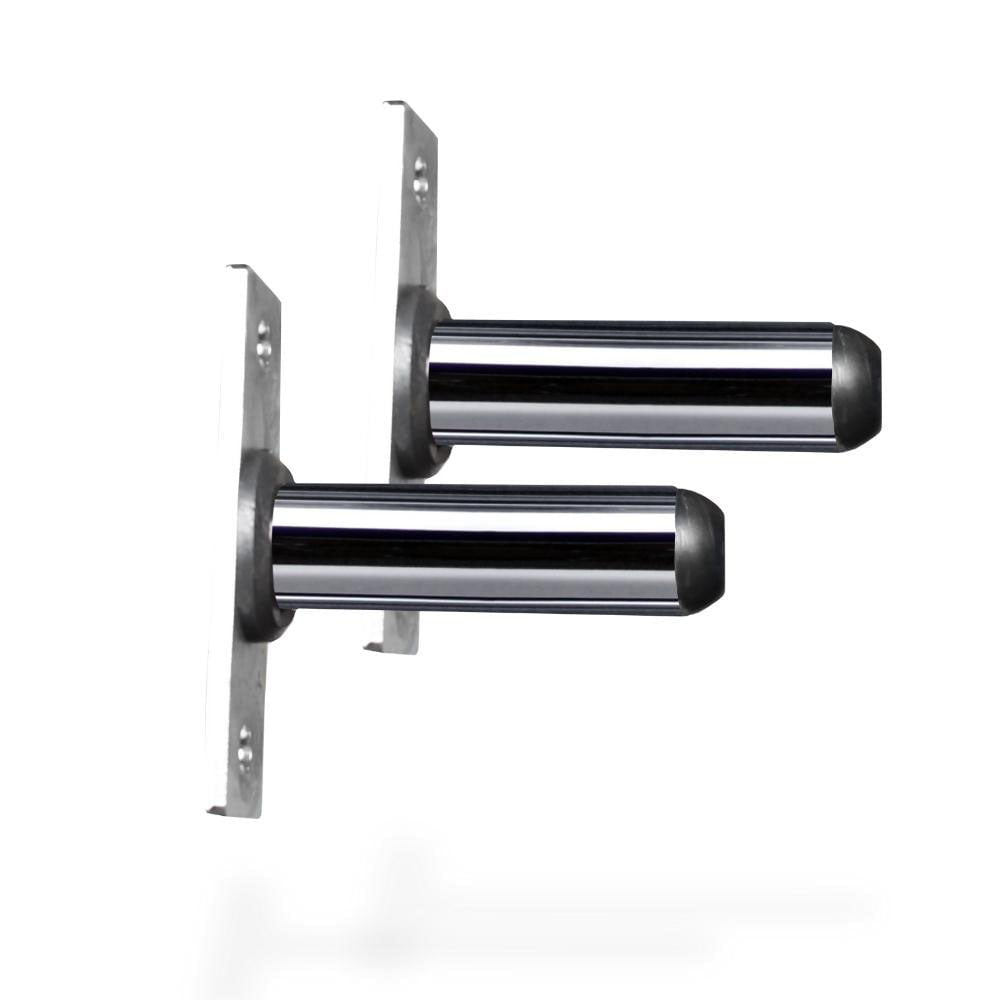 6" Weight Horns PR-4000
With a quick bolt-on design, chrome-plated 11-gauge steel and rubber gasket stops to protect your weights, you can add these 6" (15.24cm) Weight Horns to give your PR-400 a convenient storage option. Easily store 2 x 20kg bumper plates or 4 x 20kg steel plates on each horn.
---
Key Features
CONVENIENT WEIGHT STORAGE SOLUTION

Instead of having your weights lying around or propped up against your uprights, add this pair of 6" Weight Horns to your PR-4000.

Quick bolt-on design makes them easy to attach to the perfect height on your uprights allowing for quick installation.

The urethane-coated steel and rubber gasket stops protect your weight plates, combined with a smooth loading/unloading design.

SPECIFICATIONS
Usage: Light Commercial
Important Specs: Each 6" horn can hold 2 x 20kg Bumper Plates or 4 x 20kg Steel Plates
Material: Chrome-Plated 11-Gauge Steel
Length: 15.24cm (6")
Diameter: 4.57cm (1.8")
Warranty:

Frame: Lifetime
Parts: 1 year
SIMILAR AVAILABLE PRODUCTS
You used to sell a Right and Left Series 1000 Weight Horn Set
In your "FAQS" section of the webpage for your Series 1000 Weight Horns, you have One (1) FAQ Question as follows: "Both of my 1000 Series Weight Horns are designed for the same side. How am I supposed to mount them?"
And your answer is: "Since the weight horns are designed to be oriented the same direction (no specific left or right), you must invert the second weight horn when mounting it to the rack."
But your answer if completely Wrong, because I bought 4 Sets of these Series 1000 Weight Horns on exactly OCT 26, 2020 for $14.99/set and each set is a LEFT and a RIGHT Weight Horn. (In a simpler term, I have all the 1" pegs on the left and right side facing toward the back.)
So, not only do you NOT have a Right and Left Weight Horn anymore you DOUBLED the price to $29.99 per set,
That's just, L A Z Y - - - - - - I wanted to buy 1 more Set, (5 Sets Total) but now I don't think so.
Only a Real REP would notice something like this.
Very Impressed
I purchased these to help store and add weight to the rack. The rack is beefy enough I may not have needed these but man they're awesome. Super convenient having them so close for weight changes. Also, they're made of an excellent material and I love the way they're set up. Thought through down to the bolts and runner stopper. Very much worth the extra money to add to your rack. We love ours.
Question
What are the hole spacing on these and what are the size of holes required
Very nice and practical set
Very nice and practical set of weight horns. I like them a lot.
Happy customer
Great products. Would not havemade a better choicethan chosing your brand