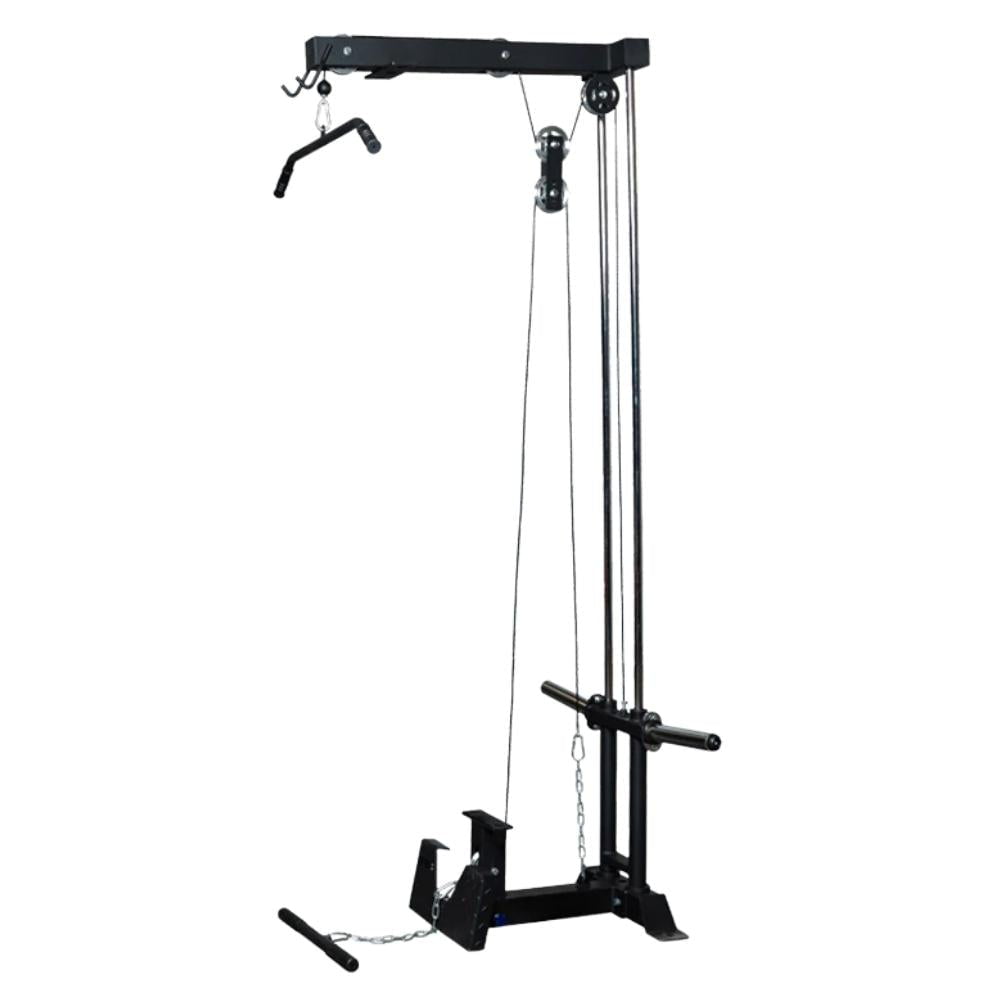 Plate-Loaded Lat Pulldown & Low Row PR-4000
Build out your Power Rack with this versatile, plate-loaded attachment. With a 1:1 ratio and stable design, it comes with a Lat Bar, Straight Bar and Foot Plate. The high quality cables are made from galvanised wire with a raw steel core, and the pulleys are aluminium.

---
KEY FEATURES
EXPAND YOUR POWER RACK SET-UP

Instantly add another workout station to your PR-4000 with this easy-to-use attachment. The Lat Pulldown and Low Row will elevate your training and keep you motivated!

Perform Lat Pulldowns and Low Rows to target even more muscle groups
Smooth cable design ensures you maintain correct technique
Simple plate-loading with a massive capacity (272.15kgs/600lbs of plates)
Comfortable knurled grip on cable attachments will reduce wear and tear on your hands

*Requires the Rear Base Stabiliser attachment
SPECIFICATIONS
Usage: Light Commercial
Important Specs: Requires Rear Base Stabiliser
Attachment Height: 203.2cm (80") (Adds 3"/8.4cm To Total Rack Height)
Attachment Width: 55.72cm (21.94")
Attachment Length: 58.16cm (22.9")
Weight Capacity: 249.47kgs (550lbs)
Weight Horn Capacity:

272.15kgs (600lbs) of iron plates
136kgs (300lbs) of bumpers

Unloaded Carriage Weight: 5kgs (11lbs)
Warranty:

Frame: Lifetime
Parts: 1 year
Upholstery: 30 days
SIMILAR AVAILABLE PRODUCTS
Get it
This attachment adds great functionality to your rack and opens up a ton of exercises for your workout. It has a 1:1 ratio so you don't have to calculate the weight to the real weight you are pulling. The weight of the car is 15 pounds without plates. High quality. Easy to assemble. I put it together alone without any help. Very versatile. Highly recommended
Great, love it
Easy to install and does what it needs to do. If you're careful with it then it won't give you any issues, but it does have quirks if you use it aggressively.
The bottom rubber washer comes loose randomly and kind of messes up the bottom cable bumper. It's annoying and can fix it with some rubber cement but shouldn't have to. The low row is also problematic to tension correctly, sometimes the tension carabiner gets out of place.
All in all has a few minor design flaws but I'm happy that it exists, not like PR owners have any other options. Just make sure you hit it all over with some silicone lube to keep everything running smoothly.
Outstanding
Bought the Lat/low row attachment for my PR4000 rack and it is a beast. Excellent quality and easy to assembled with the instructional video. The pulleys are smooth and it's very easy to load and unload weights.
Couldn't be happier
Got my PR4000 with the LLR, and various row attachments and I could not ask for from the equipment. Instructions included are understandable if you're familiar with lackluster diagrams (luckily my job forces me to be)
Bang for buck is here 100%
Very well built and smooth
Does it stick out quite a bit from the back of the rack? Yes. Is it pricey to ship? Yes...but when you consider how smooth this thing is an compact (compared to stand alone offerings), it's a great bargain. The ROM is great so you get those amazing stretches and it was pretty easy to set up. Highly recommend