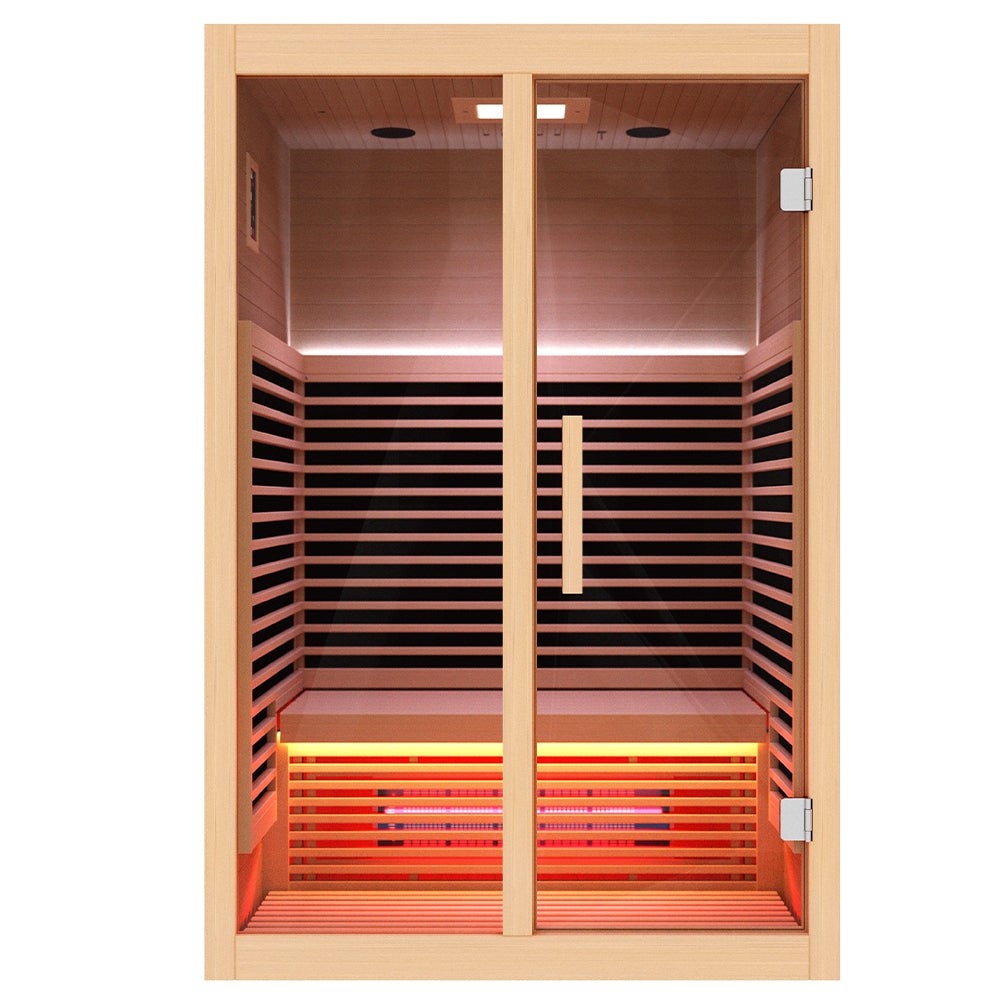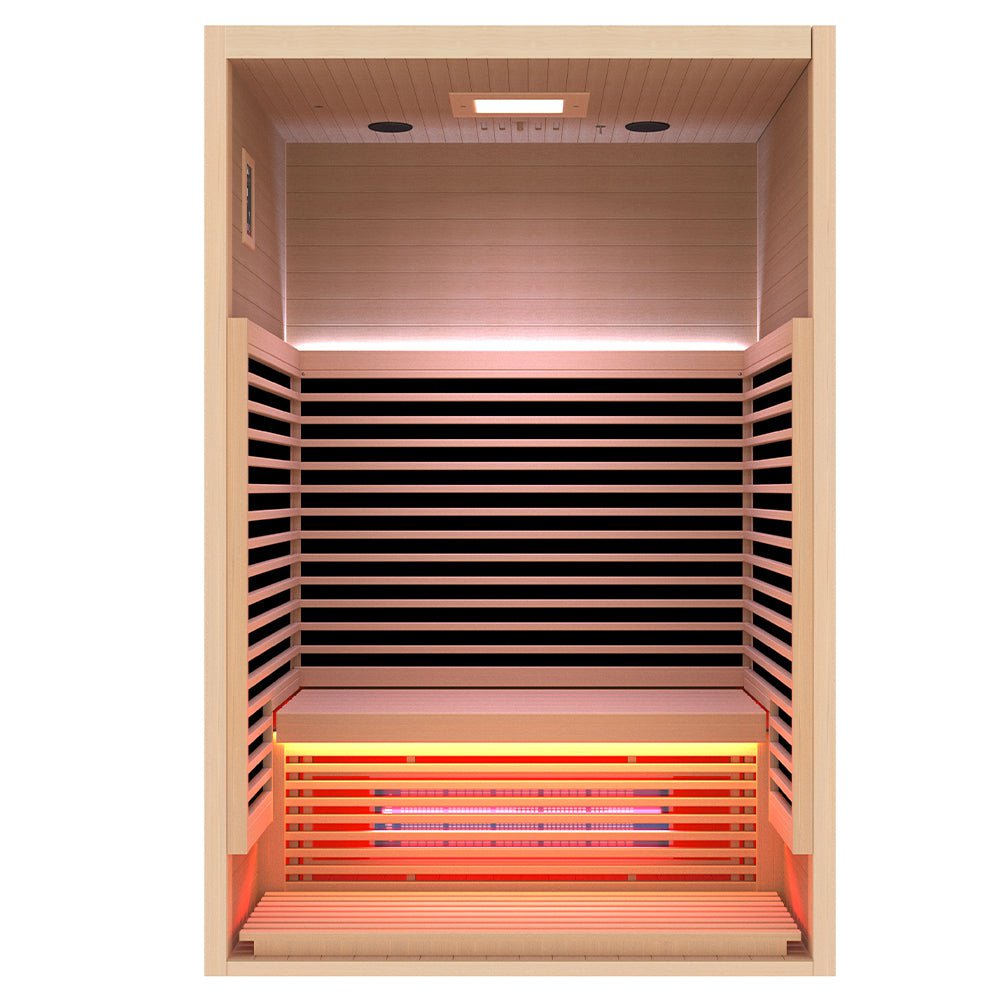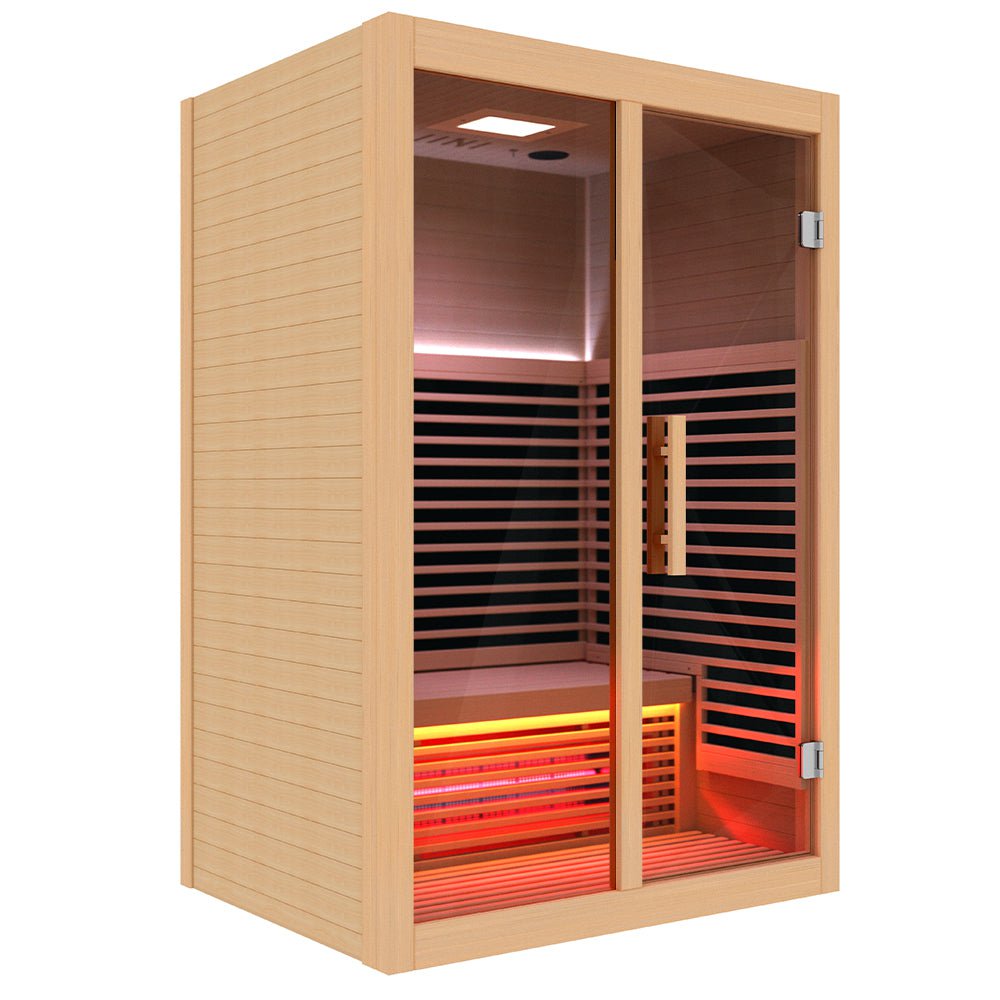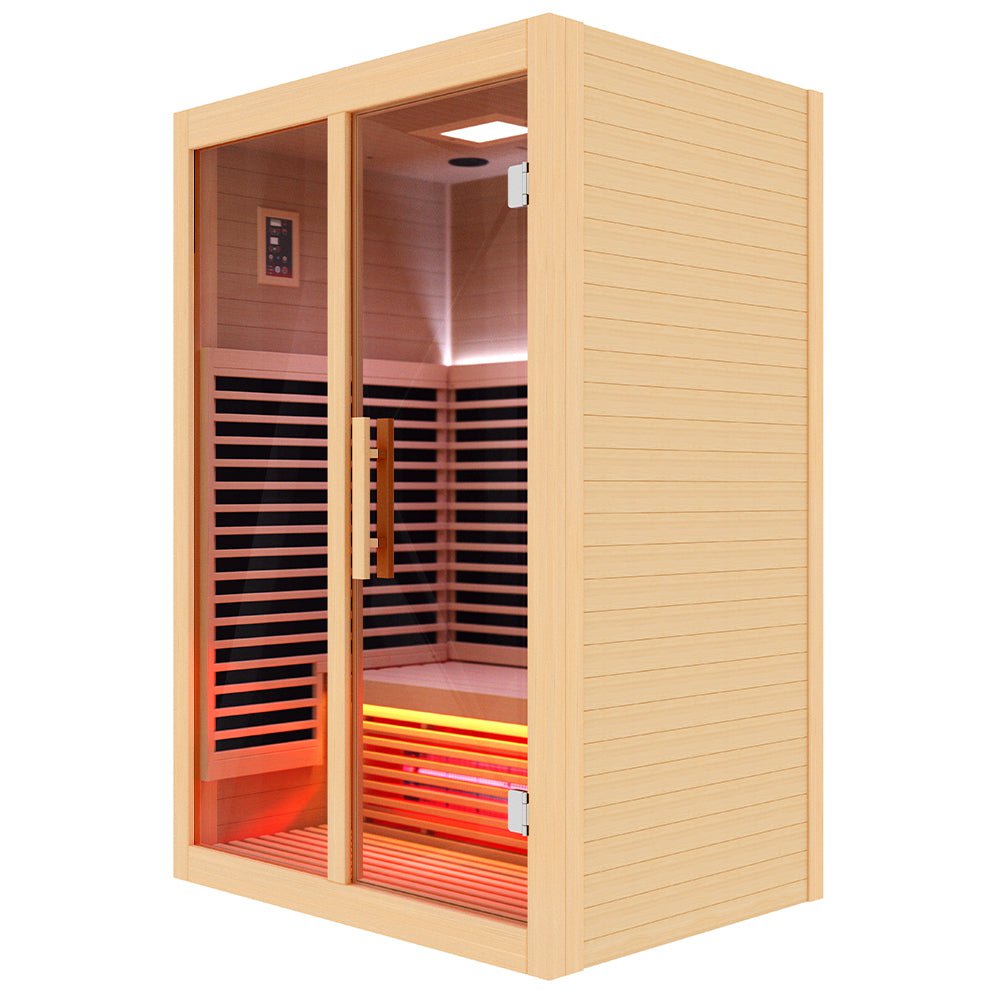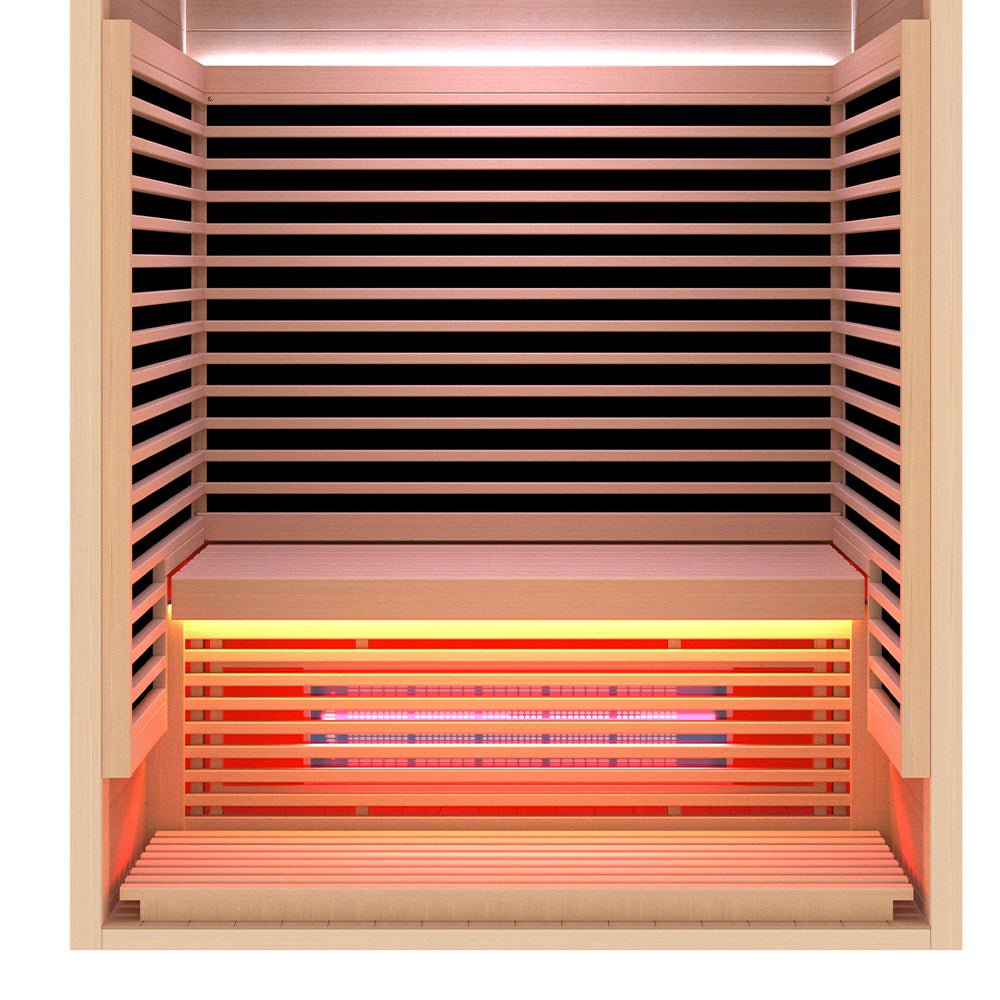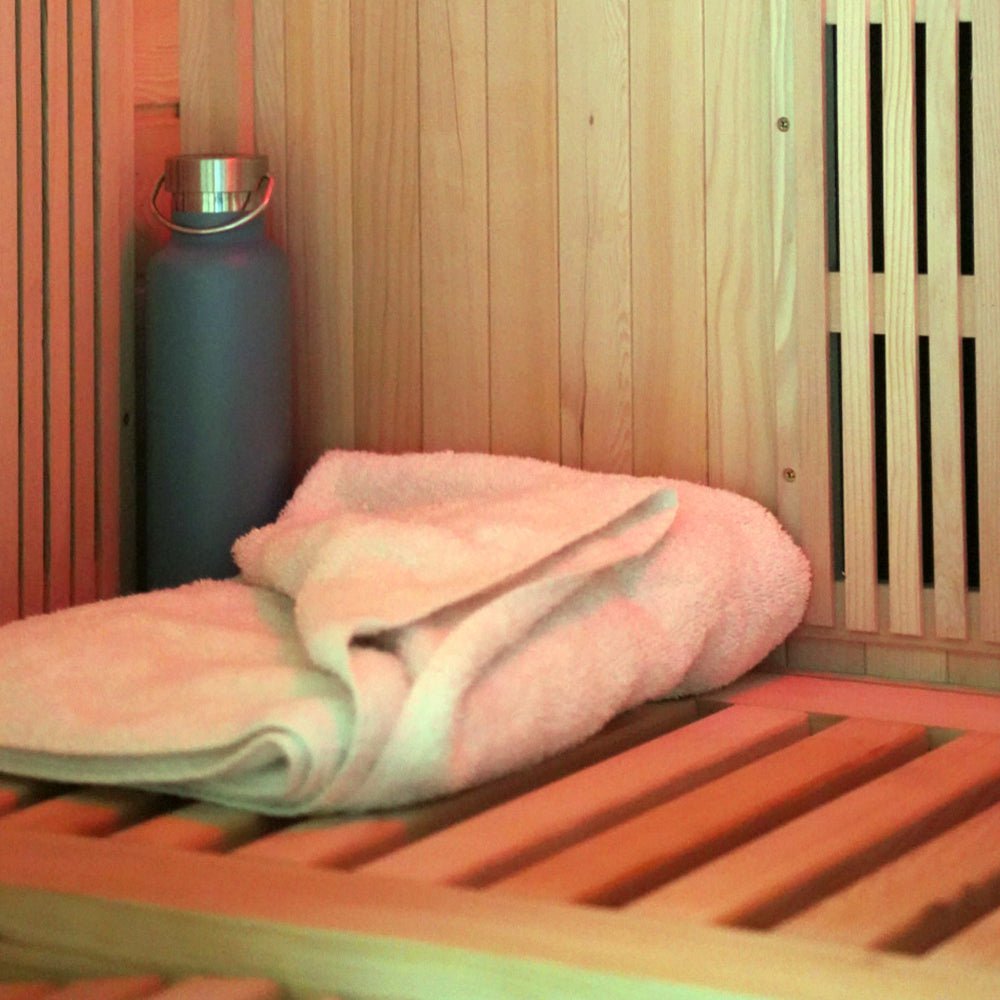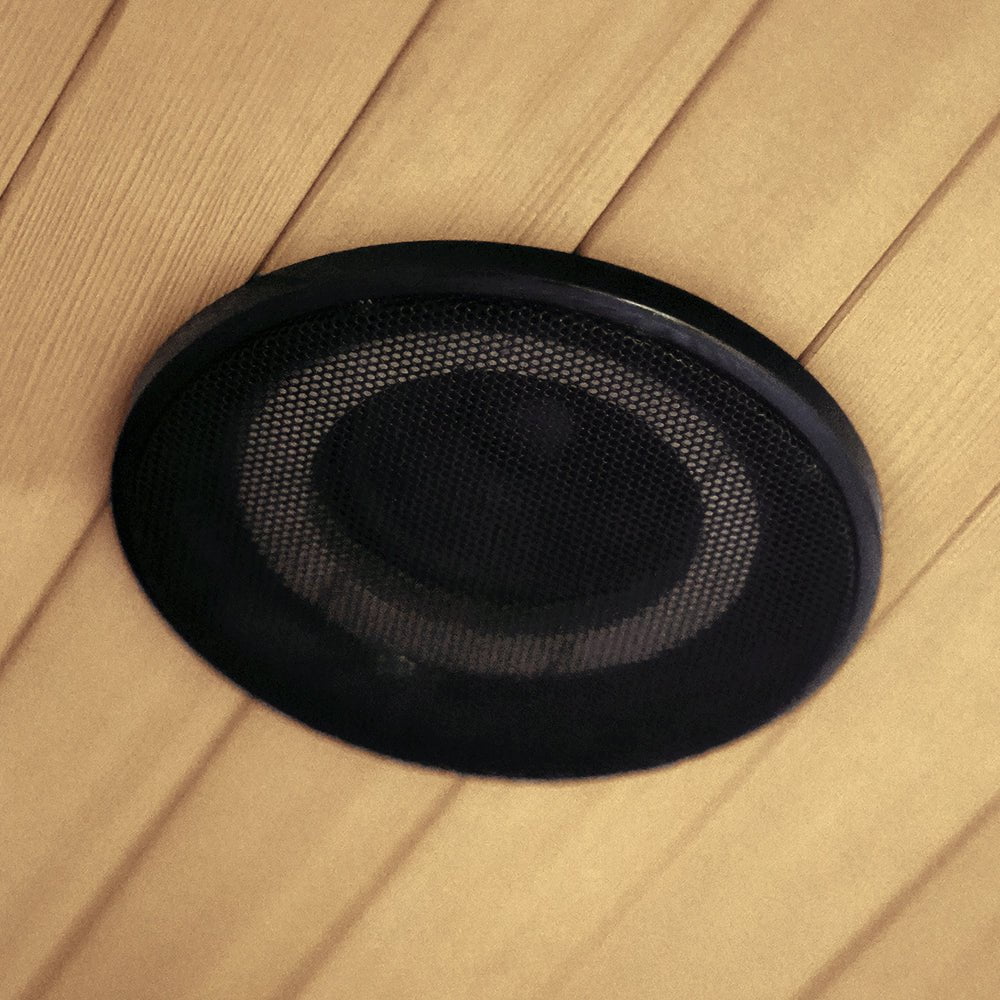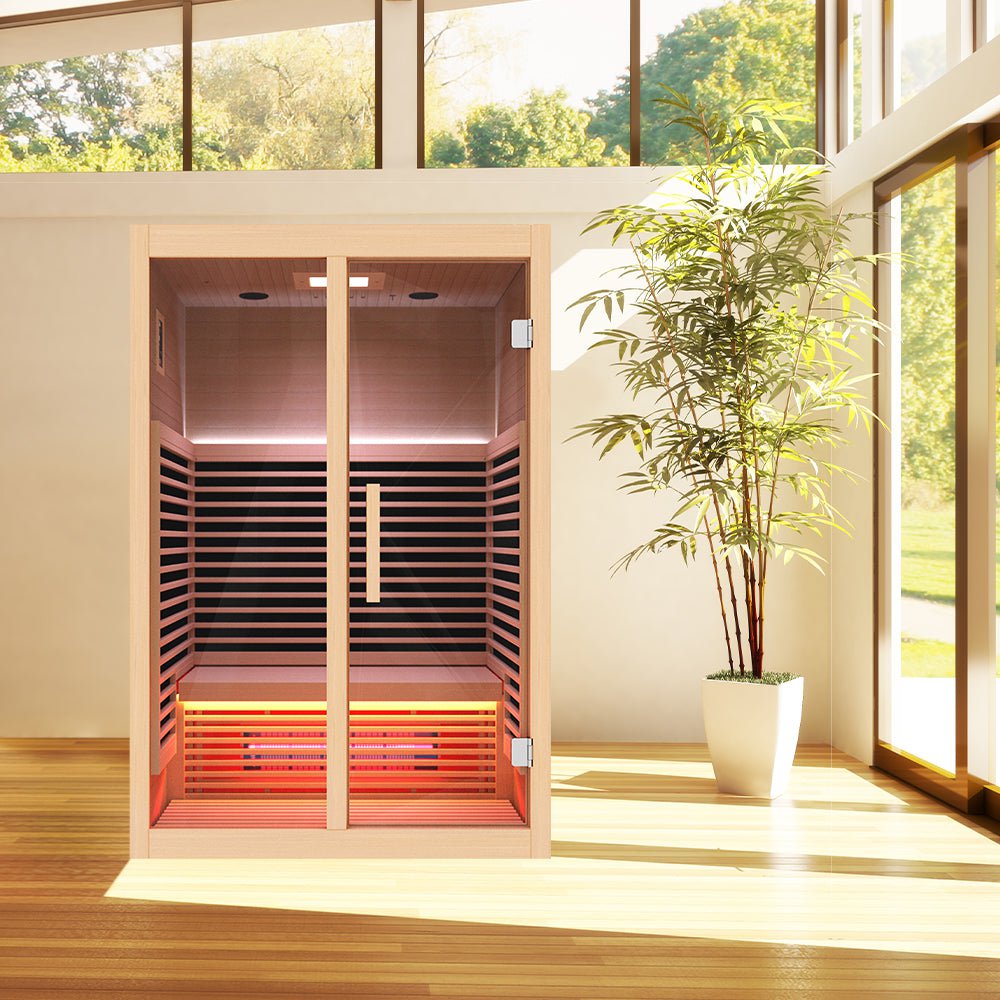 2 Person Infrared Sauna
Create a total recovery solution in your home with the incredible Revel Recovery Infrared Sauna. Designed for 2 people, it uses full-spectrum infrared technology combined with adjustable chromotherapy lighting to assist with recovery, muscle soreness, detoxification, stress and more. Made with solid Canadian Hemlock Wood and 8mm fully-tempered glass, this spacious sauna will help users take control of their health and fitness goals while enjoying the proven benefits of infrared technology compared to traditional steam saunas.
---
Key Features
DEEP MUSCLE PENETRATION AND ENHANCED RECOVERY
Think of the Revel Recovery Infrared Sauna as your total recovery solution. It uses safe levels of infrared waves to stimulate both muscle and tissue to increase blood flow and promote healing.
There are 3 levels of infrared wavelength which work together to deliver a complete rejuvenation experience.
Far-infrared wavelengths allow for deep, yet safe, muscle penetration to help you recover faster.
Mid-infrared infrared wavelengths work the body's soft tissue, increasing circulation and releasing oxygen to target injury areas.
Near-infrared wavelengths focus on improving cell health, skin rejuvenation, wound healing, tissue growth and pain relief.
FULLY ADJUSTABLE CHROMOTHERAPY LIGHTING
Equipped with internal medical-grade chromotherapy lighting, the Revel Recovery Infrared Sauna provides colour vibration chromotherapy technology to assist in recovery. Reach a deeper state of relaxation, increase energy, boost your mood and reduce inflammation.
TAKE CONTROL OF EVERY ELEMENT
It's easy to control temperature, time, lighting, power reservation status and infrared levels through an internal and external digital control panel. This makes it ideal for multi-use homes so people can customise their experience.
CHOOSE YOUR MOOD WITH A BUILT-IN MEDIA HUB
Decked out with an inbuilt, Freemix 5.0 sound system, complete with 4x speakers and Bluetooth connectivity, you'll be able to sit back and kick your feet up during your recovery sessions.
FEEL THE QUALITY WITH CANADIAN HEMLOCK WOOD
The beautiful texture and naturally-finished wood on the interior walls, seats and floor is Canadian Hemlock and has been sourced from eco-friendly forestry. Hemlock includes a number of benefits:
More resistant to shrinkage or warping
Reduced likelihood of cracks or splits
Maximises the life of your sauna
Non-allergenic, non-toxic and little to no aroma
SPACIOUS DESIGN
The spacious dimensions (W:108.8cm  x L:128.4cm x H: 195cmmean each user can find the right position for them, while also alternating spots during their session.
GET PEACE OF MIND WITH 8MM FULLY-TEMPERED GLASS
Unlike other options currently available, Revel infrared saunas have been equipped with 8mm toughened safety glass for quality, safety and consistency of heating.
ULTRA LOW RATED EMF FOR ADDED SAFETY
Revel Infrared Saunas use high-quality Nano Carbon heaters that generate very low Electric Magnetic Fields (EMF) - less than 1mG measured from a distance of less than 5cm from the heaters.
SIMPLE AND FAST INSTALLATION
Using the ingenious clasp system and a Phillips head screwdriver, installation of your new RRevel Recovery Infrared Sauna is simple and fast! If you have any questions about delivery and installation of your new sauna, please get in touch with our friendly Sales Team!
THE MANY BENEFITS OF INFRARED SAUNAS
While the popularity of traditional steam saunas go back centuries, infrared technology is a relatively new innovation and has been shown to effectively help with a wide number of common health issues.
Stress Sleep - Providing a sanctuary for you to relax and unwind, infrared saunas help to decrease cortisol levels, enhance your sleep patterns and may also help decrease blood pressure.
Detoxification - Sweating is a natural detoxification process to remove toxins and chemicals including heavy metals and radiation. Infrared saunas detoxify 7 times better than traditional saunas.
Pain Management - Help relieve chronic pain from fibromyalgia, arthritis, back pain and systemic inflammation by improving circulation, decreasing muscle tightness and general aches and pains.
Anti Aging and Skin Health - Manage dermatitis, acne, psoriasis and cellulite, while also stimulating collagen production and reducing wrinkles by increasing blood flow to the skin surface.
Weight Loss - Boost metabolism and burn up to 600 calories while you sit back and relax!
Healing - Infrared light kills resistant bacteria and viruses. Help your body kill unwanted bugs, boost the immune system and sweat it out!
Chromotherapy - Can be beneficial in inducing a deeper relaxation state, increasing energy stores, improving cell rejuvenation and skin renewal, inflammation reduction and more. 
Specifications
Installation: The R-2P-HL requires a licensed electrician for the installation of

A 15-amp wall outlet
A 20-amp circuit breaker in the meter box

Usage: Domestic
Materials: Canadian Hemlock Wood
Important Specs:

Temperature: 50-65 degrees (depending on the

ambient

temperature)

Bluetooth Digital control panel with MP3 Jack
8mm Fully Tempered Clear Glass
Ultra Low Carbon heaters + Red glass quartz heater below bench
Colour Light and Light Strips

Power:

Voltage: 240V
Total Power: 2125W
One power socket required

Colour lighting options: Yellow, Green, Pink, White, Blue, Red, Purple, Amber, Aqua
Product Weight: 170 kgs
Assembled Dimensions: 108.8 (W) x 128.4 (L) x 195 (H) cm
Warranty:

Heater: Lifetime*
Cabin: 6 Years
Electrical: 6 Years
Stereo: 1 Year
Labour: 6 Months
*
Please note, that saunas are designed for indoor use only and are not covered for outdoor use.
2-3 seater full spectrum sauna
We absolutely love our sauna, it works perfectly and not too hard to put together, it is heavy though so 2 strong people would be recommended. Also, it says 2-3 seater but it's for 2 persons really. We have ours outside, under a cover. Strongly recommend this product!
Hi Carina,
Thank you for the feedback on the sauna. We are glad to hear that you are enjoying it, such an awesome addition to your space.
Kind regards,
GAF Team