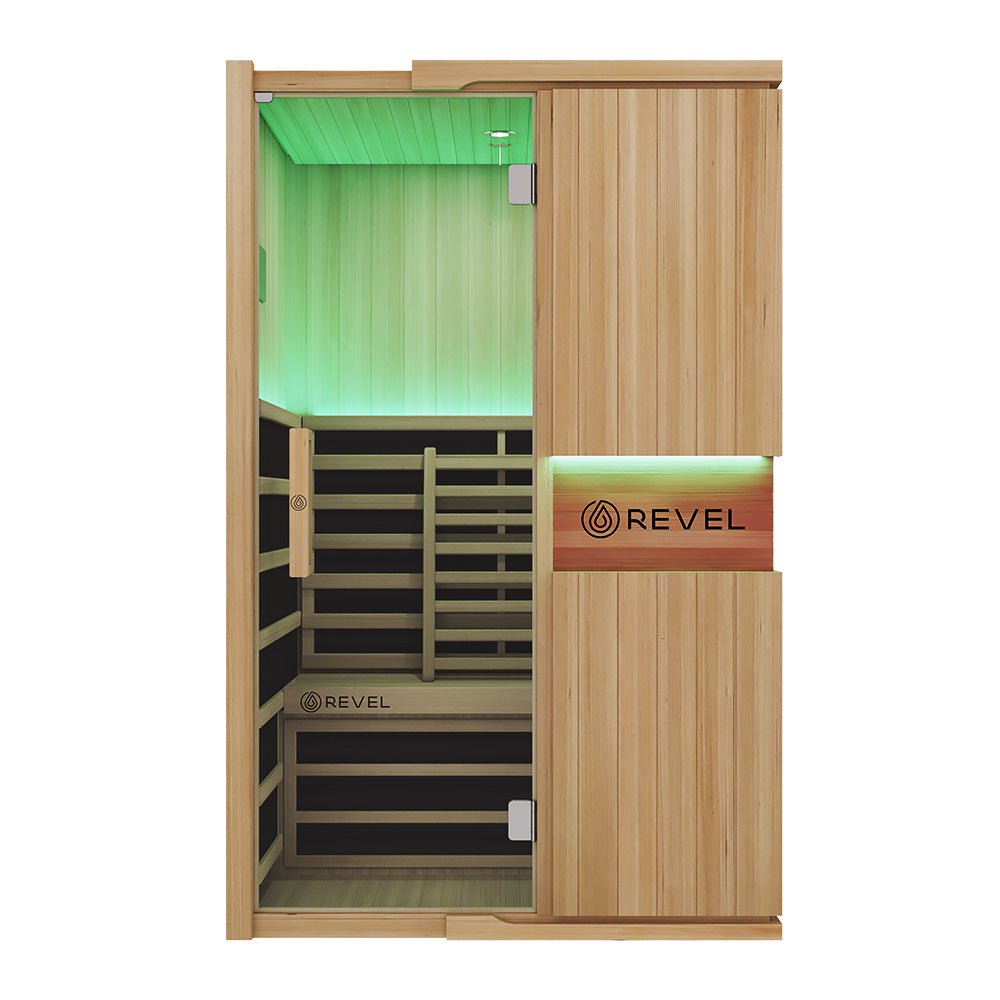 Aura 3 Person Full Spectrum Infrared Sauna
Step into a world of relaxation with the Revel Recovery Aura 3 Person Full Spectrum Infrared Sauna. This sauna is your personal space for wellness and fitness, right in the comfort of your home. Made with top-quality Canadian Hemlock Wood and a modern media hub, it promises a soothing experience beyond just a sauna session. With the Aura 3 person, you're not just buying a sauna; you're embracing a lifestyle that values self-care and well-being. Enjoy the warmth, soak in the benefits, and feel refreshed and ready to face the day, one session at a time.
---
KEY FEATURES
HIGH-QUALITY WOOD

The Aura 3 is built with the best Canadian Hemlock Wood, known for its strength and beautiful look. This wood lasts a long time and brings a touch of class to your home, giving you a calm and grounded sauna experience.


POWERFUL HEATING

Feel the gentle yet strong heat from the ultra-low carbon infrared heating panel and red glass quartz heating tube. This heating system goes deep into your muscles, easing stress and helping recovery, all while saving energy.


MODERN MEDIA HUB

Control your relaxation with a digital touch panel that lets you connect to Bluetooth, USB, or FM. Enjoy your favourite tunes through the 4x speakers, creating a spa-like feel right at home, and promoting mental health and relaxation.


SLEEK DESIGN

The Aura 3 has a modern look with 6mm clear glass, giving a bright and open feel. The wooden handle offers a comfortable grip, and the LED lights set a peaceful mood, ready for you to take a break from your busy day.


EASY INSTALLATION AND ROBUST WARRANTY

Effortlessly plug and play with a 10amp wall socket – no electrician needed! The Aura series is designed for easy installation, allowing you to quickly set up your personal relaxation space without professional help. Buy with confidence knowing the Aura 3 comes with a great warranty deal. With a lifetime warranty on the heater and 6 years on the cabin and electrical parts, you can relax knowing you're covered for many years to come.

SPECIFICATIONS
Material: Canadian Hemlock Wood
Glass: 6mm Fully Tempered Clear Glass
Heaters: Ultra Low Carbon Infrared Heating Panel and Red Glass Quartz Heating Tube
Handle: Wood
Accessories: Touch control with Bluetooth/FM/USB
Panel: Digital Touch Control
Connectivity: Bluetooth | USB | FM
Speakers: 4x Resonance Speakers
Product Weight: 141 kgs / 310.85 lbs
Assembled Dimension: 118(W) x 103(L) x 195(H) cm
Temp Range: 65°C
Voltage: 220 - 240 Volts
Power: 2020 Watts
Socket: 1 Standard 10amp Plug
Lighting: LED Flat Lamp and LED Strip Light
Warranty:

Heater: Lifetime*
Cabin: 6 years
Electrical: 6 years
Stereo: 1 year