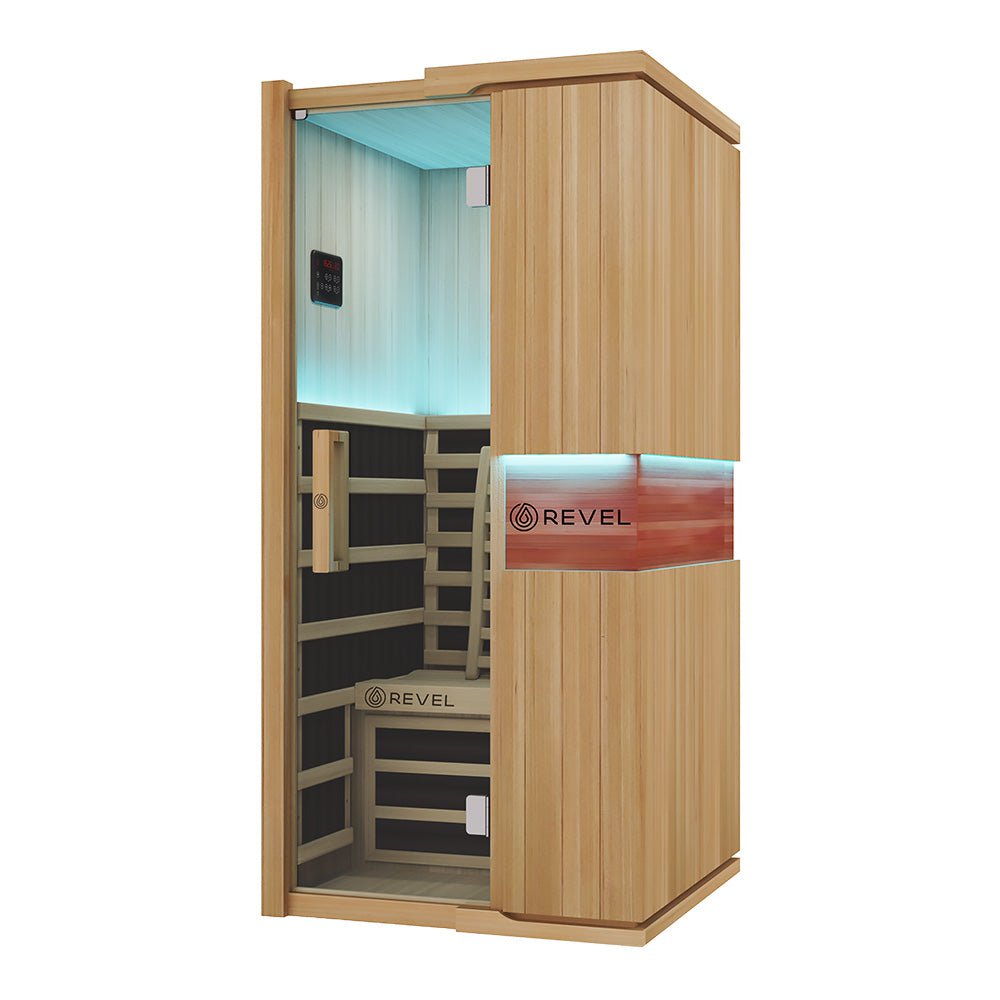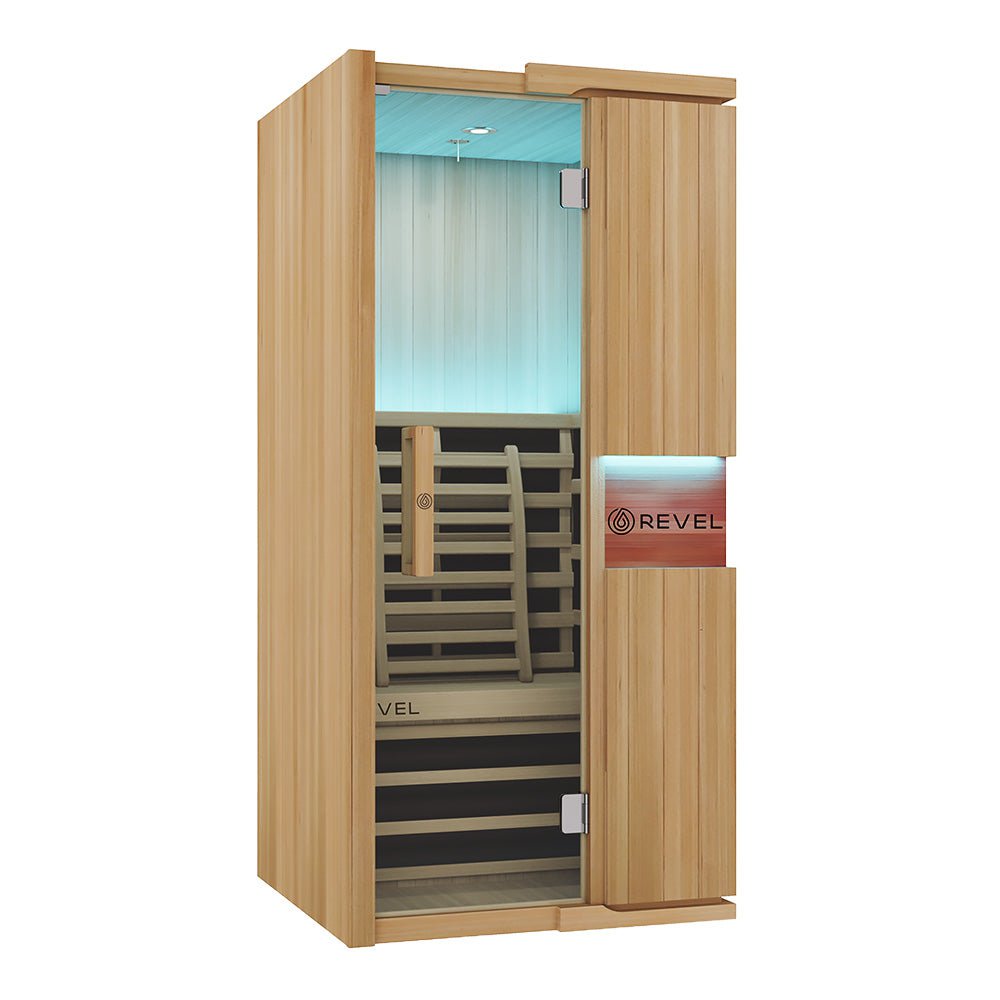 Aura 1 Person Full Spectrum Infrared Sauna
Step into a realm of unparalleled relaxation and recovery with the Revel Recovery Aura 1 Person Full Spectrum Infrared Sauna. Designed for the modern individual who values well-being and a holistic approach to fitness, this sauna is a sanctuary of rejuvenation right in your home. Crafted with premium Canadian Hemlock Wood and a state-of-the-art media hub, it promises an immersive experience beyond mere detoxification. With the Aura 1, you're not just investing in a sauna but in a wellness lifestyle, where every session is a step towards a healthier, happier you. Revel in the warmth, embrace the glow, and emerge transformed, ready to conquer the day, better than yesterday.
---
KEY FEATURES
PREMIUM CANADIAN HEMLOCK WOOD CONSTRUCTION

The Aura 1 is crafted from the finest Canadian Hemlock Wood, known for its durability and rich, beautiful grain. This choice of material ensures a long-lasting product and introduces a level of sophistication to your home gym, encouraging a serene and grounded sauna experience.


FULL SPECTRUM INFRARED HEATING

Dive deep into relaxation with the ultra-low carbon infrared heating panel and red glass quartz heating tube. These elements work harmoniously to deliver a gentle yet potent heat, penetrating deep into your muscles to alleviate stress and promote recovery, all while keeping energy consumption low.


BUILT-IN MEDIA HUB

Elevate your sauna sessions with a digital touch control panel that puts a world of entertainment at your fingertips. Connect to Bluetooth, USB, or FM, and let the resonance of the 4x speakers envelop you as you unwind and recharge, creating a spa-like atmosphere in the comfort of your home.


MODERN AND SLEEK DESIGN

The Aura 1 boasts a contemporary design with 6mm fully tempered clear glass, allowing for a spacious and airy feel. The wooden handle adds a touch of elegance, ensuring a safe and comfortable entry and exit, while the LED lighting sets the mood for a tranquil retreat from the daily grind.


EASY INSTALLATION AND ROBUST WARRANTY

Effortlessly plug and play with a 10amp wall socket – no electrician needed! The Aura series is designed for easy installation, allowing you to quickly set up your personal relaxation space without professional help. Invest with confidence, knowing that the Aura 1 comes with a robust warranty. Enjoy a lifetime warranty on the heater, a 6-year warranty on the cabin and electrical components, and a 1-year warranty on the stereo, securing your peace of mind for years to come.

SPECIFICATIONS
Material: Canadian Hemlock Wood
Glass: 6mm Fully Tempered Clear Glass
Heaters: Ultra Low Carbon Infrared Heating Panel and Red Glass Quartz Heating Tube
Handle: Wood
Accessories: Touch control with Bluetooth/FM/USB
Panel: Digital Touch Control
Connectivity: Bluetooth | USB | FM
Speakers: 4x Resonance Speakers
Product Weight: 128 kgs / 282 lbs
Assembled Dimension: 98(W) x 103(L) x 195(H) cm
Temp Range: 65°C
Voltage: 220 - 240 Volts
Power: 1750 Watts
Socket: 1 Standard 10amp Plug
Lighting: LED Flat Lamp and LED Strip Light
Warranty:

Heater: Lifetime*
Cabin: 6 years
Electrical: 6 years
Stereo: 1 year