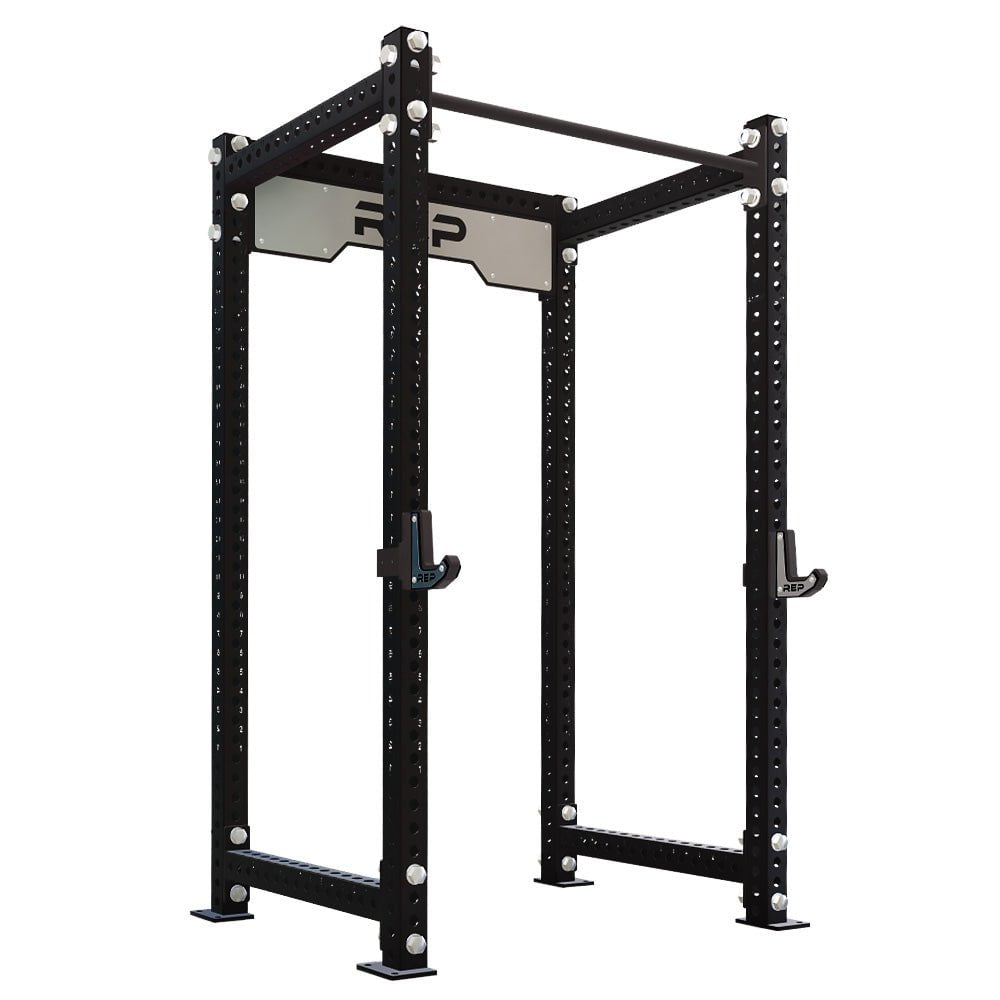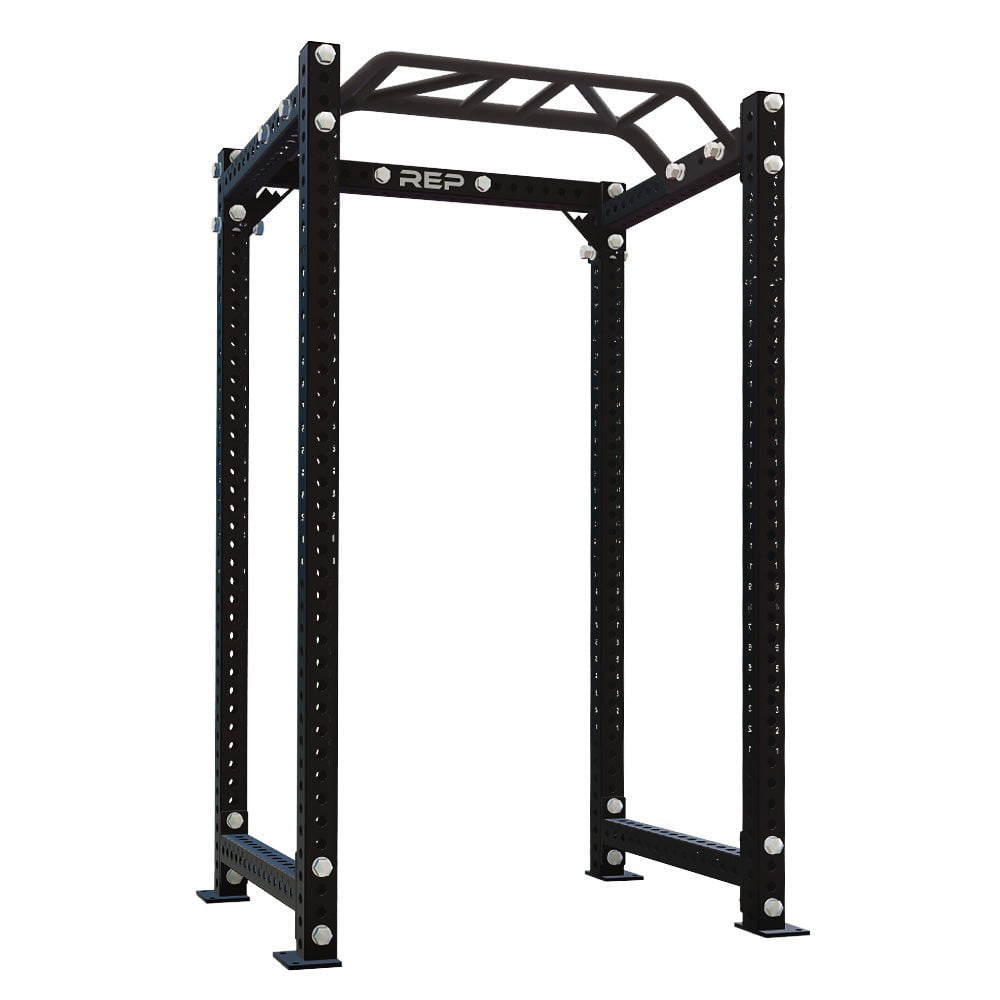 PR-5000 Power Rack
There's a reason the PR-5000 Power Rack from REP Fitness was voted 2022 Favourite Rack on Reddit R/Homegym! Featuring overbuilt 3X3" 11-gauge steel, robotic welding, laser cut 1" holes with 2" spacing, and nearly limitless attachments, it's the only power rack you'll ever need. Start building your REP PR-5000 set up for your home, garage, fitness facility or commercial gym today!
Looking to upgrade with an Ares? Check out our Ares for PR-5000 80" or Ares for PR-5000 93".
---
KEY FEATURES
MOST DURABLE AND CONFIGURABLE POWER RACK

Are you looking to take the next step in your powerlifting and strength training? Ready to expand your home, garage, or commercial set-up?

With 3X3" (7.62cm) 11" gauge steel and a monster 1,000lb (453.6kg) Rackable Capacity, you can push yourself to the limit and have 100% confidence during every workout.

YOUR BASE UNIT INCLUDES

4 x 80" (203.2cm) or 93" (236cm) Black Uprights*
4 x 30" (76cm) Black Crossmembers
Your choice of Compact or Standard Crossmember Logo Plate*
Your choice of Multi-Grip or Standard Pull Up Bar*
Your choice of Flat or Round J-Cups (J-Hooks)*

*Additional costs apply.


PERSONALISE YOUR TRAINING

Your Base Unit is only just the beginning! Expand and customise your strength training with many additional attachments and safety features.



Dip Attachment
Lat/Low Row Attachment
Landmine Attachment
Leg Roller Attachment
Safety Straps and Safeties
Weight Horns (2 Options)
Rear Base Stabiliser

PRECISION DESIGN AND ENGINEERING

The large 1" (2.54cm) diameter holes spaced every 2" (5.08cm) giving you tons of flexibility to create more opportunities with your attachment placement. It also allows a wider variety of attachments than those found on the REP Fitness 4000-series racks.

Laser-cut numbering features on every hole in the working area - both on the front and back of the uprights as well as on the crossmembers - takes the guesswork out of lining up J-cups, Safeties and other attachments.

PLENTY OF SPACE TO WORKOUT IN

Careful consideration has been given to balancing your training needs while providing a compact footprint. The 30" (76cm) depth and 47" (119.38cm) width gives you plenty of room to train in while maximising space savings and ensuring easy unracking/re-racking of your barbell.

EVERY DETAIL COUNTS…

As you build your PR-5000 Power Rack attachment ecosystem, know that every small detail has been carefully considered. This includes:

Rear cross-member with laser-cut logo delivers extra rigidity and side-to-side stability, while instantly elevating the look and feel of your space.
Chromed weight horn attachments that offer incredible protection for your weight storage. Many competitors use a powder coat that chips and flakes away as you slide plates on/off.
Both J-Cup options come with plastic liners and urethane to protect the paint from wear and tear and keep these trusted training aids looking brand new.

WHY CHOOSE A REP FITNESS POWER RACK?

REP has built a reputation as one of the best makers of commercial quality gym equipment for home users across the globe. With the PR-5000 Power Rack, you've got a foundation for years of training with the ability to add more and more attachments as you progress.

Gym and Fitness is your exclusive Australian REP distributor, you won't find it anywhere else!
Having trouble building your REP Rack? Our expert team is here to help.
SPECIFICATIONS
Usage: Full Commercial
Materials: 3x3" 11-gauge Steel
Westside Spacing:

1" (2.54cm) Hole Size
2" (5.08cm) Hole Spacing

Weight Limit: 450 kgs
Dimensions: 129 (W) x 76 (D) x 203 (H) cm
Warranty:

Frame: lifetime
Parts/labour: 1 year
Upholstery: 30 days
SIMILAR AVAILABLE PRODUCTS
Amazing Rack You Wont Regret!
After conducting extensive research and turning to Google for help, I ultimately decided on this product. I can confidently say that it has exceeded my expectations and is truly remarkable! The service provided by GAF has been exceptional, with prompt responses and delivery within the estimated time frame. As a result, I have placed additional orders for more equipment.
Hi Maurice,
Thank you for your awesome feedback. We appreciate your continued support and the trust you've placed in us by placing additional orders for more equipment. If you have any further questions or need assistance, please don't hesitate to reach out. We're here to help you every step of the way!
Happy training!
GAF Team
Excellent quality - this thing has Harbour Bridge bolts.
It will give me a lot of confidence when I get back to heavy squats again.
Main gripe is Australia only imports the 80" uprights. No 93". Being 6' tall, that means bent knee pullups, even with the multigrip pullup bar. I knew this prior to purchase and thought overall REP was a better deal than Rogue's. It was only when discovering standing shoulder presses couldn't be done in the cage I started to get regrets, as Rogue brings in the 90" and 100" models. This means having to unload and thread an olympic bar through the uprights to the outside of the rack - a recipe for injury when already fatigued from the previous exercise.
Places for weight horns also get limited on a 4 post system so the extra height would have worked here well, allowing plates on the top bars to be walked under.
Very easy to install by a single person. A second stamped wrench ideally should have been included ($1) as many won't have a large enough wrench to stop the bolts rotating when tightening. A rethink on packaging could have halved the installation time - bubble wrap had to be carefully sliced off and the sticky vacuum sealed bolts pack took ages to pop parts out.
Would have been 5 stars if GAF imported the 93" uprights brought in the safety straps which I'm desperately missing. This stuff is simply too expensive to import personally from the USA, so might look at retrofitting Rogue's if they don't appear soon.
Update 1: GAF are now importing the safety straps so increasing a star for future buyers. Unfortunately I bought the spotter arms in lieu of and have no need for both so might try to sell the arms. Straps would also be able to perch the bar just off the ground for deadlifts so plates can be easily loaded/unloaded.
Update 2: GAF are now importing the 93" uprights. Great that GAF have seen the necessity for both these and the safety straps - obvious omissions that have likely cost them many sales to Rogue - as I was borderline and am only 6'. Too much cost and time to changeover now unfortunately but I'll probably do it out of annoyance one time it's that crucial.
Hi Simon,
Thank you for your detailed review of the PR-5000 Power Rack. It's great to hear that you're enjoying the excellent quality and feel confident returning to heavy squats. We appreciate your feedback regarding the height of the uprights and the frustrating unpackaging process. Your insights will help us to continue improving our products and customer experience.
We are sorry to hear about the inconvenience caused by the lack of safety straps, and we will take your comment into consideration for future product developments. Thank you for choosing our power rack and we wish you all the best in your fitness journey.
Happy training!
GAF Team
An absolute beast of a rack.
My first workout was putting the rack together! Heavy and solid. You probably don't own a wrench and socket large enough for these bolts. Very happy with this rack.
Outstanding product and service
PR 5000 V2 80" Mayte black. Build to be eternal. Reliable, looks great and pleasing to the eyes. Sturdy. Functional, upgradable with lots of attachments available. Excellent price and REP service is OUTSTANDING!!!!!! Most of my equipment is from REP and they stand behind every bolt (yes, even the bolts). Will definitely recommend it without hesitation.
Best Rack in the Game
This thing is the beauty and the beast all in one. She is the center of attention and brought the gym to next level. So versatile and adaptive, plan on adding many more attachments. Price was very competitive after looking at other options. If your color is out of stock, sit patiently and give them a few days and it will reappear. Don't catch the fever and go buy another. Last rack will ever need to purchase.