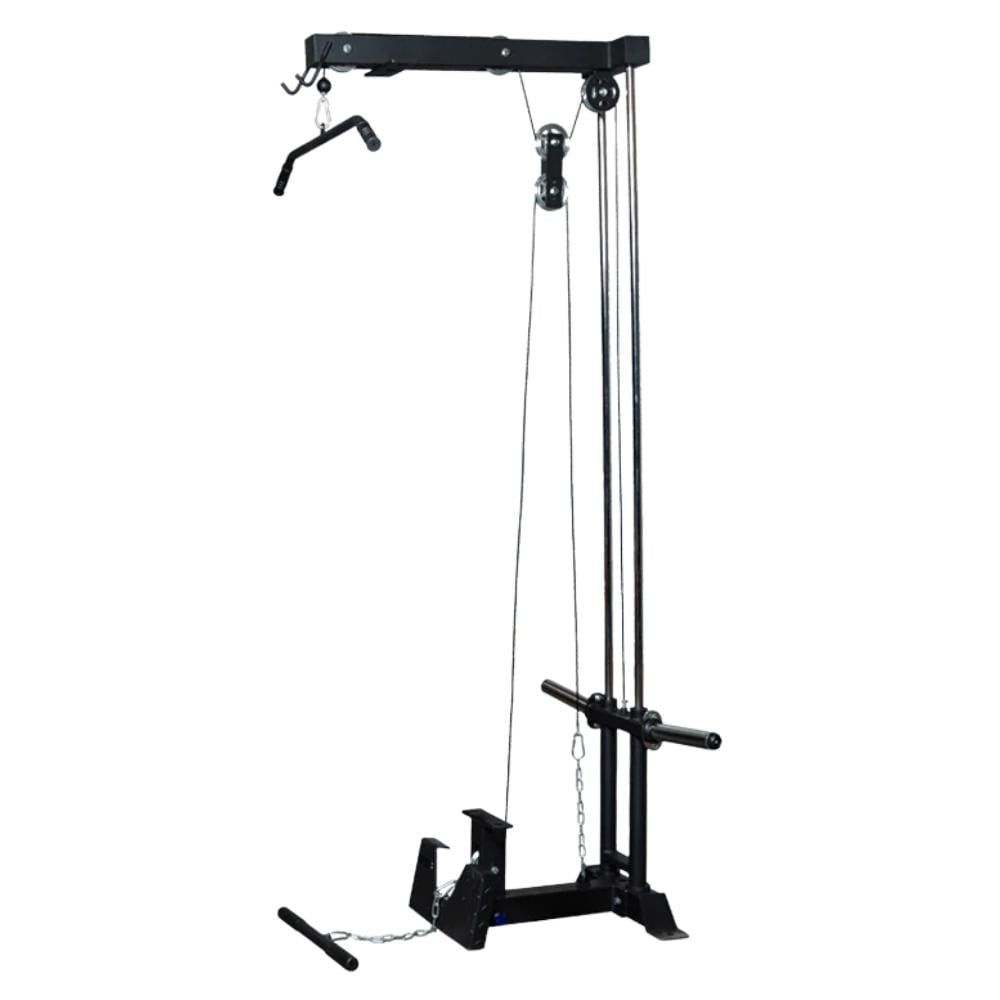 Plate-Loaded Lat Pulldown & Low Row PR-5000 80"
Build out your Power Rack with this versatile, plate-loaded attachment. With a 1:1 ratio and stable design, it comes with a Lat Bar, Straight Bar and Foot Plate. The high quality cables are made from galvanised wire with a raw steel core, and the pulleys are aluminium.
---
KEY FEATURES
EXPAND YOUR POWER RACK SET-UP

Instantly add another workout station to your PR-5000 with this easy-to-use attachment. The Lat Pulldown and Low Row will elevate your training and keep you motivated!



Perform Lat Pulldowns and Low Rows to target even more muscle groups
Smooth cable design ensures you maintain correct technique
Simple plate-loading with a massive capacity (272.15kgs/600lbs of iron plates)
Comfortable knurled grip will reduce wear and tear on your hands


*Requires the Rear Base Stabiliser attachment

SPECIFICATIONS
Usage: Full Commercial
Important Specs: Requires Rear Base Stabiliser
Attachment Height: 203.2cm (80") (Adds 3"/8.4cm To Total Rack Height)
Attachment Width: 55.72cm (21.94")
Attachment Length: 58.16cm (22.9")
Weight Capacity: 249.47kgs (550lbs)
Weight Horn Capacity:

272.15kgs (600lbs) of iron plates
136kgs (300lbs) of bumpers

Unloaded Carriage Weight: 5kgs (11lbs)
Warranty:

Frame: Lifetime
Parts: 1 year
SIMILAR AVAILABLE PRODUCTS
A very worthwhile addition.
A nice cheap way to get a pulldown, and without taking the room a dedicated unit would take.
Few little niggles:
- The protective cups at the bottom of the rails rise up with the weight stack and then free fall back making a scary click when the stack is raised.
- Bit awkward with the row point coming right from ground height with the short bar and knees getting in the way. A rope or triangle I'm suspecting would eliminate.
- GAF really need to source a cheap 625 g plate - as 1.25 kg is a good progression for smaller muscles like triceps. Although it won't be noticeable having an unbalanced 1.25 kg on one side here, I predict in the long term the rail alignment might suffer. Plus it is noticeable on curl bar exercises so a win there as well.
- Only has floor mount holes at the rear of it. A single hole at the front would alleviate having to buy the $190 stabiliser bar for those who bolt down.
I get no sticking in the motion like many report, and didn't lube the rods.
Compared to dedicated weight stacks like the Ares/Athena, this has the bonus of having two extra weight horns for storage. The stabiliiser bar has holes in too which might come in handy.
No issues installing by a single person.
Hi Simon,
Thank you for your detailed review and feedback on the GAF Pulldown System. We are glad to hear that it was a worthwhile addition to your home gym at an affordable price point. We appreciate your comments regarding the protective cups at the bottom of the rails and the awkwardness with the row point. We will certainly pass along these concerns to the manufacturer for future improvements
. Lastly, thank you for suggesting the addition of a cheap 625 g plate and a front mount hole for the system. We will make sure that these suggestions are taken into consideration. Thank you again for sharing your experience with the GAF Pulldown System.
Happy training!
GAF Team