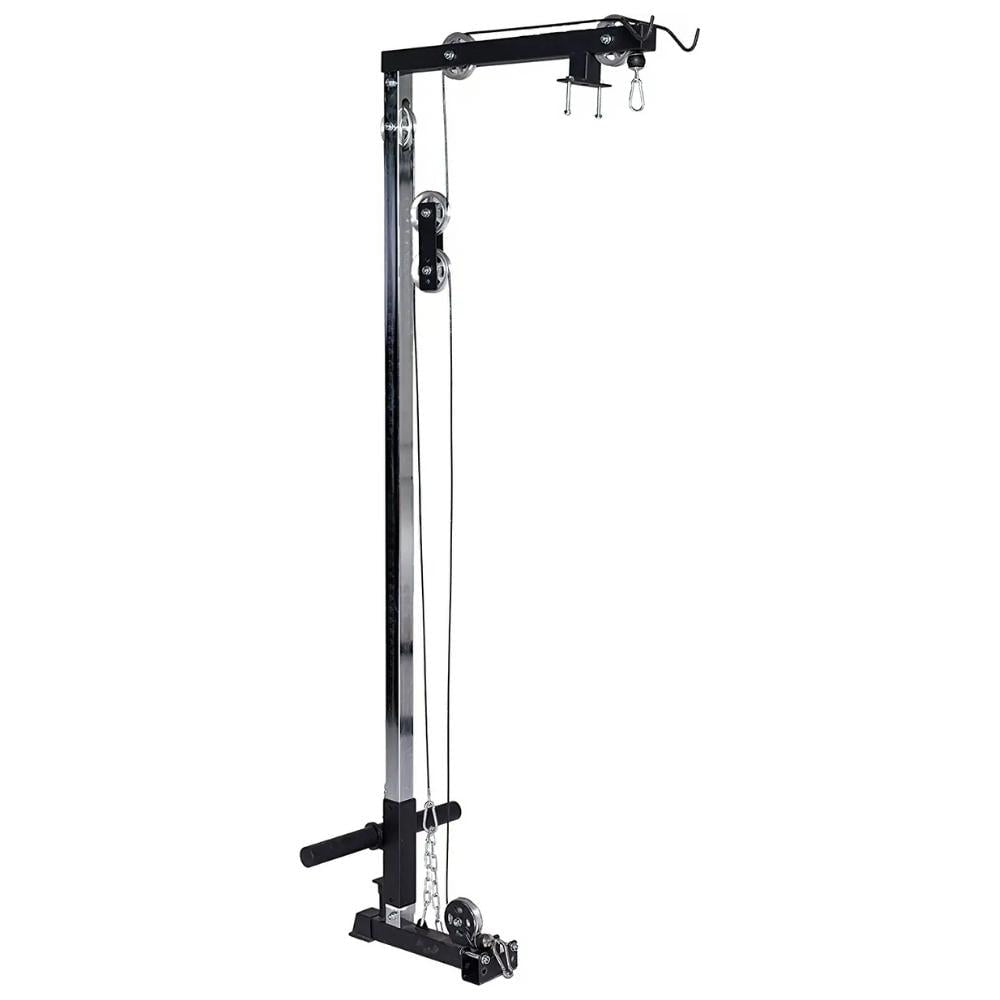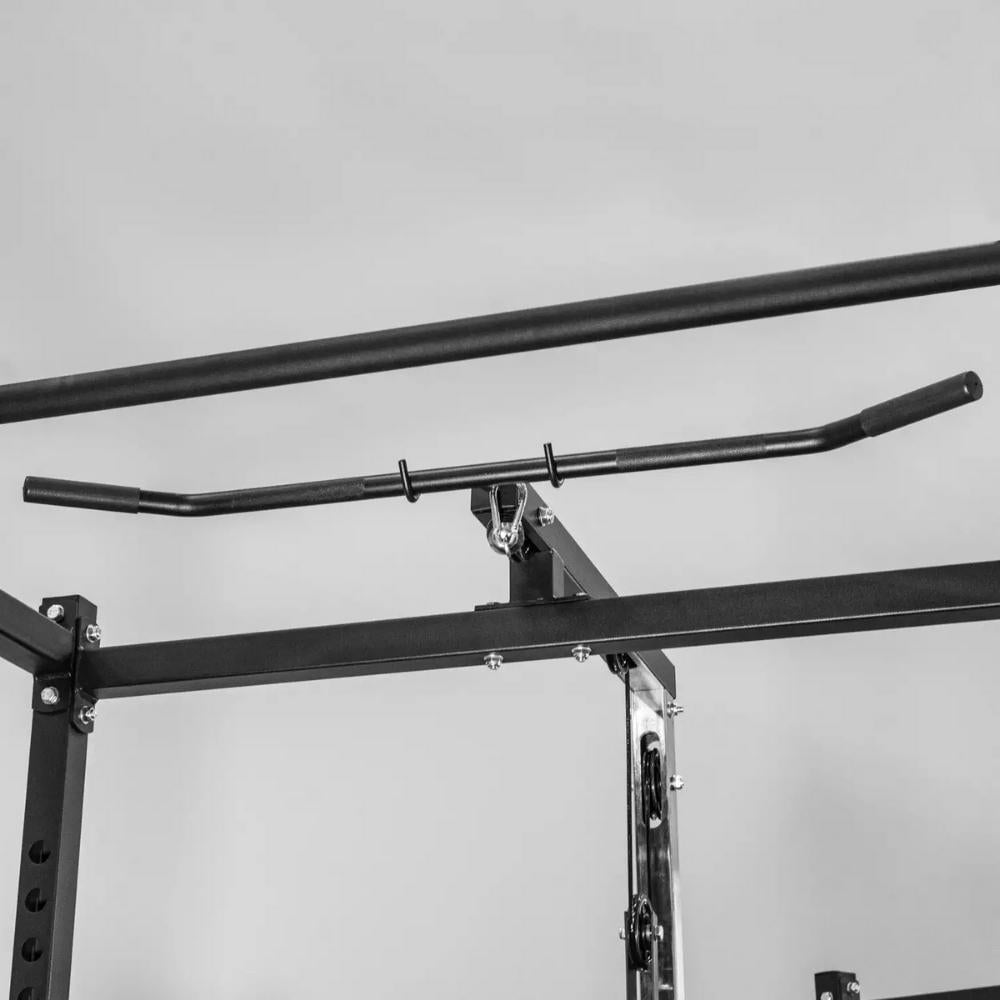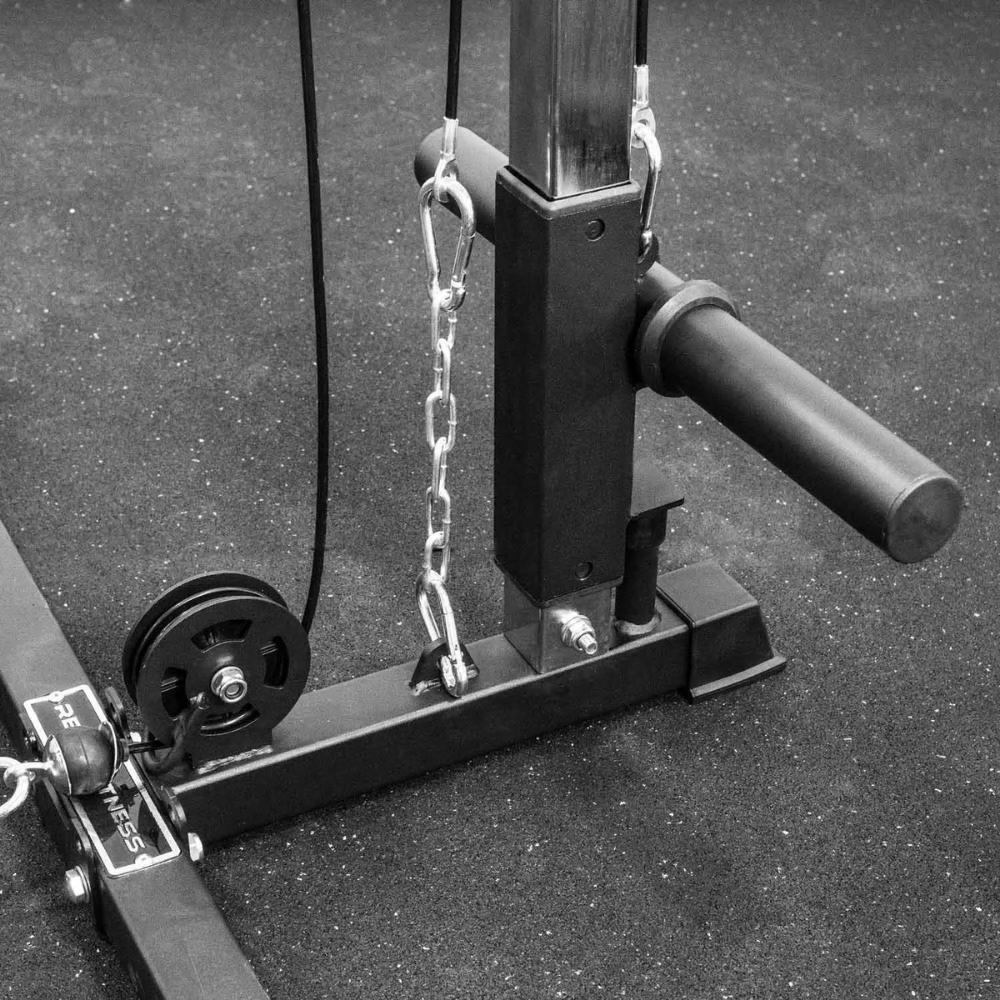 Plate-Loaded Lat Pulldown & Low Row PR-1100
Expand your home gym power rack with the Lat and Low Row Attachment. With a 1:1 ratio, this pulley system attaches to a PR-1100 to accommodate cable exercises, such as seated lat pull-downs, bicep curls, tricep pushdowns, and low rows. This high-quality, smooth machine comes complete with a Lat Bar and Straight Bar, and works with other add-ons, including cable attachments.

---
KEY FEATURES
OPEN UP YOUR STRENGTH TRAINING

Increase training variety and add even more exercise options with the stable yet compact Lat/Low Row Attachment. Effectively target your back, shoulders, arms and core with a huge number of exercises.

OUTSTANDING TOUGHNESS

The smooth performing cables are durable, made from galvanized wire with a raw steel core, and are strong enough to handle 453.5kg (1000lbs), while the weight horn can handle 204kg (450lbs).
SPECIFICATIONS
Usage: Domestic
Important Specs:

Compatible with both steel and Olympic bumper plates
Attachment adds 43.2cm (17") to the rack's depth.

Attachment Weight: 26.30kg / 58lbs
Attachment Height: 218.44cm / 86"
Attachment Width: 48.26cm / 19"
Attachment Length: 49.53cm / 19.5"
Trolley Weight: 2.63kg / 5.8lbs
Loadable Length: 20.95cm / 8.25" Each Side
Weight Horn Capacity: 204kg / 450lbs
Cable Weight Capacity: 453kg / 1,000lbs
Warranty:

Frame: Lifetime
Parts: 1 year
SIMILAR AVAILABLE PRODUCTS
Must have!
If you own the PR-1100 power rack, this add on is a must have. I can now work my lats properly and added multiple exercises to my workouts. The pulleys and upright are butter smooth and very sturdy. Dan the Man at Rep has a very detailed video on YouTube that will make sure you put it together right.
Great with one Flaw
I bought this a year ago with the PR 1100 rack. I use it frequently. The attachment is great, however there is one flaw with the design. While doing curls with the bottom portion, there is a rubber ball, with two metal plates on each side of the ball, that it appears is used as a stop when it gets close to the base of the cable (You can see the rubber ball in the pic on the lat pull portion of the cable online). Well the metal plates are stopped by a small rubber ring that is around the cable. The rubber ring is very flimsy and not durable. My rubber ring kept sliding up and down the cable when doing curls. This caused one of the metal plates to slide as well. When doing a curl and the metal plate sliding, when lowering the curl bar, the plate would scrap against my cable, and it started shave off the plastic around the cable. This is a small but very annoying design flaw. I had to cut one metal plate off the cable very carefully. If i had not, i put my cable at risk of being stripped of the plastic around the cable and just being bare cable exposed. Other than that, this attachment is great and fits many needs. If i could post pics i would, as i took pics to confer with a friend the best way to go about cutting the metal plate off the cable.
Great addition
This Lat Pulldown was the perfect addition to my PR-1100 rack! With this, you're able to incorporate a ton of additional exercises. As others have stated, watch the installation video on YouTube to help properly assemble. Once installed and greased up, the lat pulldown system has worked flawlessly! A smooth and well thought out attachment.
Get it!
I recently got the 1100 rack with this attachment and so far so good! I applied some silicon spray on the pulley bearings and column for the weight to travel smoothly. Worked like a charm! Any gym equipment with motion involved will need regular maintenance for proper function.
GREAT attachment!
This cable attachment is great! Once I found the video showing how to put it together, it was easy to put together and easy to use. I sprayed the column with some lithium garage door lubricant, and it slides easily. There's just no other way that is as inexpensive and easy to replicate a lat pulldown machine and a cable machine and a row machine at the same time. Adds a whole new dimension to my workouts. Otherwise I was stuck with doing bent over rows and lawnmower rows and all other kinds of rows to do back work or pulling work.