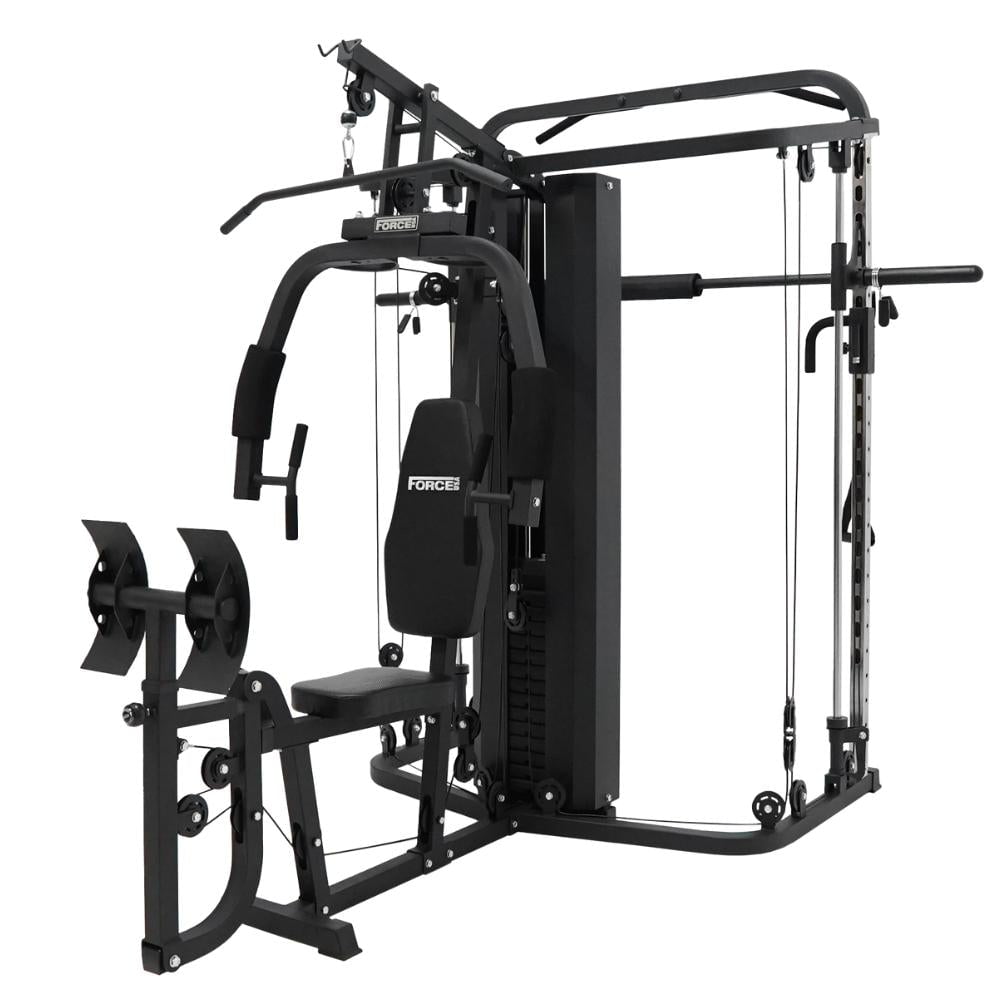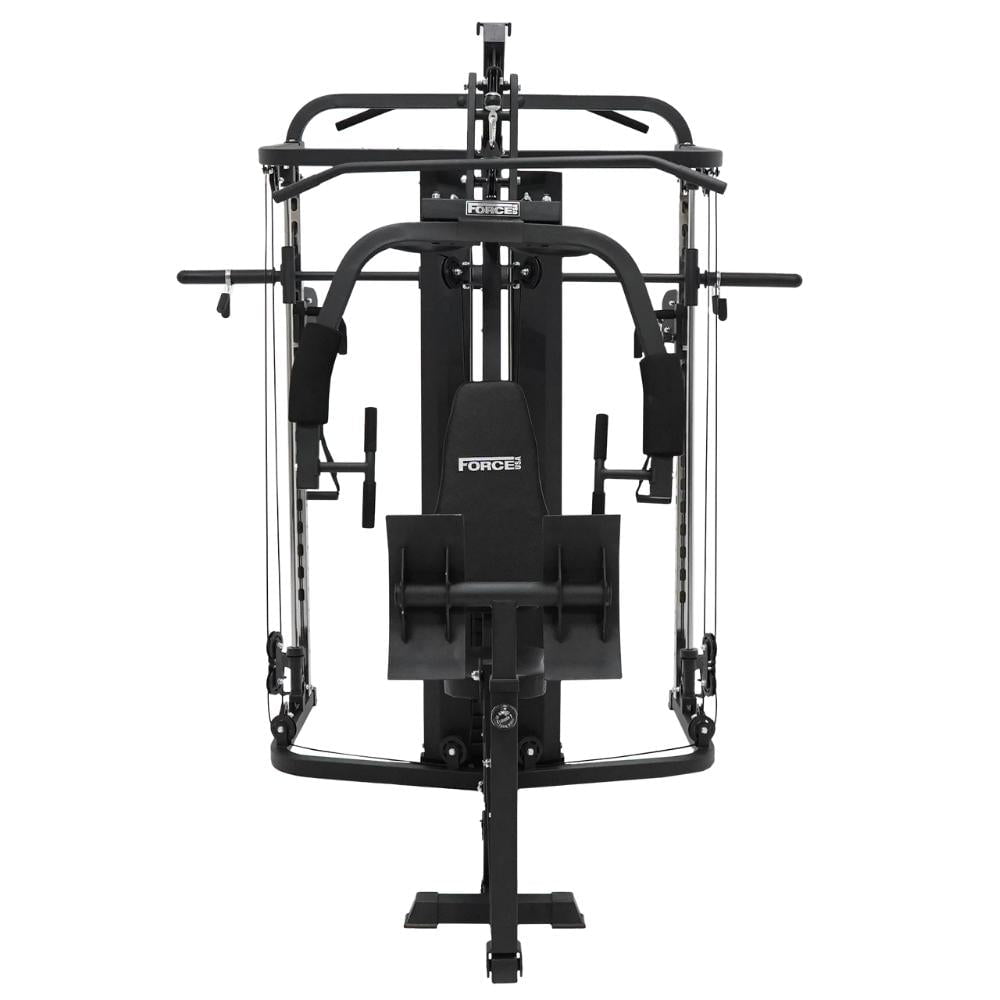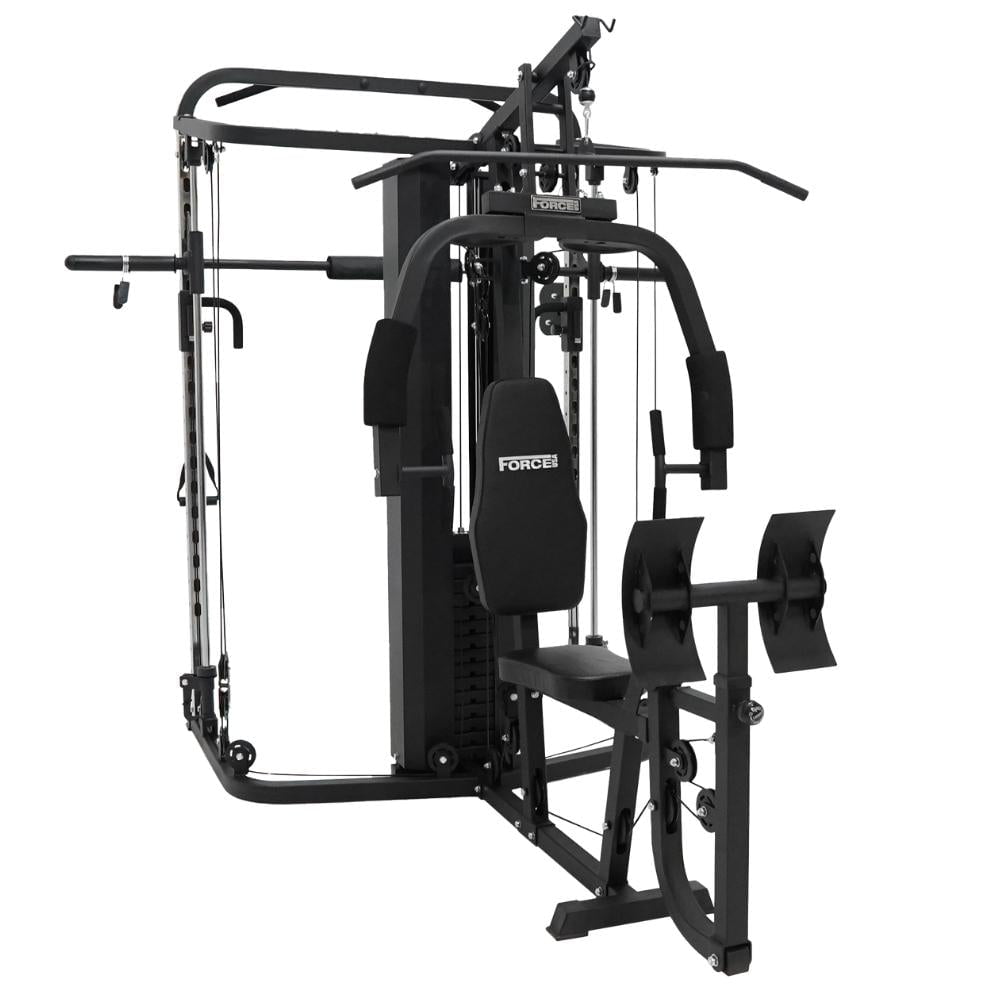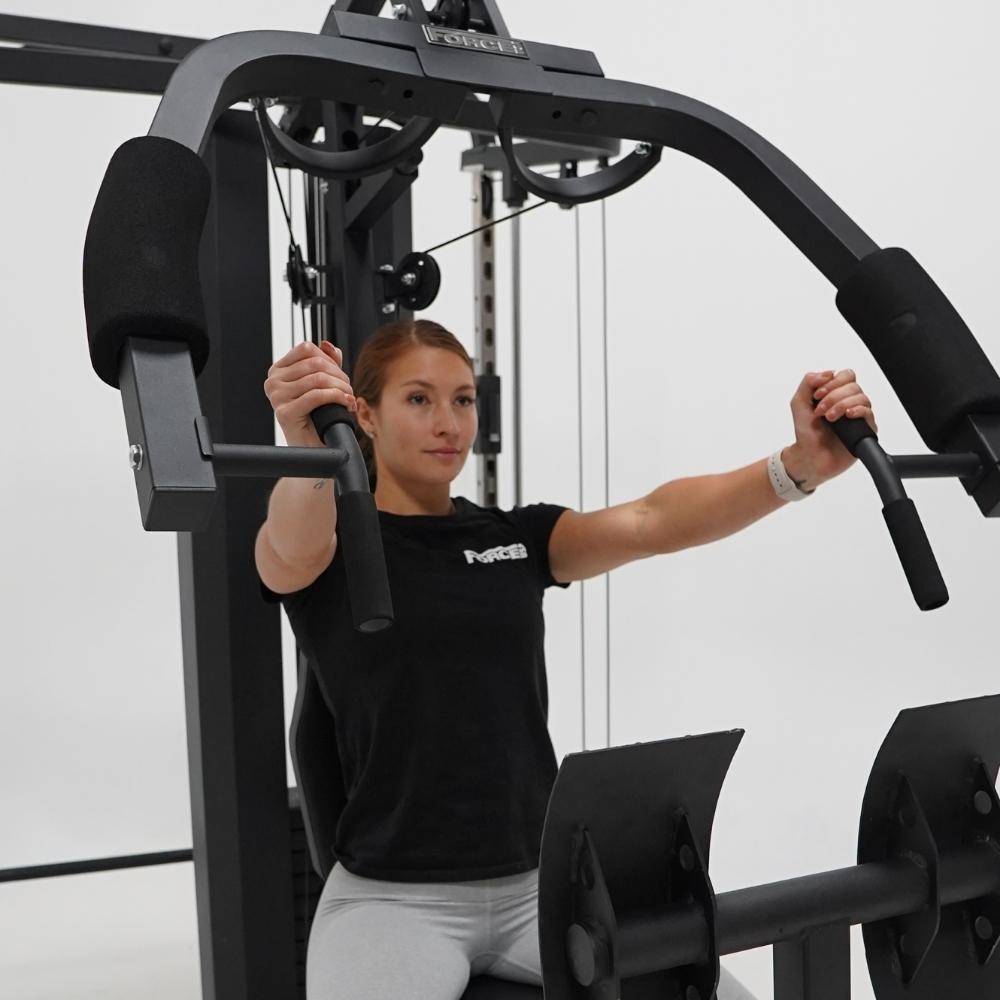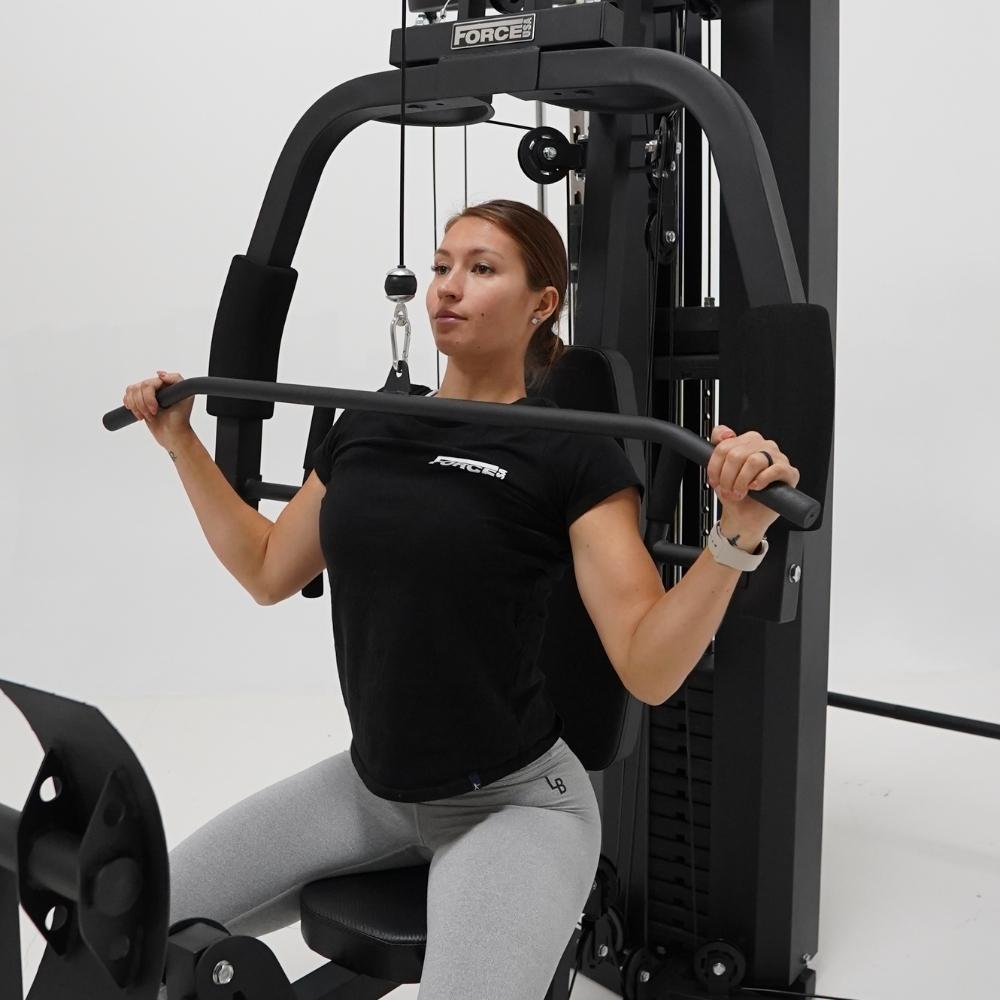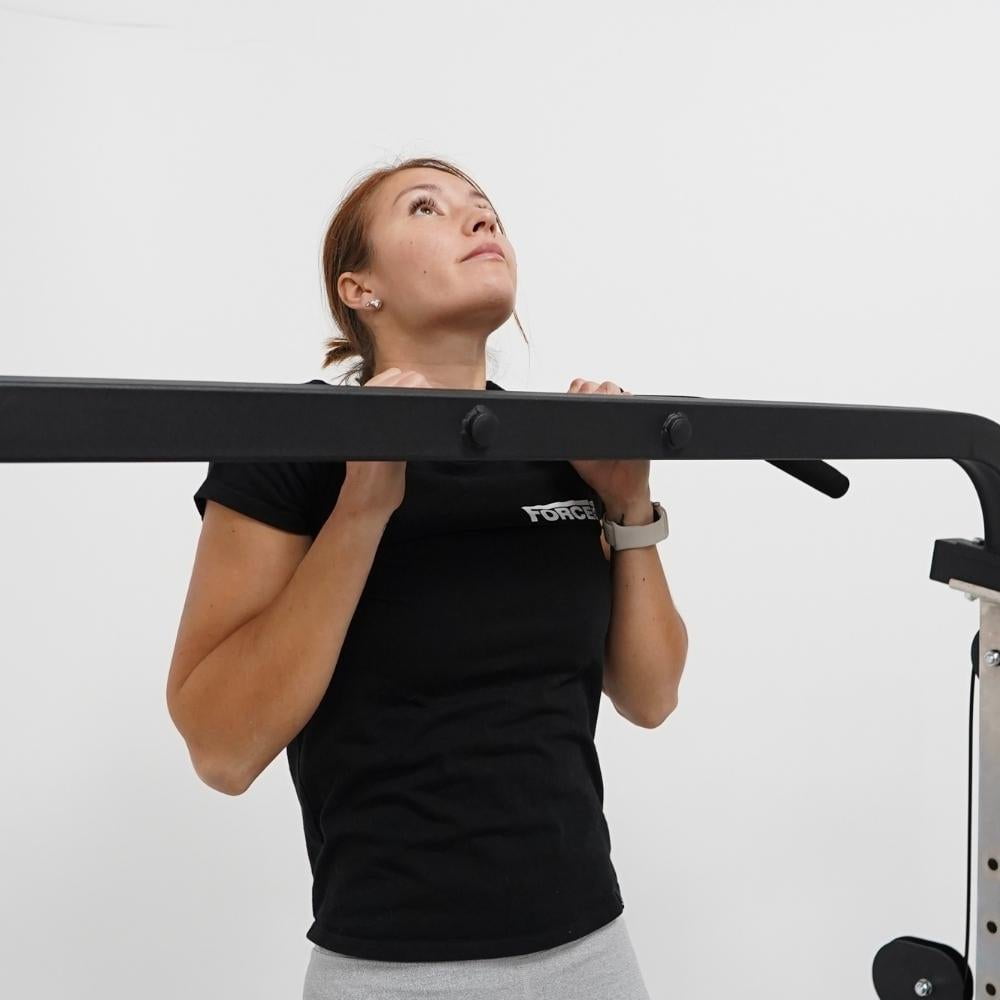 Utility Home Gym
Combining incredible functionality in a compact footprint, the Force USA® Utility Home Gym delivers a full-body workout to help you smash your strength and fitness goals. The Utility Home Gym comes equipped with a Chin Up Bar, Functional Trainer, Smith Machine, 40 Degree Adjustable Leg Press, Lat Pull Down Bar, Chest Press and much more, you can perform copious unique exercises. Made by the undisputed leaders in versatile, heavy-duty All-In-One Trainers, this is the perfect space-saving solution for home or studio gyms.
---
Key Features
OVER 200 EXERCISES IN ONE MACHINE

You no longer need to spend time and money on gym memberships - the Force USA® Utility Home Gym can meet all your workout needs in one awesome machine. Your new trainer can help you build strength and muscle mass while improving overall fitness. It includes:

Chest Press / Pec Deck
Smith Machine
Functional Trainer/Cable Crossover
Leg Press
Lat Pulldown
Chin Up Bar
Short Straight Bar
2 x Single Handles
Barbell Pad

 

BUILT TOUGH WITH COMMERCIAL FIXTURES

The Utility Home Gym is made to last. Equipped with superior commercial-grade fixtures and fittings, you can train hard and have 100% confidence in every single component.

It features a solid steel frame and a tear-resistant seat fixed with deluxe upholstered cushioning so you can experience ultimate comfort and durability during every session.

 

CLEVER SPACE-SAVING DESIGN

Perfect for anyone who has a garage, apartment or studio gym set up, this Force USA all-in-one-trainer allows you to save space with its compact footprint (246 (L) 205 (W) cm) and not have to invest in single pieces of equipment that do the same job.

 

TESTED BY ELITE ATHLETES AND TRAINERS

The Force USA research and development team consists of athletes, trainers, and serious weightlifters who rigorously test every piece of equipment. Relentless quality testing means Force USA is constantly elevating its products like the Utility Home Gym so you can reach your strength and fitness goals sooner.

 

CONVENIENT INSTALLATION AND ASSEMBLY

To get you up and training as soon as possible, you can book a personal technician to come to your home or studio and assemble the Utility Home Gym for you.

Force USA also provides detailed and easy-to-follow instructions to help you assemble your new All-In-One Trainer. Most customers are able to assemble the full machine over the course of a day with the help of another person.

  

READY TO START YOUR FITNESS JOURNEY?

Force USA has designed the ideal all-in-one trainer for anyone looking to take the next step in their strength and conditioning training. If you're not getting what you need from your current set-up, then the Utility Home Gym is the answer!

 
Specifications
Usage: Domestic
Attachments Included:

Leg Press Attachment
Lat Pulldown Bar
Short Straight Bar
2 x Single Handles
Barbell Pad (for Smith Machine bar)

Weight Stack: 63kg/138lbs weight stack
Product Weight: 220 kg
Max User Weight: 158 kg
Smith Machine: Olympic Weight Plates
Dimensions: 246cm (L) x 205cm (W) x 220cm (H)
Warranty:

Frame: Lifetime
Parts: 2 years
Upholstery/Labour: 90 days
SIMILAR AVAILABLE PRODUCTS
Good service and when apart of delivery didn't show up you followed up and made sure I got it asap
Hi David,
Thank you for your positive feedback! Customer satisfaction is our top priority, and we appreciate your recognition of our efforts. If there is anything else we can assist you with, please don't hesitate to reach out, our team is happy to help.
Happy training!
GAF Team
Cables to short
Again waited another whole week before i could use this gym as i had missing links and and now i had finally put together after 6hrs and just to find out the cable are to short check this video i made up as we cannot even do cable flys as showen in video, weight plate pin dosent reach either cannot not fully extend refund is requested
Hi Louis,
We're terribly sorry for the trouble caused by the missing parts and the problem with the cables. We can see our warranty is working to resolve the issue. If you have further concerns, please don't hesitate to reach out to info@gymandfitness.com.au and we'll be happy to help you.
Kind regards,
GAF Team
Force USA Utility Home Gym
Hi Varinder,
Thank you for the 3-star rating. If you have any further feedback or concerns, please let us know, we'll be happy to hear it and help :)
Happy training!
GAF Team
Not good but not bad
Customer service told me after I purchased product it was out of stock so I got my refund and a week later got my gym... then I had to send the money back so they dicked me around... and the instructions are crap all the links for the cable & wheels weren't in the box, missing three attachments tricep rope, tricep bar and ankle attachment... however overall the set is mint quality is good but chasing up everything and having to wait to be able to use gym deserve a $280 refund
Hi Louis,
Thank you for your feedback! We're genuinely sorry for the trouble caused by our inventory issue, we understand this is not ideal. We can see a member of our team is in contact with you to send all your missing parts.
If you have any further concerns, please let us know and we'll do our best to help.
Kind regards,
GAF Team
Great service and reasonable price!
We got the Multi gym and an air bike. Delivery was quick.
They price matched with another supplier which was great.
During assemble, we noticed a few parts were missing so we contact support.
Not only did they provide us with the missing parts, they also advise that the instruction we have was an old one and we might have a shorter cord for the weight so they send us another set of cords just in case.
Hi Austin,
Thank you for sharing your positive experience with us! We always aim to provide comprehensive and helpful support to our customers, your satisfaction is our top priority, and we appreciate your support.
We hope you continue to enjoy your workouts with your home gym!
Happy training!
GAF Team