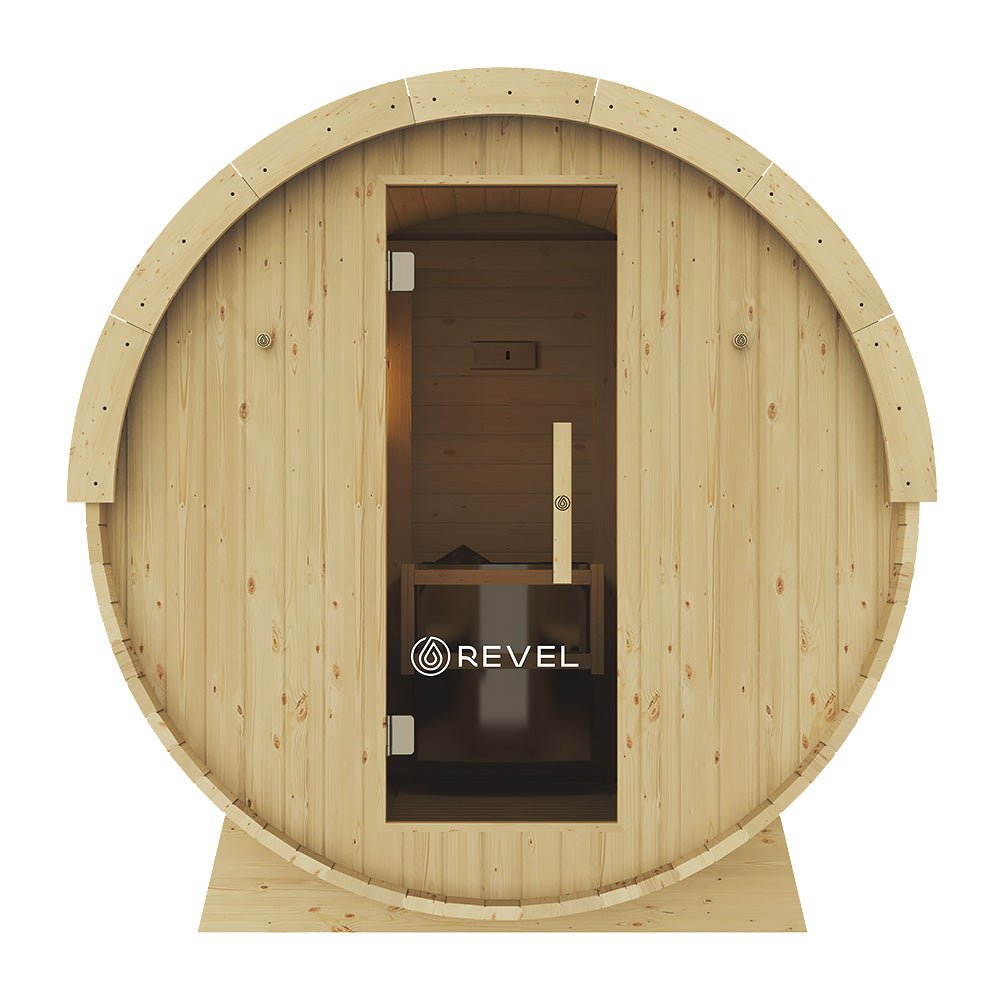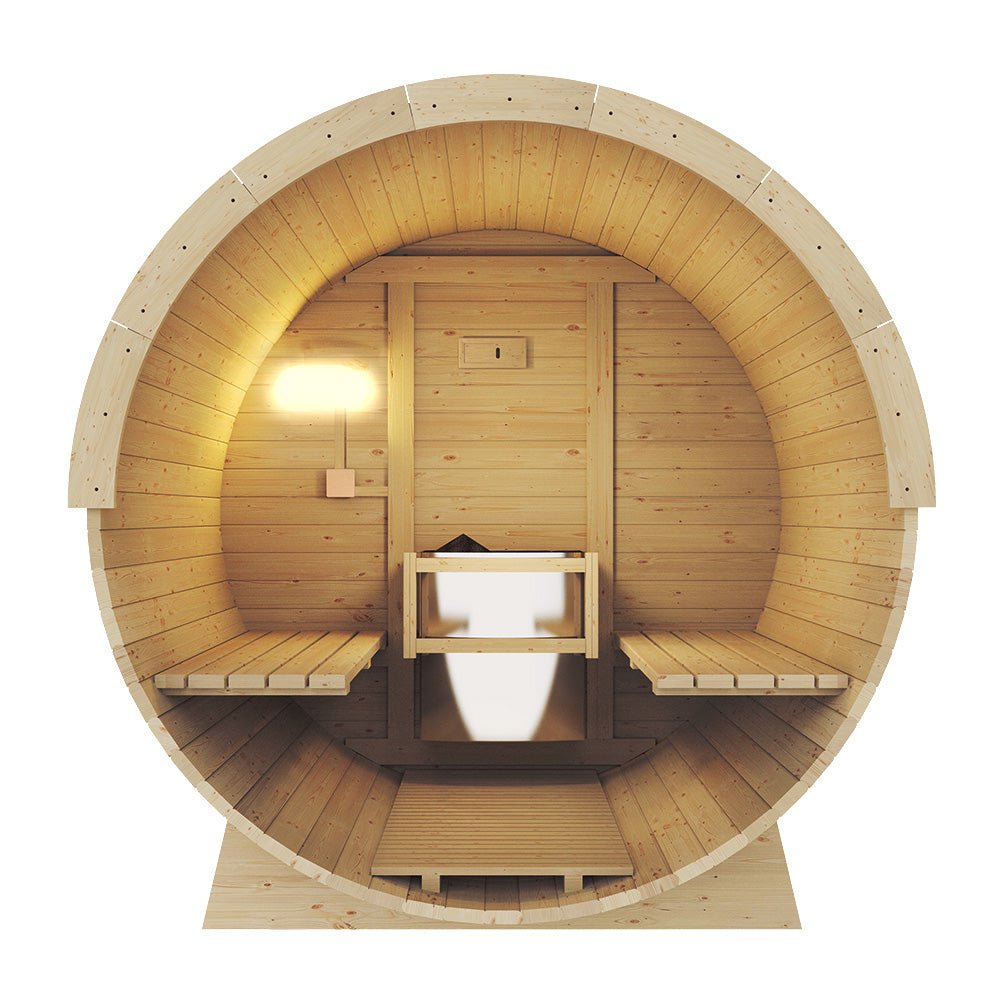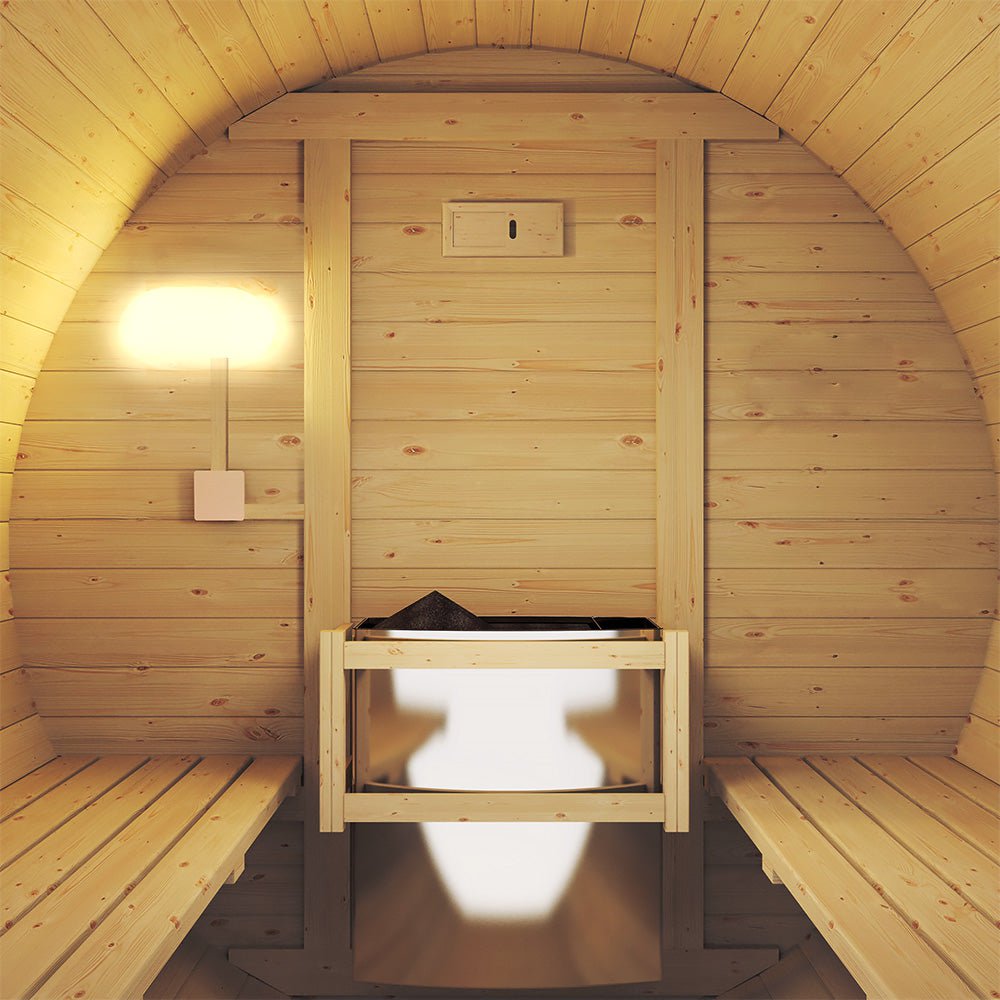 Eden 6 Person Traditional Barrel Sauna
Introducing your sanctuary of wellness with the Eden 6 Person Traditional Barrel Sauna. This haven, crafted meticulously with premium spruce wood and equipped with a potent Harvia Stone 4.5KW heater, promises to bring the authentic Finnish spa experience right into your backyard. It's not just a sauna; it's a transformative journey promoting mind-body balance, a space where stress relief meets muscle recovery. Your pathway to holistic well-being awaits.
---
KEY FEATURES
HIGH-PERFORMANCE HARVIA HEATER

Experience the consistent and powerful heating delivered by the premium 4.5KW Harvia heater, a heart that transforms the sauna into a warm embrace. Accompanied by 20kg of superior Harvia stones, it ensures a genuine and calming steam experience, promoting a mind-body balance that is essential for recovery and relaxation.


WEATHER-RESILIENT AND OUTDOOR-READY CONSTRUCTION

Designed to thrive in outdoor environments, the sauna features a weather-resilient design with a Bitumen Shingle Roof and Rainproof Cloth, offering excellent insulation and the ability to withstand various weather conditions. The thermally treated Nordic timber adds to the durability while ensuring a visually stunning and eco-conscious relaxation environment.


SMOKED TEMPERED GLASS

The sauna houses elegantly designed smoked tempered glass that not only blocks sunlight but enhances indoor comfort, creating a serene space where you can focus on your well-being away from the hustle and bustle of daily life.


COMPREHENSIVE ACCESSORY SET

Enhance your sauna sessions with a comprehensive accessory set that includes a water bucket, ladle, sandglass, hygro-thermometer, and more. These additions aim to elevate your experience, adding a touch of luxury and convenience to your relaxation routine.


ERGONOMIC COMFORT

Designed with your comfort in mind, the sauna features ergonomic back support, encouraging you to unwind and enjoy your sauna sessions to the fullest, fostering a true sense of relaxation and rejuvenation.

SPECIFICATIONS
Usage: Domestic
Material: Spruce Wood
Glass: 8mm Clear Tempered Glass Door
Heaters: Harvia Stone 4.5KW
Handle: Metal
Accessories: Bucket, Ladle, Backrest, and Grate
Temp Range: 70°C - 90°C
Voltage: 220-240 Volts or 380Volts
Power: 4500 Watts
Socket: 1
Lighting: Safe Lamp
Product Weight: 402 kgs / 886.45 lbs
Assembled Dimensions: 180 (L) x 180 (W) x 195 (H) cm
Warranty:

Heater: Lifetime*
Cabin: 6 years
Electrical: 6 years
SIMILAR AVAILABLE PRODUCTS