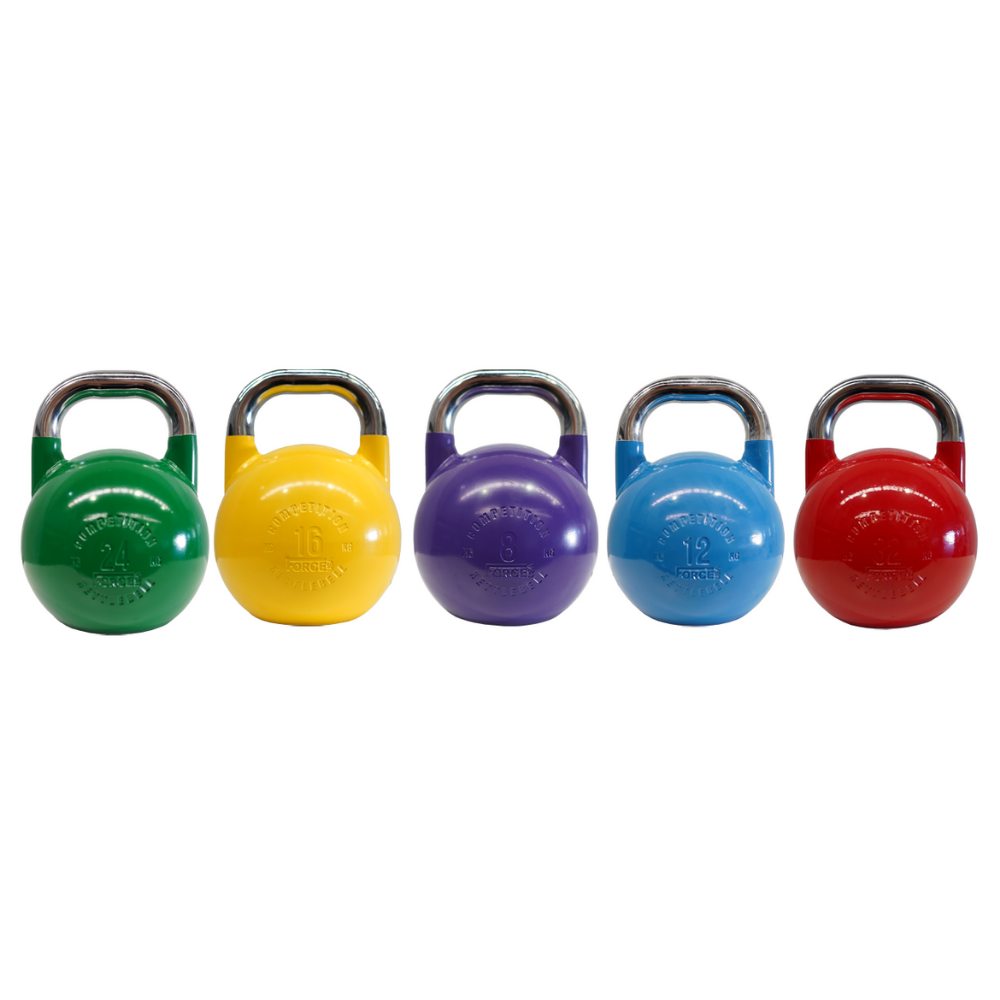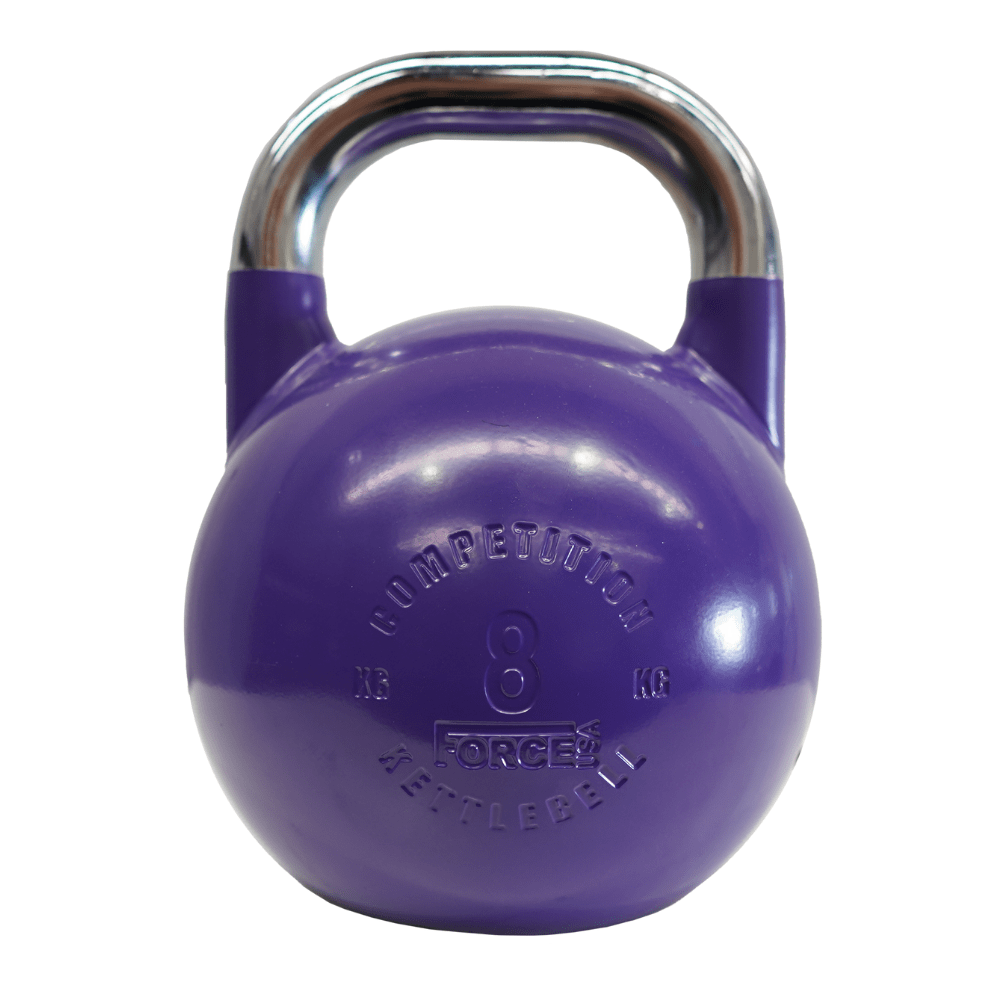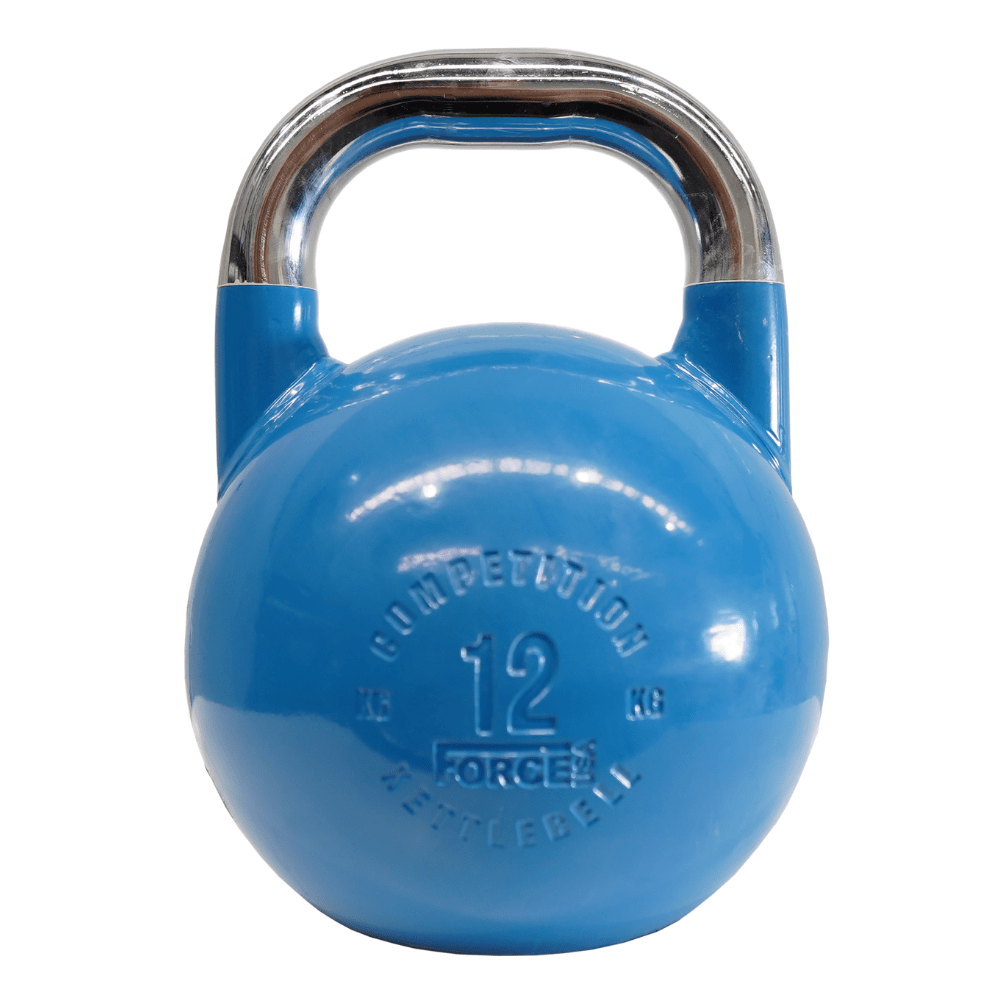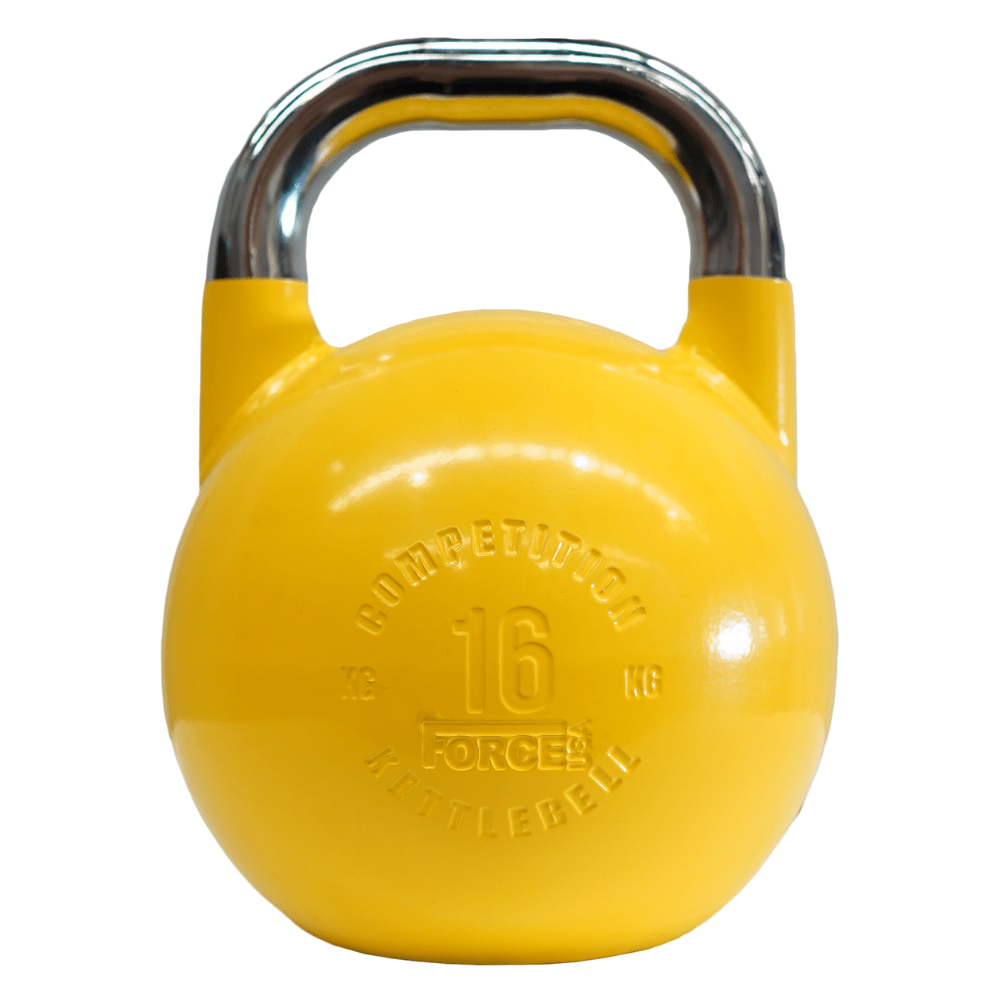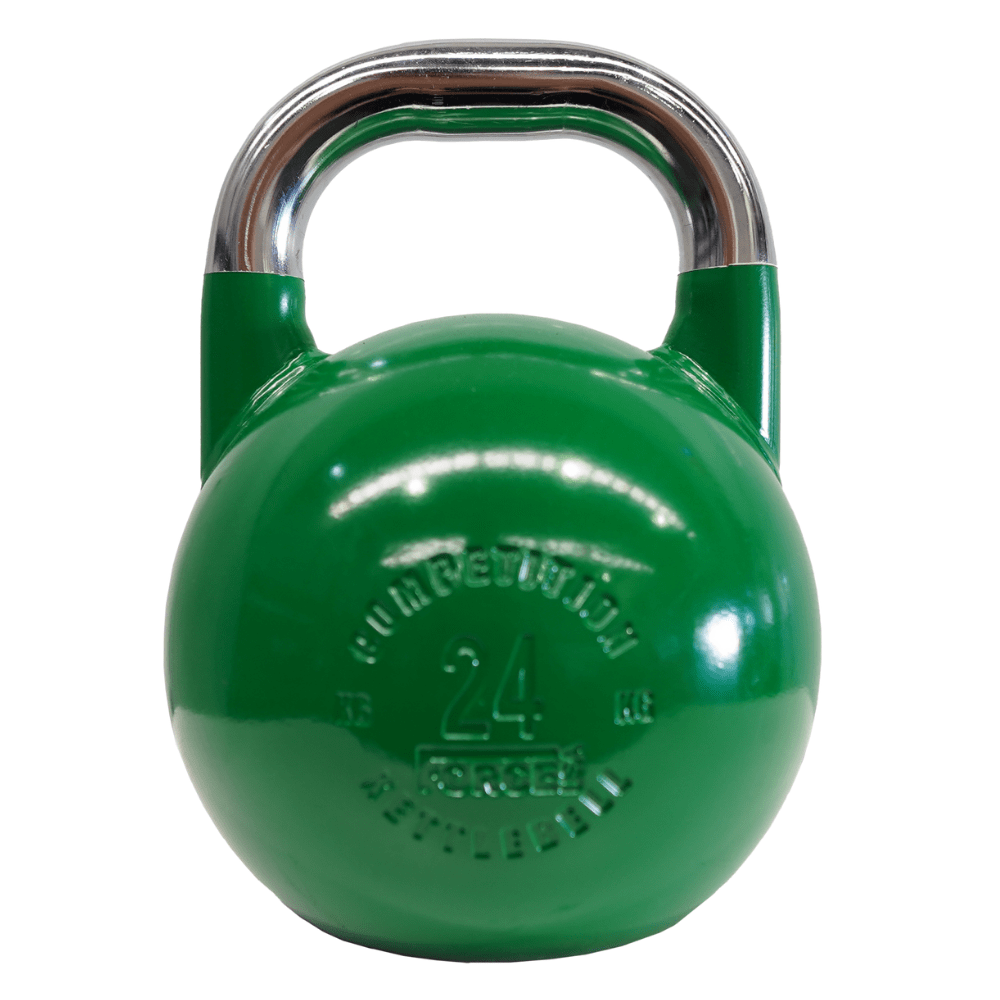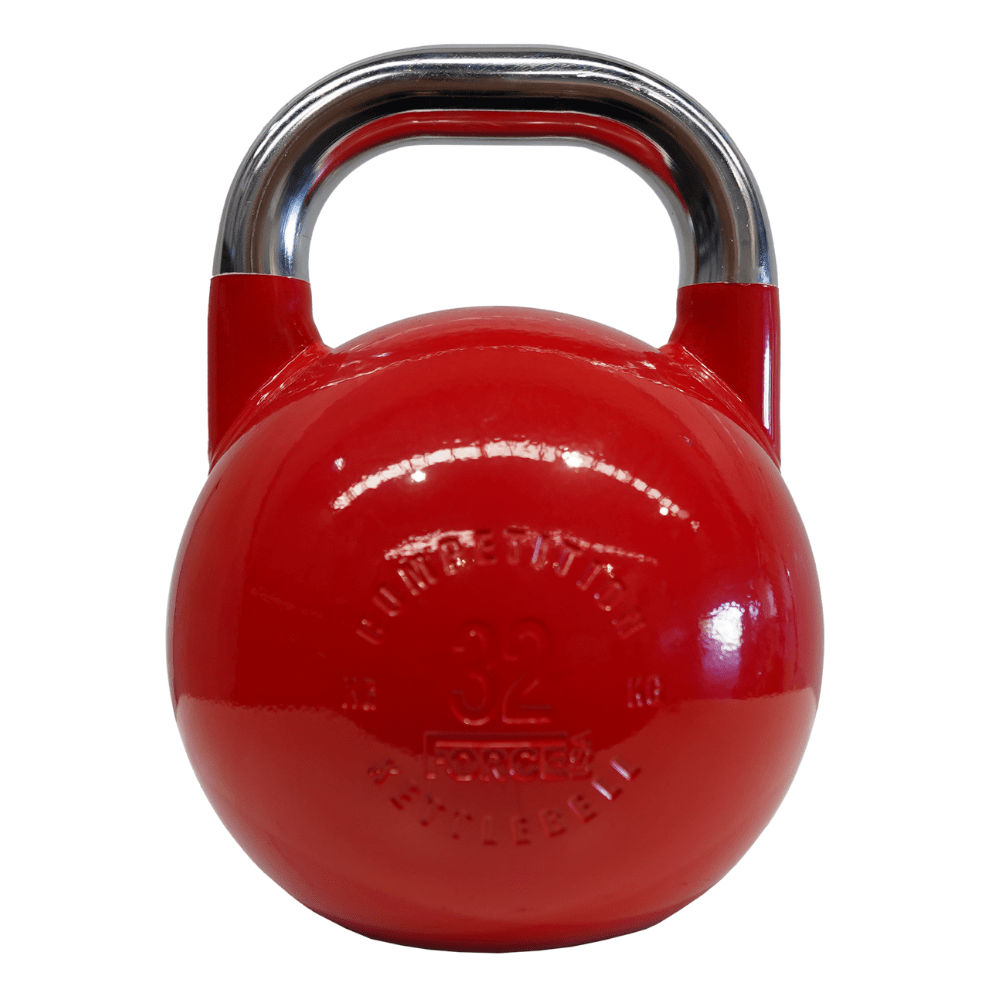 Pro Grade Competition Kettlebells
Pro Grade Kettlebells are made from steel (not cast iron) and designed to suit specifications for international kettlebell competitions. The steel design means your kettlebell will last a lifetime. Traditional kettlebells vary in size according to the increase in weight whereas Pro Grade Kettlebells are the same size regardless of the weight.
---
The uniform size of Pro Grade Kettlebells makes it easier to maintain the same technique as you move up in weight. The handle is slimmer than with the traditional kettlebell preventing lateral slipping and minimising fatigue during high rep sets.
Pro Grade Kettlebells have a larger mass in the ball of the bell which gives better ballistic abilities and a more natural movement and rotation throughout exercises.
Available Sizes:
PGK-8 = 8kg - Light Purple
PGK-12 = 12kg - Blue
PGK-16 = 16kg - Yellow
PGK-24 = 24kg - Green
PGK-32 = 32kg - Red
Specifications
Some sample Exercises:
Abdominals
Chest
Forearms
Hamstrings
Middle Back
Quadriceps
Shoulders
Traps
SIMILAR AVAILABLE PRODUCTS
Force USA Pro Grade Competition Kettlebells
Very hardy and good quality, 8/12 kg are good weights for beginners. I'm satisfied with my purchasing. Recommend
Hi Mei,
Thank you for taking the time to write this review about the Force USA Pro Grade Competition Kettlebells. We're thrilled to hear that you found these kettlebells to be of good quality and suitable for beginners. We appreciate your recommendation and hope you continue to enjoy your purchase. If you have any questions or concerns, please don't hesitate to reach out to us. Thanks again!
Happy exercising!
GAF Team
Faultless!
Every part of my online sales experience with Gym and Fitness was faultless. From browsing, ordering to final delivery. The next time I need new fitness gear, I'll intend using Gym and Fitness again. And the quality of the kettlebells themselves are as excellent as I'd hoped. I researched quite a bit and looked at other retailers, but Gym and Fitness was leagues ahead in terms of available information and pricing.
Thank you Sharon,
We really appreciate the review and are glad that we were able to help you out! Enjoy the kettlebells!
Kind regards,
GAF Team
Kettlebells
Great strong product, competitive pricing too
Hi JP,
Thank you for the feedback. We are glad to hear that you are enjoying the kettlebells!
Kind regards,
GAF Team
Disappointed
I still don't have them delivered.
You messed up first delivery by not passing the full address to delivery company.
I then had to spend hours chasing and explaining to the delivery company and you the error.
I then spoke to your support team who promised a Re delivery this week.
Nothing happened.
NoUpdates
No apologies
No kettlebells
Poor poor poor experience
Any compensation?
Hi Matt,
Thanks for your feedback here and our sincere apologies for the mix up with your order.
From what I can see in our system you have been dealing with our Customer Experience Manager and this looks to be on its way towards resolution.
Kind regards,
GAF Team
Force Kettlebells
Great product .Excellent finish
Quick delivery.