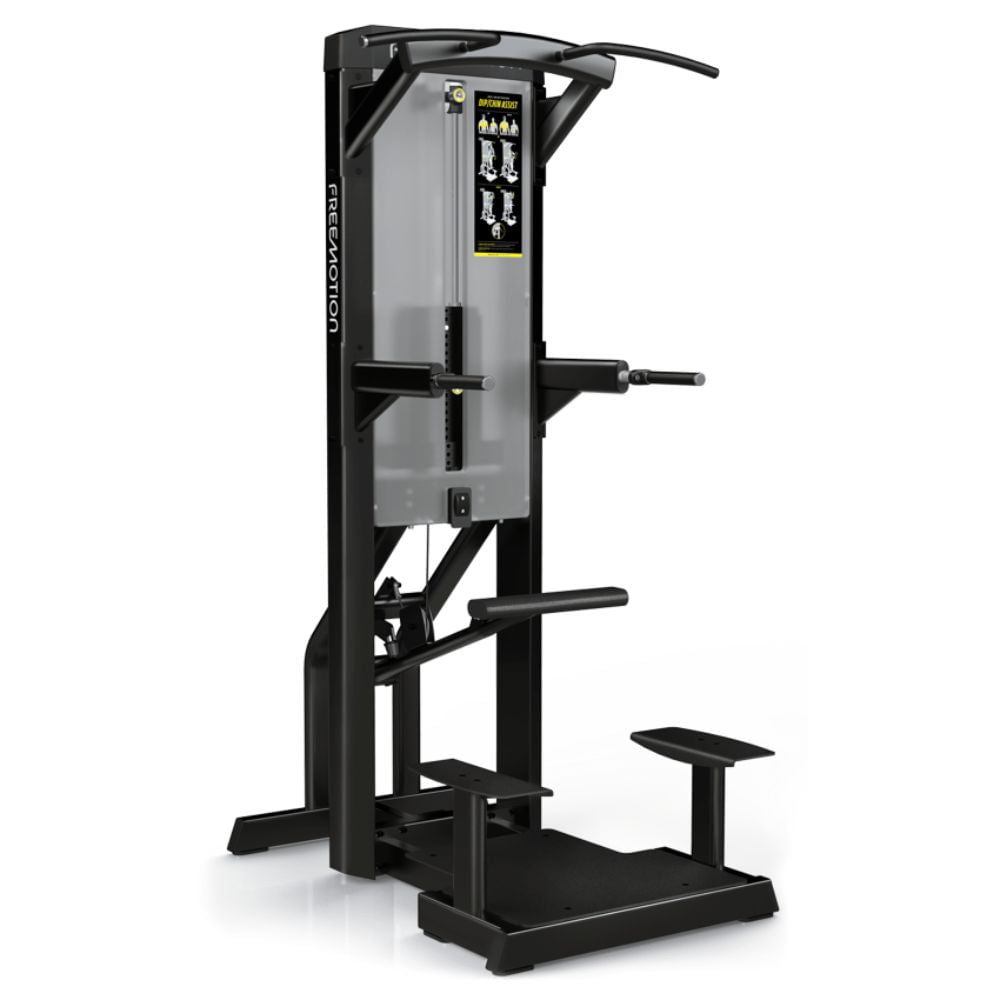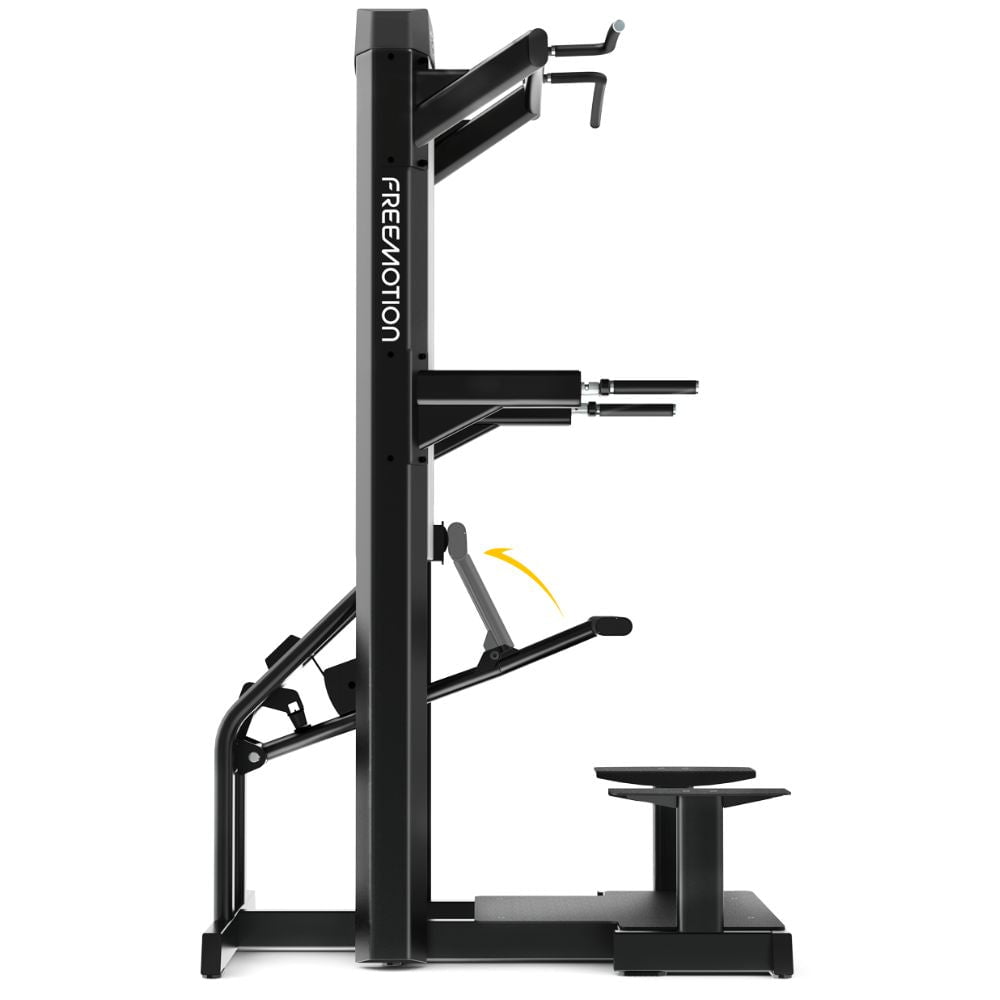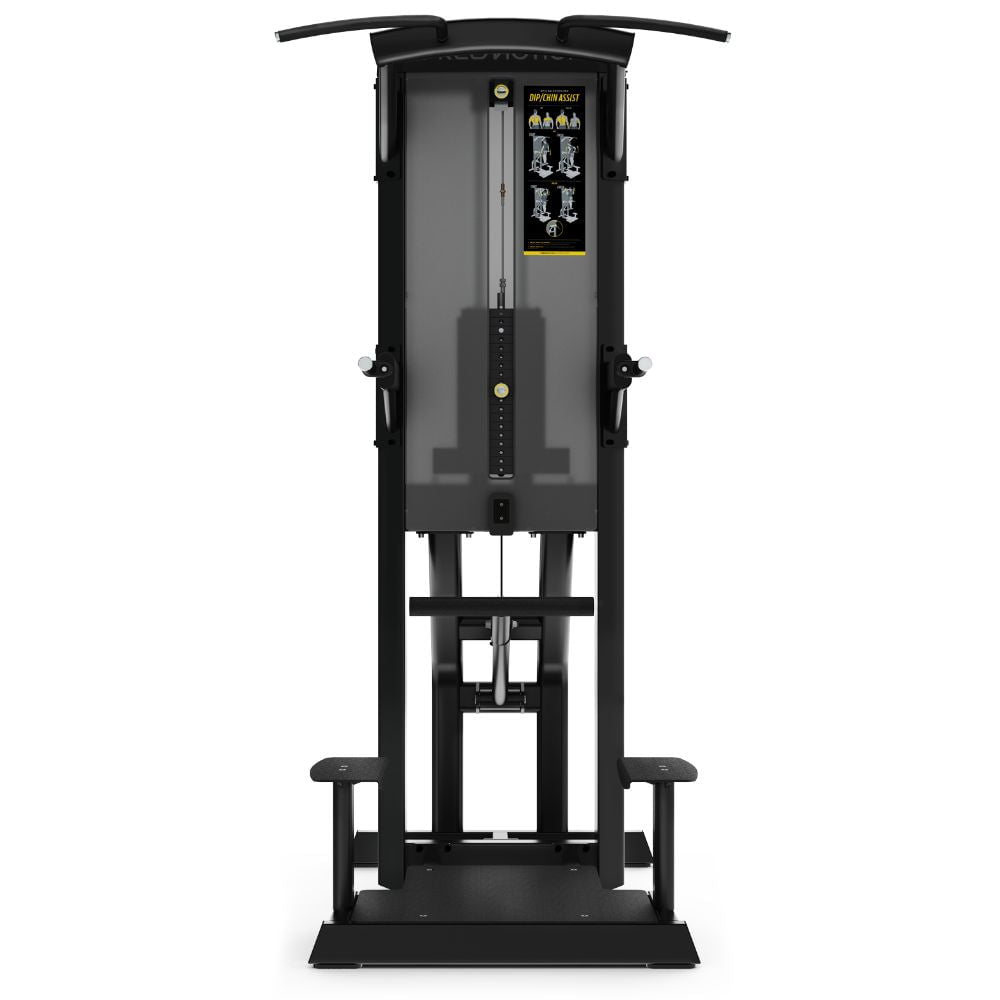 Dip-Chin Assist
A popular strength and fitness station in any commercial gym, the Freemotion Dip-Chin Assist delivers a versatile and effective training experience. This machine features multi-grip curved upper handles, a textured foot platform for secure footing, a 102 kg enclosed weight stack and a weight assist bar for additional exercise options. Made with heavy-duty 11- and 7- gauge steel to withstand the rigours of busy gyms, this piece will instantly enhance member experience and make a great addition to your set-up!
---
Key Features
SAVE ON FLOOR SPACE

By training two muscle groups on the same machine, gym owners can save valuable floor space while allowing users to quickly transition to between dips and chin-ups for their strength and fitness training.

 

MULTI-GRIP CHIN-UP HANDLES

Your handles are designed to allow for a wide, narrow, pronated or supinated grip, helping members isolate and target a range of upper body muscles during chin-ups.

 

CONVENIENT WEIGHT ASSIST BAR

Your Freemotion Dip-Chin Assist comes with a weight assist bar, allowing users to pivot away for bodyweight exercise or for those who need a little help.

 

MAINTAIN SURE FOOTING

The dual textured platforms and weight assist bar help ensure secure foot placement so your members can effectively perform exercises and minimise the risk of injury.

 

SUPERIOR TOUGHNESS AND SAFETY

Constructed with 11- and 7-gauge steel and electrostatically powder-coated, this machine is built to stand up to the rigours of busy strength floors and weight rooms.

The weight stack (102.0 kg) has also been enclosed to limit access to moving parts for added member safety, with convenient accessory storage on top.

 

EASY MAINTENANCE

The clever tower design allows for simple, routine cable service, ensuring you and your staff can save time and easily keep the machine in working order.

Freemotion has also included heavy-duty rubber foot guards to help protect against floor damage and keep your gym in great condition.

 
Specifications
Usage: Full Commercial
Instructional Placards: Yes
Adjustments: Lower handles rotate in/out and the footrest pivots for assisted or unassisted movement
Weight Stack: 102 kg / 225 lb
Rubber Feet: Heavy Duty Floor Protectors
Weight Stack: 102 kg / 225 lb
Drop Down Weight: 2.2 kg / 5 lb
Weight Stack Configuration:

4.5 kg top plate / 10 lb
20-170 x 4.5 kg / 10 lb
180-220 x 9 kg / 20 lb

Maximum User Weight: 159 kg / 350 lb
Product Weight: 340 kgs
Max User Weight: 159 kgs / 350 lb
Assembled Dimensions: 122.6 (L) x 157.7 (W) x 252.9 (H) cm
Warranty:

Frame: 10 Years
Parts: 3 Years
Cables & Labour: 1 Year
Cosmetic & Wear Items: 6 Months
Upholstery & Padding: 120 Days
SIMILAR AVAILABLE PRODUCTS