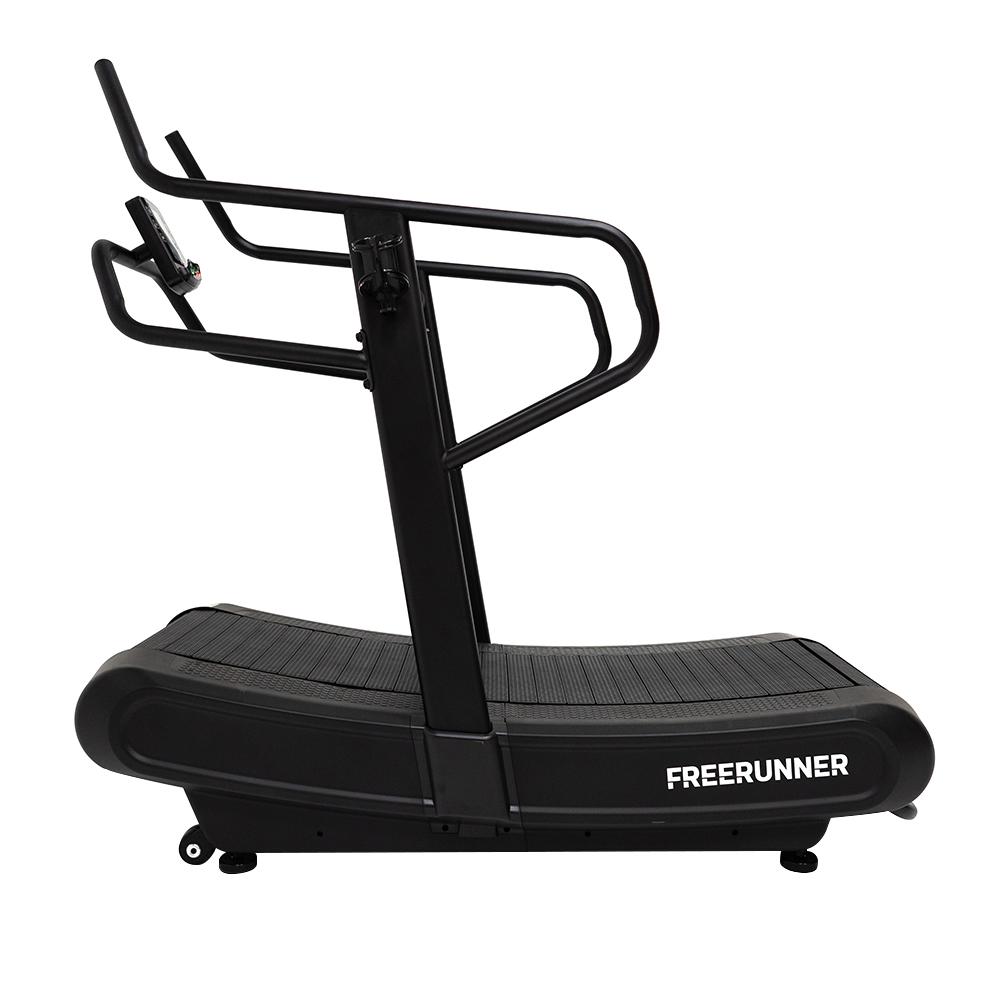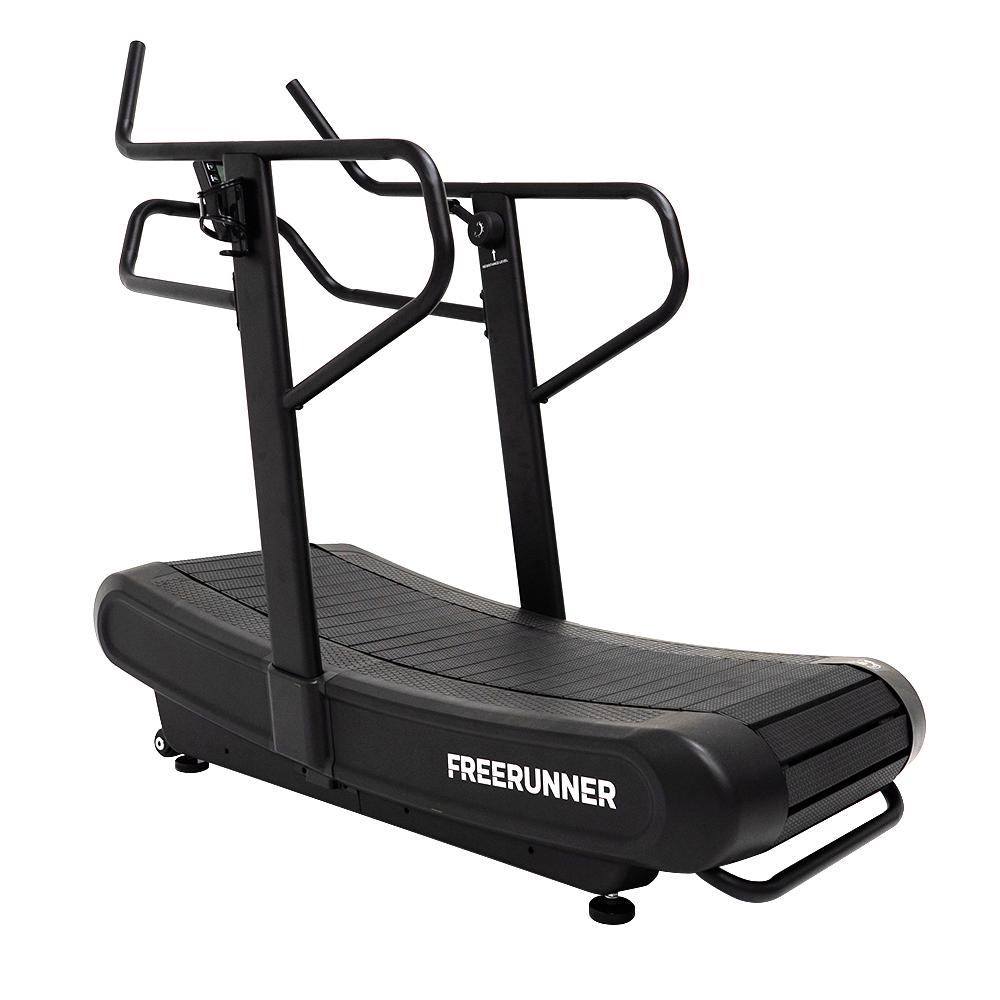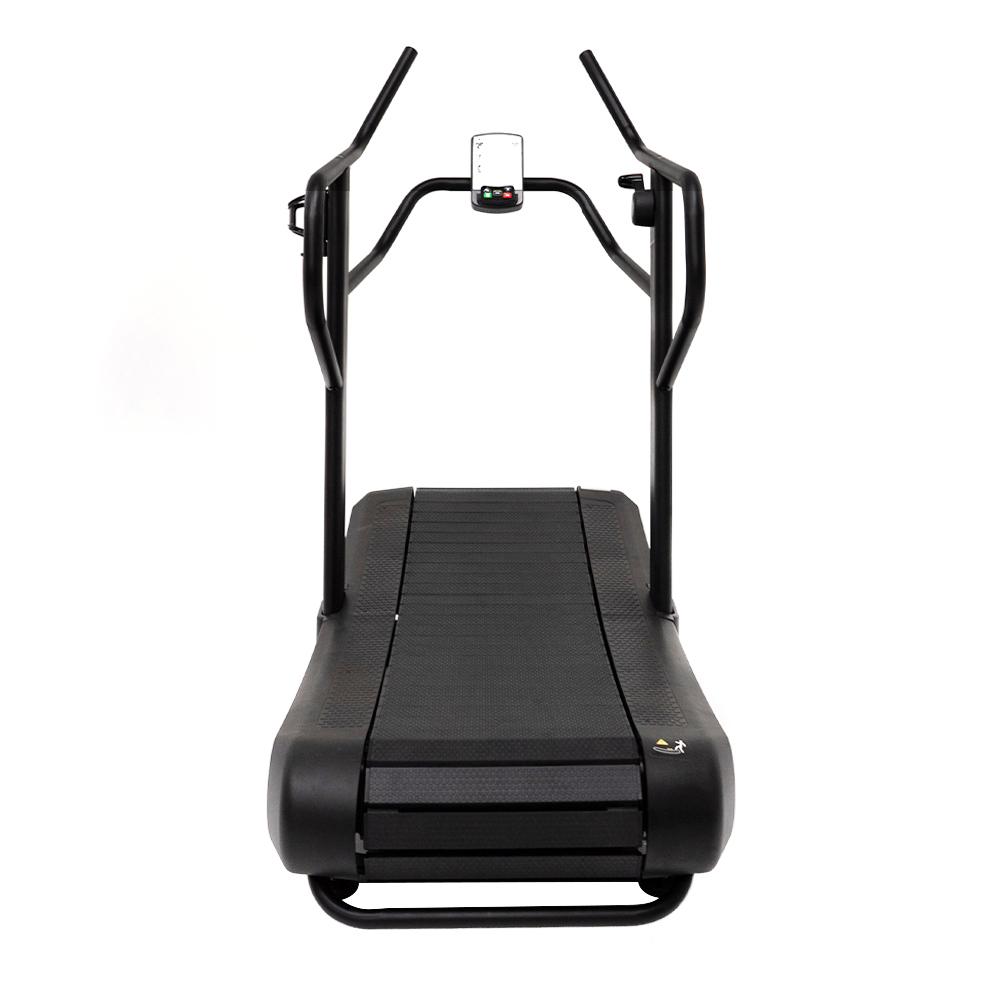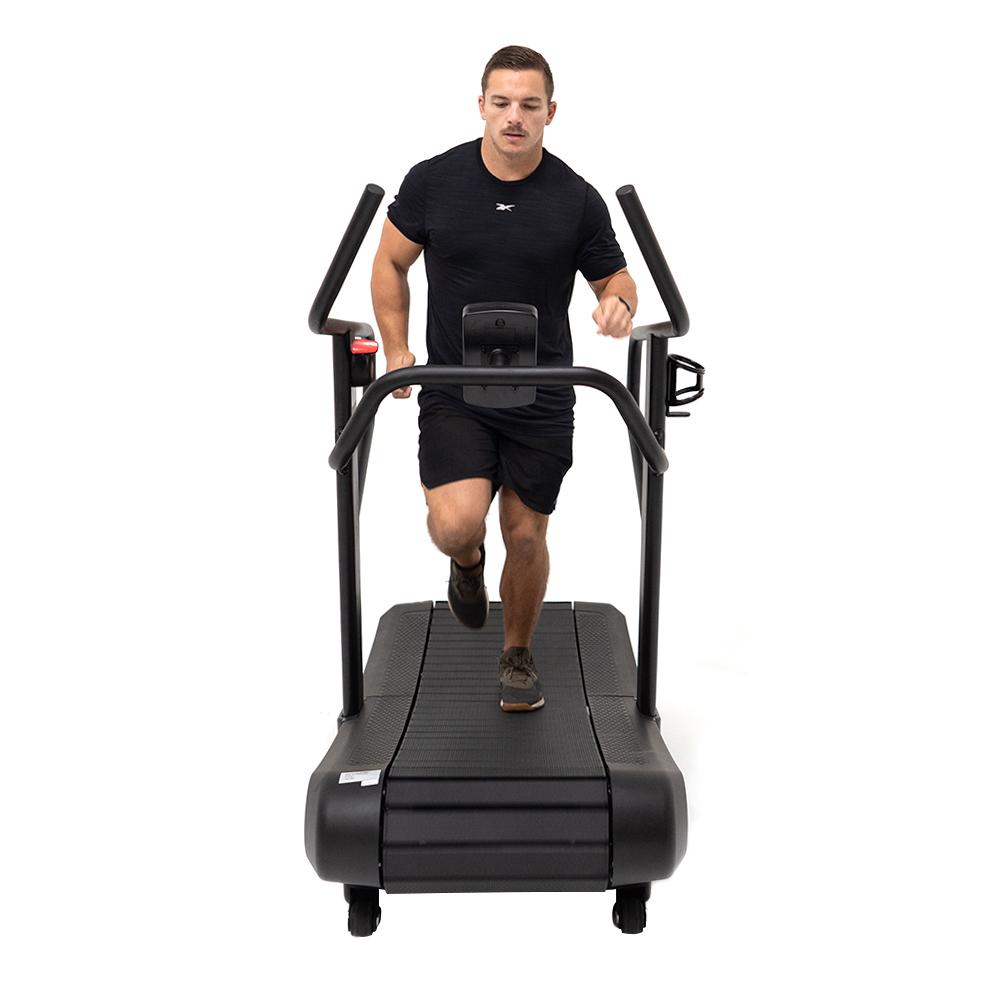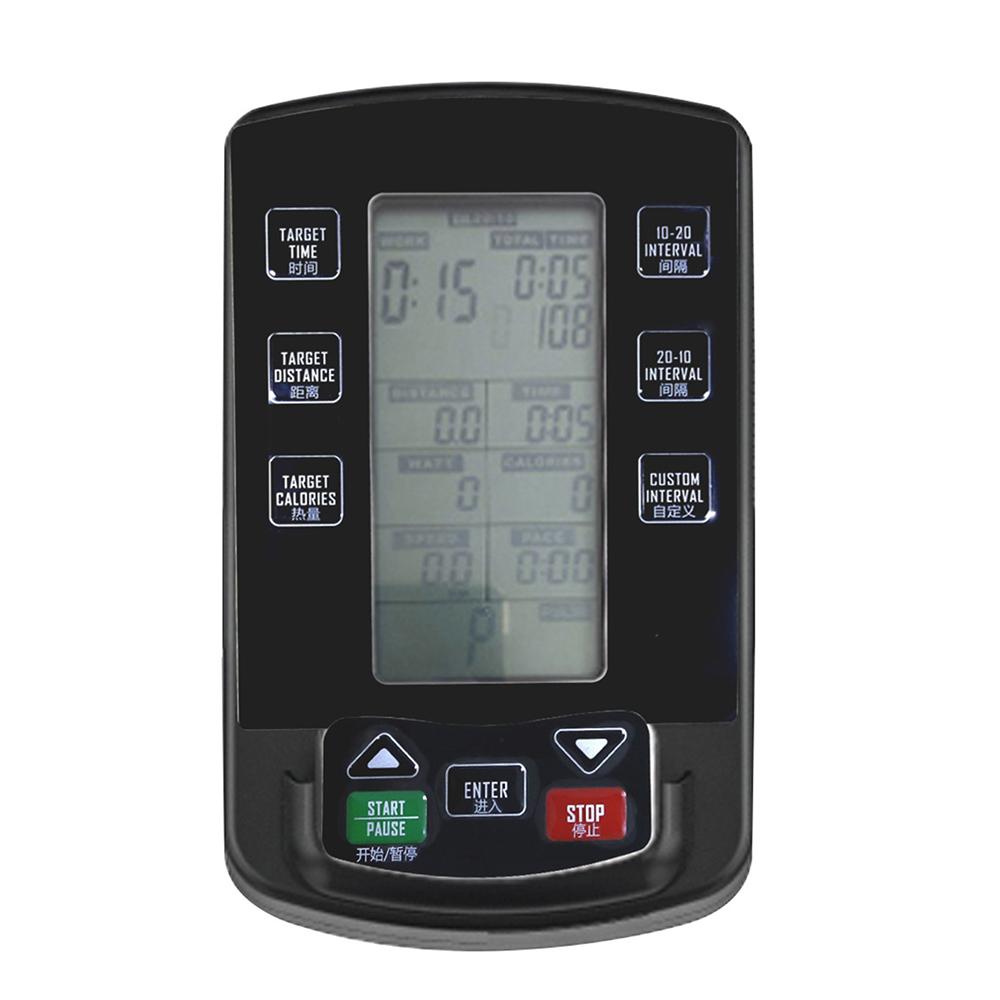 FreeRunner Curved Manual Treadmill
The Freeform FreeRunner is an excellent entry-level curved manual treadmill for those looking to increase their fitness level and improve running technique and posture. Built to handle even the most intense workouts, the Freeform FreeRunner offers 4 levels of magnetic resistance and 7 workout modes, all without plugging into the wall!
---
Key Features
COMPLETE WORKOUT CONTROL

The Freeform FreeRunner Curved Manual Treadmill enables users to accelerate and decelerate at their own pace while having full control over the resistance. Perfect for those using a manual treadmill for the first time, the easily adjustable lever on the handlebars allows you to gradually increase speed as you gain more confidence. As an added safety feature the lever also acts as an emergency brake, used for when you need to stop immediately.

 

IMPROVE RUNNING TECHNIQUE AND POSTURE

Heavy overstriding is not only discouraged on a curved treadmill, it is almost impossible. The curved contact point encourages a more natural sweep of the feet under and behind the body, similar to running outside on natural terrain. This helps for stronger body position and posture.

 

MONITOR YOUR STATS

The Freeform FreeRunner Curved Manual Treadmill includes a simple-to-use LCD monitor so that you can keep track of your workout data easily. Multiple statistics are measured, including calories, speed, distance, time, RPM and watts, to make it easy to manage your training.

 

FULL-BODY WORKOUT

Build endurance and strength on the Freeform FreeRunner, by increasing the resistance you can replicate the movements of pushing a weighted sled, all within the comfort of your own home! Adjust your training experience to suit your goals by selecting a training program to suit your needs. Select from one of the seven training target programs, such as 10/20 and 20/10 HIIT interval training, or customise your own program.

 

LOW IMPACT - HIGH-CALORIE BURN

More than your ordinary cardio machine, the Freeform FreeRunner will work your body to improve strength and toning definition with reduced impact stress on your knee joints. Not only does this machine provide users with a high-intensity, low-impact workout, but studies show it will also burn 30% more calories as compared to a flat treadmill.

 
Specifications
Usage: Full Commercial
Infinite speed
Large LCD Screen
Water Bottle Holder
Manual Brake
0-4 Magnetic Resistance Level
Running surface: 160 x 44 cm
Max User Weight: 150 kg
Dimensions: 172 L x 170 H x 81 W cm
SIMILAR AVAILABLE PRODUCTS
Freeform Freerunner
Perfect addition for home gym.
Great service from customer service team.
Happy customer
Hi Manas,
Thank you so much for your kind feedback! GAF team is dedicated to providing outstanding support, and we're pleased to hear that they were able to assist you. Thanks again for choosing GAF and we hope to serve you again soon.
Happy training!
GAF Team
Freerunner is a great buy.
I am a 44 year old man with a history of Sciatic issues originating from a herniated L4/L5 intervertebral disc.... over share. I love the idea of running but in practice i often feel good for a few runs and then push a little too hard and wind up limping for a week from an exercise bout that I wasn't even able to finish.
That was my main motivation for wanting a treadmill at home so i started looking. I am also training my mother in law who is 74 years old and wanted a way for her to be able to do some walking practice with the goal of walking with less pain at some point in the future. Additionally a treadmill makes my otherwise bizarre home gym more attractive to my partner to use when she feels like it. Finally I like the idea of backwards walking that the knees over toes guy has popularised and wanted to be able to do that without a sled and track.
This treadmill does it all, the magnetic resistance is a must for the backwards walking and for safety with my 74 year old mother in law it also allows for sled push intervals which means this is not a one trick pony but a versatile add to my special corner of the house.
Customer service from Gym and Fitness was excellent and I highly recommend watching the Youtube review they link to, all the way to the end.
Thanks Again for a great piece of equipment. I have used it about 15 times already and so far no complaints.
Brett
Hi Brett,
Thank you for your detailed review. We love hearing how the FreeRunner helps you and your family in getting into the fitness lifestyle and we're here to support it! If you have any questions or concerns, please feel free to reach out and we'll be happy to help.
Happy training!
GAF Team
Right from when we first looked at purchasing the free form runner, the guys at Gym & Fitness were amazing! Communication was great from getting a quote, tracking notifications sent to us when it was on its way, and a follow up about the product. Best customer service I've experienced.
Hi Megan,
Thank you for the awesome feedback! We are glad to have been able to service you and provide a positive experience.
Kind regards,
GAF Team
Very happy with the treadmill
Had this treadmill for a few weeks now and have put it though it's paces. It performs well and is well built.
It came securely packaged with no damage to the box, the unit and parts were well protected.
Installation was straight forward and took about 10-15 minutes to put it all together.
Only issue I experienced was with the instructions and they not being overly clear about connecting the cable that controls the resistance lever. If you've never seen it before it may take a little bit to work out.
But aside from that, the treadmill performs well.
Very happy with my purchase and look forward to logging a few more kms on it.
Great product, even better service
Gym and Fitness have been amazing with the whole process. Even in the middle of Covid and restrictions making things very difficult they were incredible and transparent with the process which I really appreciate. They sent the product out fast and it's great quality.