Swing Sets
Gym and Fitness will help you take your backyard to the next level with playground swing sets and slides. Find a great variety of swing set collections for your kids to enjoy.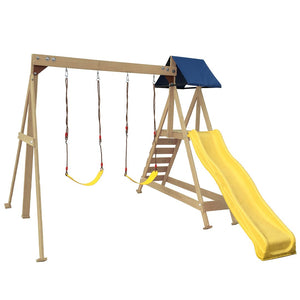 Children these days rarely get outside the house as much as they should. Sitting for hours can increase the risk of obesity, headaches, dry eyes and sleep disturbances. Encourage your kids to get up and be active with their own playset.
Gym and Fitness offers a variety of playsets to inspire kids and get them moving. Your children will surely love climbing, sliding, swinging and exercise to build strong muscles. Our swing set collections come in different colours, sizes and styles. You'll find high-quality products at an affordable price.
Our swing sets have interchangeable seats that can be switched over for a compatible rope/ladder, swing seat, or a baby seat for little thrill seekers planning to start early. The seats on this swing are easily height adjustable so both big kids and little ones can enjoy. It also has flexible soft-feel ropes for comfort. Grown-ups can also swing and relax on our comfy fabric nest swing that is big enough for multiple children. Parents can have peace of mind that their children are riding a high-quality swing set, with safety at the centre of its design.
If you are considering an outdoor swing set for your backyard, you'll be glad to know that Gym and Fitness is your expert swing set destination.
Contact us today to know more about what we do.