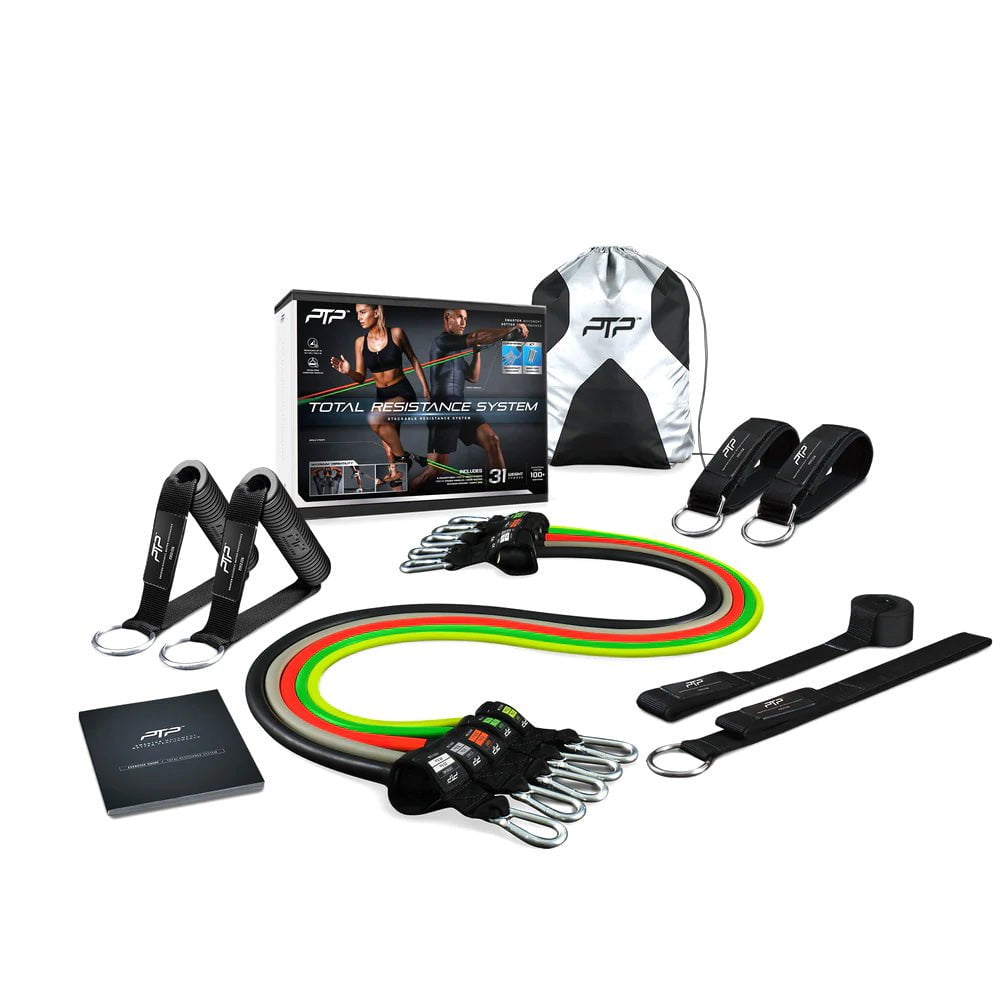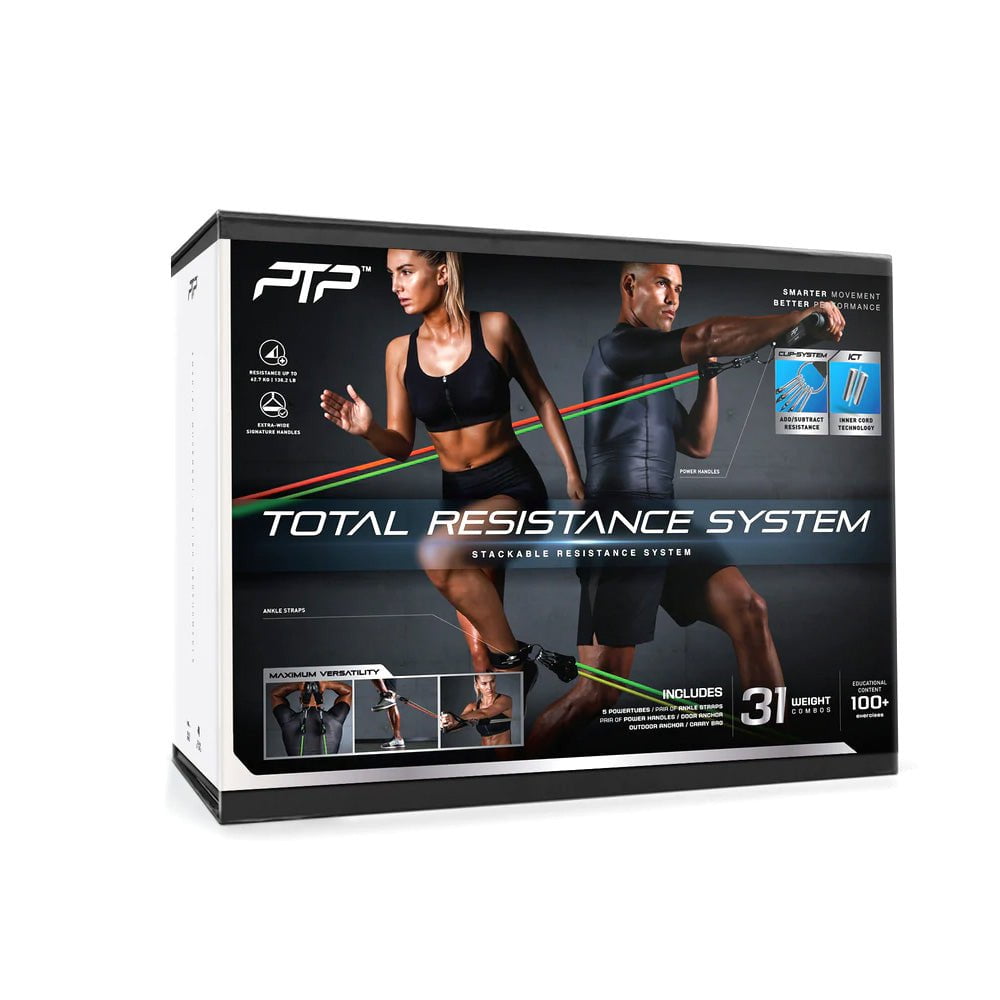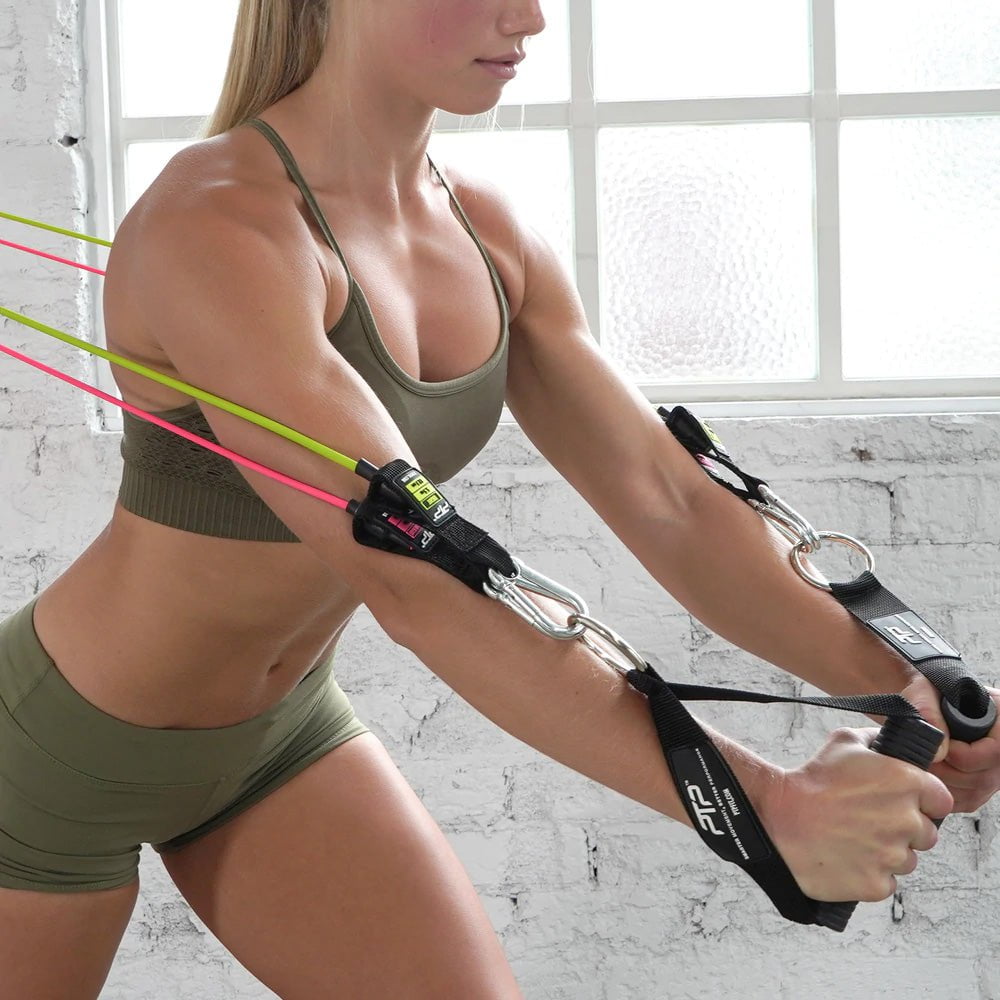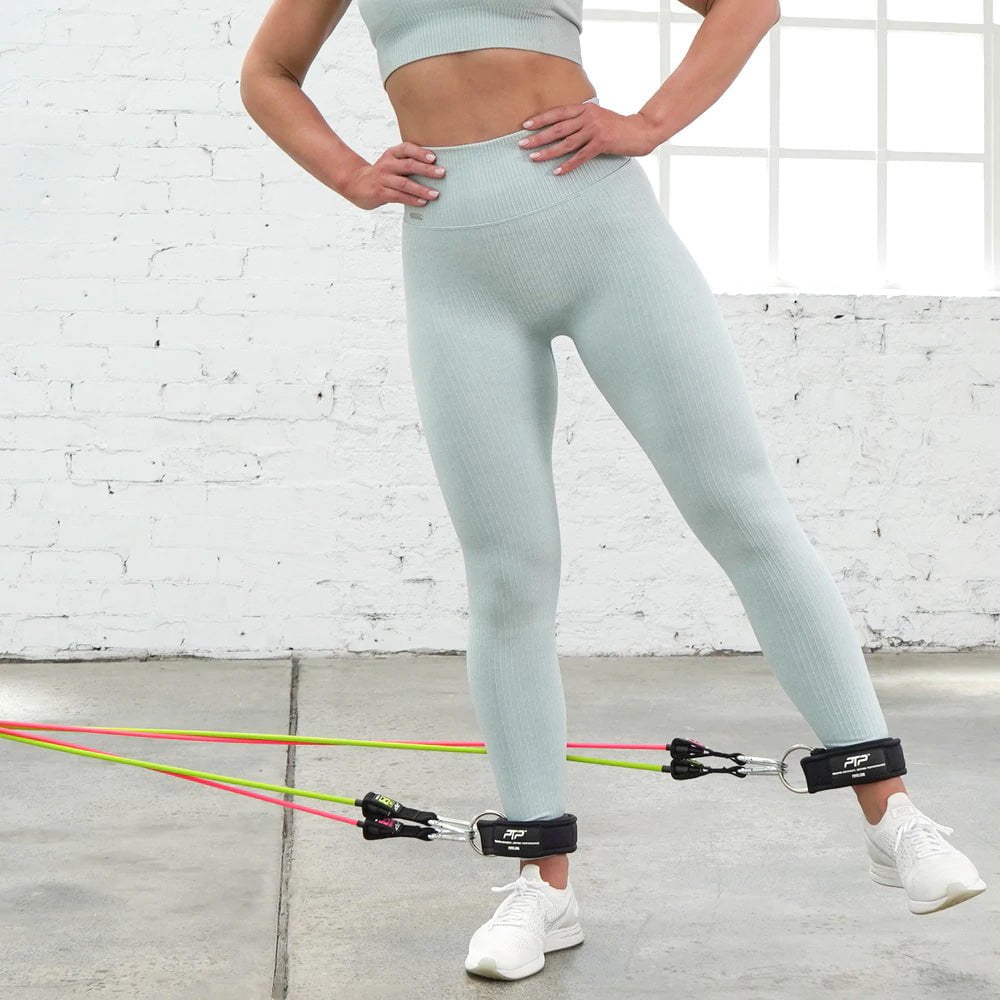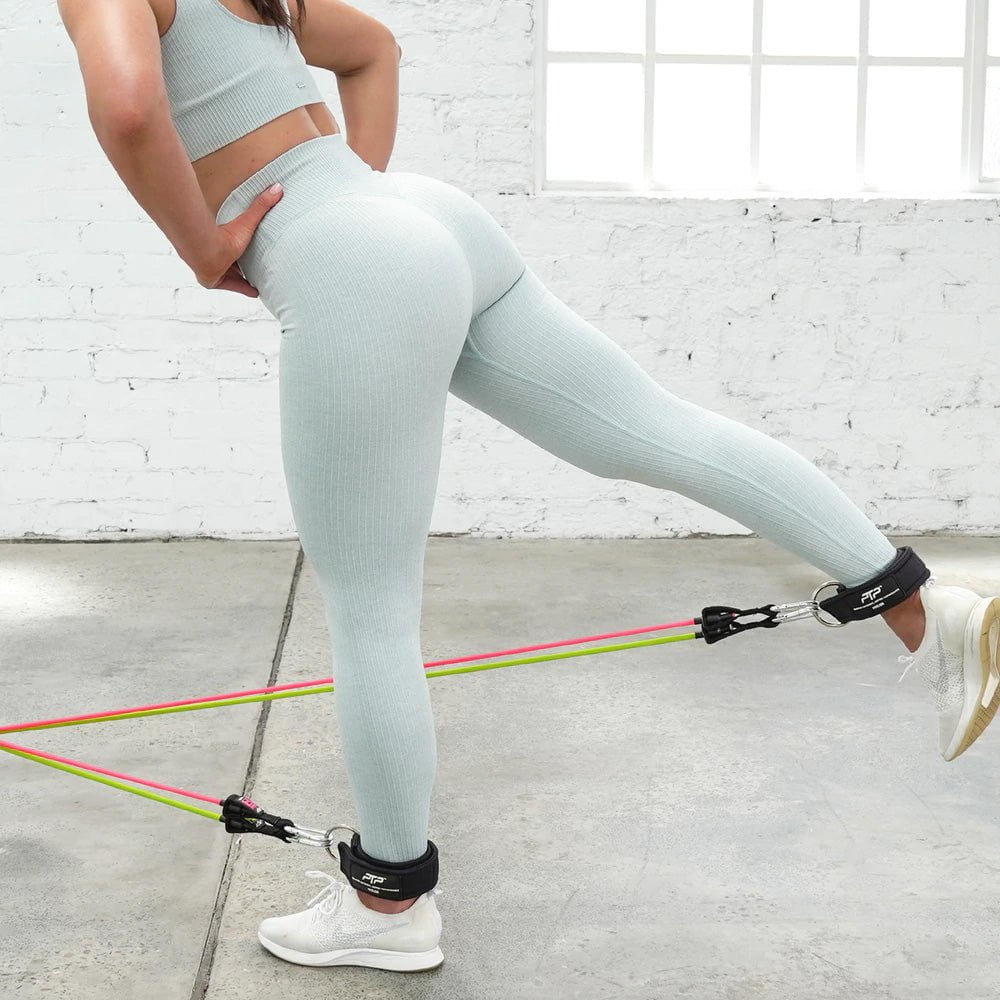 Total Resistance System
A "gym-in-a-bag", the PTP Total Resistance System is the ultimate set to train both upper and lower body, and achieve muscular strength, body toning, fat burning and flexibility. It allows you to target arms, shoulders, chest, back, abs and legs, and lets you recreate all the top workouts at home, in a park, at the beach, or while travelling for work or leisure. A fraction of most gym memberships and extremely compact and portable, you'll be left with no excuses to keep fit and active.
---
The Total Resistance System allows you to perform multi-planar exercises, which is a must for anyone with a focus on functional training (and its benefits in terms of sports performance or everyday mobility). Included are 5 colour-coded and weight-rated resistance PowerTubes with heavy-duty metal carabiners, custom-built handles, soft adjustable neoprene ankle straps, a door anchor for home and hotel room training, an outdoor anchor for multi-directional training from any fixed object, a comprehensive exercise booklet and a carry bag for easy storage and transport. Give yourself the gift of health & fitness and be amazed at all the possibilities. This set also represents a great economical solution for those who wish to share its use with a partner or family member.
Key Features
ICT (Inner Cord Technology) that prevents the tubes from extending past its maximum stretching capacity
Premium latex tubing manufactured through a continuous layering process for unmatched durability and performance
Safe and easy-on-the-joints thanks to the progressive resistance provided
Multi Clip System to quickly add/subtract tension (31 combinations: 5.5 - 62.7kg)
5 different resistance levels: 5.5 kg (Lime), 7.5 kg (Green), 12.4 kg (Orange), 14.9 kg (Silver) and 22.4 kg (Black)
Booklet with over 100 gym and Pilates exercises + free online video access for motivation
Key Benefits
POWER

Whole body conditioning, strength and movement. Perfect to build muscles and burn fat.

FLEXIBILITY

Stretching and body toning. To lengthen muscles and increase range of motion.

REHAB

Overall mobility & injury prevention. Recommended for pre/rehab and joint function.
Specifications
Usage: Light Commercial
30.40cm (L) x 12.40cm (W) x 23cm (H)
SIMILAR AVAILABLE PRODUCTS
Good value for small spaces
Good system for small spaces.
Hi Amanda,
Thank you for taking the time to share your positive review! We're thrilled to hear that our PTP system has been a good value for your small space. We hope it continues to meet your needs and exceed your expectations in the future. If you ever have any questions or concerns, please don't hesitate to reach out to us. Thanks again for your feedback!
Happy workouts!
GAF Team
Good substitute for cable machine
Bought this as I didn't have room for the cable crossover attachment for my Force USA MyRack. Very happy with it so far!
Hi Dylan,
Thank you for your positive feedback! Glad to hear that our PTP Resistance System is working out for you! We are always here to provide great solutions to your fitness needs.
Happy training!
GAF Team
Ptp fit kit
This thing is awesome to have in my room while FIFO love it!
Hi Glyn,
We appreciate you taking the time to share your rating with us.
We look forward to seeing you again soon.
GAF TEAM
Quality
Awesome addition to my G3 , great quality all round.