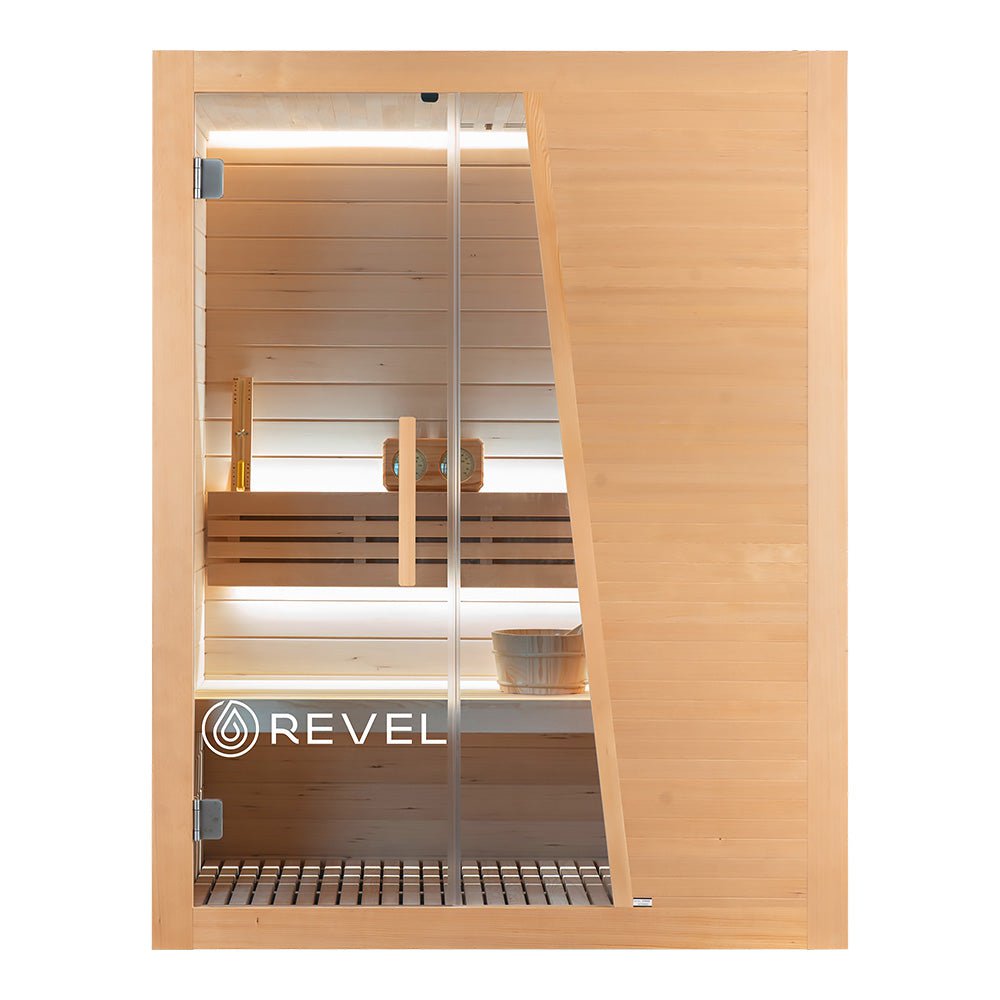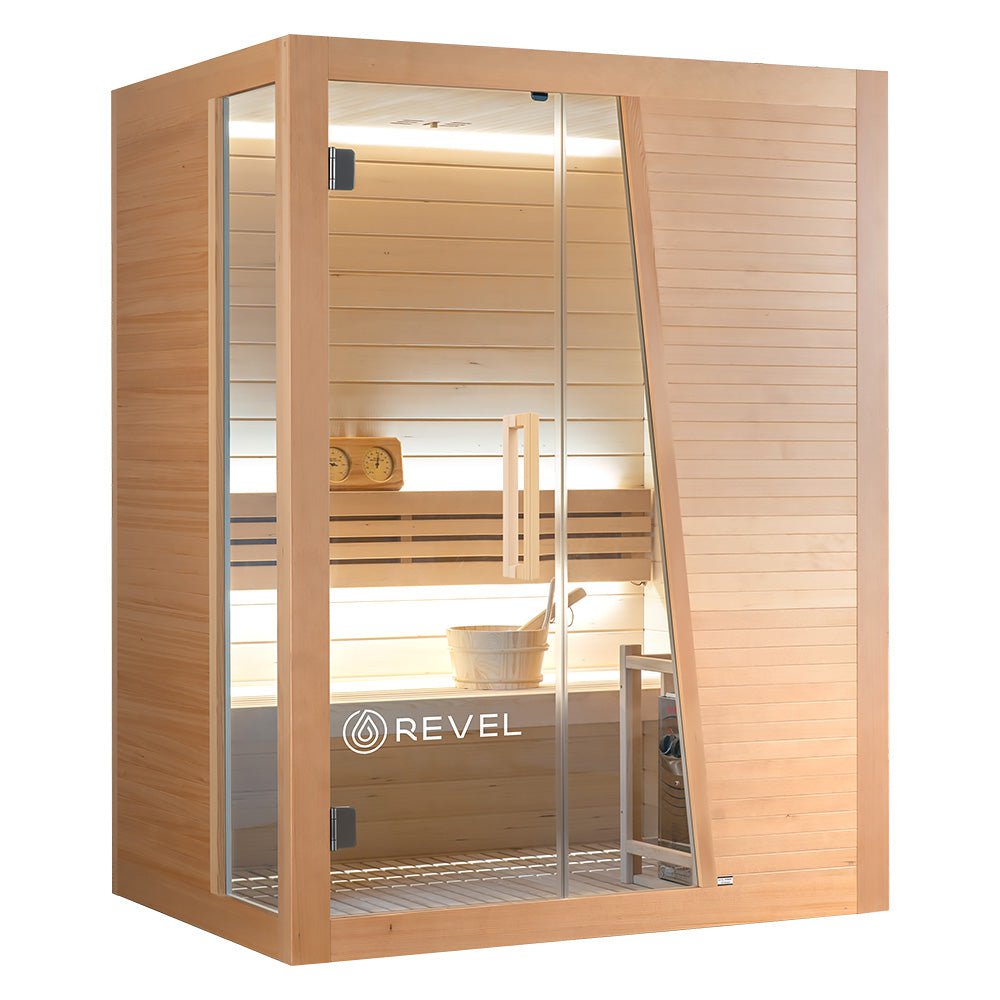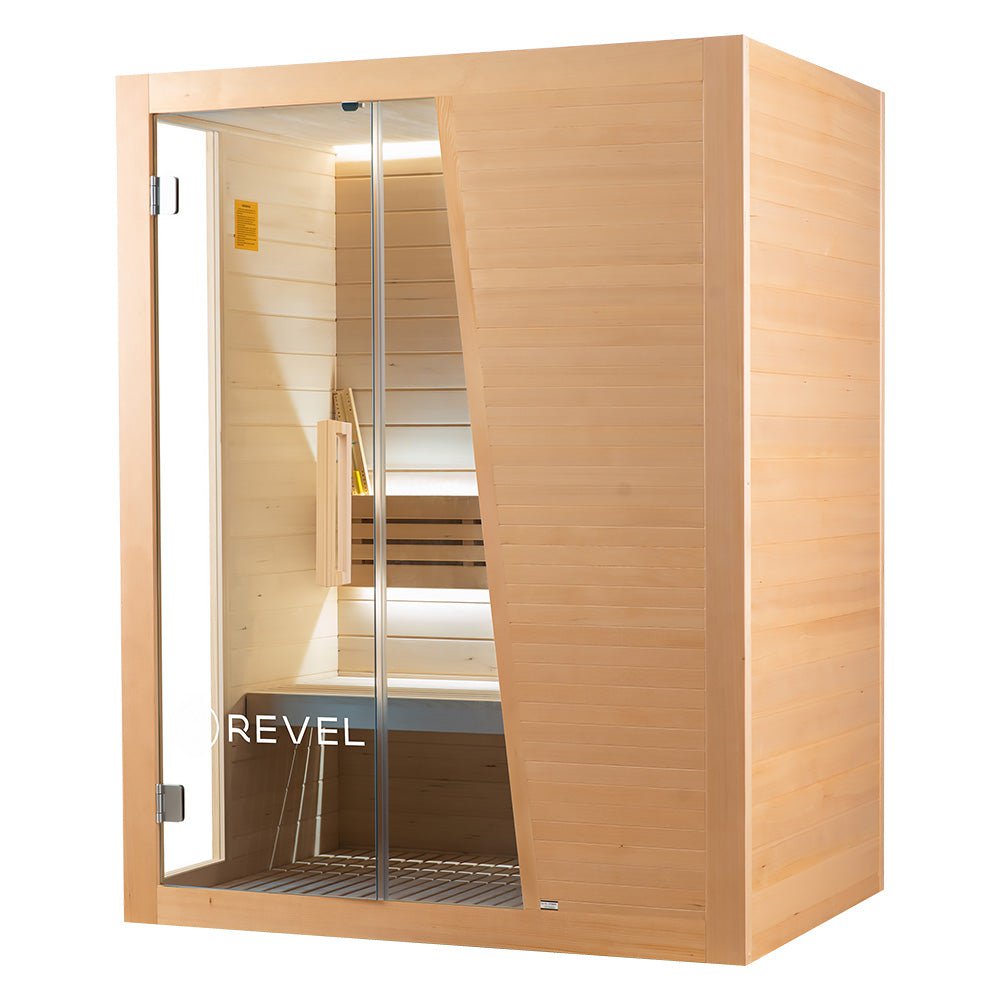 Tampere 4 Person Traditional Sauna
Step into a world of relaxation and rejuvenation with the Tampere ('tam-puh-ray') 4 Person Traditional Finnish Sauna. Crafted with the finest Canadian Hemlock wood and a powerful Harvia Stone 3.5KW heater, this sauna promises to deliver an authentic Finnish sauna experience right in your home. Whether it's a personal wellness session or a recovery moment with loved ones, this sauna is your gateway to enhanced well-being. Discover the perfect blend of tradition and modernity to cater to your fitness and health needs.
---
KEY FEATURES
AUTHENTIC FINNISH SAUNA EXPERIENCE

Immerse yourself in a genuine Finnish sauna experience with the Tampere 4 Person Sauna. The sauna is crafted with high-quality Canadian Hemlock wood, known for its durability and rich aroma, enhancing your relaxation experience. The Harvia Stone 3.5KW heater ensures a steady temperature range between 70°C and 90°C, allowing you to customise your sauna sessions to suit your wellness and recovery needs.


SPACIOUS INTERIOR WITH COMFORTABLE ACCESSORIES

The sauna offers a spacious interior, comfortably accommodating up to four people. It has a hygro-thermometer to monitor the humidity and temperature levels, ensuring a safe and enjoyable sauna session. The included bucket, ladle, and backrest with the brand's logo add to the comfort and luxury, promising a spa-like experience in the comfort of your home.


PREMIUM QUALITY MATERIALS

The sauna features 8mm fully tempered clear glass doors, offering a sleek and modern look while ensuring safety and durability. The metal handle adds a touch of elegance and ensures easy access to your personal wellness haven.


ENERGY-EFFICIENT LIGHTING

The sauna is fitted with an LED strip light, providing energy-efficient illumination, creating a soothing ambience that promotes relaxation and mental health.


LIFETIME HEATER WARRANTY

Enjoy peace of mind with a lifetime warranty on the Harvia Stone heater, showcasing the brand's commitment to quality and durability. The sauna also offers a generous 6-year warranty on the cabin and electrical components, promising years of stress-free relaxation and recovery sessions.

SPECIFICATIONS
Usage: Domestic
Material: Canadian Hemlock Wood
Glass: 8mm Fully Tempered Clear Glass
Heaters: Harvia Stone 3.5KW
Handle: Metal
Accessories: Hygro-Thermometer, Bucket, Ladle, and Backrest with Logo
Temp Range: 70°C - 90°C
Voltage: 220 - 240 Volts
Power: 3500 Watts
Socket: 1
Lighting: LED Strip Light
Product Weight: 199 kgs / 438.72 lbs
Assembled Dimension: 150(W) x 110(L) x 195(H) cm
Warranty:

Heater: Lifetime*
Cabin: 6 years
Electrical: 6 years
SIMILAR AVAILABLE PRODUCTS