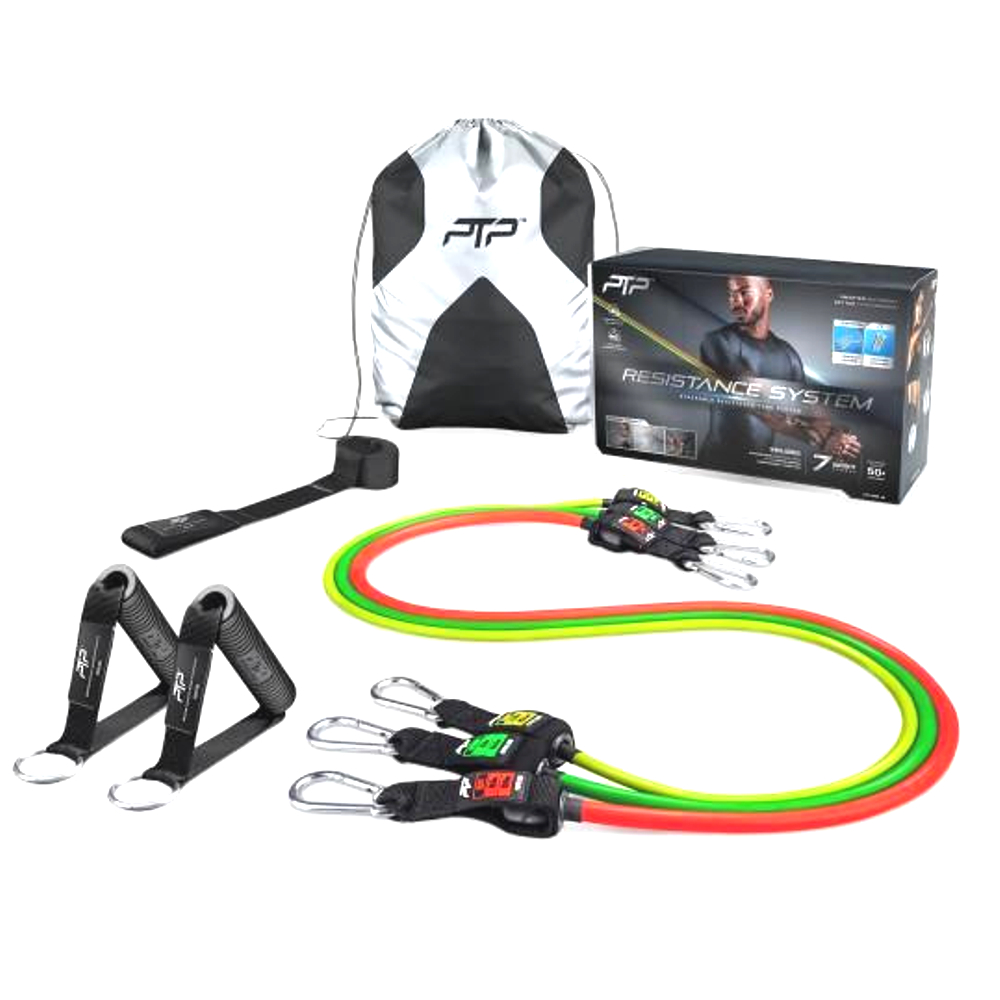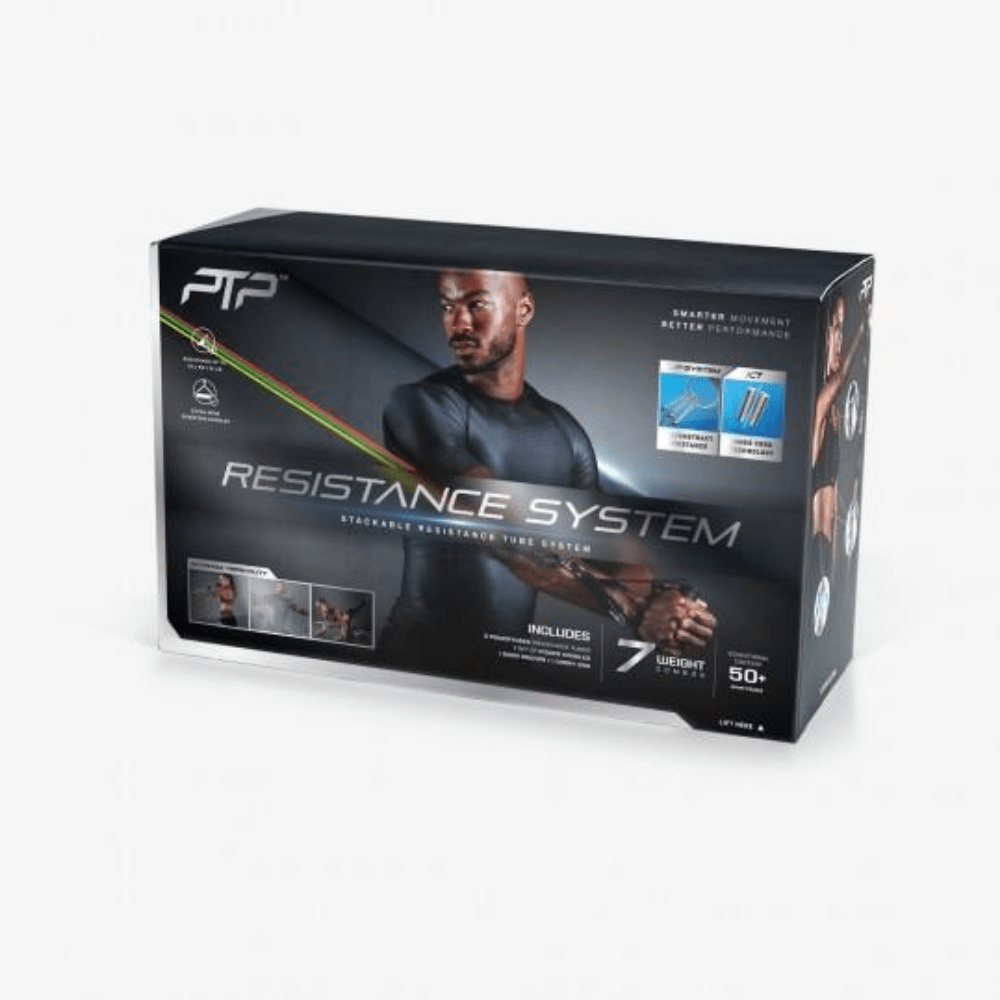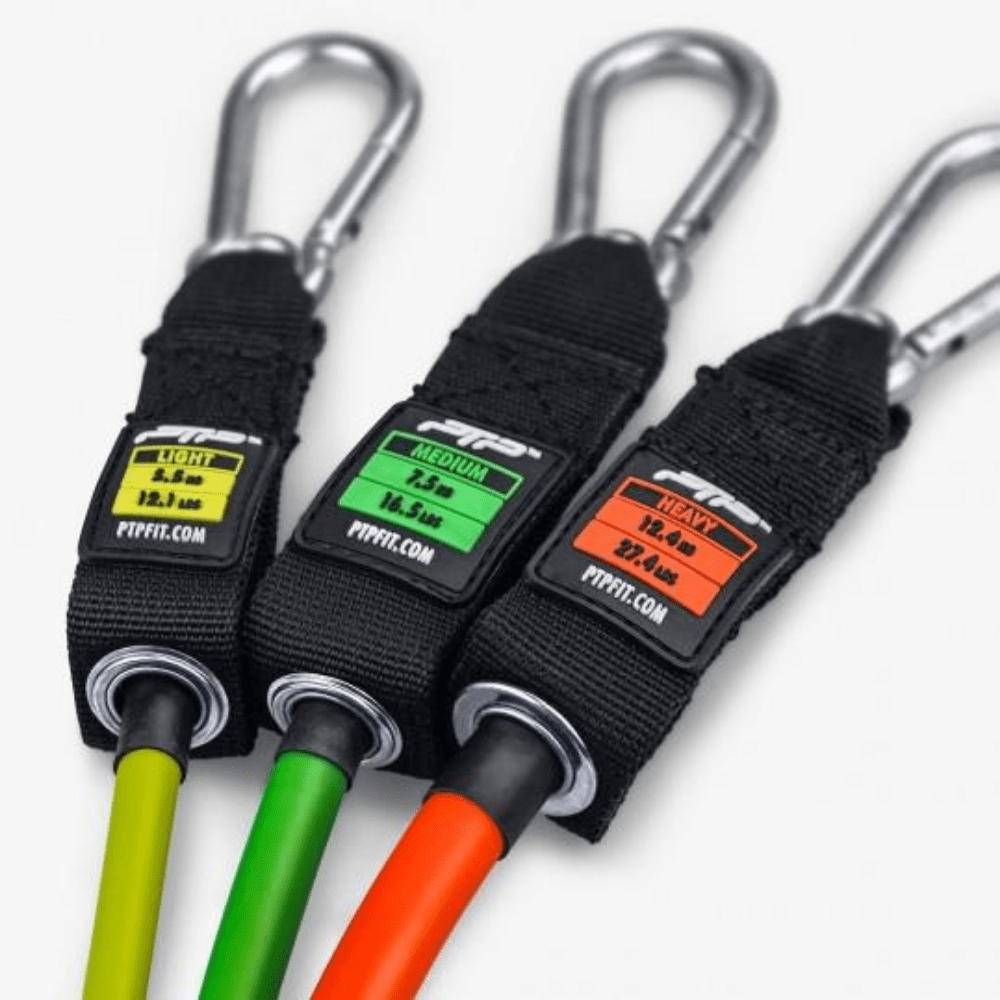 Resistance System
Build incredible body strength, targeting your biceps, triceps, shoulders, chest, back, core, glutes and legs with the PTP Resistance System. Whether you're new to resistance training or a seasoned athlete, you'll find just the right level of challenge with no less than seven resistance combinations to choose from.
---
Secure your door anchor at any height to exert force in any direction and perform over 50 popular gym exercises without relying on gravity. The whole system is extremely compact and lightweight, allowing you to stay fit and active at home and even while travelling.
Key Features
ICT (Inner Cord Technology) that prevents the tubes from extending past its maximum stretching capacity

Premium latex tubing manufactured through a continuous layering process for unmatched durability and performance

Safe and easy-on-the-joints thanks to the progressive resistance provided

Multi Clip System to quickly add/subtract tension (7 combinations: 5.5 kg - 25.4 kg)

3 different resistance levels: 5.5 kg (Lime), 7.5 kg (Green), 12.4 kg (Orange)

Poster featuring over 50 exercises + free online video access
Key Benefits
POWER. Whole-body conditioning, strength and movement. Perfect to build muscles and burn fat.
FLEXIBILITY. Stretching and body toning. To lengthen muscles and increase range of motion.
REHAB. Overall mobility & injury prevention. Recommended for pre/rehab and joint function.
Specifications
Usage: Light Commercial
Dimensions: 11cm (L) x 30cm (W) x 19cm (H)
SIMILAR AVAILABLE PRODUCTS
Shoulder repair and strengthening
Excellent product, natural stretch resistance, love it.
Versatile Home Workout!
This resistance system is so easy to use and extremely versatile. If you don't want to purchase gym equipment, this is an awesome alternative. Or if you want to do some functional exercises, this is an awesome option!
Great product and very quick to be delivered!
PTP Resistance System
I couldn't be happier with my purchase and the surprise quality of the goods for the price I paid. Gym & Fitness didn't waste anytime contacting me when I bungled my address, and at standard freight my order got to me sooner than I expected. 5 Stars!