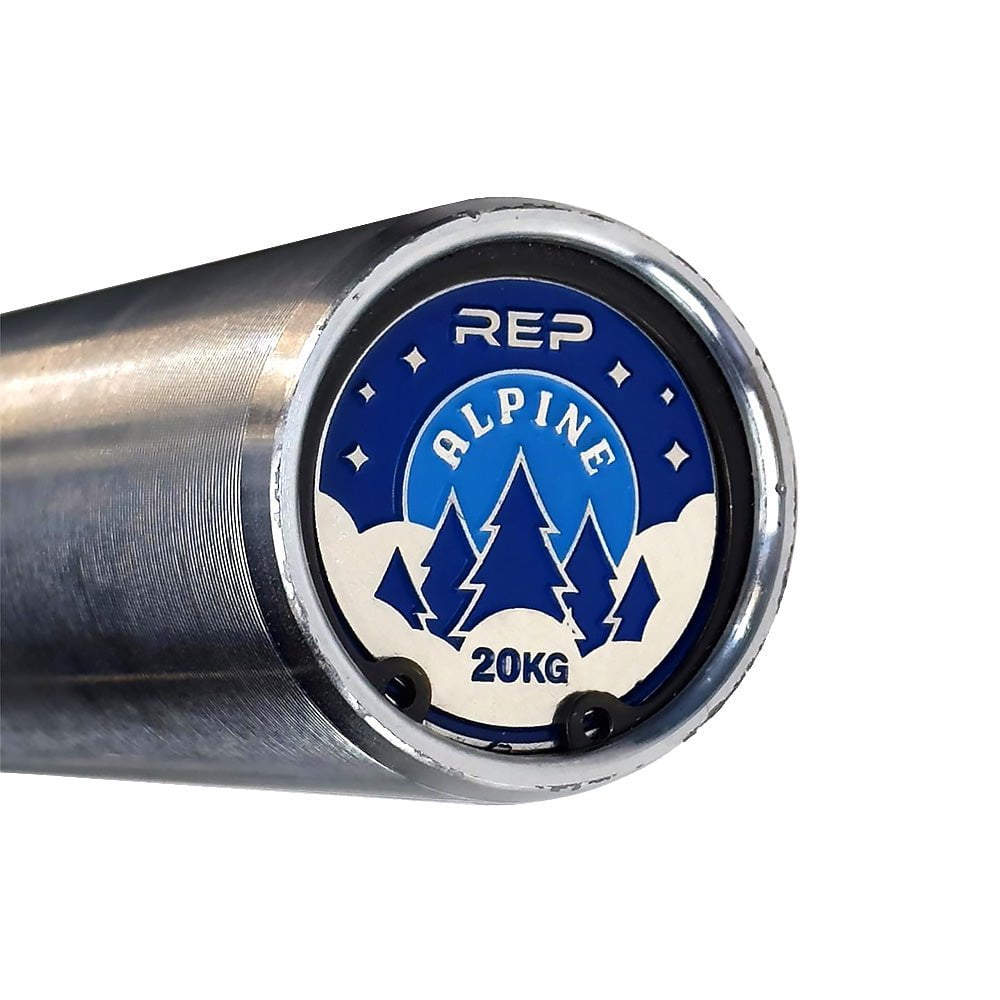 Alpine Weightlifting Bar - 20kg
Elevate your weightlifting journey with the Alpine Weightlifting Bar. Crafted for the dedicated and the driven, this 20kg marvel is REP's pinnacle of Olympic weightlifting excellence. Following International Weightlifting Federation standards, it boasts a seamless blend of design and functionality. Experience the smoothest rotations with its hybrid needle-bearing sleeves and grip confidently with its medium-depth, volcano-style knurling. Whether you're a seasoned athlete or just starting out, this bar promises to be a game-changer in your fitness regime. Built for champions, it's time to surpass your limits and redefine strength.
---
KEY FEATURES
A BARBELL THAT STANDS OUT

The 20kg Alpine Weightlifting Bar isn't just another barbell. It's REP's top-tier Olympic weightlifting masterpiece. With adherence to International Weightlifting Federation specifications, it ensures you're training with the best. The hybrid needle-bearing sleeve construction offers the smoothest rotations, making every lift feel effortless. Plus, its passive center knurl ensures comfort during high-volume training, while still offering that extra grip for back squats.


PRECISION GRIP WITH MEDIUM-DEPTH KNURLING

Say goodbye to slips and mishaps. The Alpine bar's medium-depth, volcano-style knurling ensures a solid grip during intense lifts. Yet, it's gentle enough to prevent your hands from tearing during high-volume sessions. Train harder, longer, and safer.


RIBBED SLEEVES FOR STABILITY

Explosive Olympic lifts demand stability. The ribbed sleeves of the Alpine bar ensure that your plates remain stable and secure, even during the most dynamic of lifts. No more wobbles, just pure, focused lifting.


HIGH-END DETAILS FOR THE DISCERNING LIFTER

This isn't just a barbell; it's a statement. From laser etchings of the barbell name and weight to unique metal endcaps. Every detail has been meticulously crafted to create a barbell that truly stands out from the rest.

SPECIFICATIONS
Usage: Commercial Gym
Product Weight: 20kg / 44.1 lbs
Loadable Sleeve Length: 41.4cm / 16.3 inches
Shaft Diameter: 28mm
Ribbed Sleeve Diameter: 50mm
Bushing/Bearing: Hybrid Needle Bearings
Knurl Style: Medium Volcano with Passive Centre Knurling
Knurl Markings: IWF Standard
Material: Stainless Steel
Whip: Medium
Static Rating: 1,500lbs / 680 kgs
Tensile Strength: 190ksi
Tolerance: 1%
SIMILAR AVAILABLE PRODUCTS