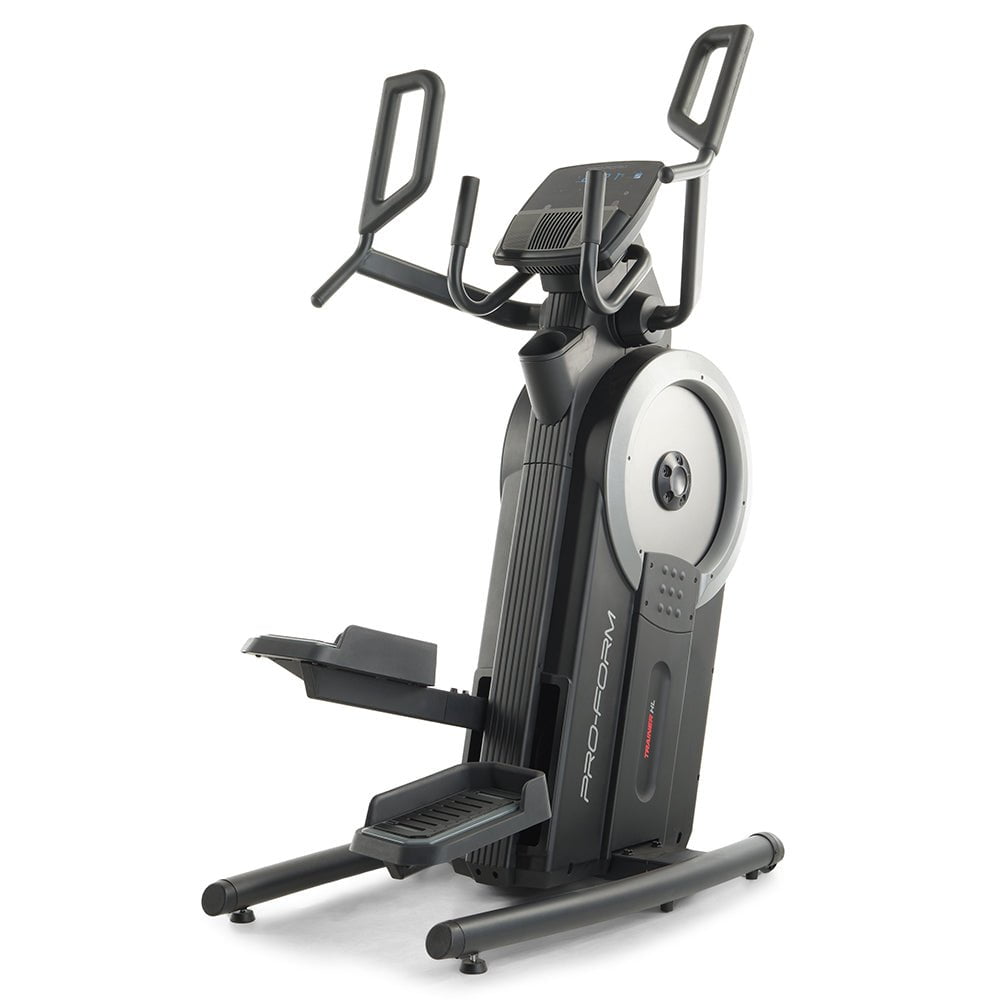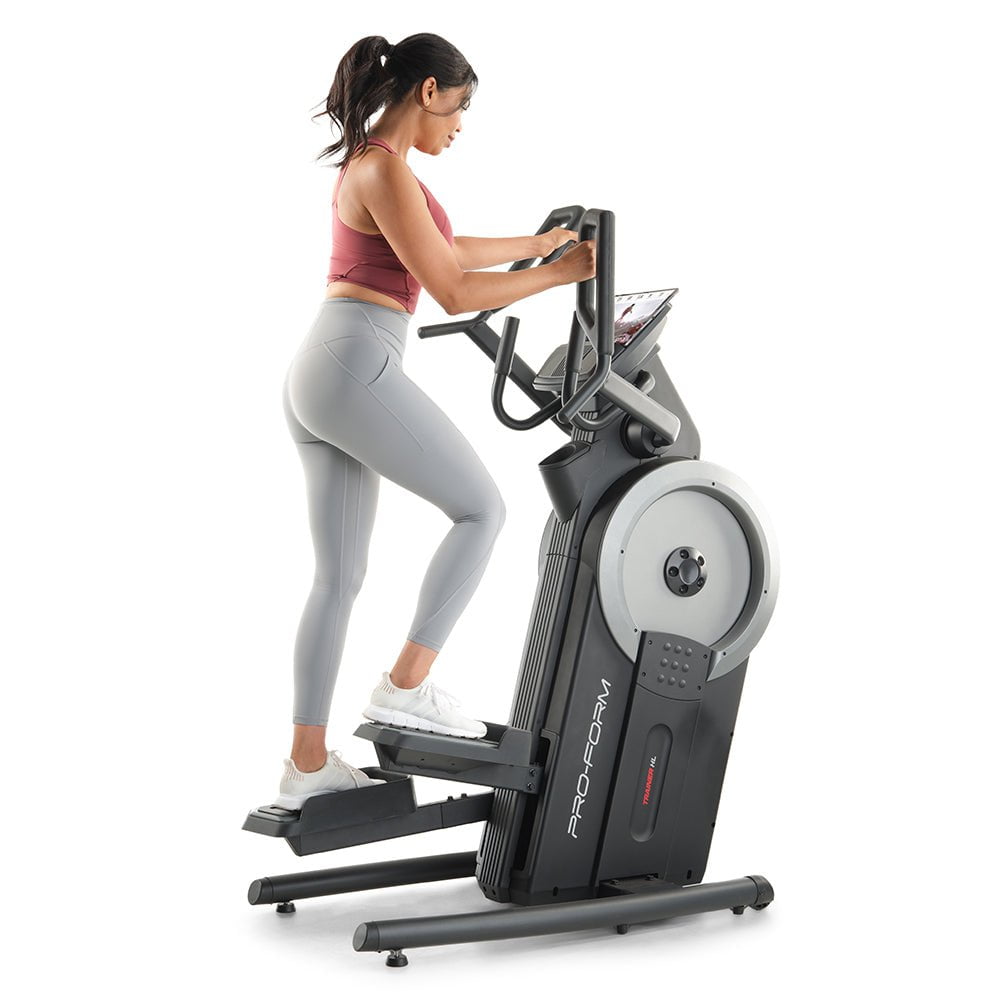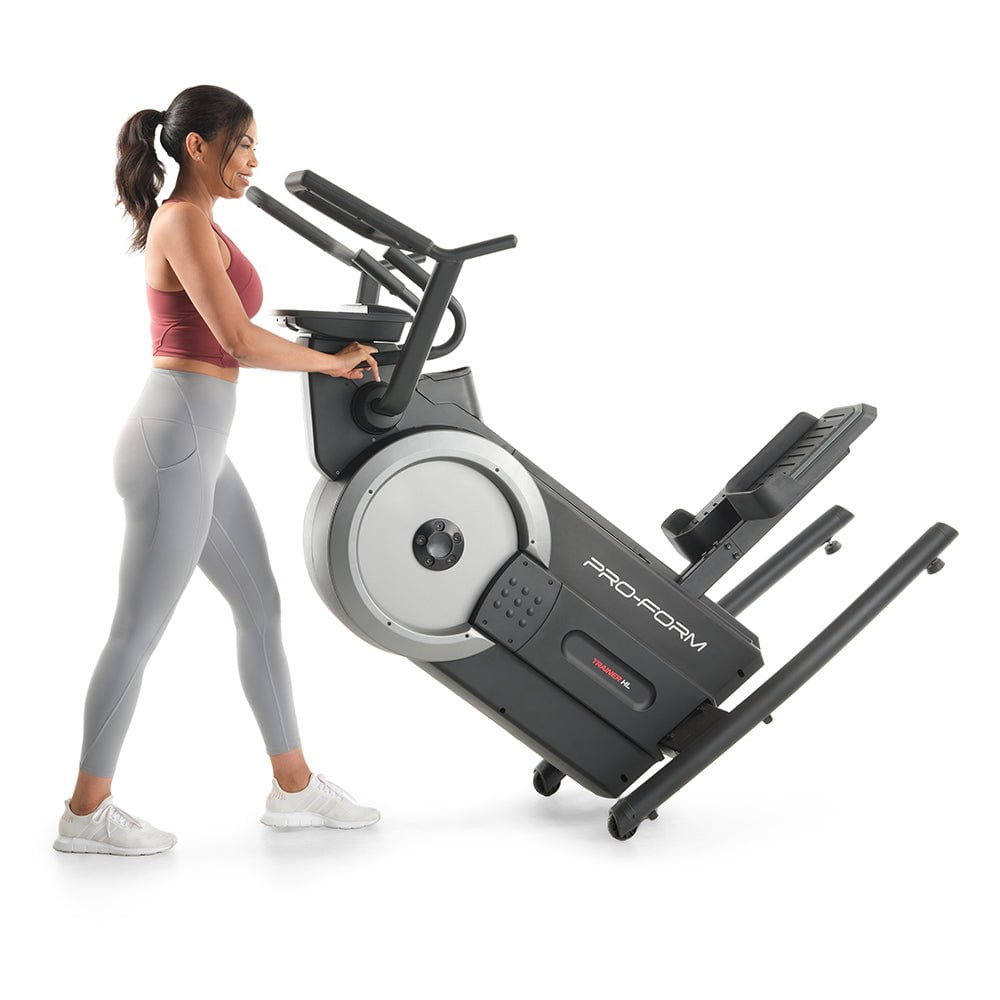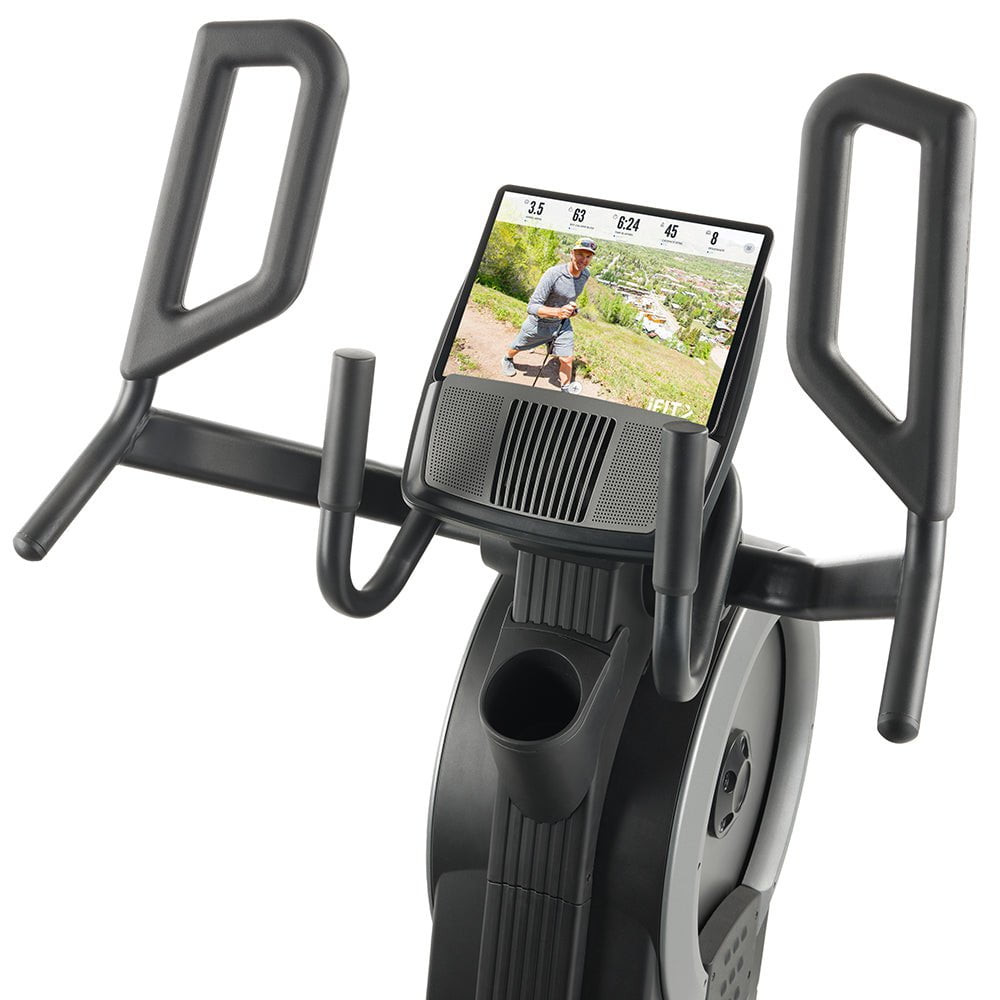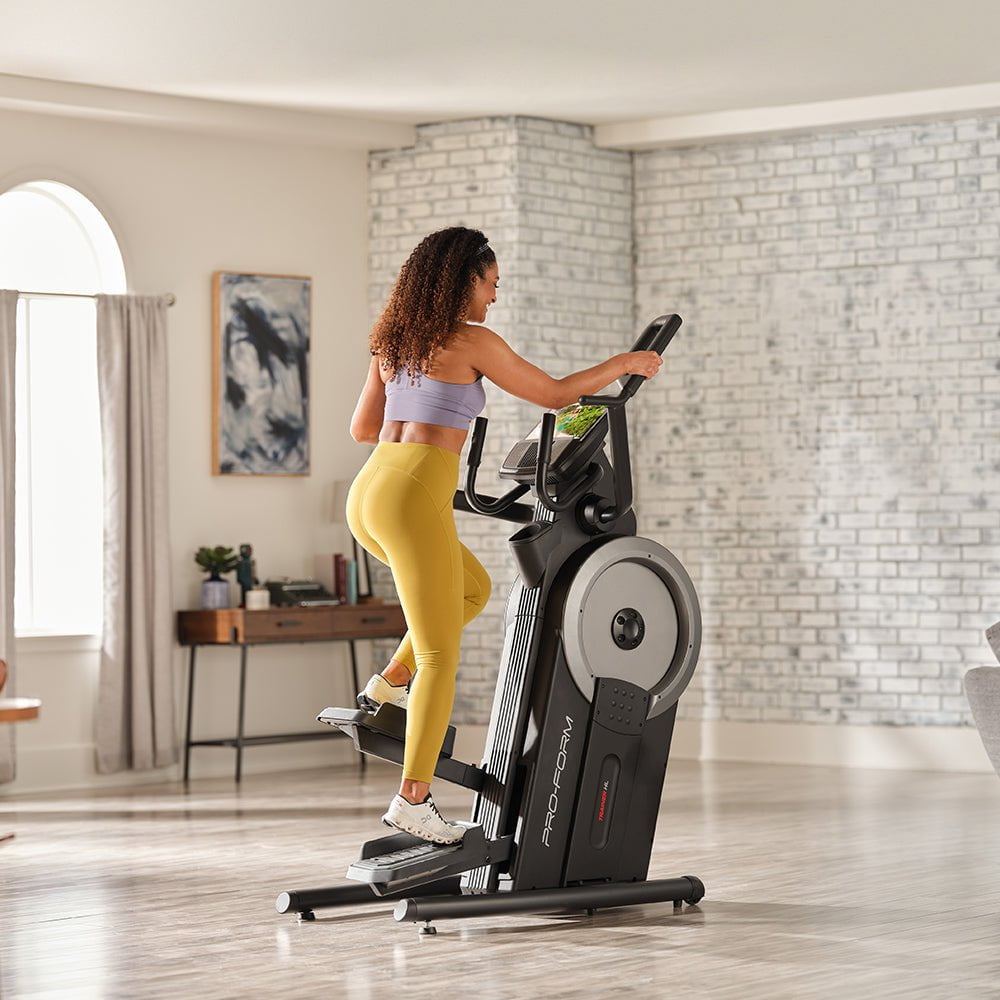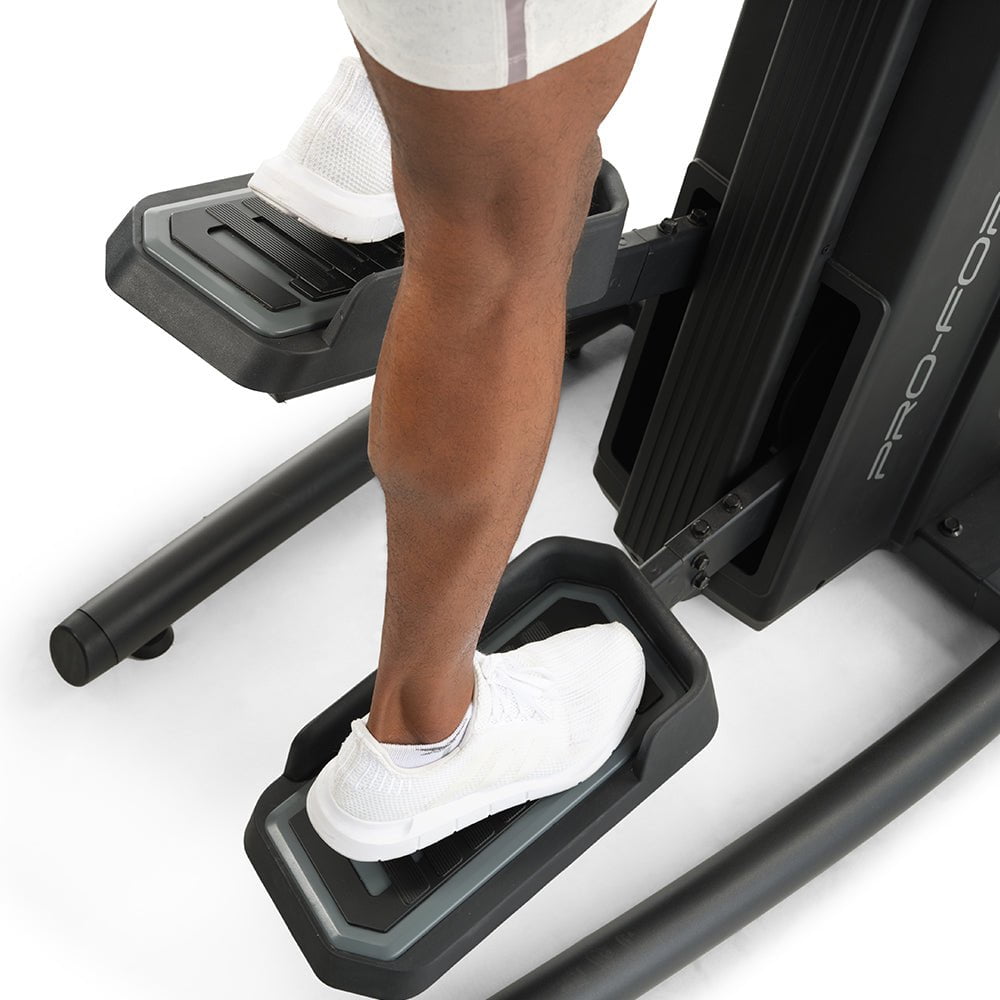 Trainer HL Elliptical
Step up to new heights on the Proform Trainer HL Elliptical and experience the ultimate calorie burning cardio training. Packed with a huge range of features, including on-demand interactive workouts via iFit™, 22 resistance levels, a smooth, silent motion, oversized cushioned pedals and built-in 5" backlit display. Users will love the innovative full-body climbing experience, helping to burn more calories in less time!
---
KEY FEATURES
BURN MORE CALORIES IN LESS TIME

Combining the movement of climbing stairs with the intensity of boxing, each workout on this innovative elliptical trainer helps you activate more muscles throughout your whole body while burning more calories in less time.

UNLOCK A WORLD OF ON DEMAND TRAINING

When you step on the pedals of the Proform HL, you get instant access to professional iFIT™ training programs fully loaded and ready to go. The perfect way to stay motivated and hit those fitness goals!

*iFit Membership Required


 

INNOVATIVE STRIDE DESIGN

Unlike other stepper machines, the Proform HL is designed for your feet to travel on a 10-inch vertical and 5-inch horizontal elliptical path. This motion puts you on track to build more strength and greater toning throughout your entire body.


 

OVERSIZED, CUSHIONED PEDALS

Train in complete comfort by enjoying the large pedals that include a range of foot positions while providing additional cushioning and stability through each stride.


 

CHOOSE FROM 22 RESISTANCE LEVELS

With 22 digital resistance levels, the HL Elliptical allows you to start out easy and progress to intense. Each level is smooth, frictionless and sure to get your heart rate pumping!


 

MULTI-FUNCTION HANDLEBARS

The workout arms take your fitness from the straightforward lower-body workout of the treadmill to the total-body elliptical experience! By adding resistance and movement to the upper-body, you can instantly activate your arms, shoulders, back, and core with each step.


 

A SILENT WORKOUT PARTNER

Forget noisy air resistance trainers! The Proform Trainer HL brings SMR™ (Silent Magnetic Resistance) to every workout. It's quiet, smooth, and durable so you can focus on your workout - without disturbing your home.


 

COMMERCIAL GRADE STRENGTH

Made from commercial-gauge solid steel, the HL Elliptical is built to last through your hardest workout sessions and will make for an outstanding investment for many years to come.

SPECIFICATIONS
Usage: Full Commercial
Materials: Steel Base, Plastic Covers, Rubber Cushion Pedals
Important Specs:

iFit® Bluetooth Smart (BLE) Enabled
22 Resistance Levels with SMR™ (Silent Magnetic Resistance)
Soft Touch™ Upper Body Arms
Oversized Cushion Pedals
5" High Contrast Multi- Color Display
ActivePulse™Technology
Compatible with SmartBeat ArmBand (Sold Seperately)
Coolaire™ Workout Fan
Dual 2" Speakers
Front-mounted Transport Wheels
Integrated device Shelf
Water Bottle Holder

Product Weight: 95kg / 209.4lbs
Max User Weight: 150kg / 330.6lbs
Dimensions: 70 (W) x 130 (L) x 160 (H) cm
Warranty:

Frame: Lifetime
Parts: 2 Years
Upholstery: 1 Year
SIMILAR AVAILABLE PRODUCTS
Compact Elliptical Cross Trainer
As a beginner user of a cross trainer, was researching the best cross trainer but also the most compact cross trainer out there & stubled across Proform Trainer HL Elliptical. Due to my previous & great experience with GAF, straight away jumped on the site, found it & placed my order.
In regards with the equipment, it is very quiet & can barely hear any movement. It's smooth moving & compact compared to other longer wheelbase cross trainers. In a small room (where mine is) it can look big & bulky but it's very stable & as a 6'2 male and about 103kgs it can handle me. My only (i can't really say it's an issue or problem) thing is I thought the whole wheel base was powered but it's only the console that was powered for information status & the whole trainer can be used without being powered on. This is not a negative review, it was just my understanding of the trainer being powered. In saying that, it's a great machine & really don't have any negative comments about it. It comes with a tablet stand built in that can also cater to any phone as well. I would definitely recommend this product & absolutely recommend GAF for any equipment purchases.
Hi Shawn,
Thank you for your detailed review, we appreciate it a lot, this is a helpful information for our customers. If you have any questions or concerns, please don't hesitate to reach out and we'll be happy to help.
Best regards,
GAF Team