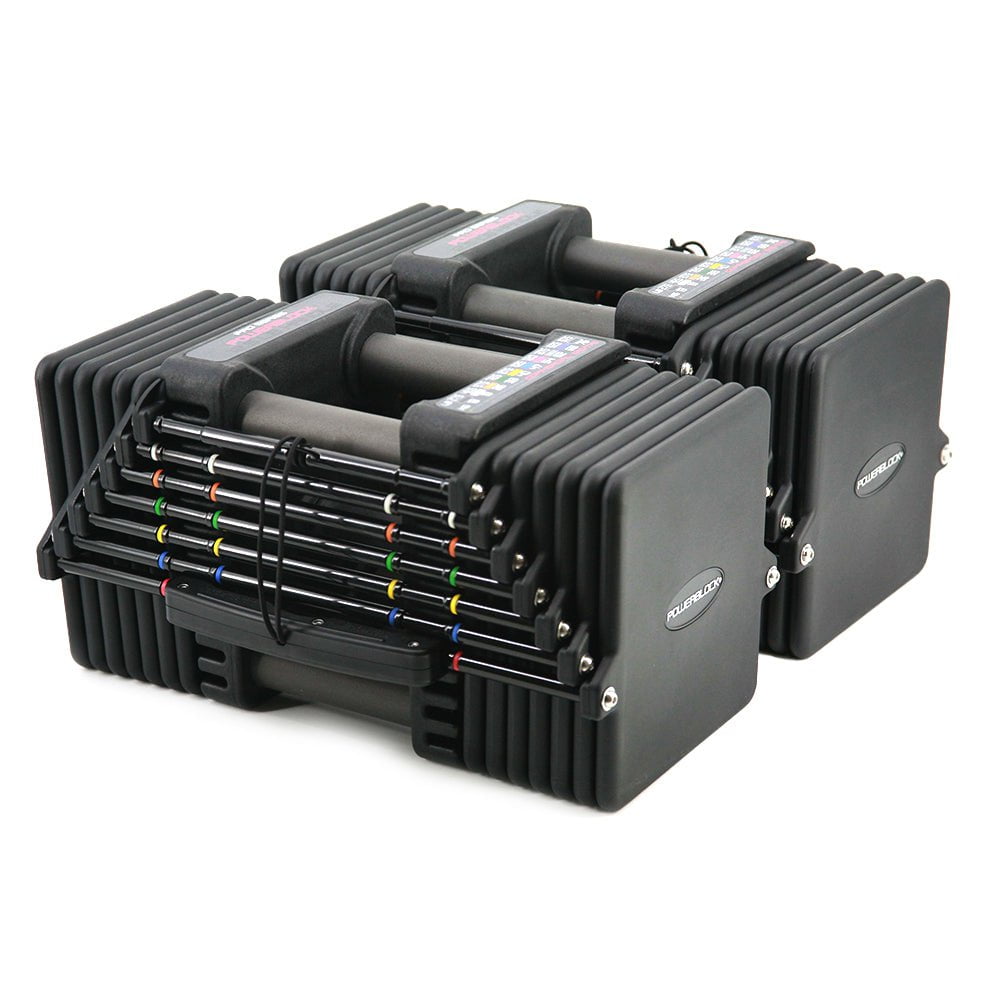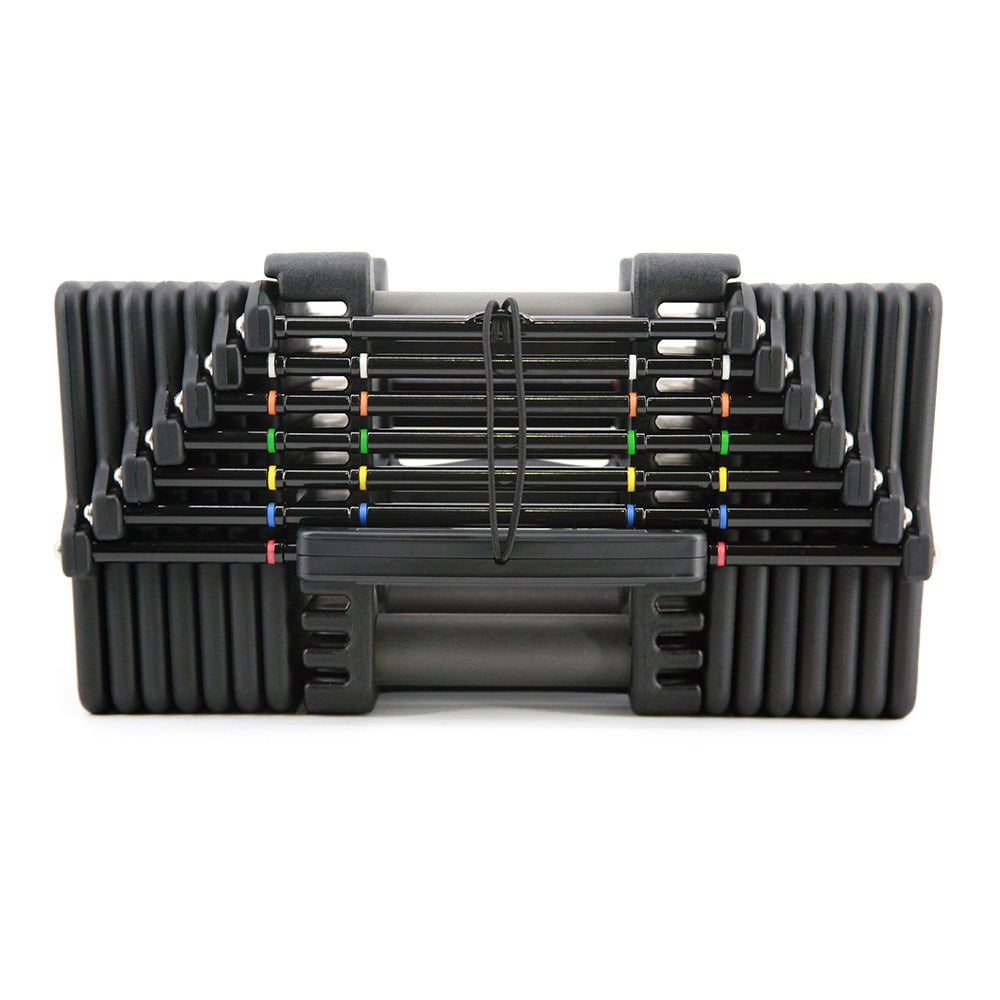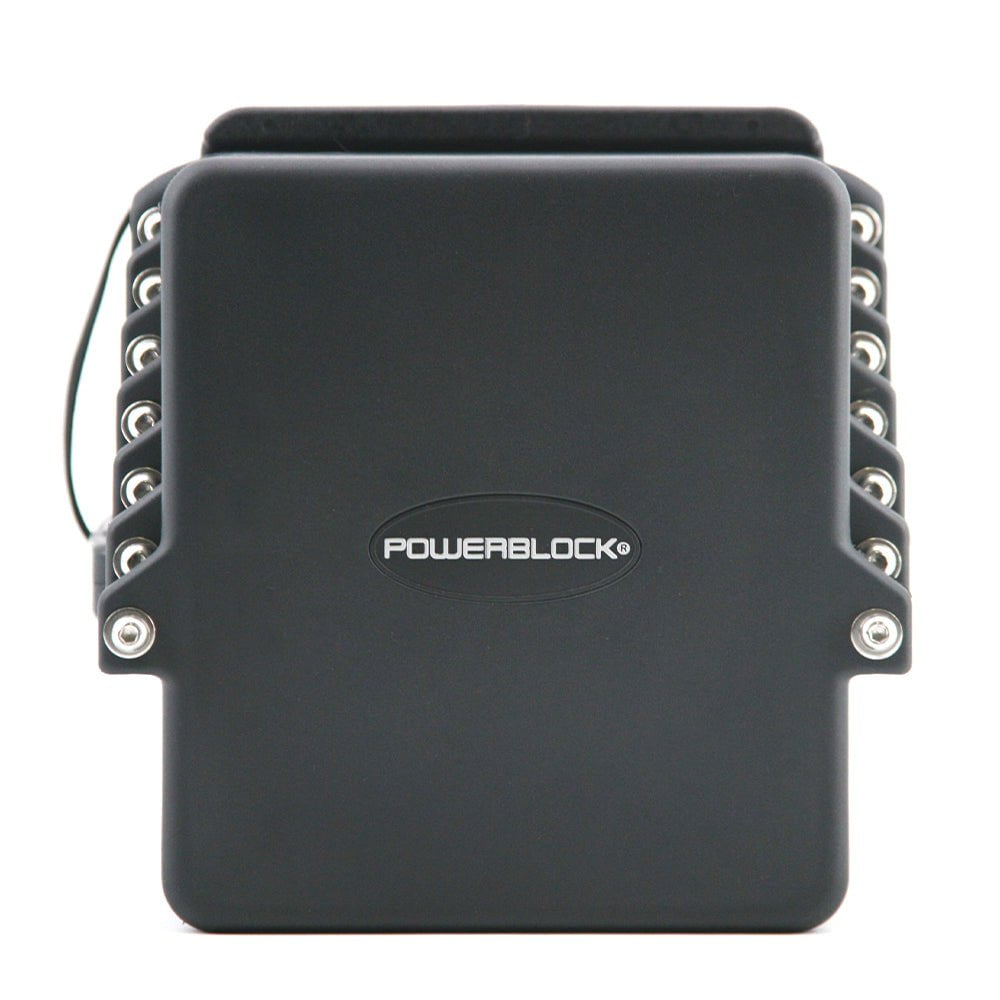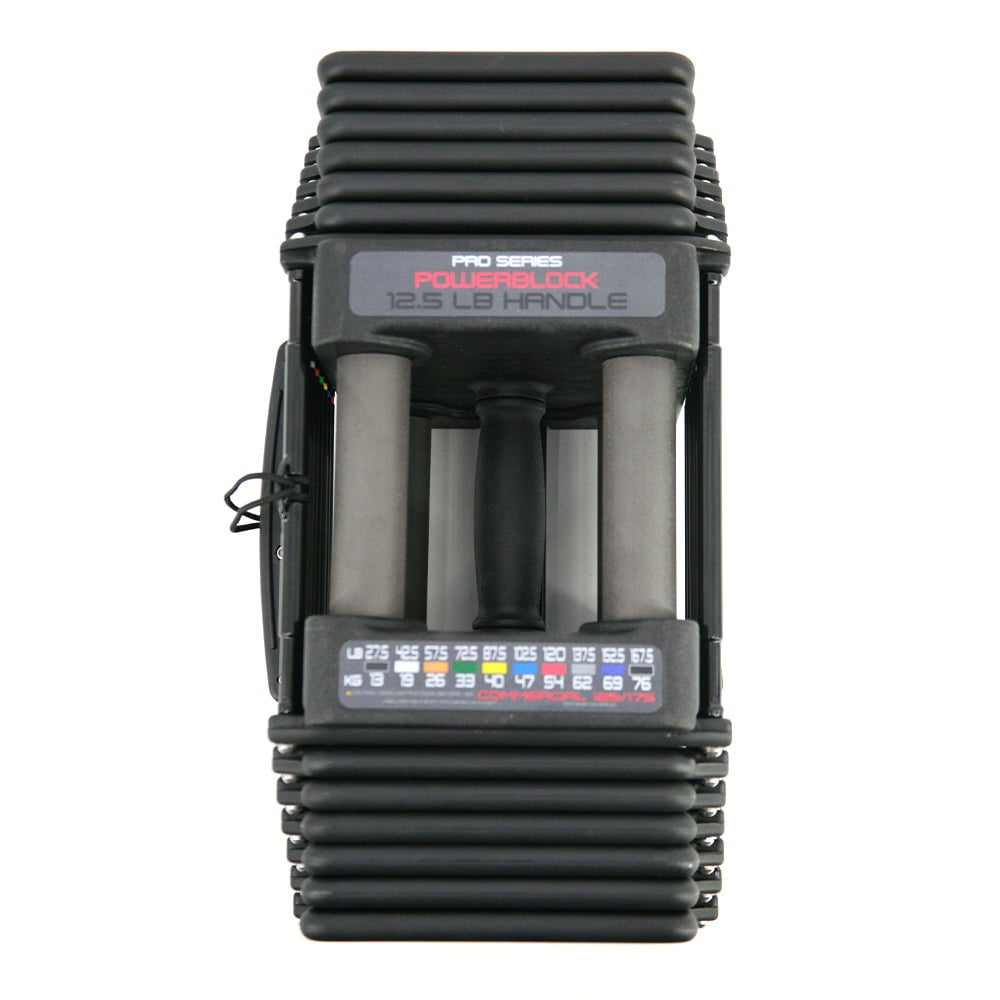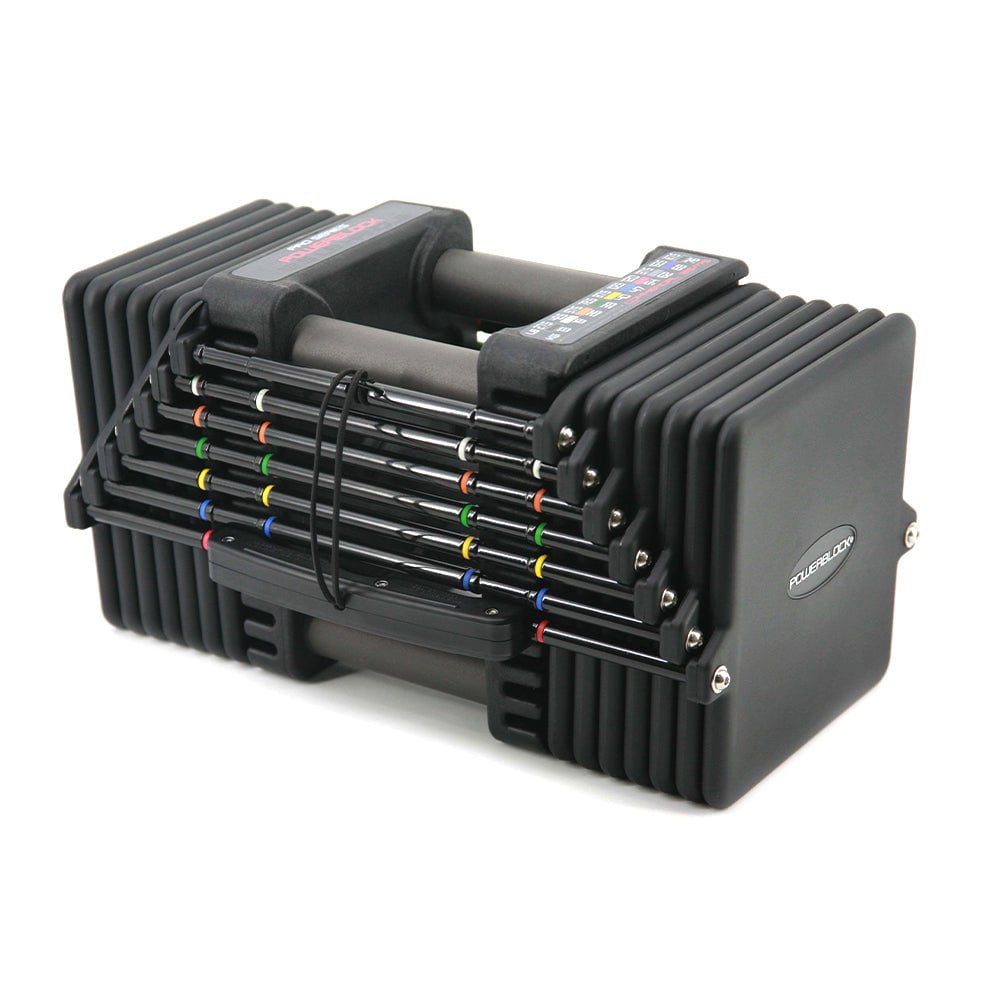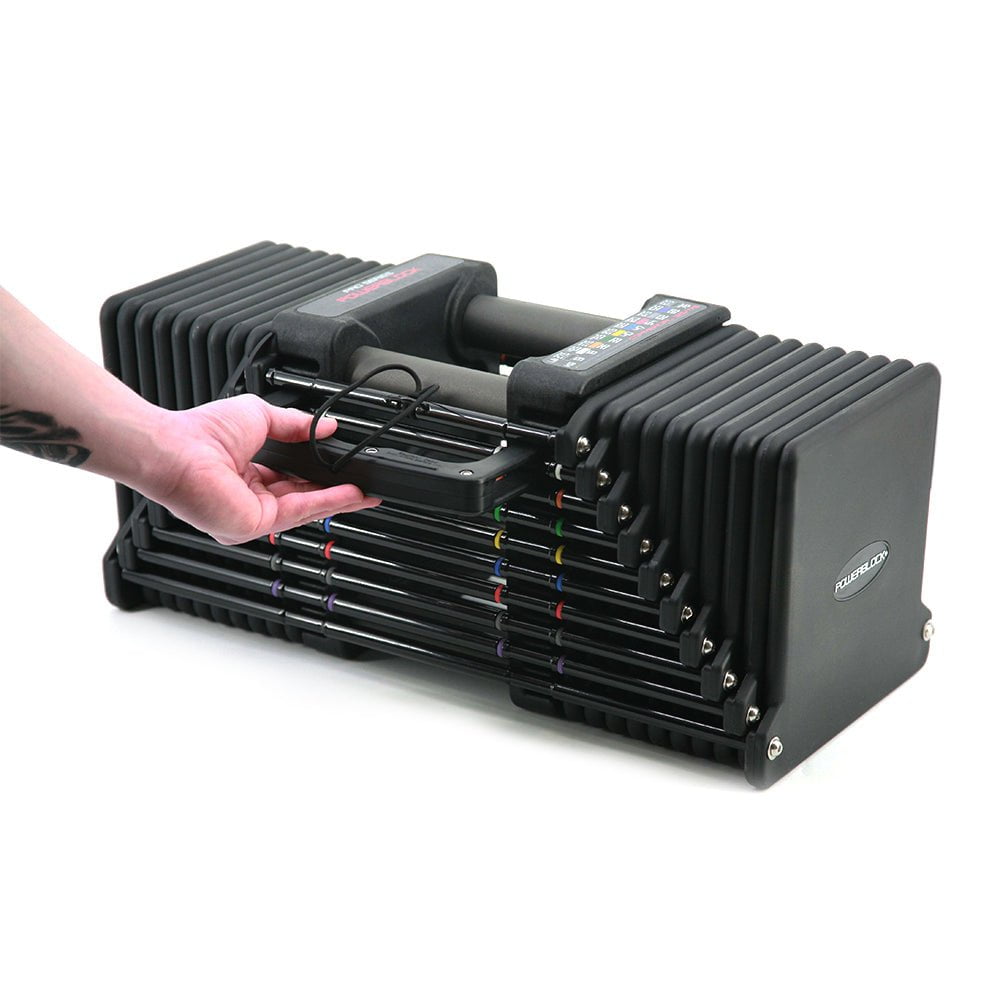 Pro 125 Commercial
From the world's number one maker of expandable weights, the Pro 125 Commercial from PowerBlock replaces 16 pairs of traditional dumbbells in one compact set-up for your home or commercial gym, including a convenient storage stand. The trademark design of the Pro 125 Commercial lets you move quickly between 5.7kg-57.6kg (12.5lbs-127lbs) on each hand, with colour coding for easy identification. Extremely comfortable, perfectly balanced and unbelievably tough, you'll make serious strength gains with this popular space-saving dumbbell set.
---
Key Features
UNMATCHED VERSATILITY AND PERFORMANCE

It will only take one session to understand why so many weightlifters and athletes choose PowerBlock. The Pro 125's open-designed handle makes it a great fit for any hand size, with easy accessibility and smooth, quiet performance. The ergonomic design ensures every selected weight is well balanced and safe to use, with a flexplate for even greater durability.

 

RAPIDLY CHANGE WEIGHTS ON THE FLY

PowerBlock's like the Pro 125 Commercial are taking over from traditional dumbbells, with a fast and easy-to-use selector pin to rapidly change the desired weight. Suitable for all fitness levels, you'll love how quickly you can move between weights during your workouts. The super-strong polypropylene pin is rated for a massive 227kg (500lbs) with magnets inside holding it securely once inserted completely.

 

ONE TONNE OF WEIGHTS IN A TINY FOOTPRINT

With the PowerBlock Pro 125 Commercial as part of your gym setup you can save valuable space by packing all of your hand weights into a single compact area. With a footprint of just 56cm x 64cm (21.5" x 25"), The Pro 125 Commercial block is equivalent to 16 pairs of traditional dumbbells with a massive weight of 1000kg (2211lbs) and can be expanded up to 79kg (175lbs) on each hand with the add-on kit. Your new Pro 125 set also comes with a customised heavy-duty steel stand for convenient storage.

 
Specifications
Usage: Full Commercial
Includes:

One set (of 2) PowerBlock PowerBlock Commercial Pro Series 125 Adjustable Dumbbells.
Handles with TPR Contoured Grip.
Includes one PowerBlock Pro Rack Stand

Weight increments: 12.5, 20, 27.5, 35,42.5, 50, 57.5, 65, 72.5, 80, 87.5, 95,102.5, 111, 120, and 127 lbs (5.7kg-57.6kg)
Total Weight per Dumbbell: 57.6 kgs
Weight Stacks: Urethane-coated steel plates provide smooth and quiet performance.
Dumbbell Colour: Black
Dimensions: 33 (L) x 18 (W) x 18.5 (H) cm
Warranty: 1 Year Commercial Limited Warranty
Compare PowerBlock Dumbbells - Please note the comparison page shows US pricing.
SIMILAR AVAILABLE PRODUCTS
Fabulous Adjustable Dumbbells
The quality of these dumbbells speaks for itself and built to last. It is difficult to find good adjustable dumbbells that can go as heavy as these PowerBlocks can.
Hi Omar,
Thank you for taking the time to leave a review! We're glad to hear that you're happy with your PowerBlock adjustable dumbbells. We understand that finding durable and heavy adjustable dumbbells can be a challenge, but we're proud that our product meets your needs. We hope you continue to enjoy your PowerBlocks for many years to come!
Happy workouts!
GAF Team
All you need
Fantastic product, sturdy, easy to use, easy to set up. Look amazing.
Accompanying stand is slick and easy to set up.
They are bigger than they look just from images.
A tiny bit bulkier than traditional dumbells but does not impact movements. Easily worth it for the reduced floor space.
Great service from the GAF team. Thanks!
Hi Peter,
Thank you for taking the time to leave us such a wonderful review! We are ecstatic to hear that you are loving your new PowerBlock Pro 125. We are also happy to hear that our team provided you with great service. Your satisfaction is our top priority and we are so glad to have met your expectations. We look forward to seeing you again soon!
Happy training!
GAF Team
Great service
Lachy and Raich were really good to deal with and made sure the pre-order and shipping went well. The dumbbells are great, the balance is good (a criticism of powerblocks I've heard but this model doesn't seem to have the issue), they're quick to change and durable.