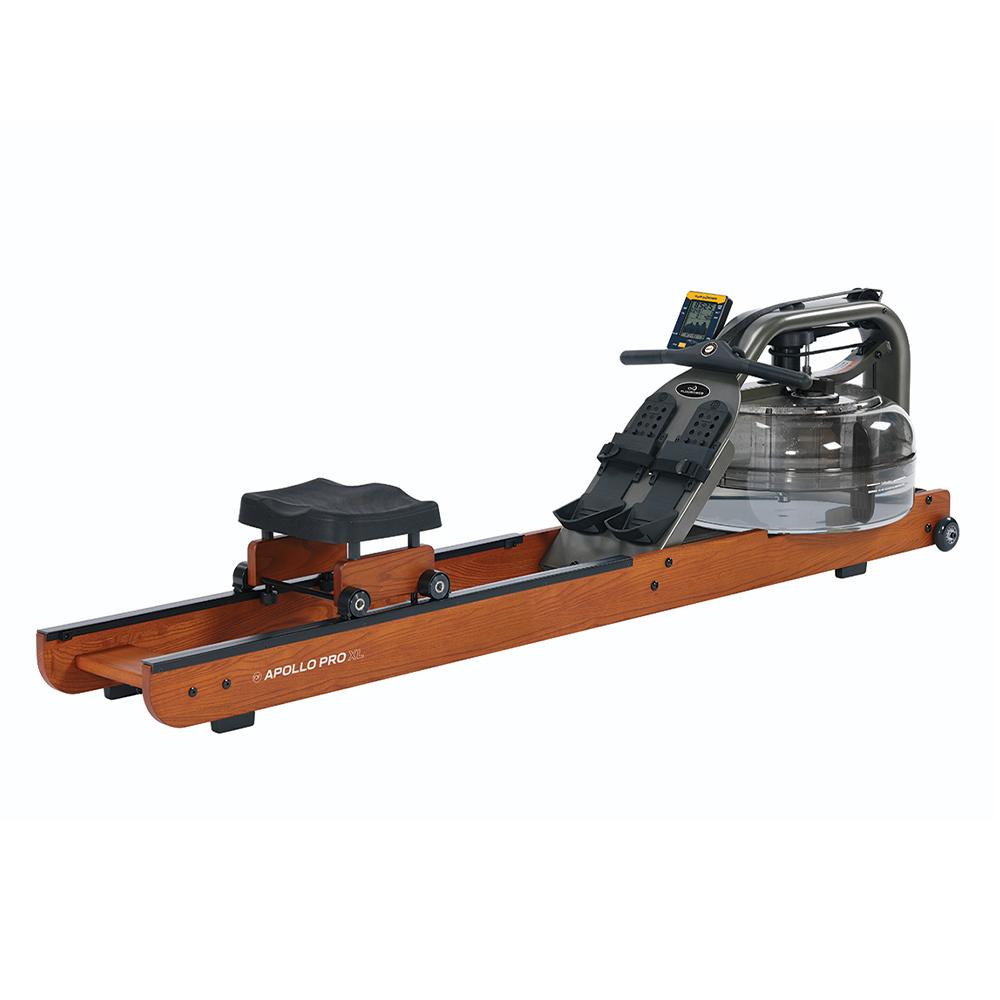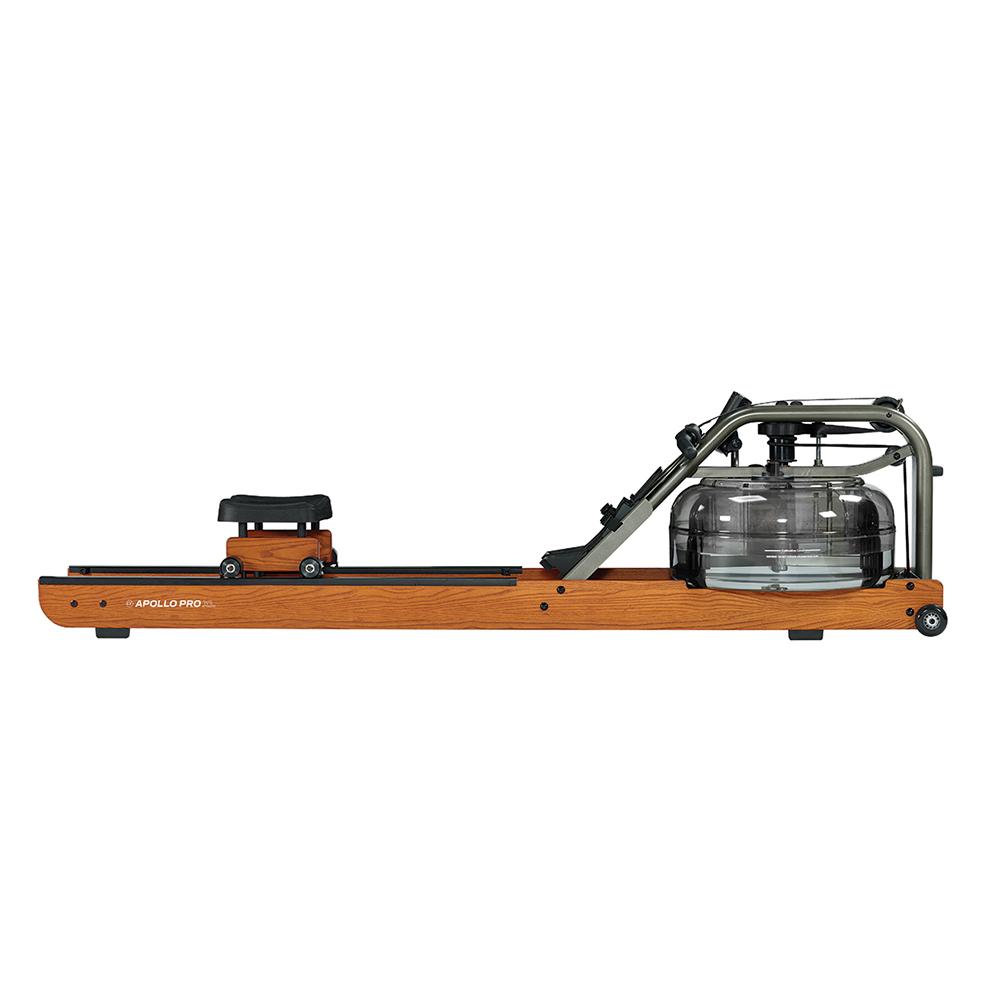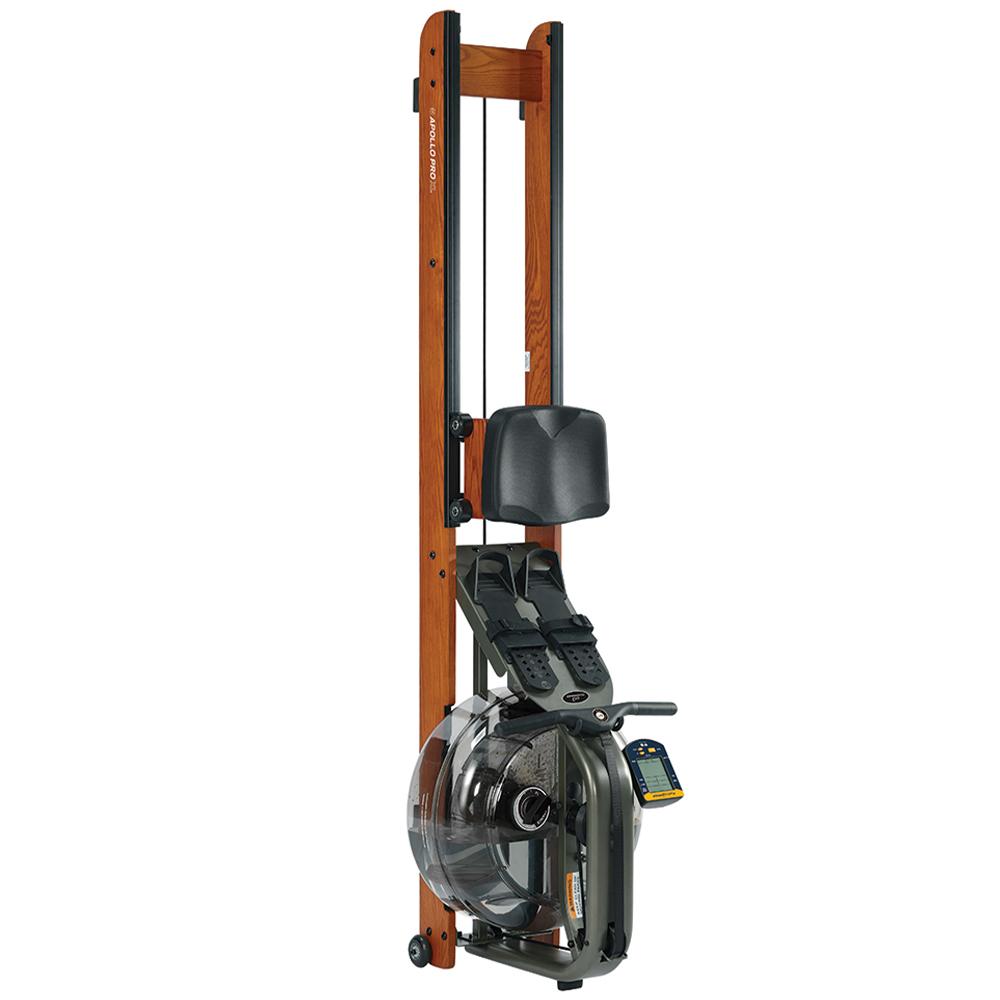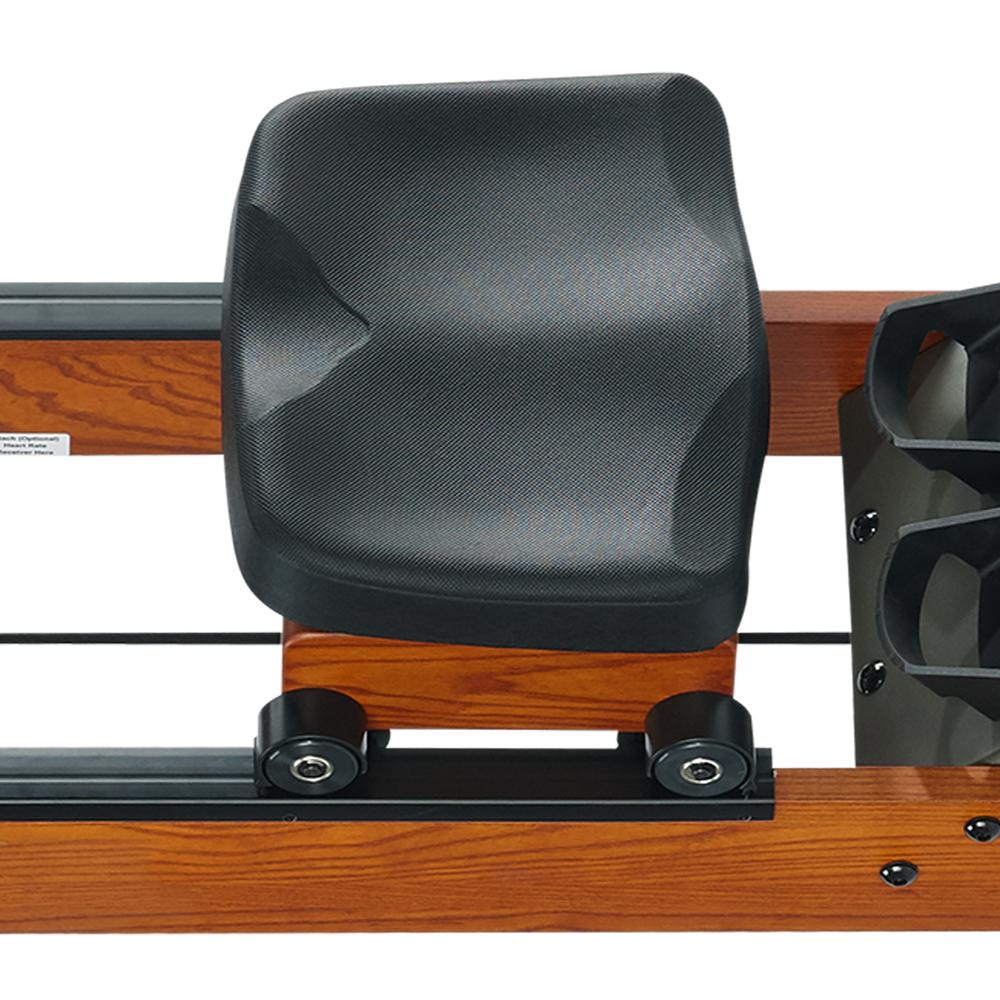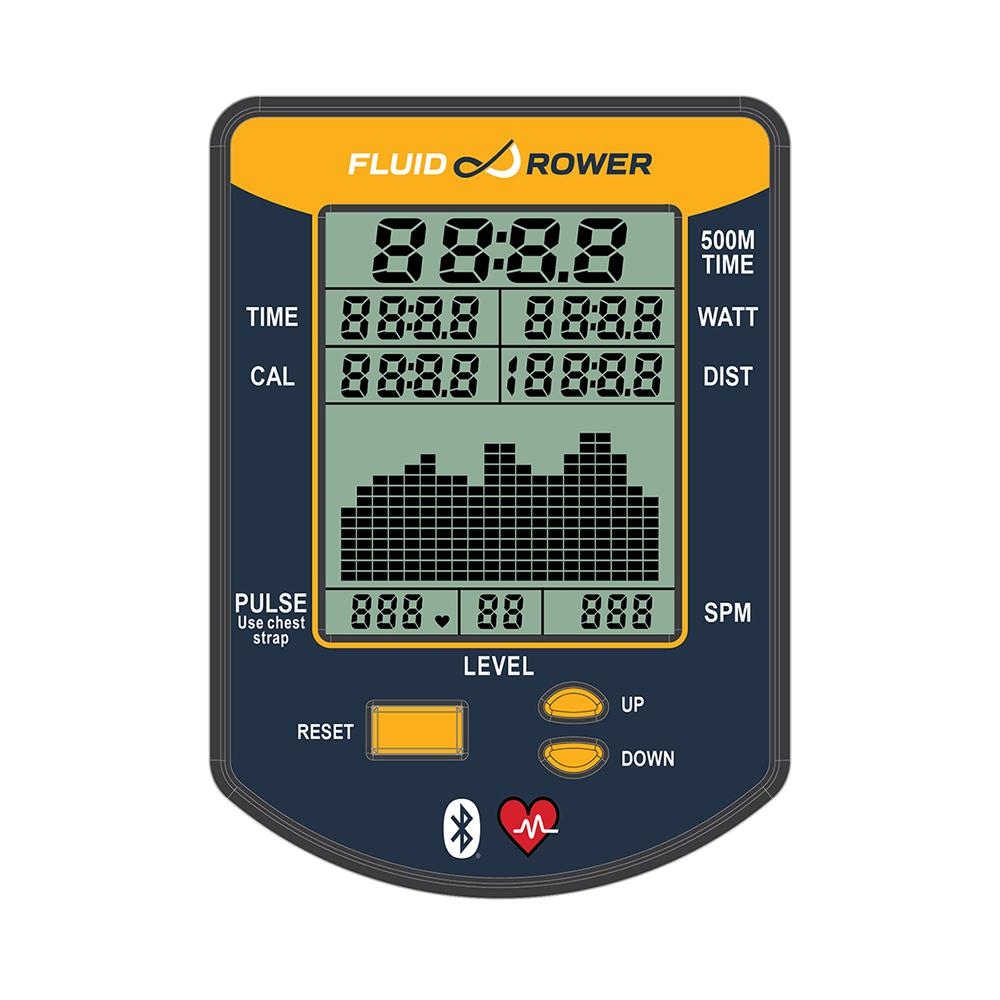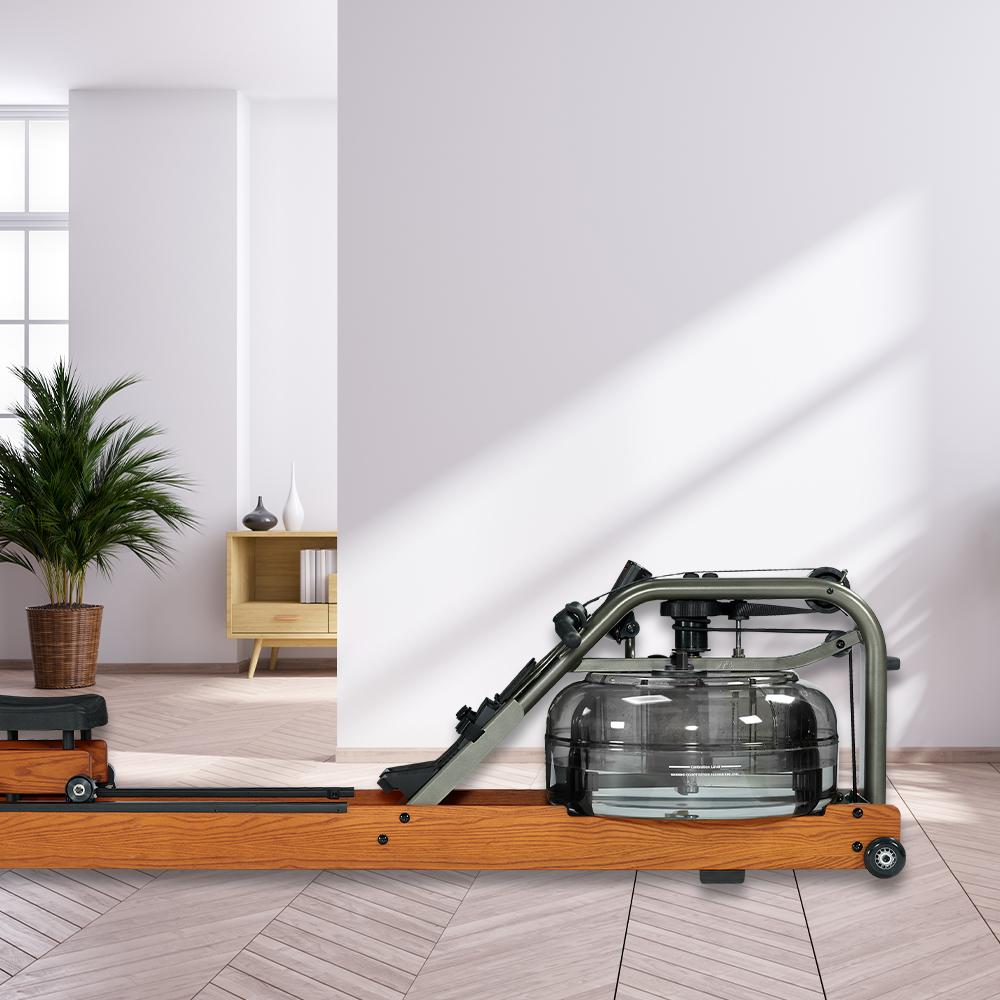 Apollo Pro XL
Get ready to enjoy a highly realistic rowing experience from the comfort of your home or studio gym. The Apollo Pro XL is a stunning commercial-grade rowing ergometer from Fluid Rower made with the highest quality American Ash wood wrapped around a robust sculpted steel frame. Designed for all fitness levels and delivering a zero-impact workout, the Apollo Pro XL offers 10 levels of Adjustable Fluid Resistance provided by the patented Twin Tank system. At only 36kg, this is one of the easiest rowers on the market to transport and store.
---
Key Features
BURN CALORIES & TONE YOUR ENTIRE BODY

Add the Fluid Rower Apollo Pro XL to your lifestyle and enjoy the benefits of great cardio hit anytime you want it. The zero-impact seated rower will help to strengthen and tone your quads, arms, shoulders and abs while providing all the endorphins you need to leave you feeling great for the day ahead.

HIGHLY REALISTIC ROWING EXPERIENCE FROM HOME

Feel like you're powering through open water with a highly realistic simulated rowing experience. The patented Twin Tank technology on the Apollo Pro XL simulates propelling a real boat via the instant catch at the start of every stroke and the consistent resistance all the way to the finish. The seat mechanism is precisely manufactured to make your recovery movement silky smooth and silent.

WORLD-CLASS DESIGN AND ENGINEERING

Every base has been covered during the design and manufacturing of your Apollo Pro XL, guaranteeing a high level of comfort, durability and performance.

Luxurious hand lacquered American Ash wooden frame
Premium ergonomic contoured handle delivers strong grip
Secure adjustable foot straps and heel cups
Industrial strength Nylon belt for a smooth, quiet experience
Contoured non-slip seat keeps you in the correct posture

INSTANTLY TRACK YOUR PERFORMANCE

The Bluetooth Console gives you a real-time Speed and Watts Scrolling History so you can track your desired pace during your workout. Your monitor includes:

Automatic Resistance Level Detection
Total Time and Total Distance
Average Strokes Per Minute
Calories Burned Per Hour
Flexibility to set your Workout Distance
Heart Rate monitor compatibility, including Polar Bluetooth® Monitors
Compatible with both Apple and Android Devices

CONVENIENT STORAGE AND PORTABILITY

The clever team at Fluid Rower has ensured your new rowing ergometer is super easy to store and move. Weighing only 36kg, the Apollo XL can be transported via the front transport wheels and safely stored vertically after your workout.

A TRAINING PARTNER FOR YEARS TO COME

Undoubtedly one of the most visually unique and captivating stationary rowers on the market, the Apollo Pro XL will tick all the boxes on your wishlist. Combine the beautiful design with durability, comfort and performance and you'll love every second of your workouts.
Specifications
Usage: Full Commercial
FDF Horizontal XL Twin Tank
10 Levels Fluid Resistance
Industrial Nylon Belt
Height Adjustable Footplate
Transport Wheels
Bluetooth Compatible
Polar Compatible
Dimensions: 213 cm (L) x 54 cm (W) x 56 cm (H) - 83.85" x 21.25" x 22.05"
Product Weight: 36.04kg
Max User Weight: 150kg
SIMILAR AVAILABLE PRODUCTS
A great rower – beware the strap
I have been using the Apollo Pro X Fluid Rower for 2 months.
The good:
1. It was easy to set up and looks beautiful.
2. It is mostly a pleasure to use I depending on my type of workout I regularly switch between resistance levels 4 through 7 (it has 10 resistance levels).
3. Connects via bluetooth to my Polar H10 heart rate strap.
4. The Fluid Connect app (on the Apple App Store) connects easily via Bluetooth.
5. It is great to do your own workout or follow along with an online rower class like those in Apple Fitness+.
The bad (see the attached images):
1. The strap attached to rowing handles came unstitched after 4 weeks while rowing hard at 30 strokes per minute on resistance level 7. I cannot believe the strap was so poorly stitched. I am lucky I had a sewing machine to fix it myself or I would have had to make a warranty claim and risk getting another poorly stitched strap as replacement.
2. The seat track stops too short of the foot track. I am flexible and with my knees fully bent, the seat hits the stoppers. I have had to adjust my rowing style to not fully retract.
I am mostly happy with the purchase and would recommend it to anyone because the rowing action is very nice. Of course I would let them know of my two "bad" points above.
Hi Evan,
Thanks a lot for your detailed feedback! We really appreciate you taking the time to share your honest review, your input will be helpful for our customers. Thank you for your recommendation it means a lot to us but please don't hesitate to also get in touch if you ever need assistance, our team is happy to help!
Happy training!
GAF Team
Great high quality rower.
Easy to assemble. Takes up little space when stored standing position which is easy to do. Comfortable cushioned seat. Simple app showing distance, time, cal etc I prefer this to a large screen and pay by month apps. I watch tv and other stuff so a screen showing a lake is not needed for me. Only con is the footrest digs into the back of my feet. Need to wear shoes and still had to put cushioning behind the heels to stop the strap pushing into my heels. Otherwise a great rower. Was a little noisier than I expected but I am in a small room and I wear noise cancelling head phones so I dont care and is not loud enough for anyone to complain. I definitely recommend to buy.
Hi Mark,
We appreciate you taking the time to share your rating with us.
We look forward to seeing you again soon.
GAF TEAM