Assault Air Bike - Black
Free Shipping
Use the Delivery Estimate form below to see if your postcode qualifies
With every product you purchase, GAF will help a child improve their health by supporting
Train at home on the Assault AirBike...
and take your performance to the next level! When we set out to design the Assault AirBike, we knew that the integration of sealed cartridge bearings in every pivot and moving part was an absolute necessity and were more than a little shocked when the count totaled twenty. Twenty sealed-bearings in all…tucked and hidden neatly away under machined and formed steel.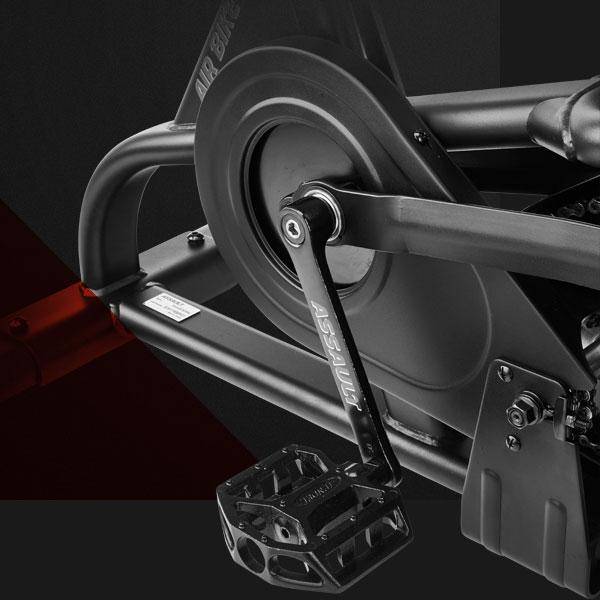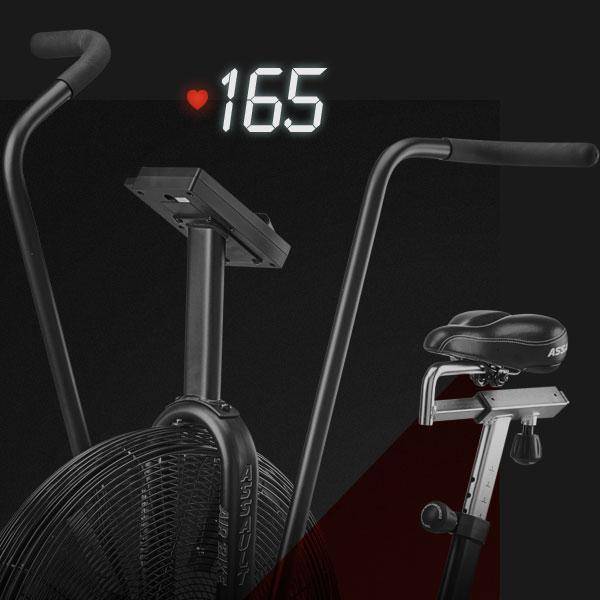 This Console Does No Consoling
Programmed to push you to your max, the Assault Classic console gives you seven on-board programs designed to match your mood. From a hard-hitting Tabata interval session to building your own workout based on calories, distance, time or heart rate. More choices mean more motivation.
No two athletes are the same and personalizing a piece of equipment to match an individual's ability and strength is nearly impossible. The Assault workout meets this challenge by ramping up resistance automatically as you push, pull and pedal with greater speed and force. In fact, the Assault can provide a virtually unlimited workout. Keep it mellow and level to target a heart rate range, or jump into a Tabata/high-intensity interval session that reduces you to a quivering heap of sweat. The Assault offers individualized and infinite adjustments for an unlimited workout. Let the Assault AirBike be the primary tool in your calorie-burning tool kit.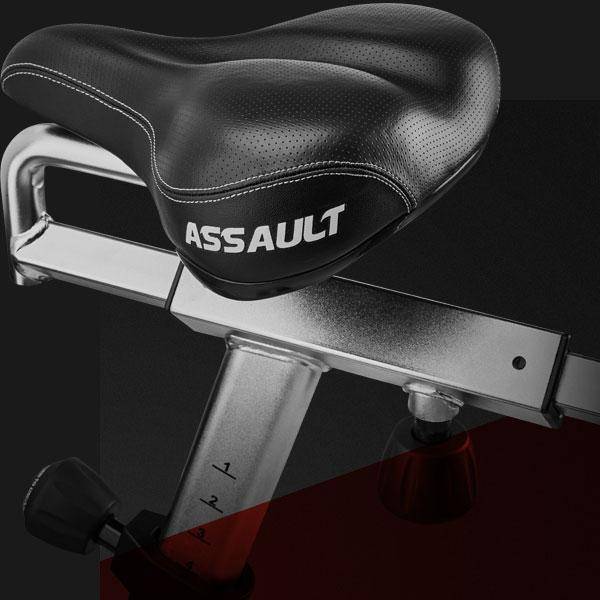 Designed by a dedicated team of fitness engineers with a consistent stream of feedback from enthusiasts, club owners, trainers and physical therapists, the Assault is truly the best-in-class fan bike available today. Built from the ground up, we started with a frame manufactured from full high-tensile steel that is sealed with a layer of industrial powder coating paint. To ensure durability and long periods of maintenance free use, all moving parts employ sealed cartridge bearings.
Dimensions Boxed: 52"Lx12"Wx36"H (cm 131Lx29Wx90H)
Dimensions Assembled: 51"Lx24"Wx49"H (cm 130Lx60Wx123H)
Weight Boxed: 119lbs
Weight Assembled: 98.1lbs
User Weight Capacity: 300lbs (136kg)
ASSAULT AIRBIKE COMPARISON CHART
FEATURES
COMPETITOR 1
COMPETITOR 2
COMPETITOR 3
AIRBIKE

The Assault AirBike has metal pedals with rubber pads for grip. A much stronger design for longevity. The Assault AirBike endures some of the toughest athletes at the Crossfit Games

No

No

Yes

The only fan bike on the market using the stability bar design, allowing for ease of movement when transporting your bike around the home or gym.

Threaded onto linkage arm

Threaded onto linkage arm (internal nut)

Machine pressed onto linkage arm (internal nut)

This ensures the tightness of this linkage and results in no wobble. It also makes assembly easier by just needing to tighten one nut, rather than 2.

VERTICAL & HORIZONTAL ADJUSTMENT POINTS ON SEAT

Tension Adj with Leaver

Tension Adj

Pop Pin through tube

The Assault Bike has Pop Pin adjustments on all adjustment points, so there is no chance of slippage from thread wear overtime.

ABS Plastic

ABS Plastic

Polyurethane

The Assault Bike pays special attention to the smaller detials like the strength of the Polyurethane wheels over normal ABS plastic. When transporting you have almost 50kg of weight on the wheels!

5 and 2

3 and 2

5 and 2

Assault Bike carry's the strongest warranty on the market and is backed by a reputable brand.

OFFICIAL CROSSFIT AIRBIKE

No

No

Yes

The Assault Bike is the only AirBike certified for use in the Crossfit Games.

No

Yes

Yes

On the Assault Bike Target Time can be selected from 1 minute and up, Calories from 1 calorie and up. The genric bikes only go down as low as 20 calories and 10 minutes respectively.
Additional Information
| | |
| --- | --- |
| SKU | AS-ASSAULTB |
| Brand | Assault Fitness |
| estimated assembly time | 60 min |
| warranty information | 5 years on Frame and 2 years on parts |
WARRANTY
For more information about this item's warranty, please click here.
Returns
For more information about our returns and refunds policy, please click here.
Why buy from us?
Learn more why you should buy from us, please click here.
Assault Air Bike
Awesome product couldn't be happier. Fast delivery will definitely use gym and fitness again.
Very Happy with the bike, true to advertisement no disappointing surprises !
Good delivery process without any hassles.
Great piece of equipment
I absolutely love my new air bike. It destroys me every time, which I guess is what you're after in an air bike... I hadn't heard of gym and fitness before ordering, however the process of ordering and delivery was painless and straightforward. I would definitely recommend them to others.
Delivery was extremrly prompt.As yet I have not assembled it, as I am taking it toGrafton.