---
Solid, compact and effective, the Force USA Leg Extension/Curl Machine is strong enough for gym use, while designed to fit into any home. Featuring SteelForce Structural Integrity and heavy-duty, DuraCore™ high density foam padding wrapped in sewn rip-stop VorTex™ Upholstery, the Force USA Leg Extension/Curl Machine is built to take a pounding. And, with a "Class A" rating, the Force USA Leg Extension/Curl Machine comes with a Lifetime Structural Warranty. The Force USA Leg Extension/Curl Machine is unmatched in its class and will give you solid and intense workouts for many years to come!
Features:
Weight Rating: 100kg
Adjustable over-sized pads.
Adjustable and removable leg hold-down rollers to give you maximum comfort.
Easy pull pin adjustment to switch from leg extension to leg curls in seconds.
Laser cut range-of-motion adjustments enables multiple start positions.
Includes a lock catch to enable legs to be locked in place for abdominal workouts.
Thick and comfortable roller pads.
Can be used with both Standard and Olympic Weights.
Gives you one of the best exercises to build a rock solid physique!
Perform your workouts knowing you are safe, with quality DuraCore™ padding you will not bottom out and can build your muscles to the max!
Heavy duty steel construction.
Quality bracing for correct body alignment throughout your workout.
Get a great workout with one of the strongest and most versatile Leg Extension/Curl Machines available.
Great for rehabilitation or any other workouts.
Quick and easy adjustments.
SteelForce™ Structural Integrity – Built to last high quality heavy-gauge steel that supports even the toughest of workouts.
DuraCore™ High Density Foam Padding – Strong and durable high density gym quality foam padding.
VorTex™ Upholstery – Commercial grade upholstery which has a rip-stop feature.
EcoCoat™ – Environmentally friendly powder coating.
Sewn Seats – Not only do they feature VorTex Upholstery, they look nicer too. Sewn seats are more comfortable and will last longer than vinyl seats that are just stretched or stapled on.
Lifetime Structural Replacement Warranty for home use, along with 2 years parts warranty on all cables and pulleys.
Assembly required.
NOTE: Weights not included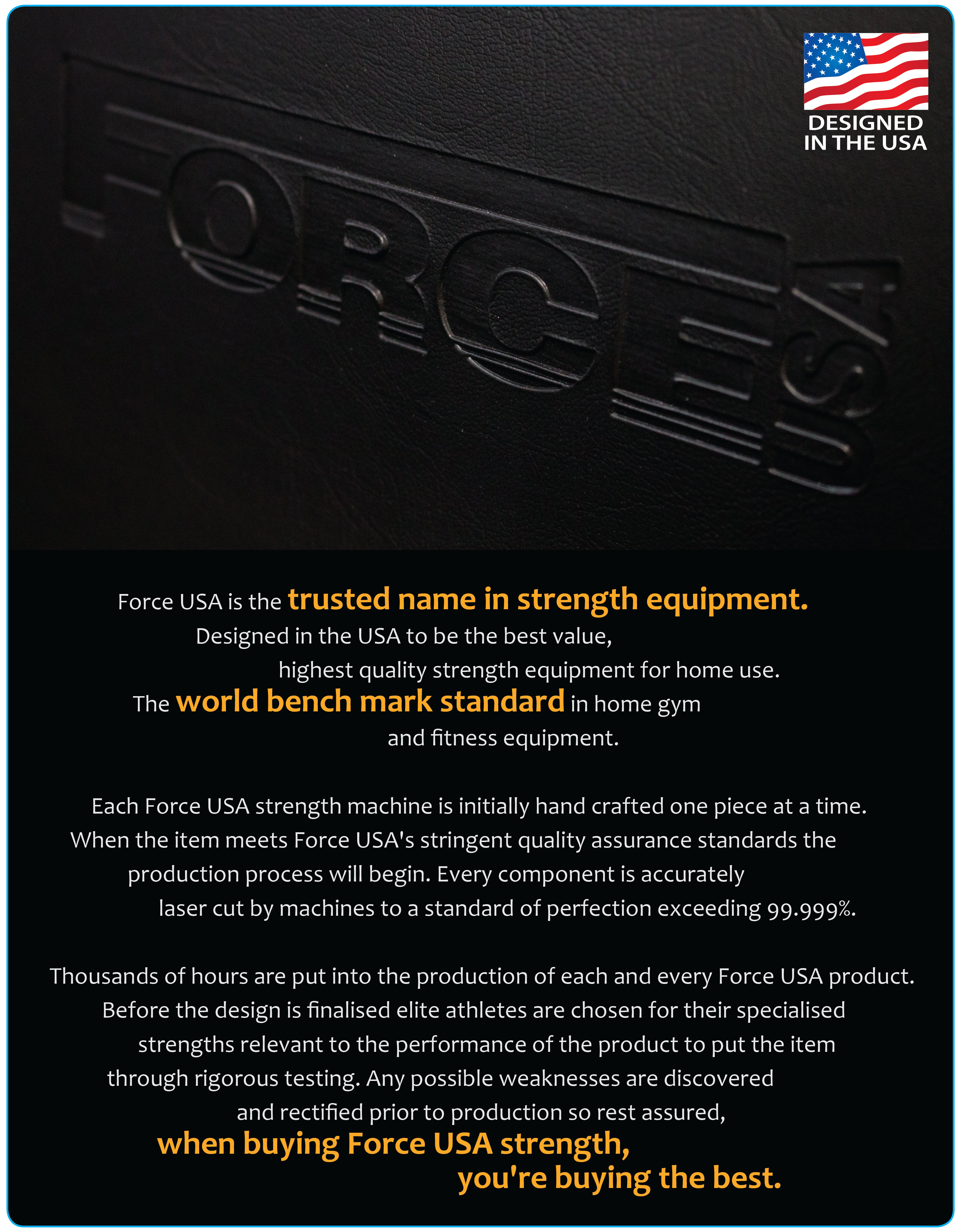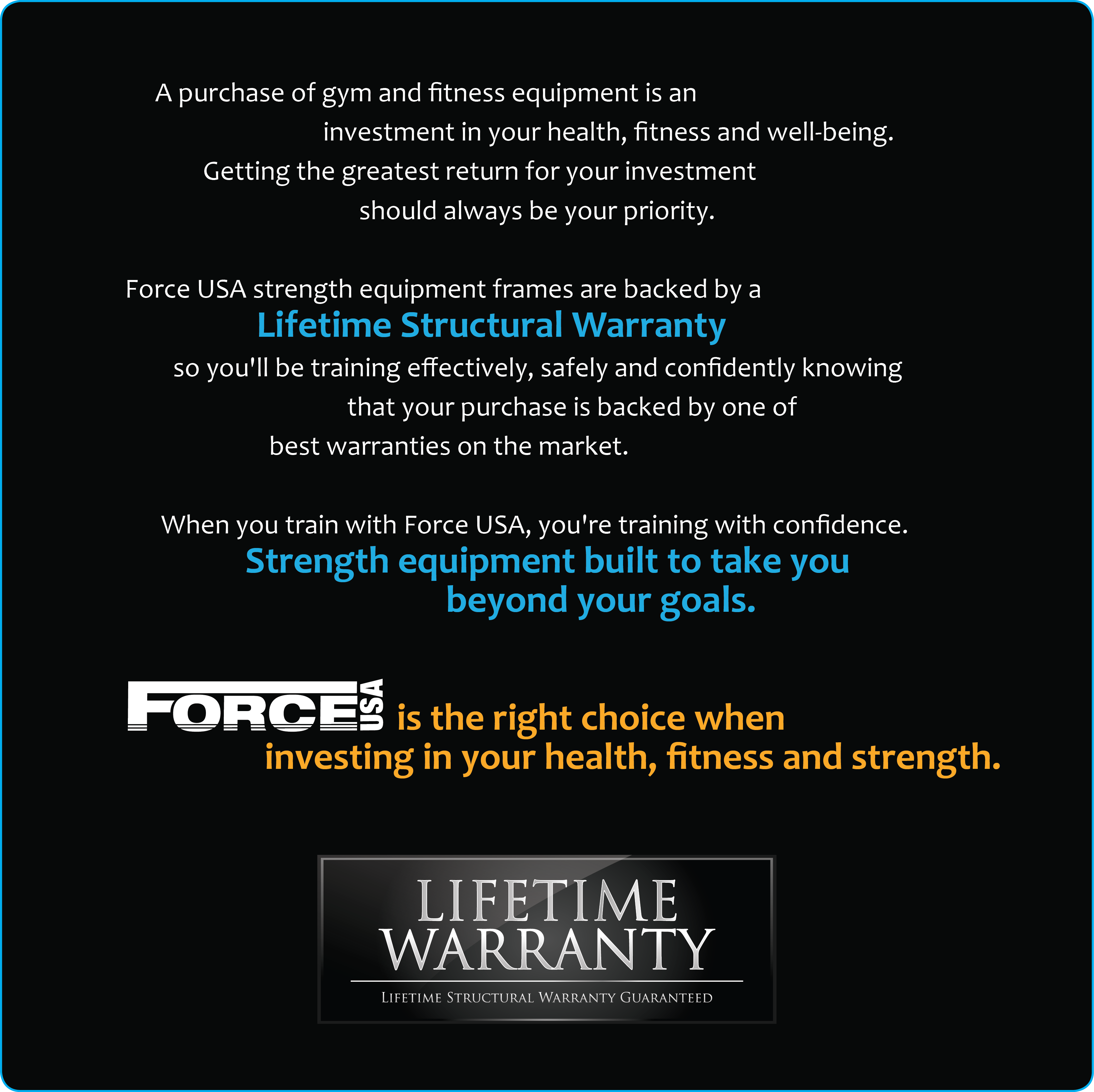 Love it
perfect for a skier with dodgy legs
Force USA Leg Extension/Leg Curl Machine
Leg curl/extension
Inconsistent feel over full motion.
Great
Just as described on the website, works great
measurements on several pieces are off
The pin holding the adjustment plate to the bar for loading has incorrect allowances, resulting in the leg bar having half an inch of lateral play and the disc not spinning freely
Still useable as long as you load enough weight to overcome the friction, but disappointing that such a large error in manufacturing wasn't picked up