Force USA
Seated Calf Raise Machine
Solid, compact and effective, the Force USA Seated Calf Raise Machine (F-CR) is strong enough for gym use, while designed to fit into any home. Featuring SteelForce Structural Integrity and heavy-duty, DuraCore™ high density foam padding wrapped in sewn rip-stop VorTex™ Upholstery, the Force USA F-CR is built to take a pounding. And, with an "Class A" rating, the Force USA F-CR comes with a Lifetime Structural Warranty. The Force USA F-CR is unmatched in its class and will give you solid and intense workouts for many years to come!
---
The Force USA Seated Calf Raise Machine will help you build your leg and calf muscles with a huge range of exercises! The Force USA F-CR is a must have for any gym.
NOTE: Weights NOT included.
Features:
Assembled Dimensions (LxWxH): 130cm x 58cm x 98cm (highest position)
Sleeve length: 22cm
Adjustable over-sized pads.
Easy pull pin to adjust height and distance in seconds.
Laser cut checker foot plate enables different start positions.
Adjustable knee pad for correct alignment during your exercise.
Can use Standard and Olympic Weight plates – comes with a weight plate adapter.
Includes built in safety catches for added safety during your workout.
Thick and comfortable pads.
Solid construction provides a safe workout with maximum weight capacity of 350kg's
Quality bushings provide an ultra smooth workout!
Gives you one of the best exercises to build a rock solid calves!
Perform your workouts knowing you are safe, with quality DuraCore™ padding you will not bottom out and can build your muscles to the max!
Heavy duty steel construction.
Quality bracing for correct body alignment throughout your workout.
Get a great workout with one of the strongest and most versatile Seated Calf Raise Machines available.
Great for rehabilitation or any other workouts.
Quick and easy adjustments.
SteelForce™ Structural Integrity – Built to last high quality heavy-gauge steel that supports even the toughest of workouts.
DuraCore™ High Density Foam Padding – Strong and durable high density gym quality foam padding.
VorTex™ Upholstery – Commercial grade upholstery which has a rip-stop feature.
EcoCoat™ – Environmentally friendly powder coating.
Sewn Seats – Not only do they feature VorTex™ Upholstery, they look nicer too. Sewn seats are more comfortable and will last longer than vinyl seats that are just stretched or stapled on.
Class A, Lifetime Structural Replacement Warranty along with 2 years parts warranty on all cables and pulleys.
Assembly required.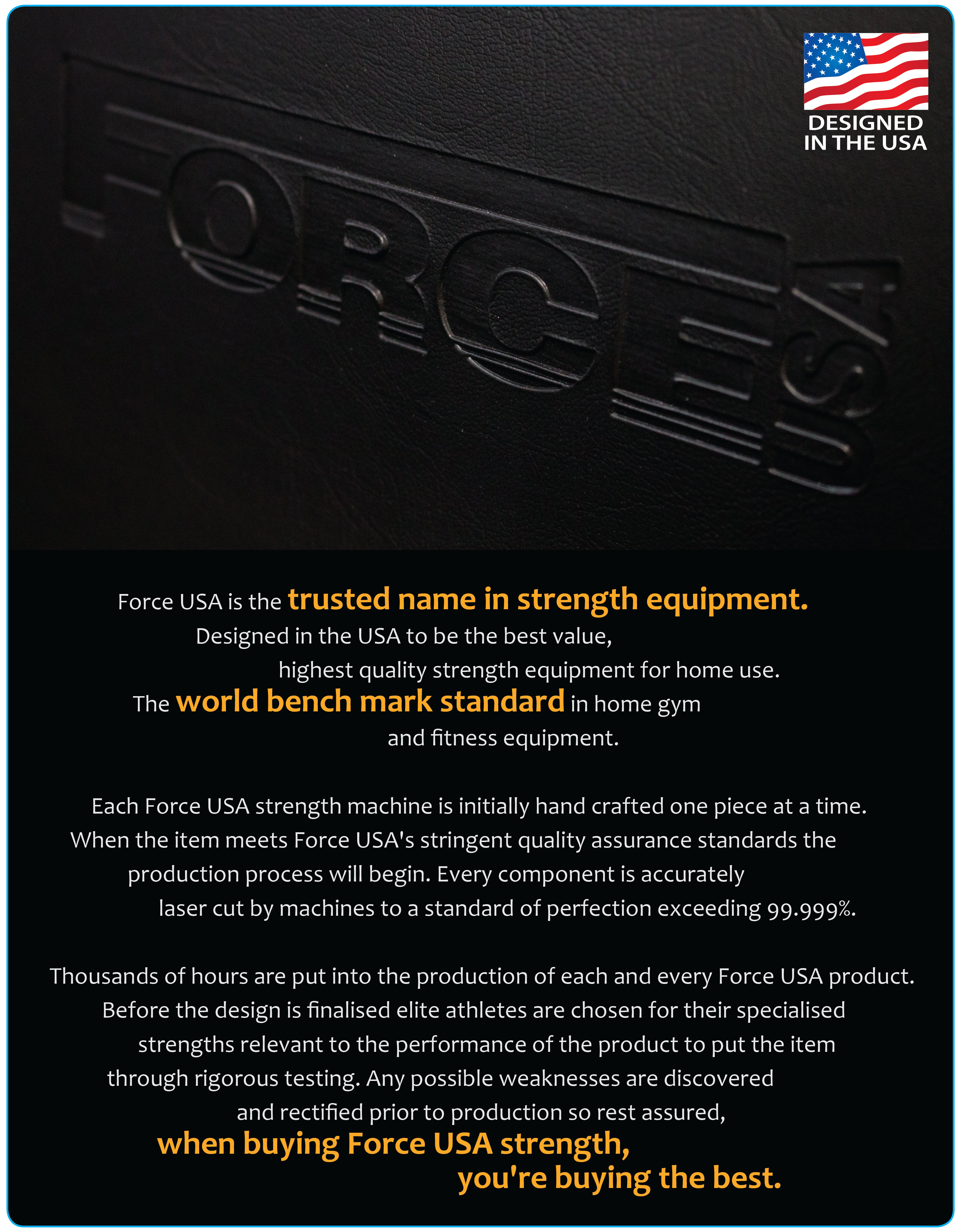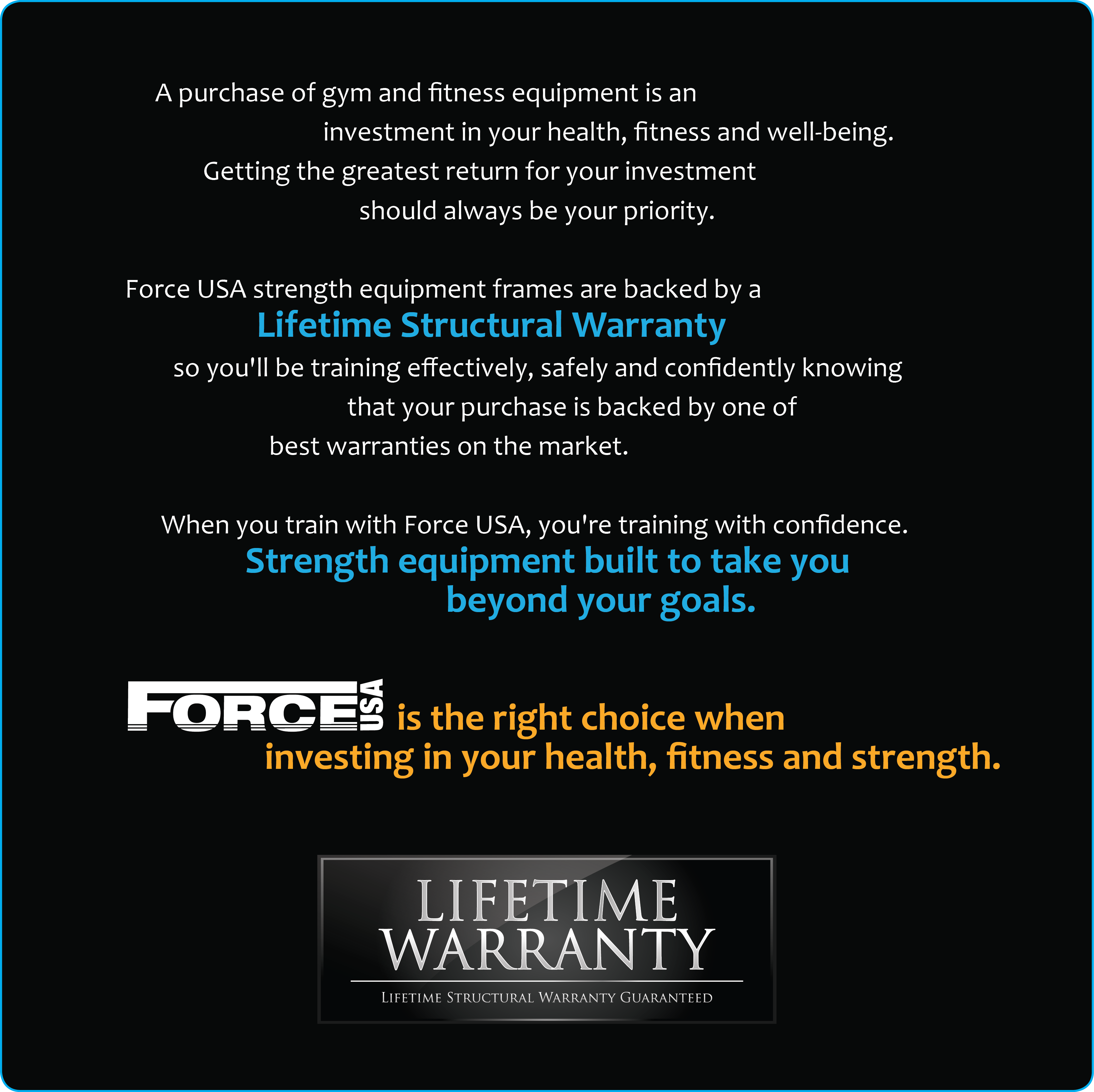 Few minor flaws but great for the price
I am 6'6, so straight away the adjustable kneepads in both directions (along the main frame, and height) was the selling point for me. Second was ForceUSA as I have an adjustable bench which is incredible. As in the title, a few minor flaws that could be so easily rectified would have made this comparable to a $1200 commercial grade seated calf raise.
1st. The knee pads are on a swivel which I did not tighten so much that it remained upright. The swivel I am guessing is to allow for that tiny bit of play under a lot of weight. The handles fell forward and hit the adjuster knob infront and took a chunk out of the support handle you use to rack the weight. I obviously made sure to tighten that and that issue was solved.
2nd. There is no end-stop incase you need to bail, so you are relying on the radius of your weight plates. In my case, the 20kg plates I use would drop onto either side of the end bracket and likely dent the frame because they dont clear it and hit the carpet. The plates are 43cm across, 38ish cm plates would proably clear it just enough. But again, an end-stop would have prevented that and is really an essential feature you need in some capacity with these.
3rd. The frame in general makes a lot of creaks and has undesirable play even without weights. Side to side movement, etc. It's obviously a low-cost product but compared to my ForceUSA bench (as solid as concrete) I am guessing completely different people worked on this design. When you are raising 100kg (or more), the brackets could have been made a little more rigid and would have had minimum impact on the overall costs to manufacture.
4th. No retaining clips were included. Annoying as I have 1 that came with a leg curl attachment for the bench I keep mentioning and will need to buy some seperately.
I wish they made it in black. Regardless, despite the flaws it is still by far the best value and has features to suit any plate, user or weight you can throw at it.
Force USA Seated Calf Raise Machine
There was an obvious delay for delivery to New Zealand but this machine was well worth the wait. Very happy with my purchase and I like this machine so much that I use it every leg day without fail. So easy to use, with such a simple movement that it absolutely does what it is designed to do - Blast those calf muscles and effectively develop the most stubborn muscle group known to mankind. Thank's Gym & Fitness for the excellent service and for supplying me with an awesome product at a great price.
Well werth the investment
Easy to put together, strong and well used by all clients , werth every dollar
Fast Shipping - Great Machine
Fast Shipping - Great Machine
Functional
Functional equipment that makes me enjoy working out even more. I commend Gym and Fitness for delivering it on time and in great condition like they promised. I am looking forward to making more transactions with them in the future, this is definitely not bad for a first time.