Force USA
Olympic Bench Press
An extreme Fixed Olympic Bench Press for the extreme Bench Press trainer. The F-FOB Fixed Olympic Bench Press is a solid, heavy duty Olympic Bench Press built to be STRONG and SAFE. With barbell hooks static weight tested to handle beyond 300kg, this bench is designed with the serious athlete in mind.
---
Commercial grade padding and upholstery provide a comfortable workout throughout your exercise movement and constructed for longevity. Even after 300kg was left on the weakest point of the backrest for an extended period of time the padding recovered immediately after the weight was removed.
The Force USA Fixed Olympic Bench is unmatched in its class and will give you solid and intense workouts for many years to come!
Product Specifications:
Assembled Dimensions (LxWxH): 68" x 55" x 53" (172cm x 124cm x 134cm)
Weight Rating: 300kg (including users weight)
Accepts standard and Olympic size barbells
Gives you some of the best free weight exercises to build a rock solid body!
Perform free-weight exercises knowing you are safe with reliable adjustable safety catches you can workout to failure and push your muscles to the max!
Fully adjustable barbell spotters
Get a full-body workout with the strongest and most versatile Fixed Olympic Bench available.
Built following IPF and IWF specifications.
SteelForce™ Structural Integrity – Built to last high quality heavy-gauge steel that supports even the toughest of workouts.
DuraCore™ High Density Foam Padding – Strong and durable high density gym quality foam padding.
VorTex™ Upholstery – Commercial grade upholstery which has a rip-stop feature.
EcoCoat™ – Environmentally friendly powder coating.
Sewn Seats – Not only do they feature VorTex™ Upholstery, they look nicer too. Sewn seats are more comfortable and will last longer than vinyl seats that are just stretched or stapled on.
Class A", Lifetime Structural Replacement Warranty along with 2 years parts warranty on all cables and pulleys.
Storage holders for barbells and weight plates
Assembly required.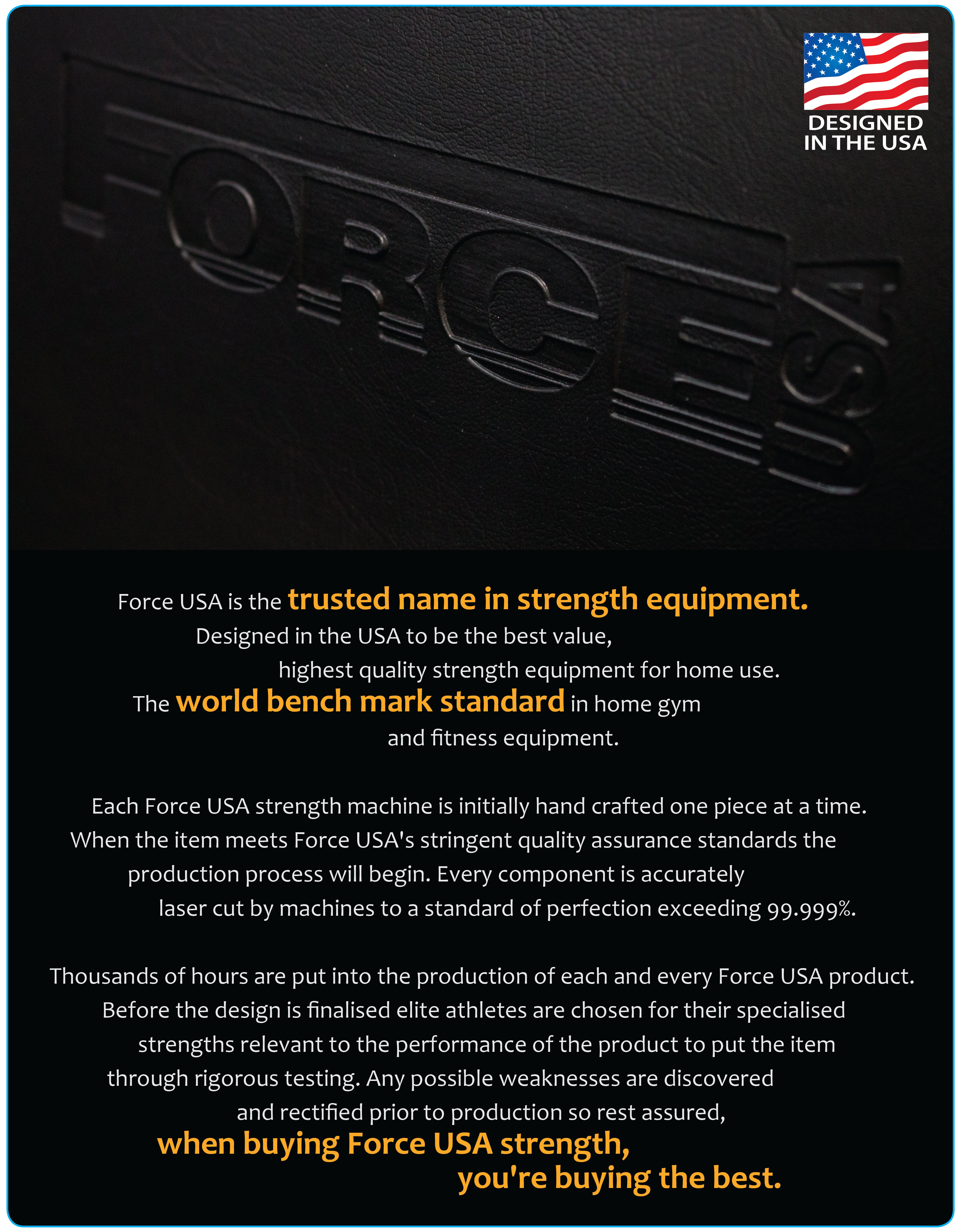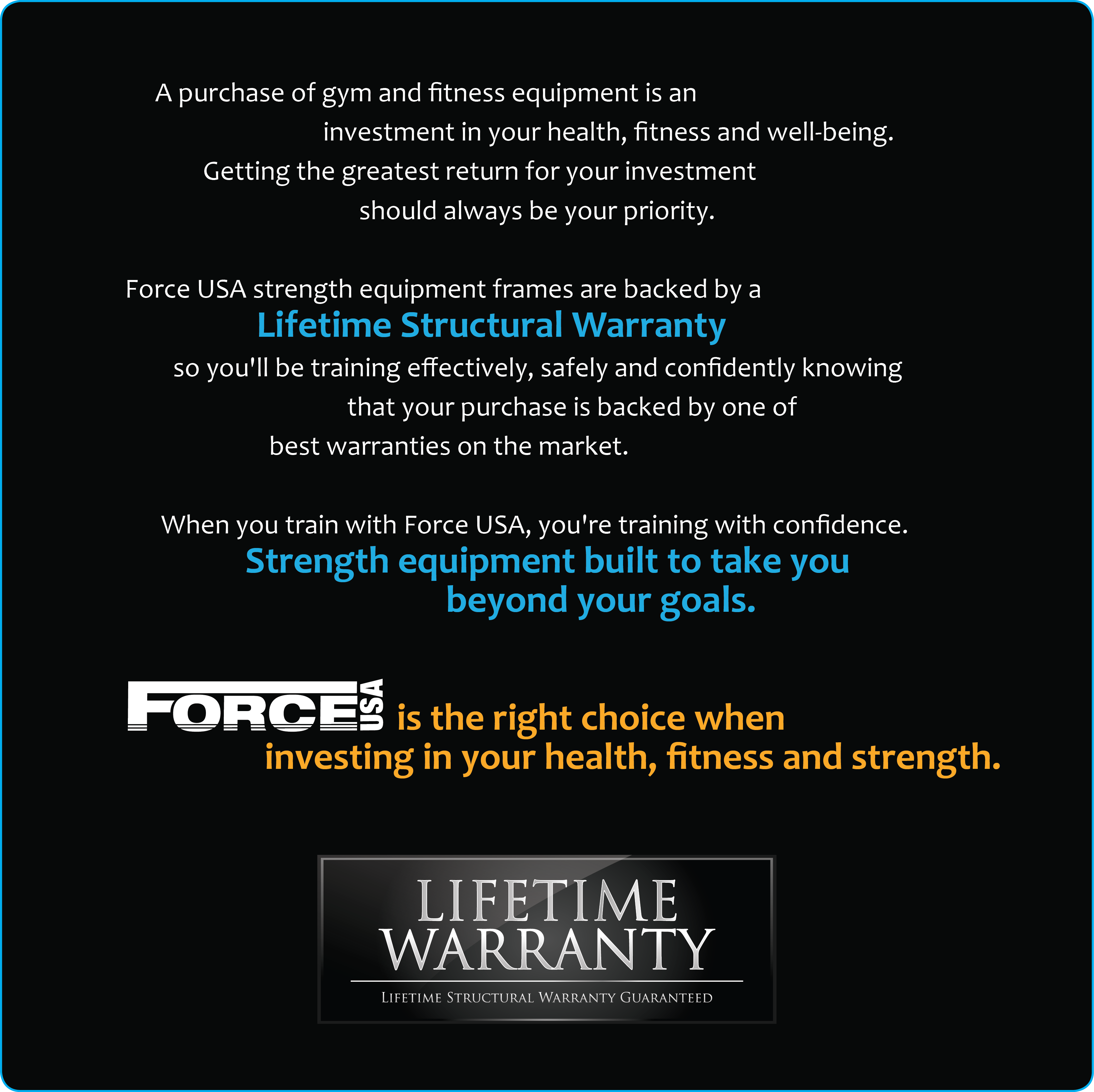 Great Bench
Received bench today after a bit of a wait, pretty excited once received, looks awesome, happy as with it, just on unwrapping the F of the force lettering was stuck to the wrapper and now it says orce😂, just flattened down rest of lettering as they were lifting. Look forward to many workouts👍
Good Quality
Very sturdy and high quality bench, it looks very good as well. Very happy with my purchase.
Strong bit of kit.
When I put this together I was missing a washer in which Gym and Fitness rectified, great customer service. The bench is strong durable and worth the money.
Great product at a great price.
Always quality products from Force USA.
Great piece of equipment
Would highly recommend buying this bench.