Health and Fitness Benefits of Infrared Saunas
While the popularity of traditional steam saunas go back centuries, infrared technology is a relatively new innovation in the recovery space. Infrared Saunas deliver a modern twist on traditional saunas while offering a lower-temperature option.
We've put together an overview on the health and fitness benefits of infrared sauna technology, so you can understand the ins-and-outs and decide if they're right for you. We'll dive deep into the different levels of infrared wavelengths, the effect on your recovery, muscles and blood circulation, plus what to look for if you're thinking of purchasing one for your home, studio or commercial space.
HOW DO INFRARED SAUNAS WORK?
The infrared waves themselves are invisible and harmless, falling within the electromagnetic radiation spectrum. The latest models currently available - such as the latest Infrared Saunas from Revel - include three levels of infrared wavelength which work together to deliver a complete rejuvenation experience.
Far-infrared wavelengths allow for deep, yet safe, muscle penetration to help you recover faster.

Mid-infrared infrared wavelengths work the body's soft tissue, increasing circulation and releasing oxygen to target injury areas.

Near-infrared wavelengths focus on improving cell health, skin rejuvenation, wound healing, tissue growth and pain relief.
If you're one of those people who struggle with the heat and humidity of fire saunas, then you may find infrared saunas easier to tolerate because the temperature doesn't rise as rapidly, creating a more comfortable recovery session.
WHAT ARE THE MAIN HEALTH AND FITNESS BENEFITS OF INFRARED SAUNAS?

1. INFRARED SAUNA FOR SLEEP AND STRESS
Infrared saunas help to decrease cortisol levels, enhance your sleep patterns and may also help decrease blood pressure. For many people who lead busy lifestyles, this can be a great way to completely unwind and take some time for yourself.
2. INFRARED SAUNA FOR DEXTOX
Sweating is a natural detoxification process to remove toxins and chemicals including heavy metals and radiation. Infrared saunas have been shown to detoxify 7 times more effectively than traditional steam saunas.
3. INFRARED SAUNA PAIN MANAGEMENT
For anyone dealing with chronic pain from fibromyalgia, arthritis, back pain or systemic inflammation, an infrared sauna can improve circulation, decrease muscle tightness and better manage general aches and pains.
4. INFRARED SAUNA WEIGHT LOSS
Boost metabolism and burn up to 600 calories while you sit back and relax in your own private sauna. Adding a 30 minute weekly session to your current training could be the perfect way to reach those fitness goals!
5. INFRARED SAUNA SKIN HEALTH
Similar to low level light therapy, Infrared Saunas can aid in the treatment of skin conditions such as acne, psoriasis, dermatitis, and eczema. Infrared saunas provide a non-invasive, relaxing, and refreshing approach to soothe itchy, sore, dry, and reddened skin, helping oneself manage the symptoms of skin conditions. The warm light emitted by an infrared sauna works to clear skin pores that were previously blocked, while also stimulating collagen production and reducing wrinkles by increasing blood flow to the skin surface.
6. INFRARED SAUNA IMMUNE SYSTEM
While you sweat it out and enjoy the deep muscle penetration, your immune system is also getting a boost. Infrared light helps to kill resistant bacteria and viruses.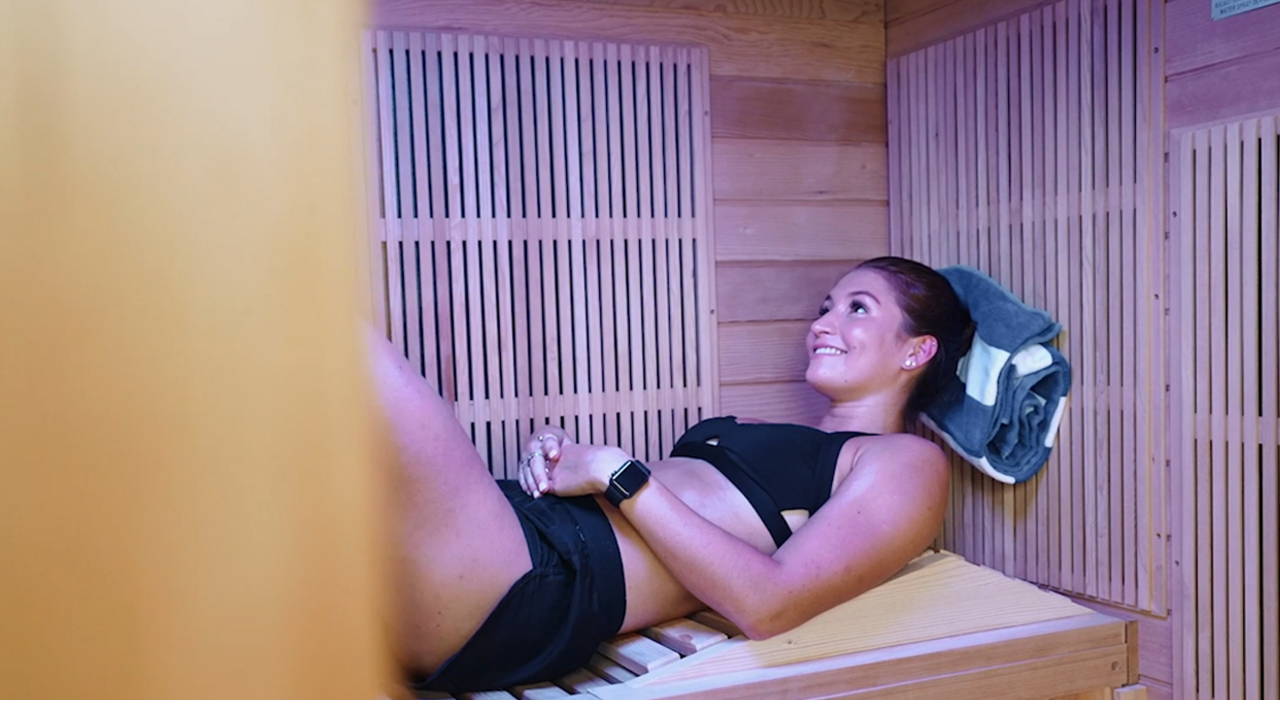 Not all infrared saunas are created equal and a quick online search will provide you with 100's of choices.
It's important to ensure that the build quality, materials, technology and warranty meet the highest standards. Not only will you get a more consistent temperature and infrared experience, but you'll save on maintenance and repairs over the long term.
Here at Gym and Fitness we've chosen Revel as our sauna recovery partner, with a range of infrared saunas to choose from for home and studio and commercial spaces!
Watch as strength and fitness coach, Layne Fletcher, walks us through the 4 major health benefits of the Revel Recovery Infrared Sauna. From improving cardiovascular health, lung capacity or simply providing a quicker recovery so you can train harder more often, learn more about why our infrared saunas are all the rage in the health and fitness space.
If you have any questions about the delivery and installation of these infrared saunas, our friendly customer service team is always happy to help!