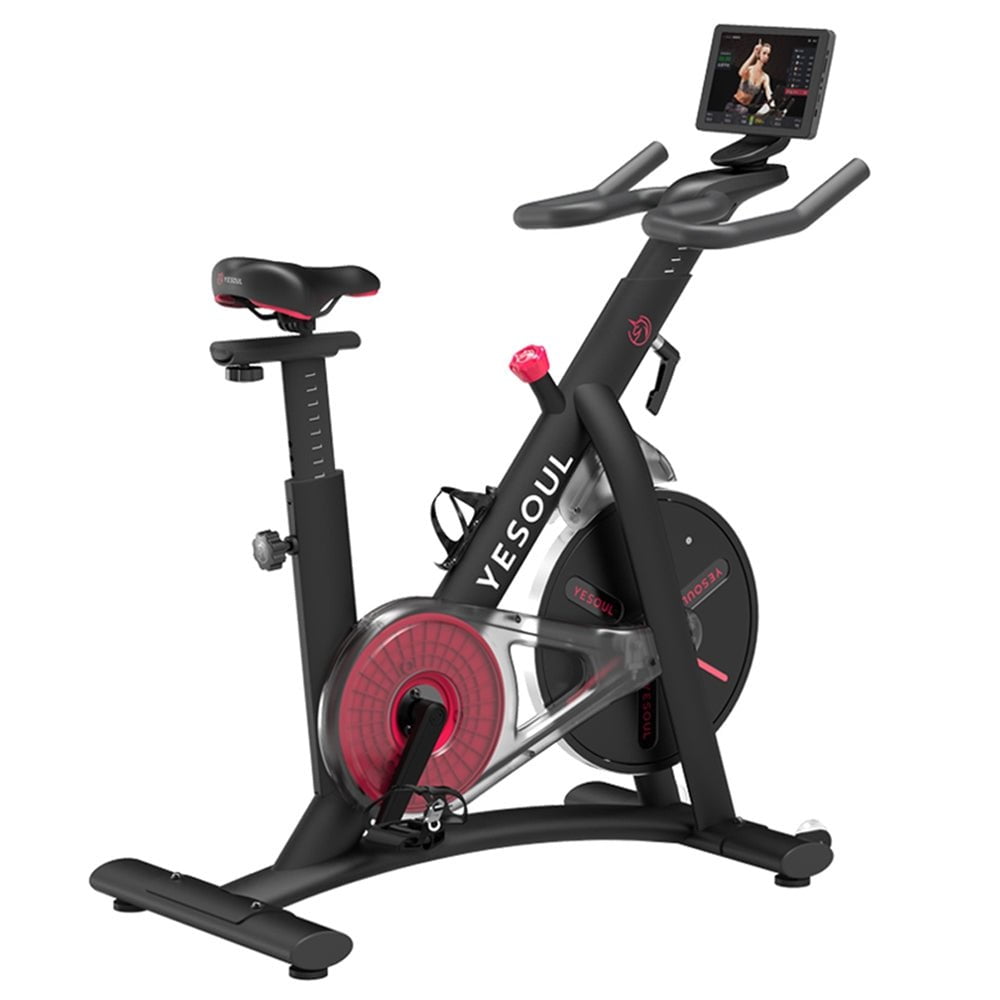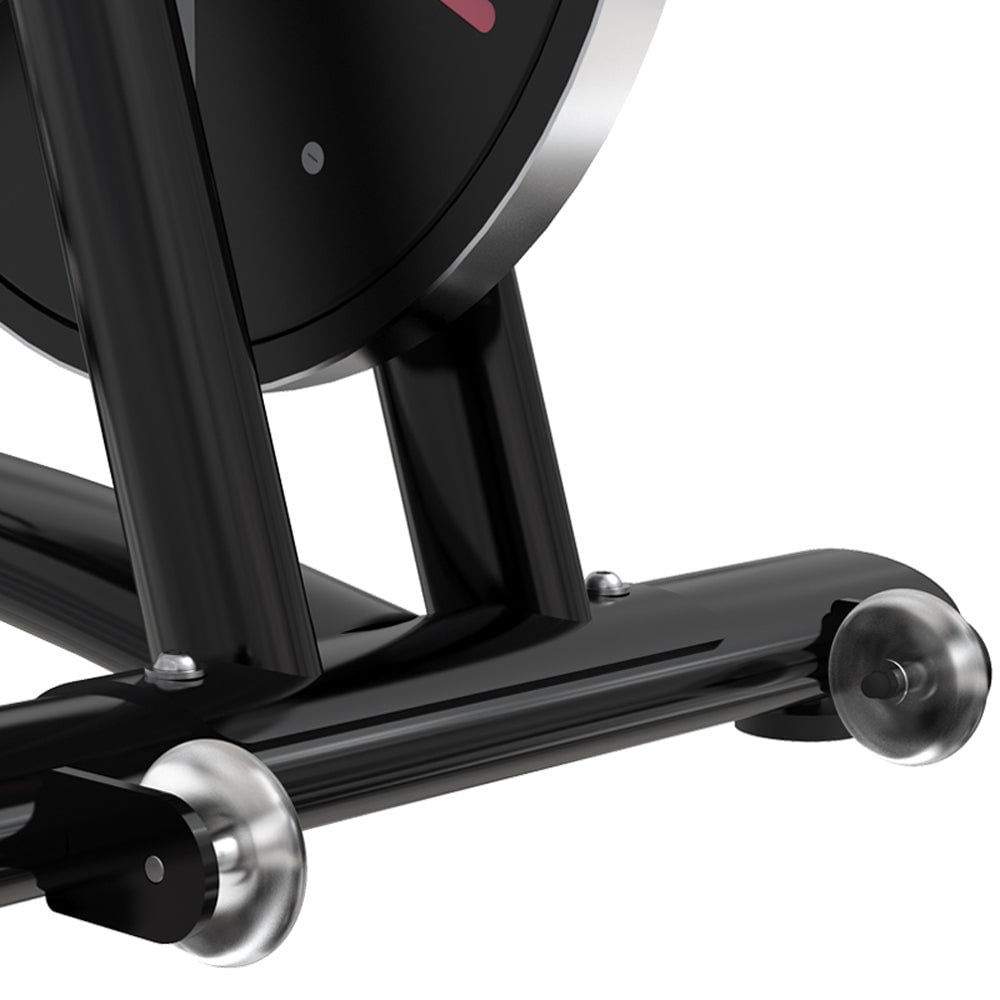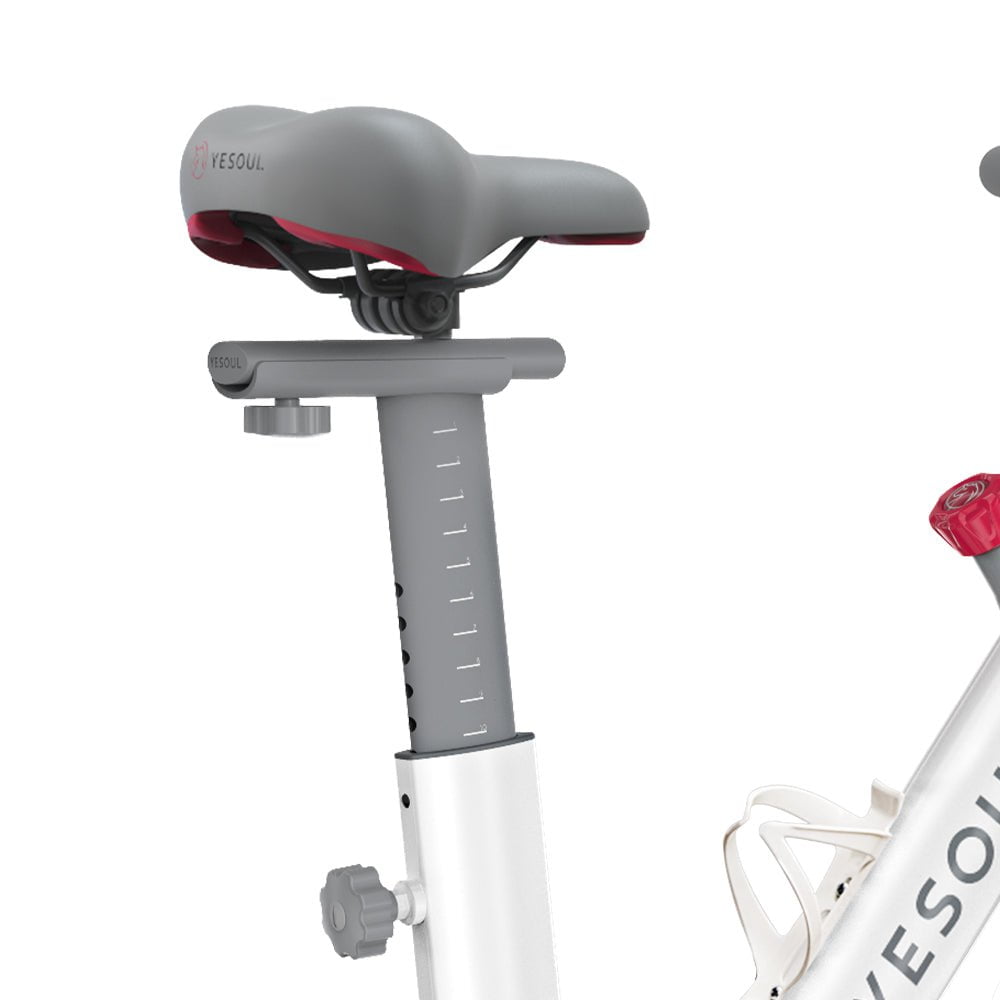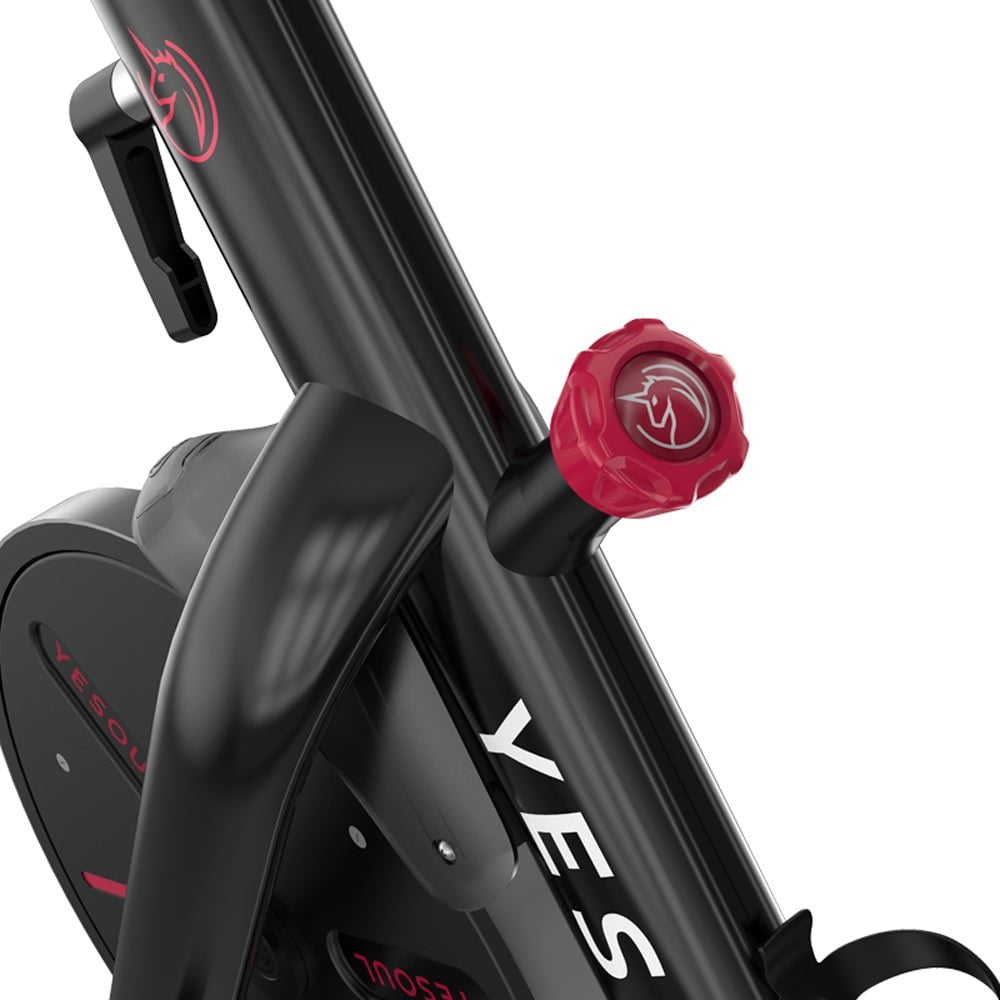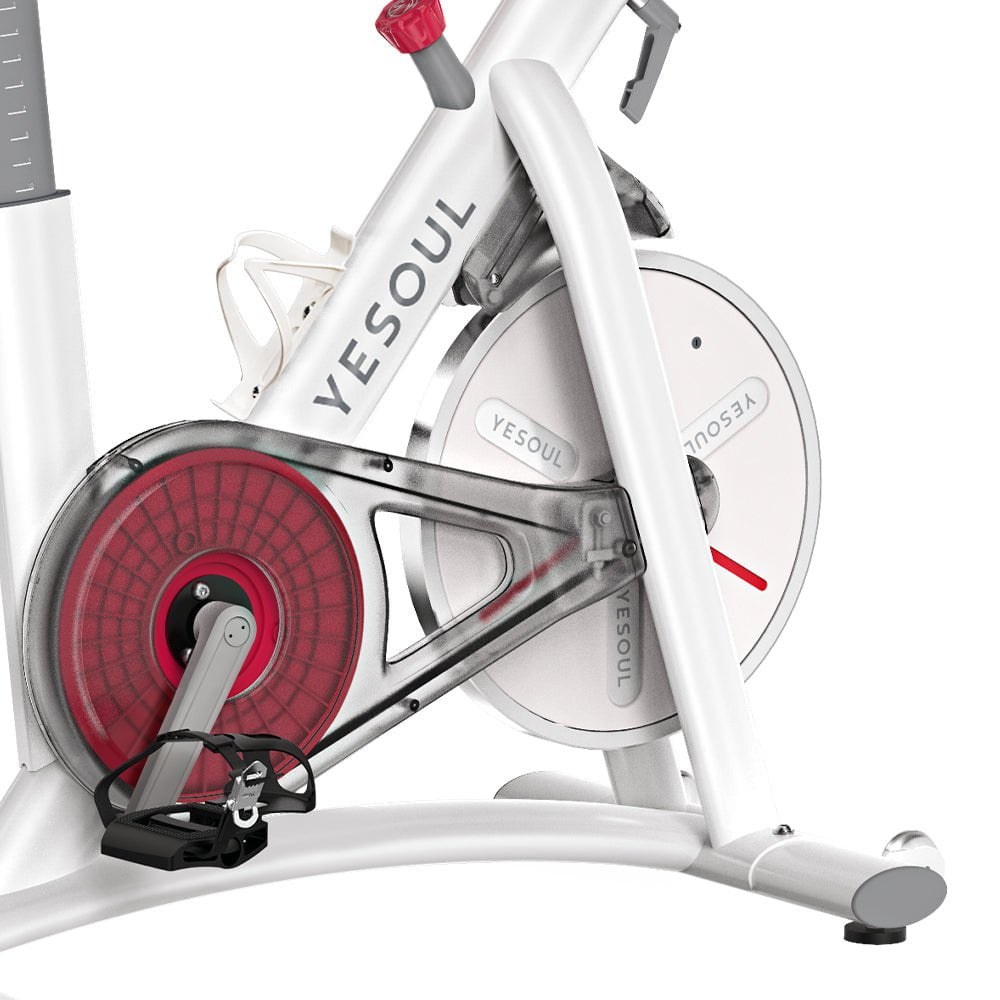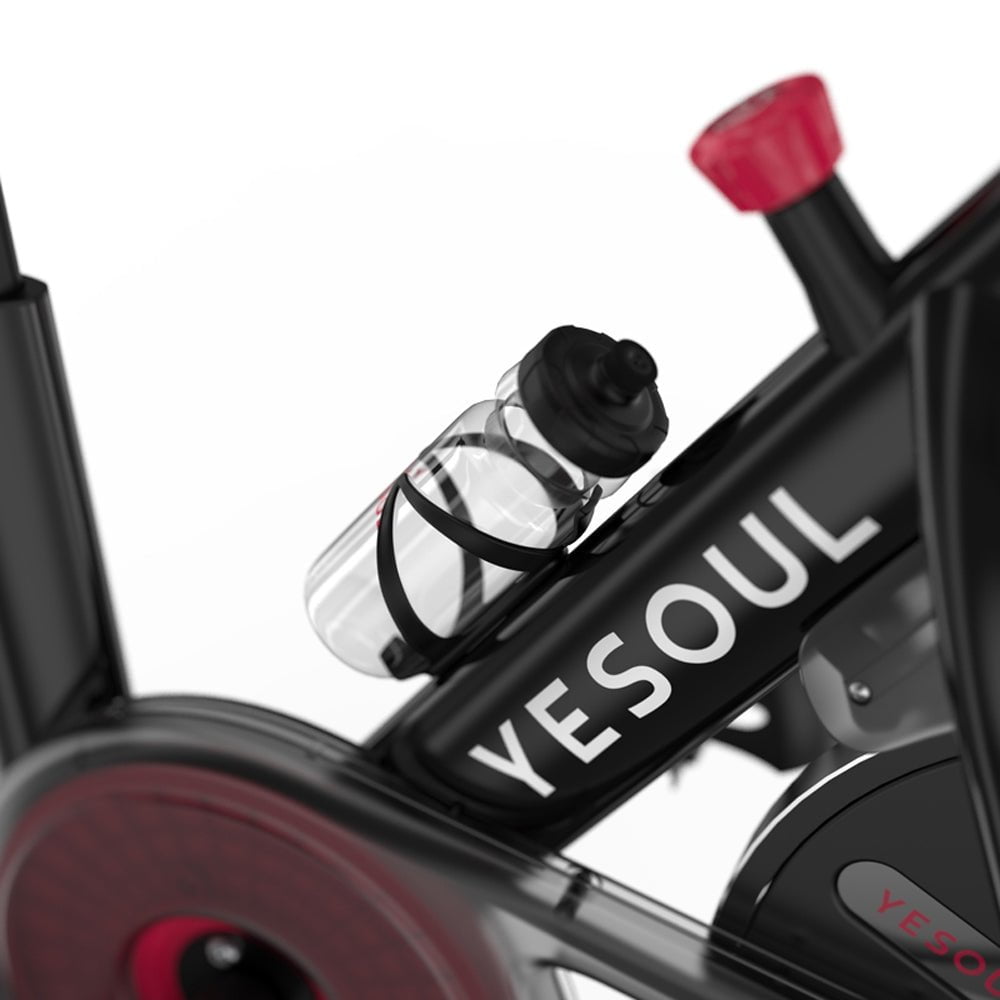 S3 Pro Spin Bike
Cardio will never be boring with the unbelievably smooth, quiet and easily adjustable S3 Pro Spin Bike from Yesoul. The next-generation magnetic flywheel delivers 100 levels of resistance so you can easily move between intensity levels. Featuring 10 seat adjustments, 9 handlebar adjustments and a 10.5-inch touchscreen console to use with the Yesoul training apps so you can customise every single workout. Choose from a classy black or white gloss finish with a commercial-grade build and you have a studio level home spin bike without the price tag.
---
Key Features
INNOVATIVE MAGNETIC RESISTANCE

The new generation aluminium magnetic flywheel on the Yesoul S3 Pro Spin Bike delivers a smooth, super quiet ride, unlike anything you've experienced before. With unique 100 resistance levels to move between, the belt-driven S3 is designed for all fitness levels and allows you to push yourself every workout.

 

IMMERSIVE WORKOUT EXPERIENCE

Your 10.5-inch touchscreen console screen gives you an interactive workout experience every time you hop on.

The S3 Pro Spin Bike offers access to the awesome Yesoul App* so you can start your home fitness journey with 100's of interactive classes led by world-class trainers.

Travel the world, stay motivated, keep your sweat on and track your performance with live metrics such as Speed, Duration, Calories Burned, Cadence and Power.

 *Membership not included.

 

CLEVER, DURABLE ERGONOMIC DESIGN

With a triangular body structure and "H" shaped base design, the S3 Pro Spin Bike is more stable than its competitors.

Yesoul has created a highly customisable spin bike to suit all body shapes and fitness goals. The S3 Pro Spin Bike comes has:

Wide, ergonomic seat offering all the comfort and support you need
10 seat height adjustments and 9 handlebar adjustments
Multiple handlebar grip positions so you can sit high or low
Commercial grade stainless steel frame and wear resistance exterior

 

10 REASONS TO CHOOSE THE S3 PRO

The S3 Pro Spin Bike comes with a huge range of features that are sure to tick all your 'most wanted' boxes.

Designed to cater all fitness levels and body types
100s of interactive spin classes led by trainers
100 levels of smooth, belt-driven magnetic resistance
Multiple seat and handlebar adjustments
Toe clip pedals or foot strap for sneaker use
Modern, fresh black or white gloss finish
Commercial grade build for added stability and durability
Convenient water bottle holder
Handy transport wheels for easy portability
Emergency brake to stay safe at all times

 

SAFE, ENJOYABLE WAY TO TRAIN

A spin bike for your home or studio gym offers the perfect way to train safely in the comfort of your own surroundings. Boost your cardio, reduce stress and feel great every time you hop on.

Forget having to buy a gym membership or commute to your local gym, your S3 Plus Spin Bike is ready for you 24/7!

 
Specifications
Usage: Domestic
Colour: Black and White models available
Connection: The Yesoul monitor only connects to standard 2.4ghz signals
Important Specs:

10.5-inch touchscreen (Yesoul App only)
0-100% magnetic resistance
6.5 kg flywheel
Smooth And Low Noise Operation
Belt drive
Suitable for user height between 150cm to 195cm
Water bottle holder
Emergency brake
Handy transport wheels

Product Weight: 32 kgs
Max User Weight: 120 kgs
Dimensions: 51cm (W) x 101cm (L) x 116.5cm (H)
Warranty: 12 Months (Frame, Parts + Labour)
SIMILAR AVAILABLE PRODUCTS
Yesoul S3 Pro Spin Bike
I purchased this brand and model for several reasons.
The brand has been compared to Peloton but as a "budget" or "Entry Level" product.
I have to say once delivered and built, which was a very quick and easy process, this bike is high quality, easy to use and very pleasing on the eye.
You can download the supporting App and without a subscription try a few interactive classes. For $14.99 AUD a month you can sign up for a full subscription.
Paying annually affords you a discount. It should be noted the prices advertised are in USD.
Once your on the bike other people will have trouble being disturbed by any noise generated.
Overall this was a great purchase and suited my budget, for a beginner like myself I would recommend this product to all. Also noting from placing the order to delivery (interstate) was 3 business days.
Hi Charlie,
Thank you for your excellent review! We're so delighted to hear you are happy with the Yesoul S3 Pro Spin Bike and if you ever have any questions or concerns, please feel free to get in touch, we're happy to assist :)
Happy cycling!
GAF Team
Screen not working with the bike
Hi
I final got a chance to unpack my new bike in the weekend and put everything together.
Once completely put together and went to test the bike, I am unable to get all functions working on the screen.
As the picture below the highlighted yellow do not work, unless I move the cable around, from the bike to screen. But will not keep working.
Ive turned everything on and off rebooted everything and still no change.
Iveremoved the screen from the bike and reconnected and ensured all connection are secure, but still no change.
Its either the cables or there is a faulty connection to the screen.
Your help on this would be greatly appricated, as theses functions are very important for tracking my fitness goals
Cheers
Jason Hickford
Hi Jason,
Thank you for your detailed review and we're sorry to hear you are experiencing issues with the screen of your bike. We can see that a member of our team is in communication with you to resolve the issue.
Please don't hesitate to reach out to us should you have further concerns.
Kind regards,
GAF Team
Great bike
I've had this bike for a few weeks now and absolutely love it. I love that they have options for classes as well as free rides. The membership was also reasonably priced.
Hi Ashleigh,
That's wonderful! We're so glad to hear that you're loving your new bike and taking advantage of our membership options. We hope that you have many more enjoyable rides!
Happy Cycling!
GAF Team
A great, user friendly spin bike
Great service, from the moment I purchased through to delivery.
Easy to set up, easy to connect and very user friendly for beginners like me.
Super quiet, the only way way my husband knows I'm on it is to discover me enjoying a ride.
The different instructors on the Yesoul App are fun and encouraging. Such a variety of rides and workouts depending on my own needs or what I feel like any particular day.
Highly recommend shopping with Gym & Fitness. Highly recommend Yesoul as an alternative smart spin bike to help you workout comfortably at home.
Hi Cari,
Wow, thank you for your glowing review! We are so pleased to hear that the Yesoul app and the spin bike have been so helpful for you and your family. We appreciate your support and look forward to providing you with more great products and services in the future!
Happy training!
GAF Team