---
Using an open palm design allows for an easy transition to submissions from ground and pound. Designed for MMA fitness, MMA training and pad work the classic MMA gloves have also incorporated a 20cm wrist strapping system with an additional elasticated strip that helps provide 
excellent wrist stability.
Key Features
Made from SUPER NYLEX MATERIAL
Heavy padding over knuckles and full open palm design
20cm multi-point velcro strap with piping at finger tips
Ideal for all training needs and bag work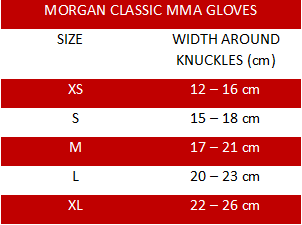 Good entry level gloves for the first time boxer/ mma enthusiast.
Fantastically convenient
Instead of having to go to a busy shopping center in the heat,find a parking spot and then actually make my way to the local sports store,I was able to make my selection,hit a few keys on the old I-phone and make my purchase,all in the comfort of my own home.Prompt delivery,top quality products.I love it!