Force USA Hex Shrug / Deadlift Barbell
With every product you purchase, GAF will help a child improve their health by supporting
Odd in appearance but BIG in power gains, the Force USA Hex Shrug / Deadlift Barbell provides many benefits over training with a regular barbell. Hex trap barbells were originally designed for a safer way to train with an ongoing lower back injury but this is only the start of the advantages in training with the Force USA Hex Shrug / Deadlift Barbell.
Benefits for performing deadlifts are well known which is why it is one of the most common exercises in strength training. Deadlifts build strength, power and size mainly in the quadriceps but also work the lower back and glutes. Training with the Force USA Hex Shrug / Deadlift Barbell will position you within the field area where the regular barbell would normally be located. This transfers the load away from your hips and lumbar spine so you can load the bar with a greater mass of weight and perform the deadlift in a much safer manner for your back. Shrugs may also be performed more comfortably with a heavier load rather than attempting the exercise on a regular barbell. 
The Force USA Hex Shrug / Deadlift Barbell is perfect for explosive power training movements such as plyometric deadlift jumps. In summary, you'll have much bigger gains and be training more safely. The Force USA Hex Shrug / Deadlift Barbell has diamond knurling on rotating handles so you're consistently in an ergonomic position throughout the exercise movement whilst also building grip strength at the same time. The sleeves have a 51mm diameter designed for Olympic weight plates and the 26cm length allows for 5 x 25kg rubber coated weight plates to easily be loaded on each side with plenty of space to also add collars. Rubber stoppers for the sleeves are included to protect your bar and weight plates.
 
SteelForce Structural Integrity
SteelForce is the result of years of research and development into the type of steel needed for high grade strength & fitness equipment. Force USA strength equipment is constructed from extremely heavy guage structural rolled steel tubing. The Force USA Hex Shrug / Deadlift Barbell is expertly hand crafted one piece at a time using only the best grade steel to ensure that you receive the highest quality.
 
30 Day Money Back 100% Satisfaction Guarantee
We're confident you will be happy with the Force USA Hex Shrug / Deadlift Barbell so if you're not completely satisfied we'll give you your money back.*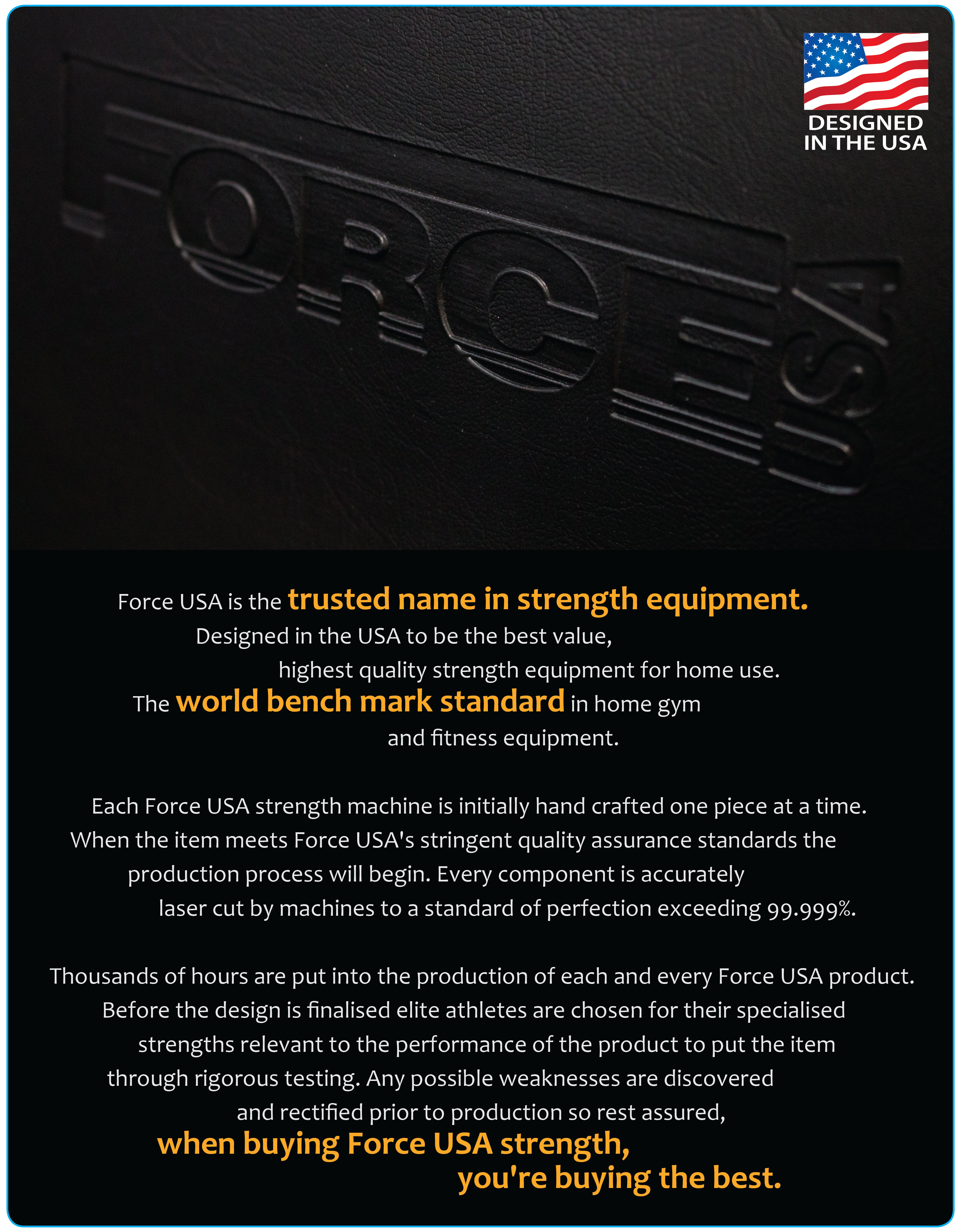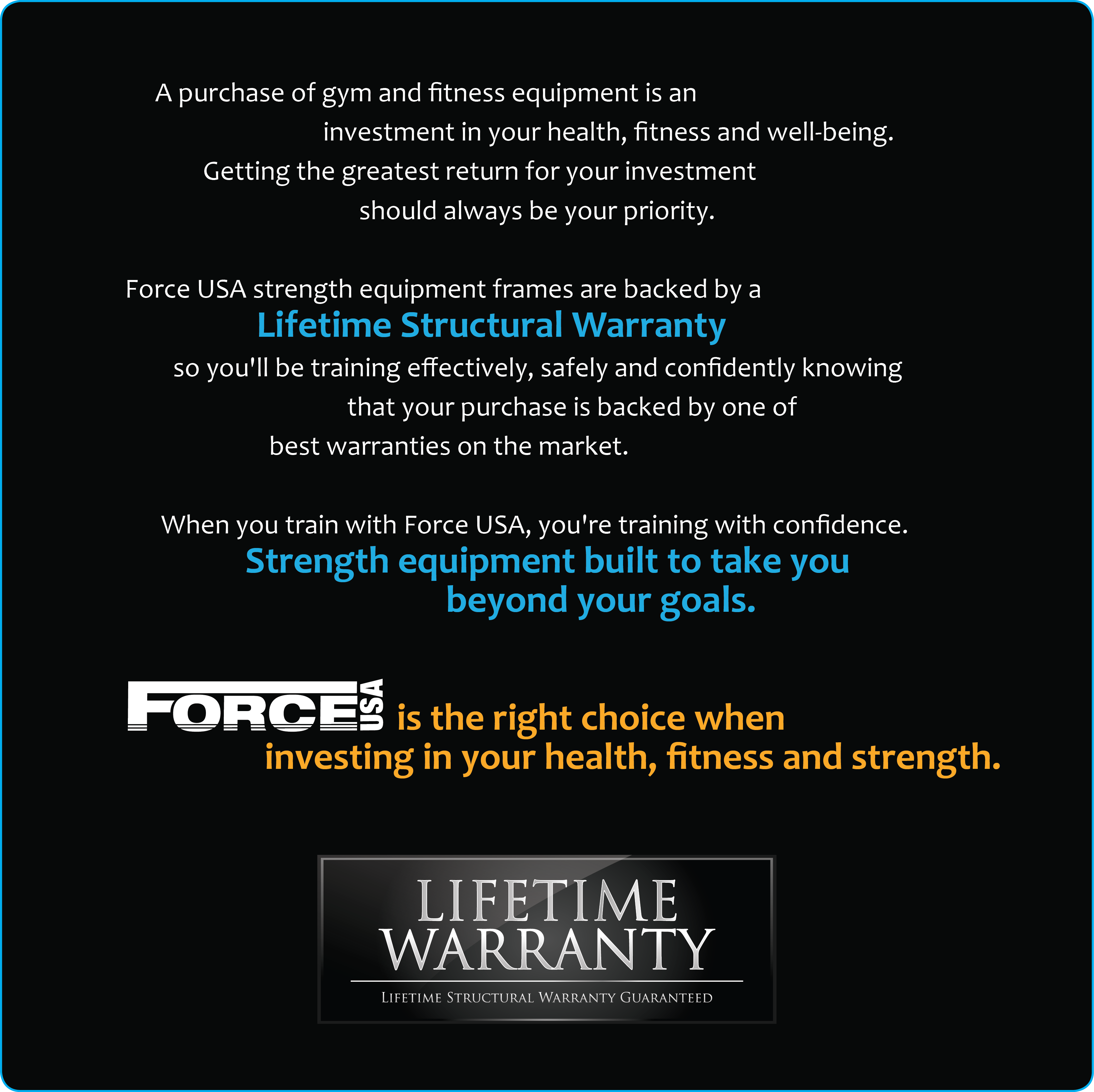 Additional Information
| | |
| --- | --- |
| SKU | F-OHTB |
| Brand | Force USA |
| bar weight | 20kg |
| carton weight | 22kg |
| carton_size | 117 x 79 x 8cm |
| estimated assembly time | 5 |
| grip diameter | 30mm |
| guarantee | 30 Day 100% Satisfaction Money Back Guarantee* |
| handles | Raised and base, both rotating |
| includes collars | Collars and rubber seal stoppers included |
| knurl | Diamond |
| length | 166cm |
| loadable sleeve length | 26.5cm |
| main usage | Home, PT Studio or full commercial fitness centre |
| sleeve diameter | 50mm (Olympic) |
| static testing | 1000lb |
| warranty2 | 1 Year |
WARRANTY
For more information about this item's warranty, please click here.
Returns
For more information about our returns and refunds policy, please click here.
Why buy from us?
Learn more why you should buy from us, please click here.