Freeform F40
Free Shipping
Use the Delivery Estimate form below to see if your postcode qualifies
Ex-demo stock available! Save up to 10% - TELL ME MORE
With every product you purchase, GAF will help a child improve their health by supporting
You'll be stepping up the pace when training on the FreeForm F40 Freedom Runner Treadmill. Boost your health and fitness whilst having a great time.
The FreeForm F40 treadmill has all the traditional treadmill features and is loaded with modern extras so your exercise is hassle free, fast and FUN!
Please click below to view/download the maintenance instruction document

Please click on the image to download the specs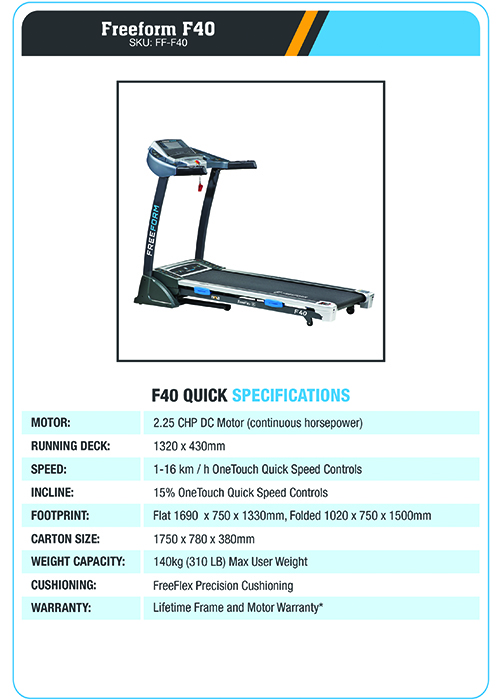 Additional Information
| | |
| --- | --- |
| SKU | FF-F40 |
| Brand | FreeForm Cardio |
| continuous horse power chp | 2.25 |
| estimated assembly time | 90 min |
| foldable for storage | Yes |
| foot print mm | 1695 (L) x 770 (M) |
| incline range | 0-15% One Touch quick incline controls |
| incline type | Motorised |
| max speed kmph | 16 |
| max user weight kg | 140 |
| min speed kmph | 1 |
| motor type ac dc | DC - Direct Current |
| running deck length mm | 1320 |
| running deck width mm | 430 |
| wheels for easy movement | Yes |
WARRANTY
For more information about this item's warranty, please click here.
Returns
For more information about our returns and refunds policy, please click here.
Why buy from us?
Learn more why you should buy from us, please click here.
Freeform F40
Found the treadmill easy to assemble. Runs well and quite smooth to operate. Has good readouts on the panel. The product handbook is poorly written and needs a total overhaul otherwise I'd give a 5 star rating.
Freeform treadmill
Love it, smooth to run on, delivery top notch and super fast!
Great value
All the features I need to get moving more at a very reasonable price point. Fast delivery too.
Space saver
I have never been a fan of large machines. Although this treadmill is a little on that side, I appreciate its space saving design. At least I can stow it away after each use, unlike other bulky equipment that constantly distract me. Thanks Gym and Fitness for the great service. More in the future.
Helped me regain my confidence
I've always been an athlete. I was part of the track and field team in high school and college, and continued pursuing a life that revolved around running after graduating. It's my passion and an escape of some sort. I'm happy and at my freest when I'm running, but two years ago, I got involved in an accident. I couldn't walk or even stand up for almost half a year. And to say that I was depressed would be an understatement. I lost hope and almost reached a point where I've already accepted that I wouldn't be able to run, or let alone walk again. But with enough encouragement and support, I was able to enter a rehabilitation program for people like me. Little by little, I was able to walk again. It was only three months ago when my legs have fully regained their strength. Now, I am able to walk and jog on a treadmill. I received this machine as a gift from my parents, and slowly but surely, it's helping me regain my confidence. Thank you.