Force USA Sissy Squat Machine
Free Shipping
Use the Delivery Estimate form below to see if your postcode qualifies
With every product you purchase, GAF will help a child improve their health by supporting
There is nothing 'Sissy' about a Sissy Squat. This particular style of squat is more difficult than most other forms of squatting. One of the main advantages of Sissy Squats is achieving almost 100% isolation on the quads. Sissy Squats are also an excellent alternative to regular squats for anyone suffering from back injury or other problems preventing them from squatting normally as little stress is placed on other muscles.
Solid, compact and effective, the Force USA Sissy Squat (F-SISSY) is strong enough for gym use, while designed to fit into any home. Featuring SteelForce Structural Integrity and heavy-duty, DuraCore™ high density foam padding wrapped in sewn rip-stop VorTex™ Upholstery, the Force USA F-SISSY is built to take a pounding. The "Class A" rating Force USA F-SISSY comes with a Lifetime Structural Warranty. Force USA F-SISSY is unmatched in its class and will give you solid and intense workouts for many years to come!
The Force USA Sissy Squat will help you build your quads with near 100% isolation! Push yourself to failure knowing that you are exercising on one of the safest and most effective Sissy Squats available!
Features:
Easy pull pin for quick and easy adjustment
Rolled over closed cell foam to give you extra comfort
Made to suit all user heights
Adjustable pads for correct alignment during your exercise
Solid, sturdy Checker plate stand
Solid construction provides a safe workout
Quality bushings provide an ultra smooth movement!
Gives you one of the best exercises to build the strongest rock solid quads!
Perform your workouts knowing you are safe, with quality DuraCore™ padding you will not bottom out and can build your muscles to the max!
Heavy duty steel construction.
Quality bracing for correct body alignment throughout your workout.
Get a great workout with one of the strongest and most versatile Sissy Squats available.
Great for rehabilitation or any other workouts.
SteelForce™ Structural Integrity – Built to last high quality heavy-gauge steel that supports even the toughest of workouts.
DuraCore™ High Density Foam Padding – Strong and durable high density gym quality foam padding.
VorTex™ Upholstery – Commercial grade upholstery which has a rip-stop feature.
EcoCoat™ – Environmentally friendly powder coating.
Sewn Seats – Not only do they feature VorTex™ Upholstery, they look nicer too. Sewn seats are more comfortable and will last longer than vinyl seats that are just stretched or stapled on.
Class A, Lifetime Structural Replacement Warranty
Assembly required.
Assembled dimensions (LxWxH): 107cm x 45cm x 49cm to 60cm (Adjustable)
Carton dimensions (LxWxH): 109cm x 57cm x 27cm (27kg)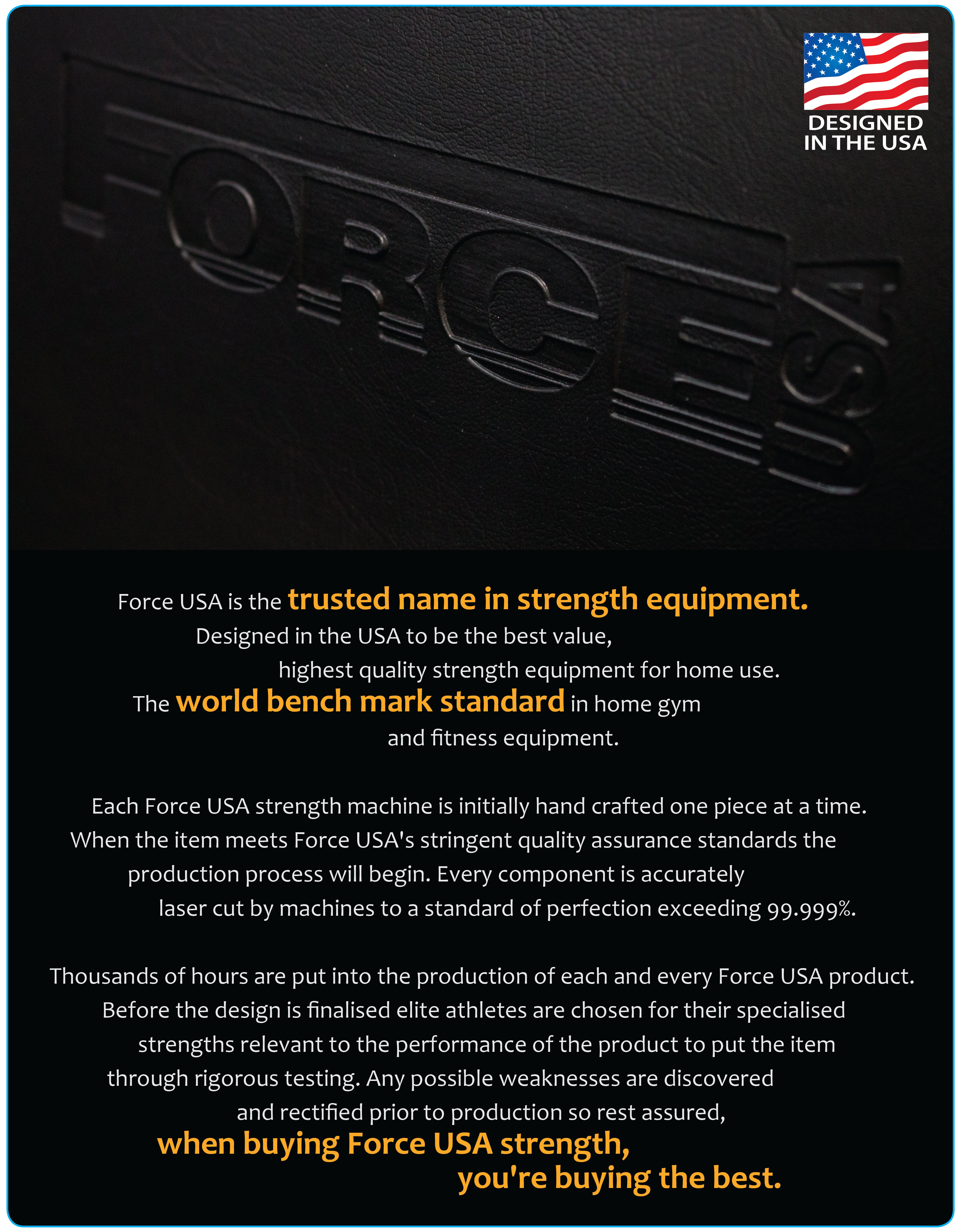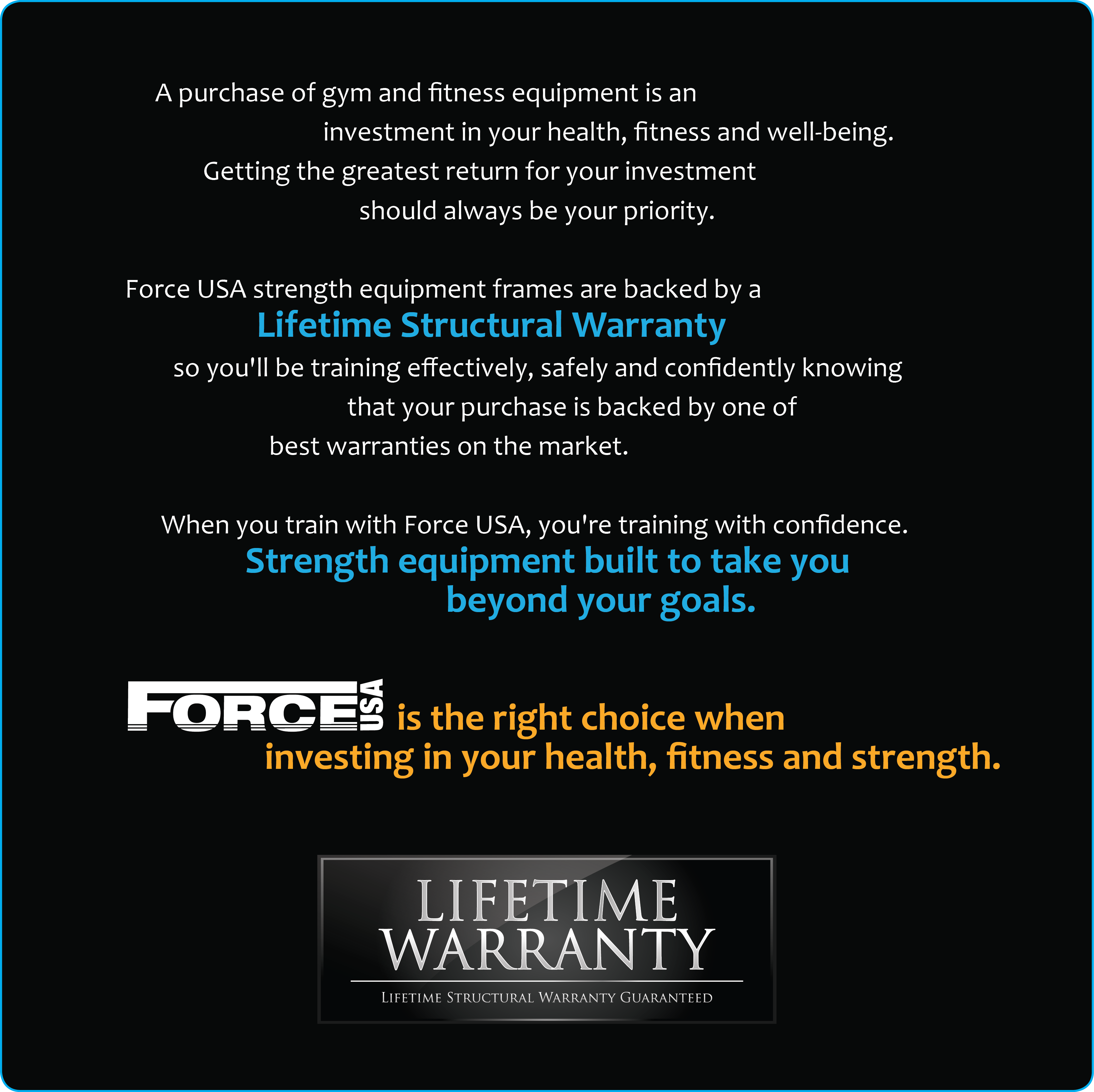 Additional Information
| | |
| --- | --- |
| SKU | F-SISSY |
| Brand | Force USA |
| estimated assembly time | 20 min |
WARRANTY
For more information about this item's warranty, please click here.
Returns
For more information about our returns and refunds policy, please click here.
Why buy from us?
Learn more why you should buy from us, please click here.
Sissy squat machine purchase
Even though item was out of stock, as soon as it became available Gym and Fitness completed the order. Quick delivery and the quality of the Force USA product is second to none. Thank you heaps!
Great help
Got into a minor accident three months ago that injured my back. This is great help in my recovery. :)
Arrived safely
Thanks gym and fitness. Product arrived safely and promptly. Been using it for a week now and I have no issues. Works great
A good way to build
A good way to build functional strength and core stability, the sissy squat is a great alternative to regular quad exercises. The FORCE USA Sissy Squat is easy to assemble and very sturdy, with fully adjustable height and foot pads. The machine allows for full range of motion in your quads in a safe manner, engaging your core for stability throughout the entire movement. Pump out 20 of these and see how tough you think your legs really are. These should be part of the furniture in commercial gyms. I would recommend this machine to anyone.