Force USA
Commercial Flat Bench
The Flat Bench is the cornerstone of any gym. Perform all of your favorite free weight exercises safe in the knowledge that you are using a safe and strong bench. An extremely strong Flat  Bench built above commercial standard, the Force USA Commercial Flat Bench is one of the toughest gym benches in existence.
---
Solid, compact and effective, the Force USA Commercial Flat Bench is strong enough for gym use, while designed to fit into any home. Featuring SteelForce™ Structural Integrity and heavy-duty, DuraCore™ high density foam padding wrapped in sewn rip-stop VorTex™ Upholstery, the Force USA Flat Bench is built to take a pounding. The "Class A" rating Force USA Commercial Flat Bench comes with a Lifetime Structural Warranty. The Force USA Commercial Flat Bench is unmatched in its class and will give you solid and intense workouts for many years to come!
The Force USA Commercial Flat Bench is an extremely solid unit and provides the ability to perform your free weight exercises to build a rock solid body! The back rest features DuraCore™ high density foam which is extremely comfortable and will not bottom out during your workout. Combine with a power rack, smith machine or squat racks for the ultimate workout!
Product Specifications:
4mm Thick Heavy Duty Steel
Designed in the USA for use in Commercial Gyms
Gives you some of the best free weight exercises to build a rock solid body!
Perform free-weight exercises knowing you are safe, with quality DuraCore™ padding you will not bottom out and can build your muscles to the max!
Get a full-body workout with the strongest and most versatile Flat Bench available
Front handle & Dual rear transport wheels allows you to easily move and roll the bench anywhere you like without having to pick up the bench completely
Non slip feet gives you a solid and stable workout
SteelForce™ Structural Integrity – Built to last high quality heavy-gauge steel that supports even the toughest of workouts.
DuraCore™ High Density Foam Padding – Strong and durable high density gym quality foam padding.
VorTex™ Upholstery – Commercial grade upholstery which has a rip-stop feature.
EcoCoat™ – Environmentally friendly powder coating.
Sewn Seats – Not only do they feature VorTex™ Upholstery, they look nicer too. Sewn seats are more comfortable and will last longer than vinyl seats that are just stretched or stapled on.
Force USA Class A, Lifetime Structural Replacement Warranty along with 2 years parts warranty on all cables and pulleys.
Assembly required.
Dimensions:
Weight Rating: 350kg
Total Floor Space Dimensions/Assembled Dimensions (LxWxH): 134cm x 62cm x 46cm
Backrest Pad Dimensions (LxWxDepth): 120cm x 30cm x 6cm (densely thick padding)
Weight: 21kg
Gross Weight: 23kg
Carton Dimensions: 126cm x 22cm x 42cm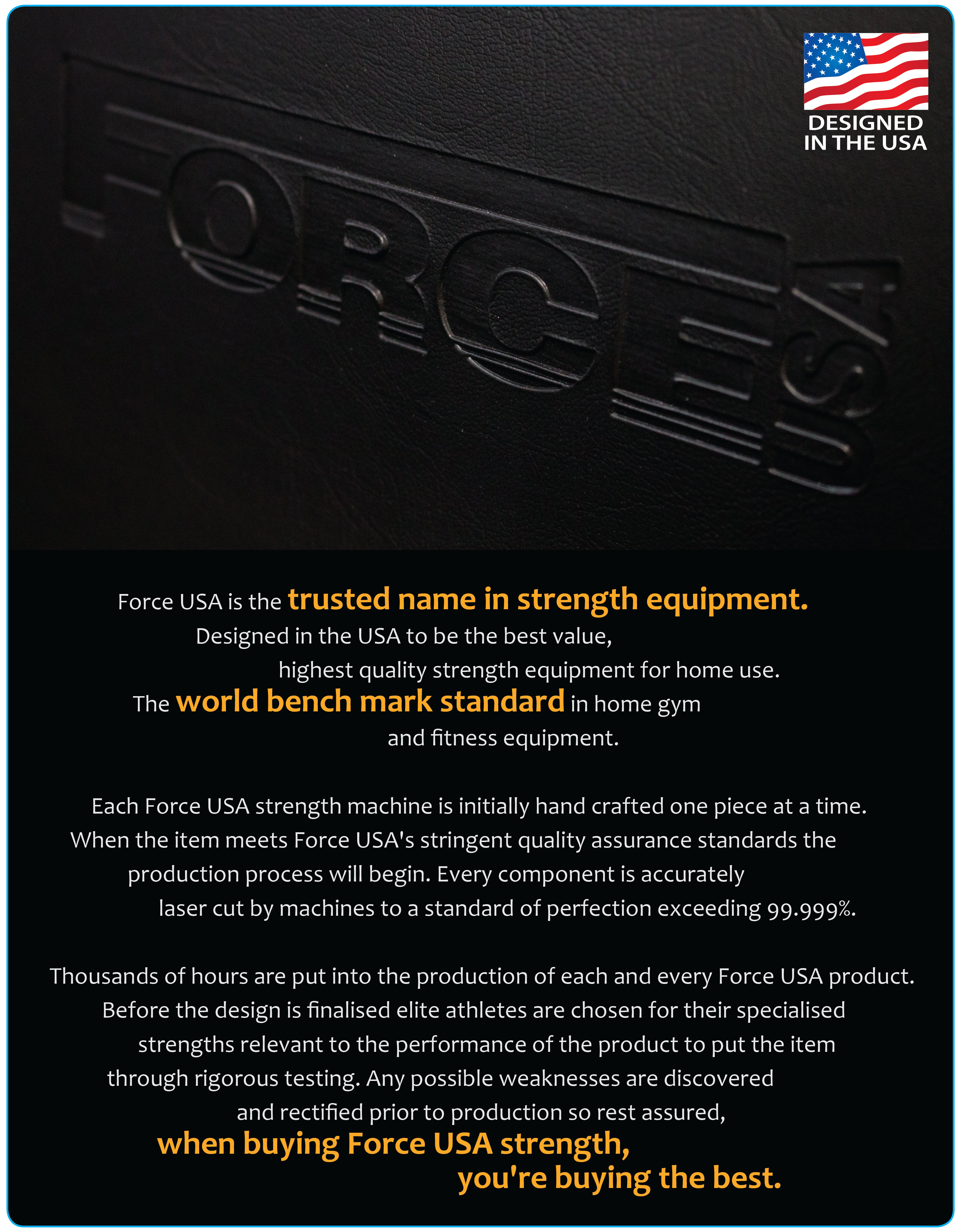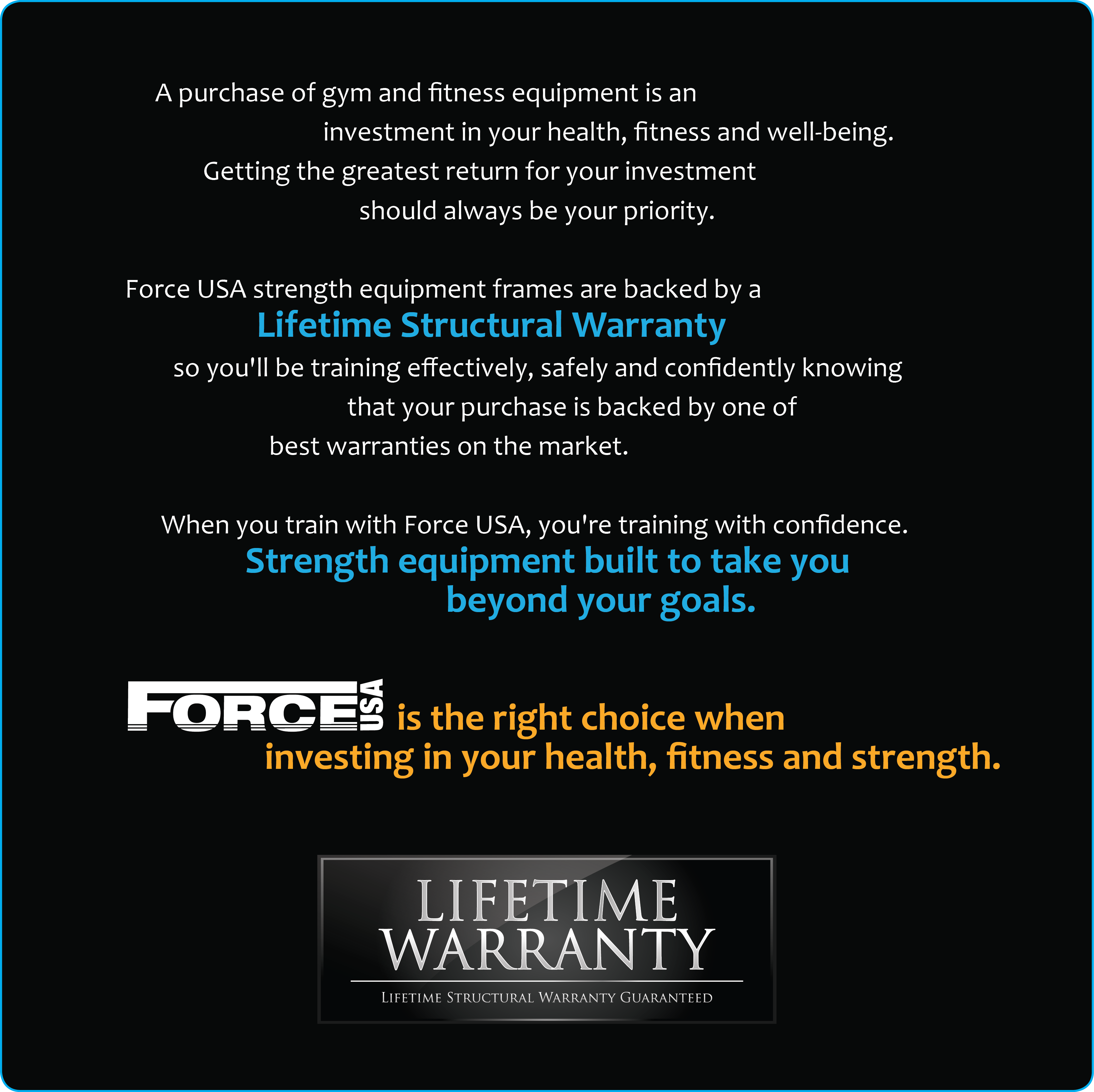 Great features!
I love everything about this bench! The quality, the wheels, the comfortable foam padding. It's absolutely my match!
No to backaches
I am in love with the comfortable foam padding used in this bench!! My old bench was a loser in this specific department, so I'm glad I switched to Force USA. Not only am I comfortable each time I work out----I also feel results. Looking forward to partnering it with other products!
Hi, I'm really happy with
Hi, I'm really happy with the bench. It took very little to assembly and is great to lay on. I bench press some heavy weight and this is the best bench I've owned. I recomend this bench.
Excellent service & hassle free
Excellent service & hassle free delivery. Special thanks to the guys at Gym & Fitness for their advice and help choosing the best products for me. I was really impressed.